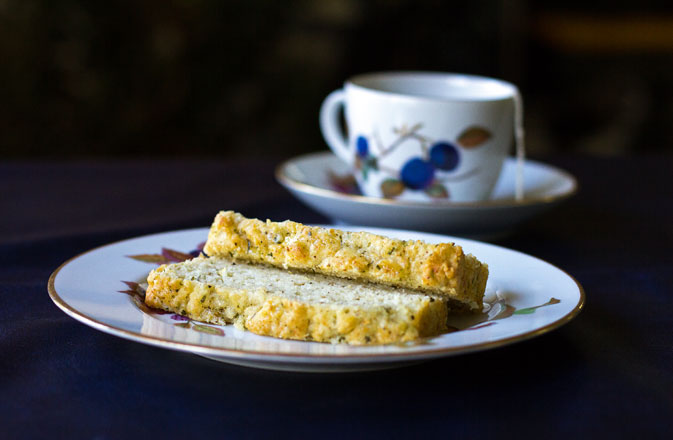 The first time I made this Tarragon Lemon Quick Bread was out of curiosity.  A friend shared this recipe and after reading the list of ingredients I just couldn't imagine how a bread with tarragon, lemon and black pepper would taste, so I had to make it.  Well…it was love at first bite!  Over the past year or so, I've made this bread several times, with a couple of minor changes to the original recipe, but nothing that affects the final flavor of the bread. The changes are noted in the Kitchen Notes.
If you love tarragon like I do, then you are going to love this bread. Not only does it just taste good, it's so easy to make. You can have it in the oven within 20 minutes from the start, and, even with an ingredient change now and then, it never fails. It always comes out perfect and delicious.  It's not a tall quick bread, but it's not dense either.  It's light and moist with a touch of sweetness, making it a wonderful breakfast bread as well as a nice complement for your afternoon tea.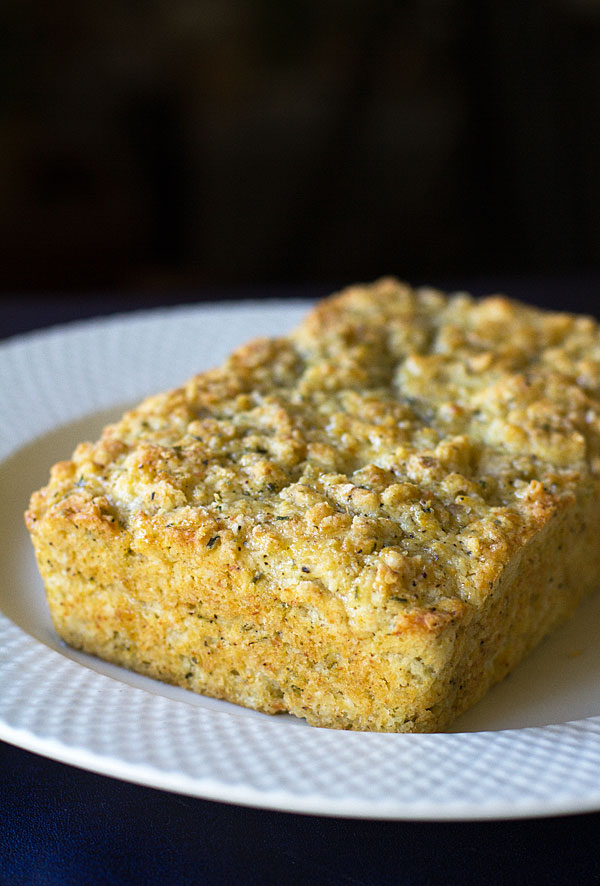 [print_this]
Tarragon Lemon Quick Bread Recipe
Yields 1 loaf
Prep Time:  less than 20 minutes
Cook Time: 50 – 55 minutes
Ingredients
1 ¾ cup all purpose flour
2 tsp. baking powder
1 tsp. salt
1 tsp. ground black pepper (freshly ground or store bought)
2 Tbsp. sugar*
1 Tbsp. finely chopped fresh tarragon or 2 tsp. dried, crushed*
1 Tbsp. lemon zest (zest from 1 large lemon)
4 Tbsp. unsalted butter, melted
1 cup buttermilk
¼ cup  sour cream or plain yogurt or ricotta*
1 large egg
Lemon Tarragon Glaze (optional)*

2 Tbsp powdered sugar
1 Tbsp lemon juice (juice from 1/2 lemon)
a generous pinch of ground dried tarragon
*See Kitchen Notes
Instructions
Preheat oven to 350°F.
Prepare an 8 x 3 inch loaf pan with cooking spray. (I use a regular bread pan.)
Melt the butter and set aside.
In a large bowl, whisk together the flour, baking powder, salt, pepper, sugar, tarragon and lemon zest.
In another bowl, whisk together the egg, sour cream and buttermilk.  Add the melted butter and whisk.
Pour the egg and butter mixture over the flour mixture and combine just to moisten the dry ingredients.
Transfer the dough into the prepared bread pan.
Bake for 50-55 minutes or until a toothpick poked in the center comes out clean.
Remove from the oven and let rest for 2 minutes.  Transfer from the bread pan to a cooling rack.
If you are adding the glaze, while your bread is cooling, whisk together the ingredients for the glaze.  (You might need to microwave it for about 20 seconds so you can dissolve the powdered sugar.)
Once the bread has cooled to just a little warm, pour the glaze over the bread.
This bread will keep at room temperature, wrapped in plastic wrap for 1 week.
[/print_this]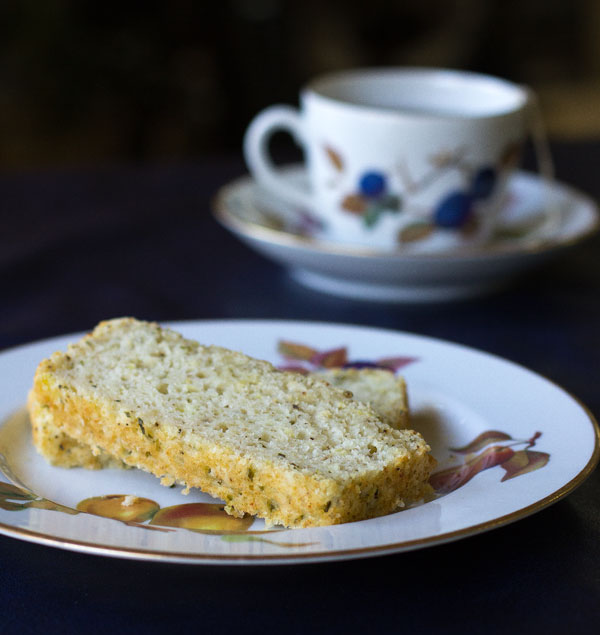 Kitchen Notes
Sugar – The original recipe calls for 1 tablespoon sugar, but I like just a touch more sweetness. The second tablespoon provides what I need without making it too sweet. If you don't want to use sugar, you can substitute honey. It works just fine.
Tarragon – This is a great bread for using fresh tarragon, but in the middle of winter when fresh tarragon is not available, you can easily substitute dried tarragon without losing any flavor at all.  Just cut back on the amount as indicated in the recipe above.
Sour Cream – The original recipe calls for sour cream.  However, I hardly ever have sour cream in the house; therefore, I substitute either plain yogurt or ricotta without any problems.
The Glaze – The original recipe doesn't use a glaze, but what can I say?  I have a sweet tooth!  So when I plan to make this as a breakfast bread, I always add the glaze.  For our winter chai, the unglazed version is really nice because the chai is already sweet enough.  Sometimes, I make up the glaze and just leave it in a pitcher. When I slice the bread, if I feel like a little glaze, then I'll pour a little over the slice. If I don't want the added sweetness, then I'll omit it.
This Tarragon Lemon Quick Bread is a real surprise.  It's a delicious quick bread, unique in flavor, and one I hope you will try.