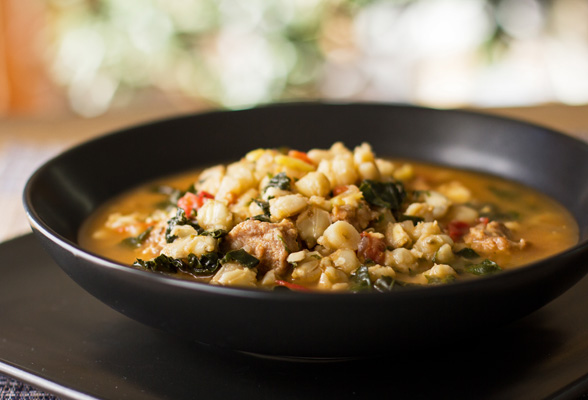 Accepting the end of summer is very hard for me, but last week when the night time temperatures dropped into the 40s, I had to relent. Visions of soup started popping into my head and pictures of posole' started popping up on the internet.  With every picture my craving for posole' increased and finally increased to the point where I succumbed to the craving.  I knew I had some posole' in the freezer, so using other ingredients on hand, I threw together this soup which we'll call a Mexican-Italian fusion of posole', Italian sausage and kale.  I wasn't quite sure if it was going to work, but it did.  Bobby, who is as picky about his posole' as I am, loved it! The depth of flavor in this soup keeps going and going and going, and the richness of the soup stock … well, just look at it.  I could drink the stock and make a meal out it.
If you are not familiar with posole', then check out "What is Posole'?" Here in New Mexico it's relatively easy to get fresh, dried or frozen posole', fresh or frozen being my preference. The smell of posole' cooking on the stovetop spreads throughout the house, warming the body and comforting the soul.  If you don't have access to posole', you can always substitute with canned hominy which is the same thing, but already cooked. Canned hominy does shorten the cooking time for this recipe from 1.5 hours to less than 45 minutes, and the final flavor of the soup is very close to the same, especially if you start with a good stock.  Therefore, if you can't find posole' in your area, don't hesitate to use hominy for this recipe.  It will still be very tasty!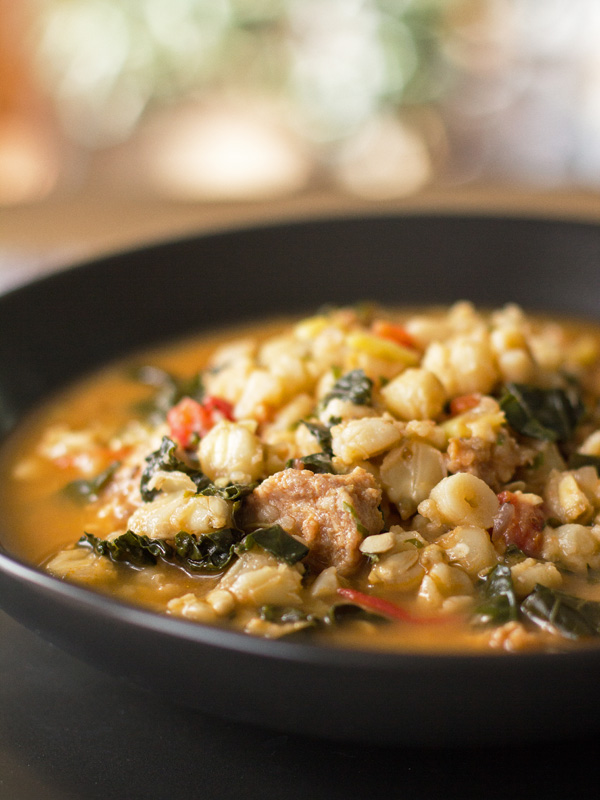 Posole' with Italian Sausage and Kale Recipe
Recipe Author:  MJ of MJ's Kitchen
Serves 6
Prep and Cook Time: 1.5 hours if using fresh or frozen posole', 45 minutes using canned hominy
Ingredients
2 cups fresh or frozen posole (1 lb) or canned hominy
6 cups+ liquid (3 cups chicken stock and 3 cups water is what I use)*
½ large onion, chopped
5-6 garlic cloves, minced
½ pound Italian sausage (bulk or link), crumbled or sliced*
2 small chile peppers, diced (~ ¼ cup)*
½ pound fresh tomatoes, chopped (~2 cups)
4 to 5 large kale leaves, destemmed and chopped
1 tsp dried oregano
1 tsp ground mustard powder
¼ tsp fennel seed, ground
½ tsp salt or to taste
½ tsp ground pepper or to taste
2 Tbsp chopped fresh parsley
Instructions
For fresh or frozen posole':  Bring the liquid to a boil and add the posole', onion and garlic. Reduce to a simmer and cook for 30 to 45 minutes or until the posole' is almost tender.
Add the sausage, chile, tomatoes, oregano, mustard powder, ground fennel, salt and pepper.  Bring to a boil, then reduce to a simmer and cook for another 15 minutes.  If the soup starts to get too thick add more liquid.  I usually add 1 cup at a time, as needed.
Add the chopped kale and cook 15 minutes until the kale is tender.
Taste.  Add more salt and pepper if needed.
If you have time, remove the soup from the heat and let it cool.
Reheat right before serving.  Stir in the fresh parsley and serve.
For canned hominy:  Bring the liquid to a boil and add the hominy is step 2.
 *See Kitchen Notes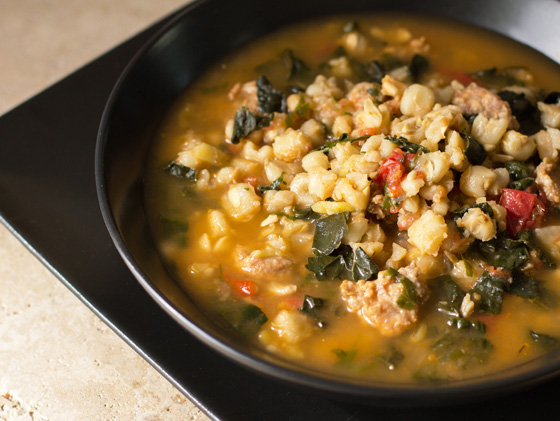 Kitchen Notes
The liquid – You can use any type of stock or broth for this recipe, however, with the Italian sausage, I think chicken stock is best.  Because the sausage cooks in the liquid, it will enhance the flavor of the stock even more, that's why I use half stock and half water.
The liquid does evaporate as this cooks, so don't hesitate to add more water if the soup starts getting too thick.  I like soup with lots of liquid, so I think I ended up adding an additional 1 to 2 cups.
Italian Sausage – The sausage and the posole' provide the majority of flavor for this soup; therefore, if you change the sausage, you might need to change the seasoning.  The fennel is added as a complement to the Italian sausage.  If you go with a Bratwurst, you could omit the fennel seed.  If you want to use chorizo, then let me suggest you make this Chorizo, Mushrooms and Posole' Soup instead.  As far as whether to use mild or spicy Italian sausage, that's your choice.  I had mild, so that's what I used, then added the chile for a little kick.  If you have spicy sausage, then you could omit the chile.
Chile Peppers – The chile is to add just a hint of spice to the soup, so try to select a mild to medium chile.  For this recipe I used yellow hots from my garden.  You could also use one New Mexico green chile, or, if you don't want it spicy at all, just use a bell pepper or omit the pepper all together.
This soup proves that posole' is not just for Mexican and southwestern cuisines.  The flavors of the posole', Italian sausage, and spices melded to create a very unique taste that is quite memorable.
Below are some more non-traditional posole' recipes.
Chorizo, Mushrooms and Posole' Soup
Vegetarian Posole' with Pinto Beans and Poblano Peppers @Oh My Veggies
Fish and Posole' Soup @Rancho Gordo
Butternut Squash & Tomato Posole' @Eating Well
Tomatillo, Chicken and Hominy Soup @My Recipes
Spicy Sausage Posole' @Pinch of Yum