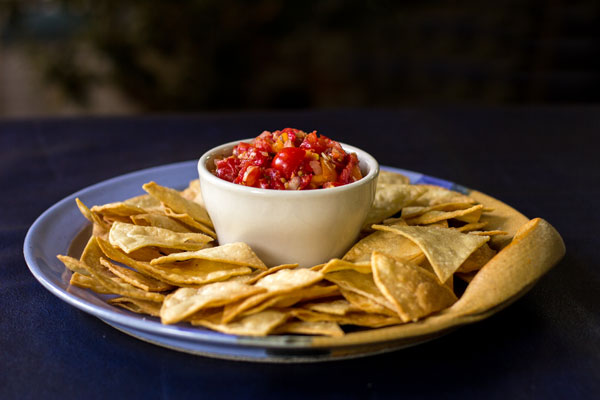 Last week I showed you how to make Quick and Easy Pickled Peppers.  This week a few of those pickled peppers came together with some fresh garden tomatoes and chipotle flakes to make a delightfully tasty pico de gallo.  Bobby and I have eaten three batches of this in the past few days because it's so addicting and we wanted to get the seasoning just right.  Lucky us. 🙂
Pico de Gallo with Pickled Peppers can be used as a dip or a topping for tacos, tostadas, burritos or a nice bowl of pinto beans.
A question some of you may have asked at some time in the past – "What's the difference between pico de gallo and salsa?".  Pico de gallo is a type of salsa, but a salsa is not always a pico de gallo.  Salsa is Spanish for sauce and most salsas that you are probably familiar with are pureed with chiles, tomatoes, and spices, and are somewhat saucy like this Chile de Arbol Salsa.  When the tomatoes are chopped and combined with a few other chopped ingredients, the salsa can be called a pico de gallo.  Pico de gallo tends to have less liquid than salsa. For this recipe, the tomatoes are drained before adding the additional ingredients.  This creates a relatively chunky salsa, aka pico de gallo, but not too chunky to be piled on a tortilla chip and devoured.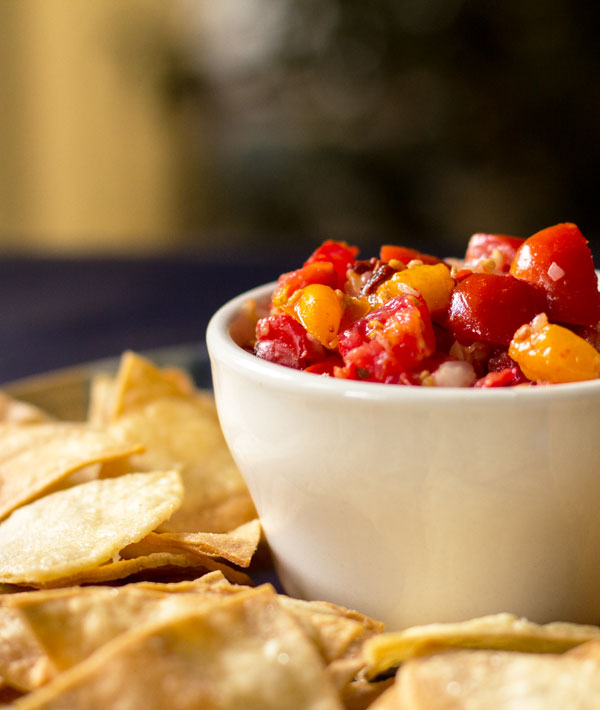 Pico de Gallo with Pickled Peppers and Chipotle Recipe

Recipe Author:  MJ of MJ's Kitchen
Yields about 2 cups
Prep Time:  About 10 minutes to make and 15 minutes to drain
Ingredients
1 pound fresh tomatoes, diced and drained
2 Tbsp minced pickled peppers*
2 Tbsp minced onion
¼ tsp cumin-coriander mix
¼ tsp garlic powder
½ tsp chipotle flakes*
Pinch or two of salt
Instructions
Chop the tomatoes and place in a strainer and let drain for about 15 minutes*.
Add all ingredients to a bowl and mix well.
Serve immediately or let sit overnight in the refrigerator. Best when eaten within 2 days (which isn't a hard thing to do).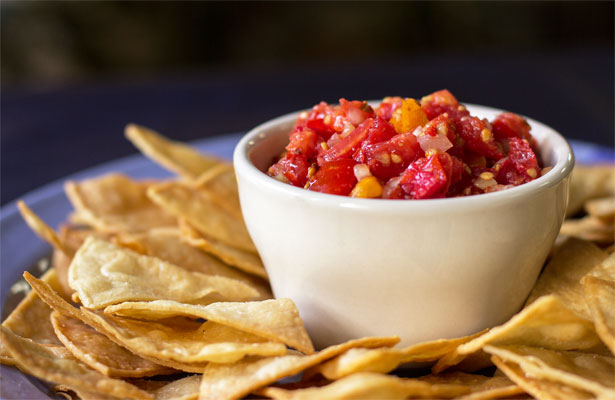 Kitchen Notes
Pickled Peppers – If you haven't made a jar of pickled peppers yet, you could easily use some store bought pickled peppers like pickled jalapeno or possibly pepperoncini.  If the peppers you choose are really, really hot, then you might cut the amount in half, because chipotle flakes tend to be quite hot as well.  To be on the safe side (if you like being safe), test the spiciness of both your chipotle and pickled peppers to determine how hot you want your pico de gallo to be and adjust the amount of each accordingly.
Chipotle Flakes – If you don't have chipotle flakes, you could substitute chipotle powder or another "smoked" chile flake.   A smoky chile works quite nicely with the acidity of the pickled peppers.
Draining the liquid – The use of fresh tomatoes yields a lot of liquid; therefore, draining the cut tomatoes is necessary for a pico de gallo.  After adding the other ingredients, you might even find that you'll want to drain the salsa again to reduce the liquid even more.
Other salsas you might enjoy: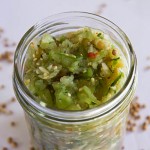 Green Chile Tomatillo Salsa
This Pico de Gallo has been linked up with Kitchen Dreaming.