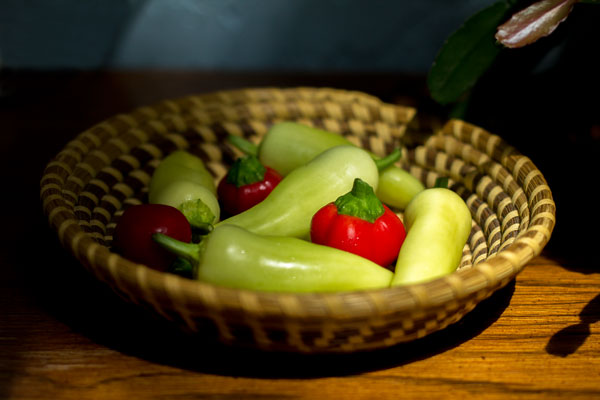 After the pesky racoons ravaged my chile plants back in June, I did manage to find a few lonely plants tucked away in the sale section of the nursery.  Even though it was late in the season, I still planted them and now I'm getting some peppers.  YAY!  My first picking was a few guero chiles (yellow hot or caribe) and three red cherry chiles. It wasn't much, but it's something.  So what did I do with these beauties?  I made some pickled peppers!
The following recipe for Quick and Easy Pickled Peppers was adapted from this Quick Pickled Jalapeno Pepper recipe.  I didn't have near the amount of peppers that the recipe called for so I had to adapt it to what I did have, and then make some minor adjustments for my tastes.  This recipe was SO easy and the results were excellent!
Update August 2016 – Every since I made the first jar (the picture in the recipe), I've been making at least two jars each summer.  This year my plants yielded a lot of peppers; therefore, I made one quart size jar.   The peppers I used were mild banana peppers (yellow) and Sandia HOTS (red).  Because I had almost 4 cups of sliced peppers, I adjusted the recipe.  See the adjustment in Kitchen Notes below.
Quick & Easy Pickled Peppers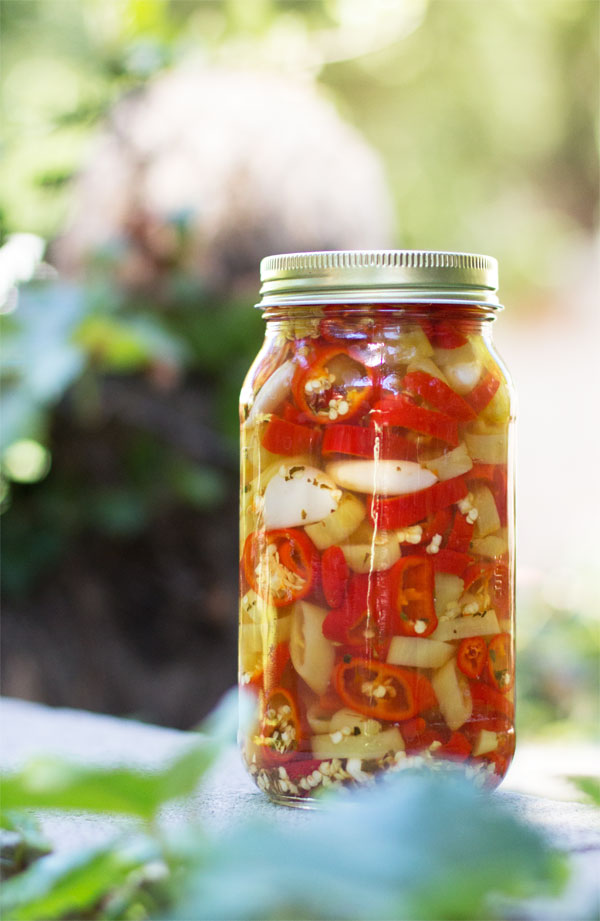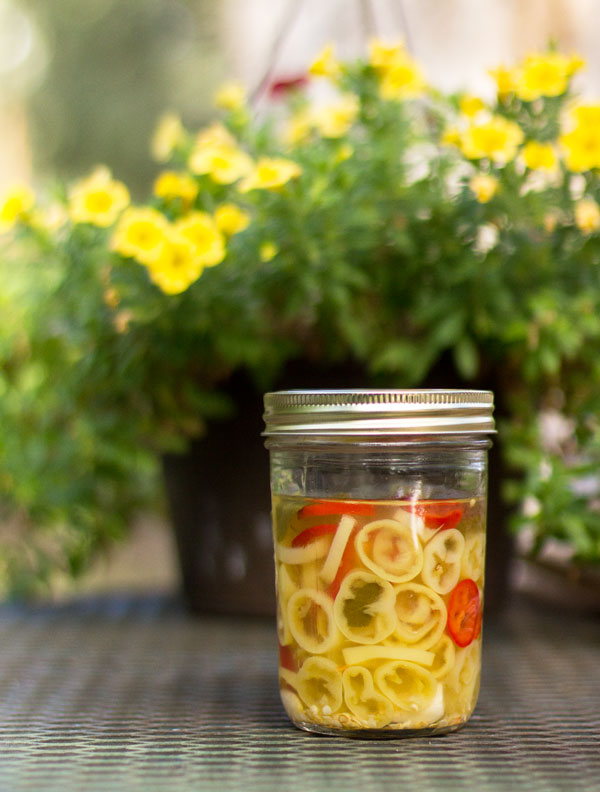 Quick and Easy Pickled Peppers Recipe
This recipe yields about one pint of pickled peppers that needs to be refrigerated. For a quart of pickled peppers, see adjustments in the Kitchen Notes below.

"*" See Kitchen Notes for more information or links to special ingredients.
Ingredients
½

cup

water

½

cup

distilled white vinegar

3

tsp.

salt

2

Tbsp.

sugar

1 ½ - 2

cups

sliced chile peppers*

3

garlic cloves

6 - 8

leaves

of fresh Mexican oregano

(optional)
Instructions
Cut the stem end off the top of the peppers about 1/4" below the cap. If desired, cut out the seed core, but it doesn't hurt to leave it in. Slice the peppers into desired thickness.

Add the water, vinegar, salt and sugar to a sauce pan. Bring to a boil, stirring to dissolve the salt and sugar.

Add the peppers and garlic. Bring back to boil over high heat, then remove from the heat and let cool for 10 minutes.

Scoop pepper slices into a clean jar*. Add the oregano leaves to the peppers. Pour enough liquid into the jars to cover the peppers.

Let cool and refrigerator overnight before using. Keeps refrigerated for about a year.


Enjoy!
Kitchen Notes
Chile Peppers – This recipe can be used with just about any fresh chile peppers you can find.  You could use just one type of chiles or mixed them up.  It would probably make great pickled bell peppers as well.
Sterilized jar – Since this makes only one pint, or less than one pint, to prepare the jar, washed it, don't dry. Heat in microwave on high for 2 minutes.  Once the peppers are ready, remove from microwave and fill.
For a Quart of Pickled Peppers: –  Increase ingredient to the following:
~4 cups sliced peppers
3/4 cup water
3/4 cup vinegar
4 tsp. salt,
2 Tbsp. sugar
6 garlic cloves
1 tsp. dried Mexican oregano or 14 – 16 fresh leaves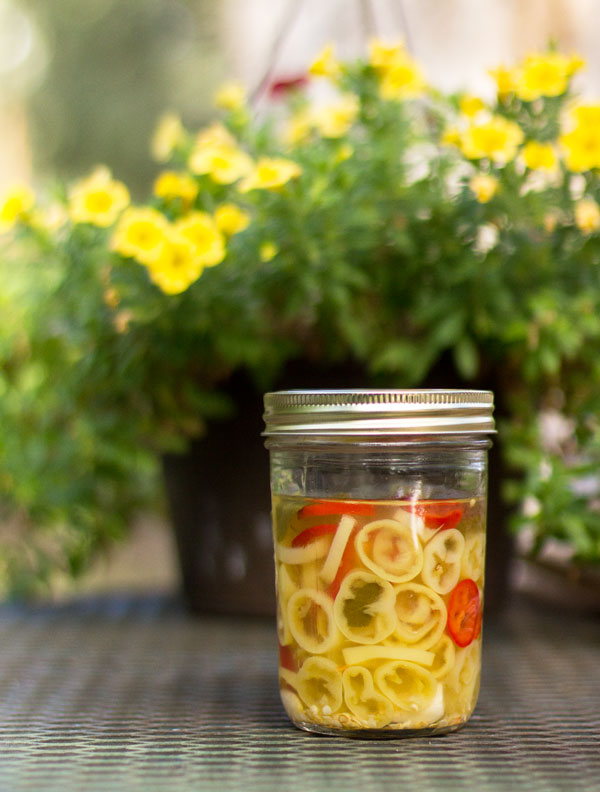 Suggested uses:
Eat right out of the jar
Add them to sandwiches or burgers
Chop and add to a sandwich spread, salad, rice, pasta, beans.
Add to nachos or salsa
Condiment for Fried Catfish
Add a little of the brine to homemade mayonnaise, soups, dips, or just about any dish that needs a little spicy acid to make it pop.
The possibilities are endless!
Similar recipes that you might like: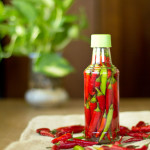 Pepper Sauce with chile pequin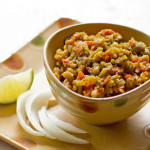 Green Chile and Lime Zest Relish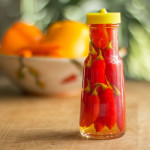 How do you use pickled peppers?