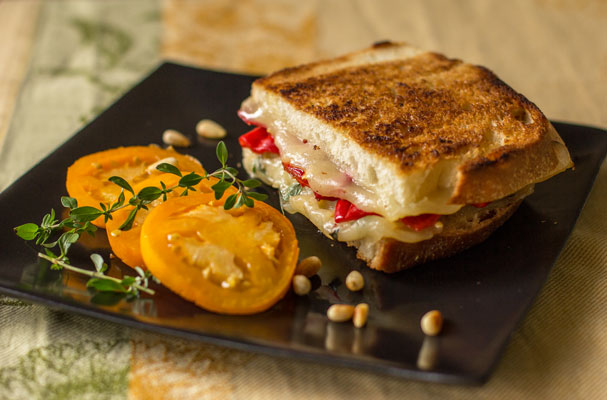 Recently, I read an article about grilled cheese sandwiches and after reading the article I skimmed through the comments where it became quickly apparent that there are a number of people that think it's sacrilege to add anything to a grilled cheese other than cheese.  Well, I'm not one of them. 🙂  Personally, I find a grilled cheese sandwich with ONLY cheese to be rather boring. However, it doesn't take much to change that. One or two additional ingredients can take a grilled cheese from boring to downright exciting.  And downright exciting is what you get with this grilled cheese with roasted urfa biber chile and toasted pinon nuts.
I first introduced you to urfa biber chile powder last February when I used some in my Valentine Fiery Chocolate Shots. Remember those sweet and spicy shots of liquid chocolate!? Now, thanks to my friends at Fords Fiery Foods and Plants I have had the privilege of tasting the fresh red urfa biber chile.  I received a package this weekend with both fresh urfa biber and Aleppo chiles.  Tuesday was chile roasting day, so while I was roasting some New Mexico green chile, I threw a few of the urfa biber chiles on the grill as well.  I wasn't sure what I was going to do with them until Bobby asked for a grilled cheese sandwich for lunch.  Normally I would have used NM green, but for these grilled cheese sandwiches I chose the roasted urfa biber, then added toasted pinon (pine nuts) and some fresh thyme from the garden.  What a lovely grilled cheese sandwich!  Gooey, crunchy, herby, and red chile sweet with a bit of a kick.
To learn more about urfa biber chile and how to get some for yourself, check out my Kitchen Notes below.
[print_this]
Grilled Cheese with Urfa Biber Chile Recipe
Makes one sandwich
Prep and cook time: 30 minutes or less (10 minutes if you already have the chiles roasted)
Recipe Author:  MJ of MJ's Kitchen
Ingredients
2 slices of bread*
butter
A few slices of Monterey Jack cheese or other mild white cheese
1 – 2 roasted and peeled urfa biber or other roasted red chile, chopped*
1 Tbsp. toasted pinon (pine) nuts
Fresh thyme leaves
Instructions
Heat up a cast iron griddle.
Spread the pinon nuts on the griddle and toast lightly.  Once toasted, transfer to a glass dish.
Melt a thin slice of butter on the griddle.  Place one slice of bread on the griddle to soak up the butter.  Repeat with the second slice.
Place one slice of bread, buttered side down on the griddle.  Top with 2 to 3 slice of cheese.
Top the cheese with the chopped chile and pinon nuts, followed by a sprinkling of fresh thyme leaves.
Top with 2 to 3 more slices of cheese, then the second piece of bread (buttered side up).
Heat the sandwich on the griddle, turning once, until both sides are toasty brown and the cheese has melted.
*See Kitchen Notes
[/print_this]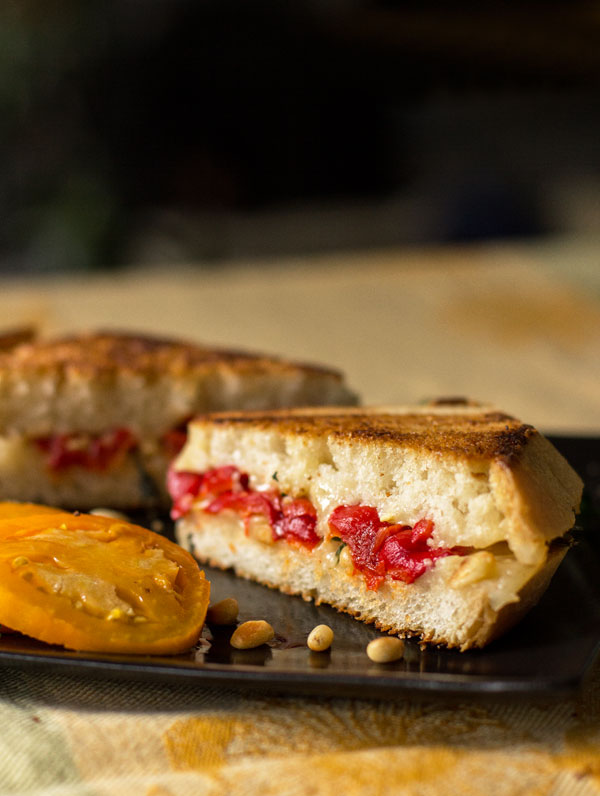 Kitchen Notes
Urfa Biber Chile or Chili or Chilli – In case this is your first time being introduced to urfa biber chiles, let me say that they are a chile you really should seek out.  They are a sweet and smoky chile pepper from Turkey.
The powder form has a raisin or date sweetness with a spiciness that I would rate as medium to medium hot. It can be in just about any recipe that calls for red chile powder and is a wonderful complement to chocolate; therefore, it's in those chocolate shots I mentioned previously as well as a sweet and spicy chocolate pudding.
The roasted fresh red chiles tasted to me like a sweet, earthy pimento. Like most fresh chiles, some of the chiles that I roasted had a nice medium spicy kick to them, while some were relatively mild.  I personally preferred these chiles roasted rather than raw, but then I love most all of my chiles roasted.  I can easily see these being the primary peppers in a Spicy Sweet Red Pepper Soup. or Grits and Green Red Chile.
I also have a bottle of Urfa Chili Flakes from Season with Spice.  These flakes were made from the urfa chili after it had gone from red to purple.  The drying method for urfa flakes yields a very rich, smoky, chocolate raisin flavor, a flavor completely different from the powder or fresh.  The drying process also concentrates the heat for a medium hot chile flake.  I substituted these for red chile powder in my Braised Red Chile Chicken and Vegetable dish. It added a sweet smokiness which was delicious!
If you would like to purchase some fresh Turkish, Italian and Syrian pods, contact Fords Fiery Foods and Plants either through its website or Facebook page.  Currently, Fords is selling the fresh pods and some seeds.  In the spring and early summer, it sells plants for your garden so you can grow them at home.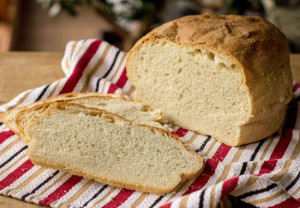 The Bread – Last weekend when I was in Santa Fe, I picked up a loaf of Pueblo Indian Bread, also called Horno Bread because it's made in a horno.  An horno is a clay or adobe oven and can be seen on the reservations and pueblos throughout New Mexico.
Whenever Bobby and I drive through the Jemez Mountains, I always keep my eye out for a roadside stand, hoping to be able to bring a loaf home.  The bread is a basic white yeast bread that I love eating fresh, but it also makes a great grilled cheese and is quite good for French toast as well.  This is the bread I've been using for our urfa biber grilled cheese sandwiches this week.  It yields a really nice crisp which is one of the textures I love about grilled cheese sandwiches.  There needs to be a little crunch when you bite into them.
If you're looking for another grilled cheese with chile, then check out this Green Chile Grilled Cheese (aka Albuquerque Turkey).