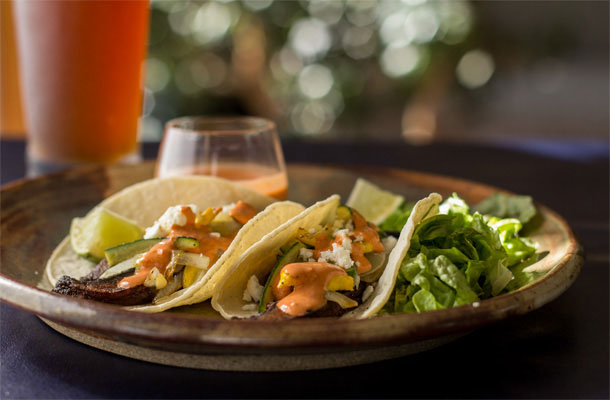 These Grilled Portabello Tacos with Red Chile-Yogurt Sauce were inspired by some Beer-Marinated Grilled Mushroom Tacos that I saw over at Oh My Veggies when I was searching for meatless main ideas.   Kiersten's tacos looked delicious, but I didn't have all of the ingredients so I improvised (a great deal actually) with what I had on hand.  The result was outstanding.  Bobby and I enjoyed them so much that when we went to Pagosa Springs with some friends, this was the meal we chose to dish up on our night to cook.  I had to increase the recipe a bit in order to serve 9 people, and in doing so, found that it is a very easy recipe to make for a small dinner party.
Grilled portabello tacos have a few easy steps, all of which go pretty fast and which can be done some what simultaneously by anyone, even those with minimal multitasking skills.  The mushrooms are basted with a simple oil and spice mixture, then set aside while you make the simple sauce, heat up the grill and chop the vegetables for the squash mixture.  Once the grill is hot, the mushrooms are grilled for about 8 minutes, then covered to stay warm.  A quick sauteed of squash, onion and garlic finishes the cooking process.  While sauteing the vegetables, you can warm the tortillas and crumble the feta.  All you have left to do after that is assemble the tacos, grab a beer, and enjoy!
Grilled Portabello Tacos with Red Chile Yogurt Sauce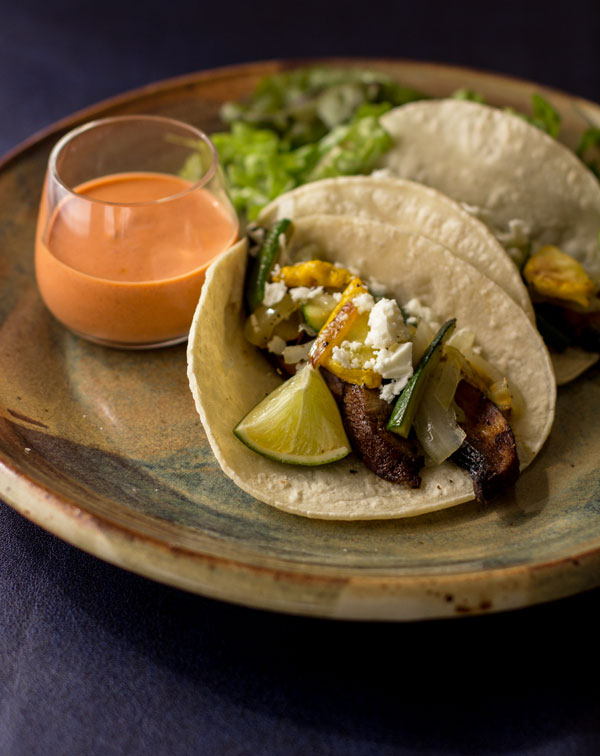 Grilled Portabello Tacos with Red Chile-Yogurt Sauce Recipe
A decadent vegetarian tacos that would please even the biggest carnivore.
"*" See Kitchen Notes for more information or links to special ingredients.
Course:
Main Course, Vegetarian
Ingredients
Mushrooms and Mushroom Marinade
2

large Portabello mushrooms,

stems removed, cleaned, sliced into ½" slices

3

Tbsp.

garlic infused oil or 3 Tbsp. olive oil and ¼ tsp. garlic powder

1

tsp.

red wine vinegar

¼

tsp.

smoked paprika

Dash or two of salt

Generous amount of pepper
Squash and Onion Mix
1

Tbsp.

olive oil

1/2

pound

summer squash,

sliced*

½

large onion,

sliced thin

2

large garlic cloves,

minced

Salt and pepper to taste
Red Chile–Yogurt Sauce
½

cup

red chile sauce or favorite salsa*

½

cup

plain Greek yogurt
Other Ingredients
6

corn tortillas

½

cup

feta cheese,

crumbled

½

lime cut into 6 wedges

chopped cilantro

(optional)
Instructions
Mushrooms
In a small bowl, whisk together the ingredients for the mushroom marinade (oil, garlic powder, smoked paprika, vinegar, salt and pepper).

Lay the mushroom slices on a large plate or sheet pan.

Brush both sides with coating.

Prepare grill for a medium heat. Once hot, place mushrooms slices on the grill. Grill for 4 minutes per side.*
Squash & Onion Mixture
In a large skillet, heat the oil over medium heat.

Add the onion, squash, garlic, salt and pepper.

Sauté, stirring frequently until vegetables are soft, about 4 minutes
Red Chile Sauce
Whisk together the red chile sauce and the yogurt.

Refrigerate until ready to assemble tacos.
Corn Tortillas
Heat up a cast iron griddle. Place 2 corn tortillas on the griddle.

After about 30 seconds, flip the tortillas and heat for another 30 seconds or until both tortillas are soft and warm.

Transfer to a tortillas warmer or wrap in clean dish towel to keep warm.

Repeat with the remaining tortillas.
Assemble the tacos
Assemble tacos by placing 3 slices of mushroom down the middle of a tortilla, top with some of the squash/onion mixture.

Squeeze a wedge of lime over the vegetables.

Smother the vegetables with some of the red chile-yogurt sauce. Top with feta.

Wrap and enjoy!
Kitchen Notes
The Squash – Our preference for this dish is yellow summer squash, cut in half lengthwise, then sliced.  However, you can use any summer squash or a mix of summer squash.  For the tacos you see in the pictures, I used baby zucchini, sliced lengthwise then halved and baby patty pan squash, sliced.  This mixture was also quite tasty.
Red Chile Sauce – I have to admit that the red chile-yogurt sauce is what really makes this meal.  If you have time, you could make a batch of red chile sauce using pods or for an easy and fast sauce, make it with red chile powder.  If you don't have the red chile pods nor the powder, then just use your favorite salsa.  However, if the salsa is chunky, then I would recommend blending it a bit.
Grilling the Mushrooms – When you only have two mushrooms to grill, laying them directly on the grill is quite doable.  However, if you are cooking for a larger group, it is easier to lay the sliced mushrooms on aluminum foil.  When we made these tacos for nine people we used six mushrooms, which yielded A LOT of slices.  To make his life easier, Bobby placed aluminum foil on the hot grill and punch holes in it, and then placed the slices on the foil.  It took longer to grill the mushrooms (about 15 minutes), but he didn't have to turn the slices and the result was just as good.
For the carnivore – Crumble some cooked Mexican chorizo on top.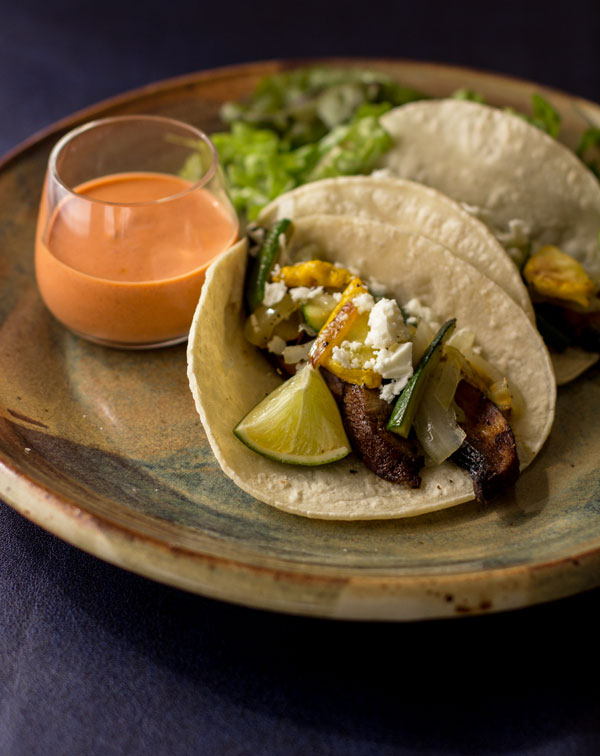 Another portabello taco you would enjoy is the Portobello Mushroom and Cubanelle Pepper Taco by Spicie Foodie
Speaking of Pagosa Springs, Colorado
A couple of weeks ago Bobby and I and some friends spent a few days in a friends' house south of Pagosa Springs.  There was lots of good food…
Grilled Three Cheese Pizza and Grilled Mushroom Tacos…
Good Drink…Great wine and Green Chile Beer from Riff Raff Brewing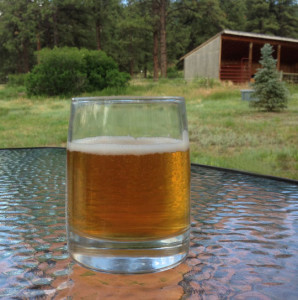 Gorgeous sunrises…
Tube fishing in a lake that is too beautiful for words….
and lots of just hanging out in a gorgeous place…
Until next week, I hope you enjoy the scenery and the grilled portabello tacos!