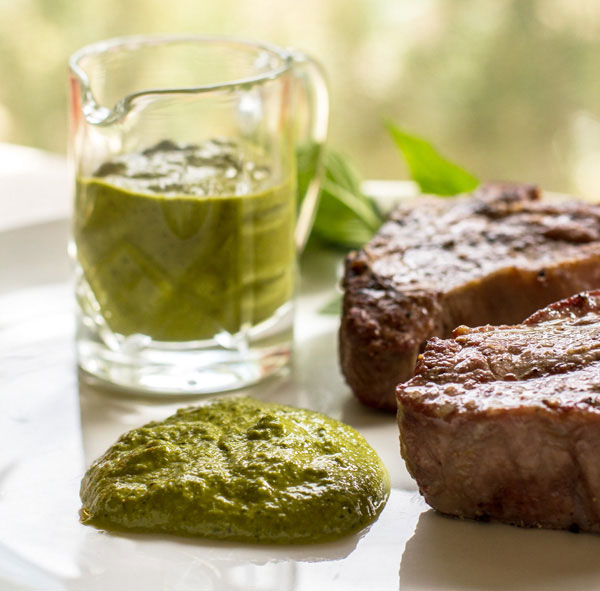 From the title of this post and the pictures, you've probably figured out that this post is more about the mint pesto than the lamb.  I could just sit and eat this Spicy Mint Pesto with a spoon.  To heck with the lamb chops. 🙂 Not really, we do love lamb chops and get some great ones at Costco.  Bobby always grills them and then I make a simple little sauce to go with them.   During the summer when my spearmint goes bonkers, as mint always does, I love making this spicy mint pesto, which, as all lamb lovers know, mint is a great complement to lamb.
To make this pesto, just throw all  of the ingredients into a blender and blend.  The recipe calls for 1 cup of packed mint which is a good bit of mint.  Of course if your mint is like mine, you won't even be able to tell that you've picked any.  This pesto freeze quite well, so at the end of the season, it's a great way to put up some of that mint so you can enjoy it during the colder months.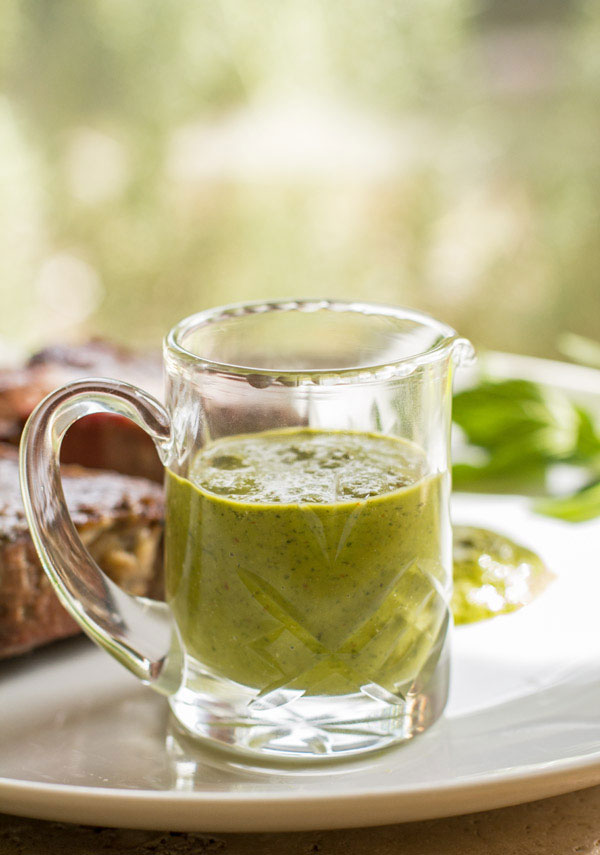 [print_this]
Spicy Mint Pesto for Lamb Recipe

Recipe author:  MJ of MJ's Kitchen
Yields about 3/4 cup
Prep Time: 15 minutes
Ingredients
For the Spicy Mint Pesto
2 Tbsp. toasted pinon nuts (pine nuts)*
1 cup packed mint leaves
¼ cup olive oil
Juice from one lime
3 cloves roasted garlic or 1 small raw garlic clove
1 Tbsp. minced onion
1 tsp. honey or maple syrup
½ tsp. red chile flakes*
1/8 tsp. salt or to taste
The Lamb Chops
6 to 8 thick lamb chops
Salt and fresh cracked pepper
Instructions
For the Spicy Mint Pesto
Lightly toast the pinon nuts.
Put all mint pesto ingredients in a blender and blend until smooth.
Transfer to a serving container and refrigerator until ready to use.
For longer storage, cover with plastic wrap.  Lay the plastic directly in contact with the pesto to prevent it from oxidizing and darkening.
For the Lamb Chops
Prepare the BBQ grill for a medium heat.
Salt and pepper both sides of the lamb chops.
When the grill is hot, grill for 5 to 6 minutes per side for medium rare, turning once.  Grill a minute longer for medium.
[/print_this]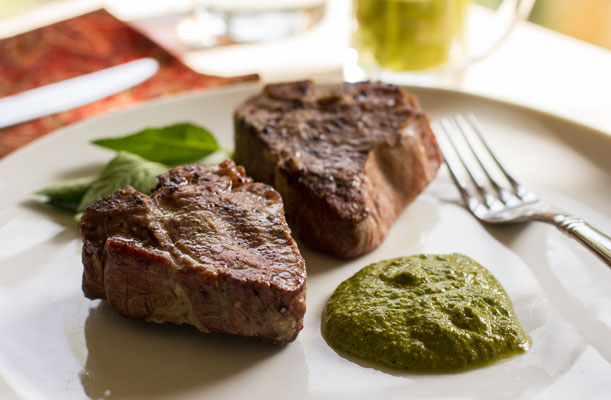 Kitchen Notes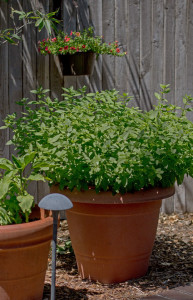 Piñon nuts (Pine nuts) – The piñon nuts could be substituted with walnuts, almonds, pecans or pumpkin seeds.  However, if you use walnuts, I would omit toasting them because, toasted walnuts can be overpowering in a pesto IMO.
The Mint – If you don't grow mint, you should. It is the easiest thing in the world to grow and is quite forgiving when ignored. However, it does take over, so I've had found that it grows best in a large pot, which yields more than enough fresh mint for the summer, dried mint for the winter and frozen mint and mint pesto for year round.  The only mint I grow is spearmint which makes a nice pesto.  Would another mint work?  Possibly.  If you try it with another type of mint, please let me know.
Red Chile Flakes – Aleppo chile flakes and New Mexico red chile flakes both work great in this recipe.  Because both can be quite spicy, and the fact that this pesto gets spicier the longer it sits, 1/2 teaspoon was plenty for us.  I haven't tried this pesto with other chile flakes but I'm sure it would work with your favorite.
Other uses for this Spicy Mint Pesto
Sandwich spread – Our favorite sandwich with this pesto consists of thick slices of bologna, fried in butter.  Toast the bread or rolls, spread one slice with the pesto and one very lightly with Dijon mustard.  Add the bologna, thinly sliced sweet onion, and lettuce.
Toss with pasta and a few sauteed vegetables.
Add to rice dishes or sauteed vegetables.
Serve with other grilled meats or roasted leg of lamb.