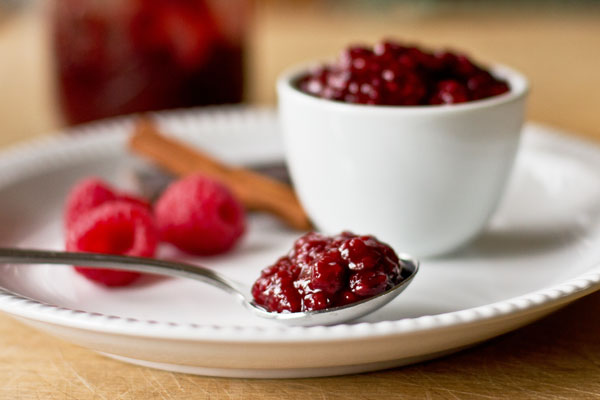 Have you ever had black mole (aka Mole Negro)?  Mole Negro is a dark, rich, spicy sauce that is one of the seven moles of Oaxaca, Mexico. I made it once with great success, but it was a very time consuming and laborious process, so much so that the next time I wanted to make it, I wimped out and bought some from the local Mexican market. My love of mole is what drove me to make this  Raspberry Mole Jam. I wanted a sweet and spicy jam with a little nuttiness, and the richness of a black mole.  For this jam, raspberries are cooked down with a little sugar (less than normal), minced dates, almonds, red chile, chocolate and spice.  You'll be hooked on the first bite.

The recipe below is for one jar of raspberry mole jam.  It does not use pectin and does not require a sterilization process for the jar.  Just use a very clean jar and lid.  Once poured, keep the jam in the refrigerator until it's all gone, which won't be for very long. Do not store in the pantry for the winter. Make it today and eat it tomorrow. 🙂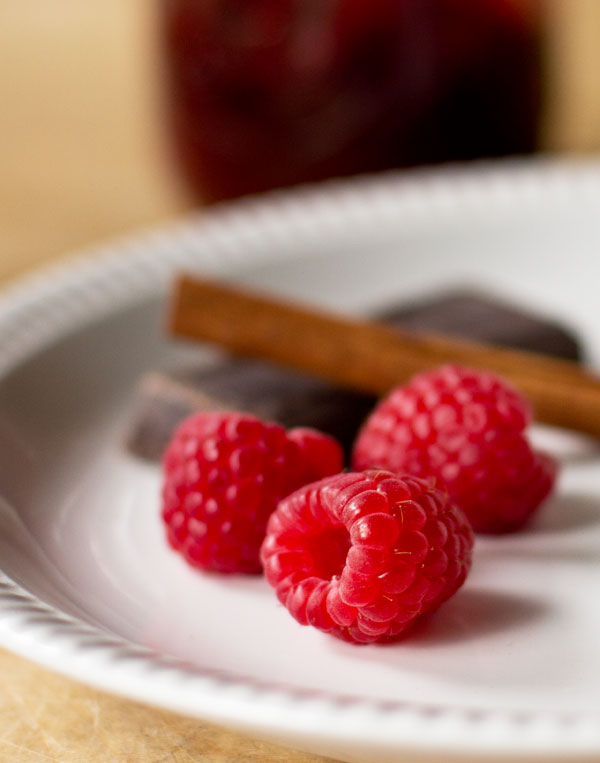 [print_this]
Raspberry Mole Jam Recipe
Before starting you might want to review my Kitchen Notes on Making Q&E Jams
Recipe author:  MJ of MJ's Kitchen
Yields: less than 1 pint
Prep and cook time: less than 40 minutes
Note:  This is a refrigerator jam and not intended to be sealed and stored in the pantry. All you need is a very clean jar. Once the jam has cooked to consistency, pour into a jar, seal, let cool and refrigerate.
Ingredients
16 ounces fresh raspberries
2 dates, minced
4 ounces sugar
½ ounce almonds, minced
½ ounce onion, minced
Juice from 1 lime
1 small cinnamon stick (about 2 grams)
2 whole cloves
Dash of nutmeg*
1 generous tsp. New Mexico red chile powder (medium to hot)*
½ tsp. ancho powder*
1 ½ tsp. cocoa powder
*See Kitchen Notes
Instructions
If you aren't planning on using temperature, to know when the jam is ready to pour place a small saucer in the freezer.
Rinse berries and add them to a sauce pan with the rest of the ingredients. Heat on low. Stir frequently until the sugar has melted.
Increase the heat to medium and bring the jam to a boil, stirring frequently.
Increase the heat to medium high and bring the jam to a full boil, stirring constantly. A full boil is a boil that cannot be stirred down.
Stir constantly at a full boil for 15 – 18 minutes. At 15 minutes, test the jam.
Pull the saucer from the freezer and place a drop or two of jam onto the saucer. If it spreads out, the jam's not done. Return the saucer to the freezer, continue to stir the boiling jam, and try again in 2 minutes. The jam is done when a drop does not spread out but retains its initial shape.* OR at 15 minutes add a candy thermometer to the pot and use temperature to know when the jam is ready.
Remove from the heat. Remove the cinnamon stick. Pour the jam into a clean pint jar. Let cool, then refrigerate.
This jam will keep in the refrigerator about six months.
[/print_this]
Kitchen Notes
Nutmeg – You can use a dash of powdered nutmeg or a couple of grates from a whole nutmeg (my preference).
Chile Powders – There are several chile powders that you could use.  Just choose 2 to 3 of your favorites and combine them to make 1 ½ to 2 teaspoons.  Of course the spiciness of the jam will be determined by the heat levels of the chile powders that you choose, so keep that in mind.  A hot chile will yield a spicy hot jam which could limit how you use the jam. I choose to use medium heat level chile powders for a mildly spiced jam that still goes well with peanut butter.
Favorite Uses:
Saltine crackers with jam and a little feta
English muffin, butter, and jam
The Cooking Process – After making several jars of jam using this method, you'll soon be able to know when the jam is done by the sound it makes when stirring at a full boil and the look of the jam as you stir.  Because of the 4:1 ratio of fruit to sugar in this particular jam, this will be a softer jam than jams that use a 2:1 ratio or more.  For the amount of berries used in this recipe, the cooking time should take no longer than 18 minutes at full boil.  A larger batch will take longer while a smaller batch (i.e., 12 ounces of berries) should probably be ready in 15 minutes.
If you like like this Raspberry Mole Jam, then you'll probably enjoy the other jams and preserves here in MJ's Kitchen.