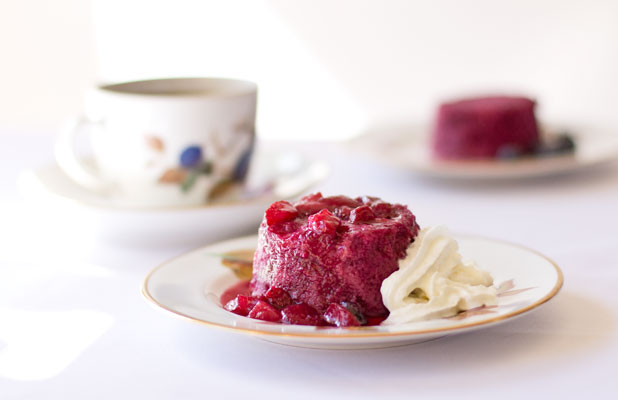 Before you head on down to the recipe, let me go ahead and tell you that this Mixed Berry "Pudding" has no dairy and no eggs and no bake time.  It's simply fruit simmered for 2 minutes with a sweetener and a little bit of water, poured into a bread lined ramekin and weighted down overnight to allow the fruit, juice, and bread to all come together as one.  It's best served cold with a bit of warm berries on top.  It's amazing!
The first time we had this mixed berry pudding was on our trip to Abiquiu, New Mexico.  Bob took me out to eat at Cafe Abiquiu, in the Abiquiu Inn on US 84.  We both had wonderful meals. Bobby had grilled fresh trout and I had grilled trout tacos. YUM!  For dessert we split a mixed berry pudding.  It's been a long time since I have been genuinely surprised by a dish, but this "pudding" was quite a surprise. It wasn't at all what we expected.  It was much better!  The whole time we were eating it, I was trying to figure out exactly how it was made.  So when the waitress came by to check to see if we needed anything else I said "Yes! I'd like the recipe for this pudding."  Without batting an eye, she says "Sure."  And came back a few minutes later (my mouth still hanging open in disbelief) with a printout of the recipe.  Do you think if I had told her that I might be publishing it for the whole world to see, that she would have still given it to me? 🙂
Not only is this mixed berry pudding amazingly delicious, it is also relatively easy to make. I did have to adjust the recipe from a restaurant size recipe that called for 5 pounds of mixed berries and 5 cups of sugar, to a recipe that made just 4 little ramekins.  It would be easy to double the following recipe for 8 servings and to adjust the amount of sweetener or even the type of sweetener to your tastes.  I'll talk about that in my Kitchen Notes.  But for now…on to the recipe.
Post – post note:  One of my overseas readers left a comment that she knew this pudding as "summer pudding"; so I looked it up.  Sure enough, based on King Arthur Flour "Summer pudding was devised by the English in the 19th century for people who wanted something that tasted richer than it actually was. This pudding, also designed to use up stale bread, is chilled rather than baked. "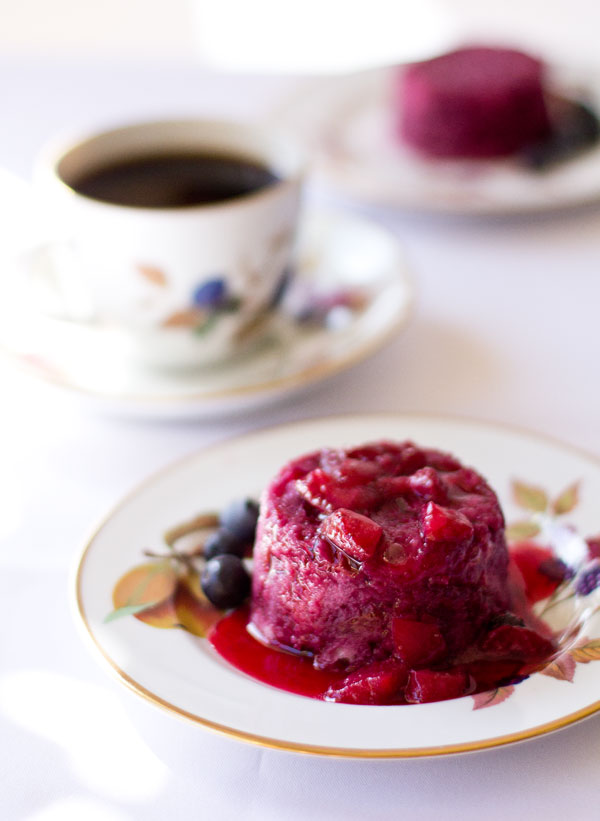 [print_this]
Mixed Berry Pudding Recipe

Adapted by MJ's Kitchen from the Cafe Abiquiu.

Yields:  4 servings with fruit topping
Cook and Assembly Time: 30 minutes
Set Time:  at least 8 hours
Ingredients
Dishes:  You'll need 4 ramekins for the puddings, another 4 ramekins (or other circular dishes) to place on top of each pudding, and "weights" to fill the ramekins. (See the picture below.)

1 pound mixed berries (fresh/frozen) (About 3 cups)
6 Tbsp. maple syrup or 3/4 cup sugar*
¼ cup water
Brioche or any nice artisan bread*
Whipped cream (optional)
One pound of berries yields enough for 4 small ramekins and some berries and juice leftover to serve as a hot topping.
Instructions
If using fresh berries, coarsely chop the larger berries like strawberries.  The blackberries I used for one batch were huge, so I cut them in half.  Frozen berries don't need to be chopped.
Add the berries, maple syrup or sugar and water to a sauce pan. Bring to a boil, stirring.
Reduce the heat and simmer 2 minutes.  Remove from the heat.
Remove all of the crust from the bread.
Cut 8 circular disks of bread (2 per ramekin), to the diameter of the ramekin and no more than ½" thick .  Cut several long, thin pieces of bread to wrap around the edges of the ramekin.*
Place one disk of bread in the bottom of each ramekin. Line each ramekin with strips of bread to create a breaded side. Fill in any holes, with small pieces of bread.
Fill each ramekin with some of the juicy berries.*  Place another bread disk on top and press. If it doesn't start absorbing the juice right away, pour a little more of the berry juice on top of it.
Place another ramekin on top of the pudding, gently press down and fill the ramekin with "weights". (The juice should come to the top, but not run down the sides. If juice pours over the side of the ramekin. this indicates you have too much juice, so let it flow over or carefully let it drain back into the sauce pan with the remaining fruit.)
Refrigerate the weighted puddings for at least 8 hours or overnight.
Refrigerate the remaining berries/juice.
Just before serving, heat up the leftover berries/juice or make another small batch. Bring to a boil and cook it down to a little thicker consistency if desired.
Use a knife to release the pudding from the sides of the ramekins and carefully dump the pudding on to a small plate. You might need to use the knife or a fork to pull the pudding away from the ramekin.
Top with hot berries/juice and whipped cream, if desired.
This mixed berry pudding will keep for 3 to 4 days in the refrigerator.  Just keep the ramekins weighted until ready to serve.  You can see from the picture below how the berries and bread all come together into a pudding-like dessert.
*See Kitchen Notes
[/print_this]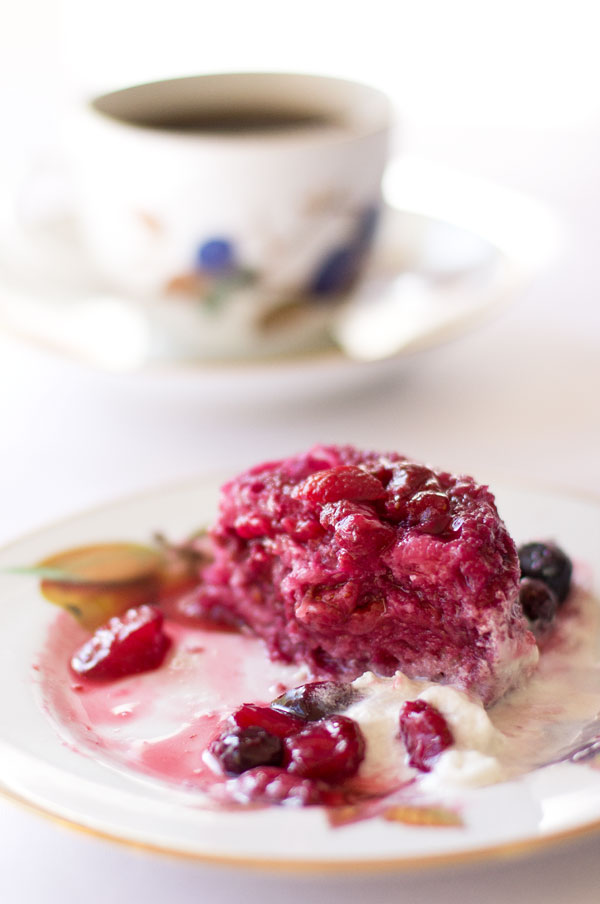 Kitchen Notes
The Berries – Use whatever you have – fresh or frozen or both.  As far as the type of berries – strawberries, blackberries, blueberries, raspberries – they all work. Just use whatever is available in your area.
The Bread – The original recipe called for a brioche, but I've now made it with 4 different types of breads and all have worked but one – the sourdough.  We didn't like the sour flavor with the sweet berries at all.  Brioche, a good artisan bread, or farmers bread all worked wonderfully.
The Sweetener – The original recipe called for 5 pounds of frozen berries, 5 cups of sugar and 1 cup water which made a very sweet pudding.  I did reduce the amount of sugar a little bit without sacrificing the deliciousness of the pudding.  I also made a couple of batches with maple syrup which I preferred; however, Bobby preferred the batches made with sugar.
Lining the ramekins with bread – If there is a difficult part to this recipe, I guess lining the ramekins might be it; however, I found that it's not a critical task.  Because the fruit and the juice grab a hold of the bread and it all just melds together under the weight, getting the bread lined up perfectly is not critical.  By the third time I made this I was using small pieces of bread to fill holes and gaps in the lining.  Believe me… it all holds together.  It does not fall apart.
The most critical part is not making the bread too thick.  For the small, single serving ramekins, try to keep the pieces to between ¼" to ½" thick, leaning more toward ¼".  If the bread gets too thick, you won't have room for enough berries and juice and the pudding will be "bready".  For larger ramekins, you can get away with a little thicker bread.
The amount of fruit and juice – Don't be afraid to be generous.  The first time I made it I was overly cautious and didn't put near enough juice in the ramekins thinking that it would make the pudding "soggy".  Well, it did the opposite – it was too dry.  In fact, some of the bread hadn't absorbed any juice.  So for then on, I didn't worry about the amount of juice and just filled the ramekin with berries and juice.  As mentioned in the recipe, if you use too much juice, it will run over when you press the other ramekin on top.  Just let the overflow run back into the sauce pan.
Weighting down the pudding – To compress the puddings, you need a vessel that fits on top and a little inside the pudding's ramekin.  That's why another ramekin works great.  For the weights, use glass marbles, rocks, or any small, heavy objects.
Because this Mixed Berry Pudding is served cold and doesn't go in the oven, it makes the perfect summer dessert.  I hope you enjoy it as much as we do…and a BIG thanks to the Cafe Abiquiu for sharing this recipe and for a memorable anniversary meal!