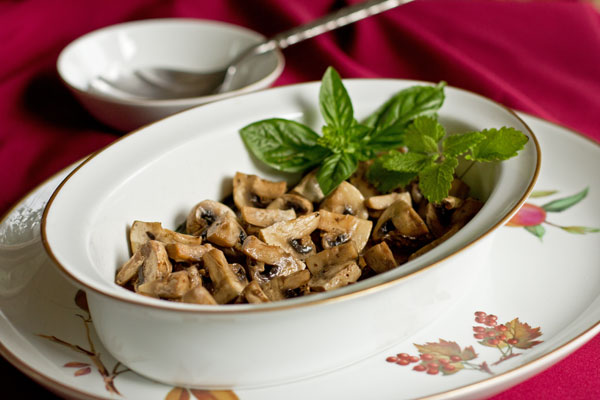 Herbaceous Mushrooms is a simple dish that celebrates the umami of mushrooms and complements it with the combined flavors of fresh herbs.  The fun part of making this dish is walking out to the herb garden and sniffing and clipping the herbs that you want in the dish.  You can choose two or three different herbs or as many as six or seven.  For this particular batch, I used a sprig of sage, tarragon, Thai basil, oregano, a few sprigs of thyme and lemon balm.  Some groceries sell little packets of  a mix of fresh herbs which are great for this dish. With all of the herbs and the fact that umami is also a flavor enhancer (due to the presence of glutamate), the amount of salt needed for this dish is minimal.  I add just a touch of salt before baking, and that's usually all I need.
Herbaceous mushrooms is an extremely easy dish to prepare and makes a flavorful side for just about entree'.  Because of the meatiness of the mushrooms, this dish could also be the entree'.  Just add polenta and another vegetable for a side and you have a healthy, hearty, and very flavorful meal.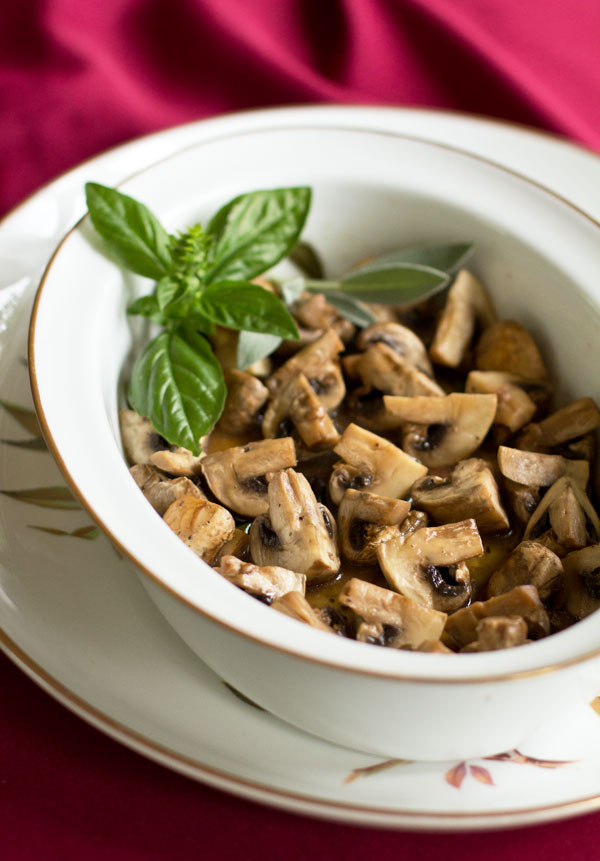 [print_this]
Herbaceous Mushrooms Recipe
Recipe author: MJ of MJ's Kitchen
NOTE: There are no true measurements for this recipe.
Prep and Cook Time: less than 45 minutes
Use as many mushrooms as you need.  One pound serves at least 4 as a side.
Ingredients
Large button mushrooms*, cut into 4 to 6 pieces or small mushrooms left uncut
Several clippings from a variety of fresh herbs – you should have enough to cover the bottom of the dish your using*
olive oil (garlic infused if you have it)
About 1 Tbsp. butter
A touch of sea salt* (seasoned sea salt is nice)
Fresh cracked pepper
Instructions
You can bake this in a covered casserole dish or wrap in parchment paper, place on a sheet pan and then a medium hot grill for 30 minutes. The prep is the same for both baking methods.
Preheat the oven to 325°F.
Lay several springs of fresh herbs in the bottom of a casserole dish (or on the bottom of the parchment).
Lay the mushroom pieces on top of the herbs.
Drizzle with olive oil. (The mushrooms will absorb the oil at first, but then release it while baking.)
Break the butter into pieces and distribute on top of the mushrooms.
Sprinkle with a little bit of sea salt and some fresh cracked pepper.
Cover tightly with a lid or aluminum foil.
Bake for 30 minutes. Remove from the oven and let rest for 5 minutes.
[/print_this]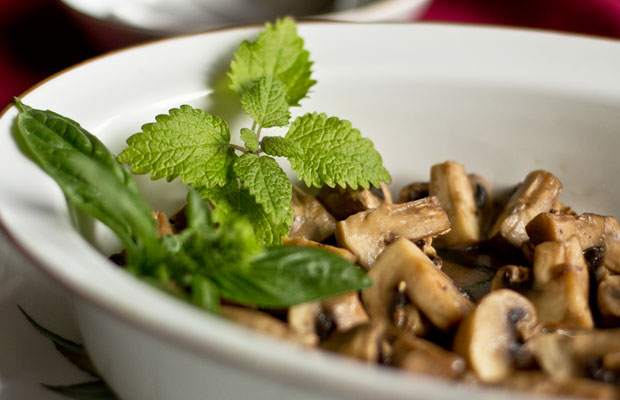 Kitchen Notes
The Dish – You'll need a casserole dish or skillet large enough the spread the mushrooms out in one to two layers.
Mushrooms – For this particular batch I used button which I love because they stay firm and meaty even after 30 minutes in the oven. However, any kind of  mushrooms would work and a blend of mushrooms can be really exciting.  Just be sure not to cut the pieces too small and for smaller mushrooms, just leave them whole.
An FYI about mushrooms – Agaricus bisporus is the fungi commonly referred to as "mushroom". The most common Agaricus bisporus is what we know as the white button mushroom. In recent years the mushroom industry has developed a brown version of the Agaricus bisporus which is known as "crimini". When these mushrooms are allowed to grow and mature, the larger version is the portabello. Source: Kuo, M. (2004, January). Agaricus bisporus: The button mushroom Retrieved from the MushroomExpert.Com.
The Herbs – Just about any fresh herbs can be used, but be careful not to use too much of any one herb so that it doesn't become overpowering. Rosemary and marjoram are two herbs that I find to be overpowering in this dish, so when I use then, I use them in small amounts.  Herbs that I suggest include oregano, tarragon, sage, mint, lemon balm, thyme, lemon thyme, basil (all kinds), parsley, and chives.
Sea Salt – My favorite for this recipe is Truffle sea salt which is appropriate since this is a mushroom dish.  However, regular sea salt is just fine. As I mentioned before, use salt sparingly.  It's easy to over salt mushrooms.  If you are afraid of oversalting, then wait to add the salt. Taste the mushrooms after they have cooked and salt to taste.
What combination of herbs would you use for these herbaceous mushrooms?