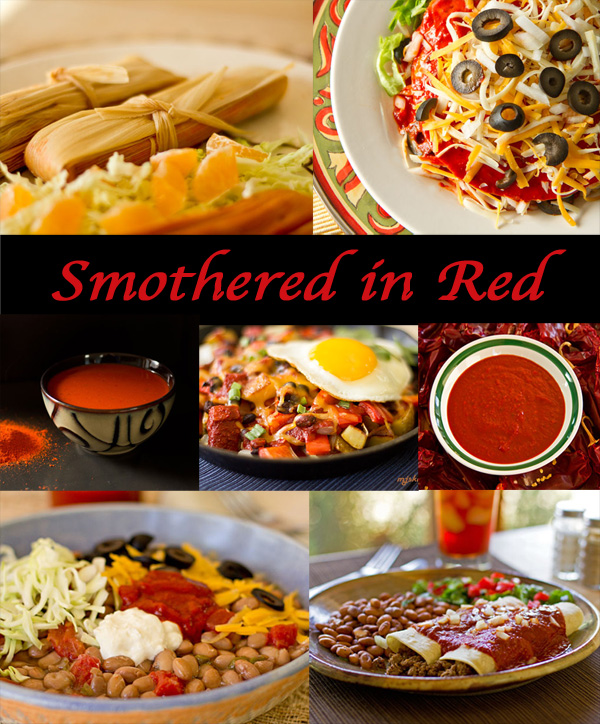 Every fall we buy either a ristra or a sack of dried red chiles and then use them throughout the year for New Mexico red chile sauce, chile paste, chile infused oils, or to season soups or casseroles. In the early summer I try to use up any remaining pods by making a huge batch of red chile sauce. So with so much sauce now sitting in the freezer, I thought I would gather up a bunch of recipes that use red chile sauce and share them with you in one post.
Let's start off with the a couple of red chile sauce recipes. The first recipe is chile sauce made from pods, and the second one is red chile sauce made from red chile powder. When I make chile sauce from dried red chile pods, I make a big batch and then freeze it in 1 to 2 cup portions. The red chile sauce from powder recipe makes a much smaller batch (about 2 cups) and is great when you just want to make a single batch and make it very quickly.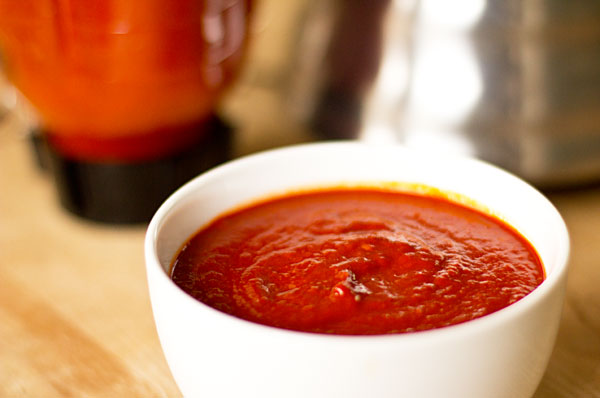 made from red chile pods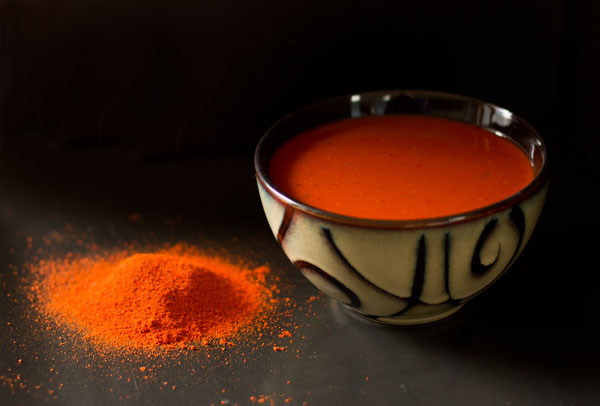 I've been asked many times "How do you tone down the heat in a red chile sauce?"  Well, if you know from the start that the red chile is TOO hot for your taste, then tone it done with pumpkin pulp.  Here's my recipe for Red Chile Pumpkin Sauce.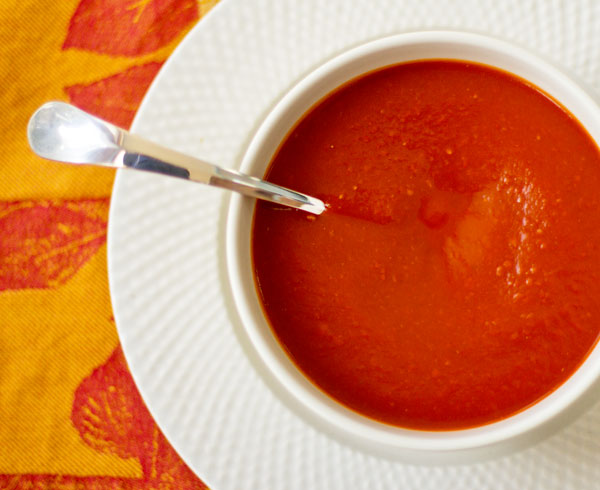 If after you make the sauce you find it to be too hot, then you could add some sour cream or plain yogurt to it.  A 1:1 ratio of chile sauce to yogurt yields a nice red chile cream sauce.
All of these sauces can be used to smother just about anything.  Here are a few things that I like to smother with red chile sauce:
Burritos (Beef, pull pork, chicken, bean, beans and rice, grilled vegetables, scrambled eggs)
Enchiladas (several examples listed below)
Hamburgers
Veggie Burgers
Eggs
Hashbrowns or French fries
Tamales
Speaking of tamales…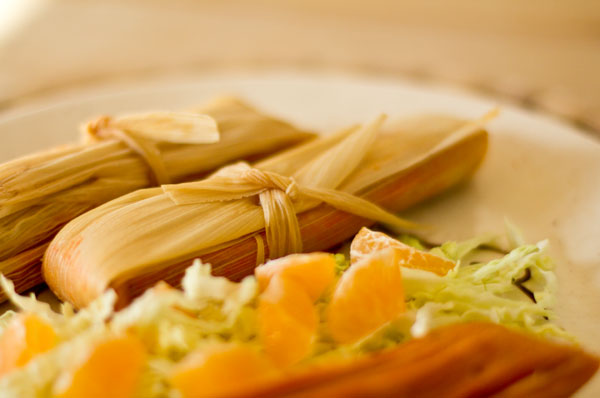 Add some red chile sauce to tamale masa with cooked chicken, wrap in corn husks, and steam.  Serve tamales smothered in red chile sauce!
Some more of my favorite dishes to smother: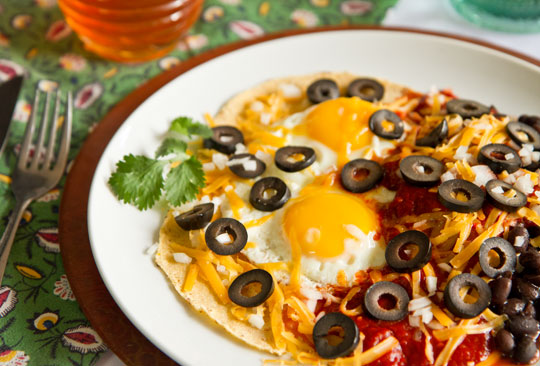 A hearty breakfast of fried eggs, on steamed tortillas, topped with chopped onion, cheese, and black olives, and smothered in red chile.  Serve with a side of hash browns or beans.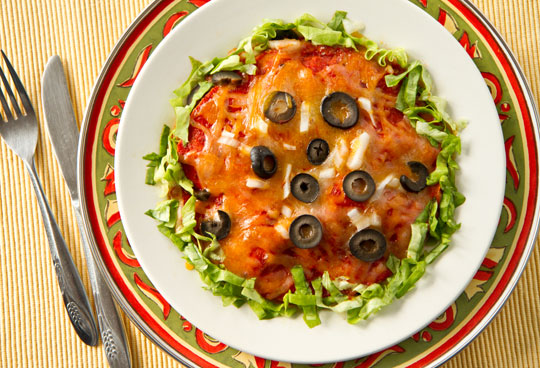 New Mexico Red Chile Enchiladas with Onion and Cheese
Corn tortillas dipped in red chile and stacked with onion, cheese, and olives.
Smother with red chile, heat in the microwave for 2 minutes,
top with an egg and enjoy!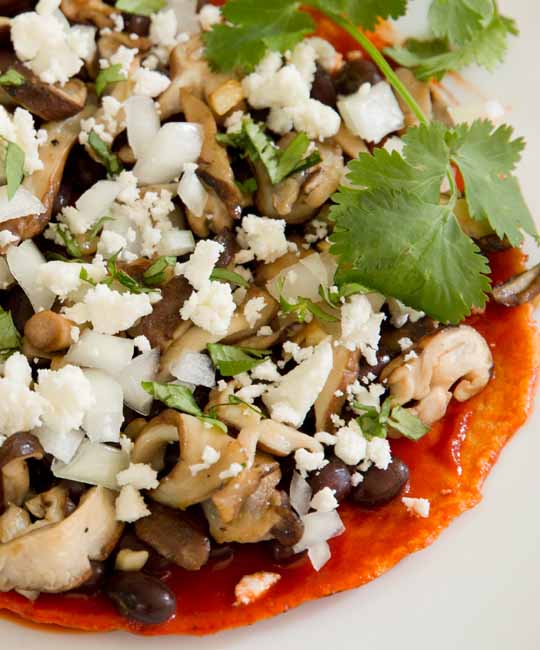 Black Bean and Shiitake Mushroom Enchiladas
Corn tortillas dipped in red chile and layered with sauteed shiitake mushrooms, black beans, feta cheese and onion.  Oh yeah – top with red chile and an egg.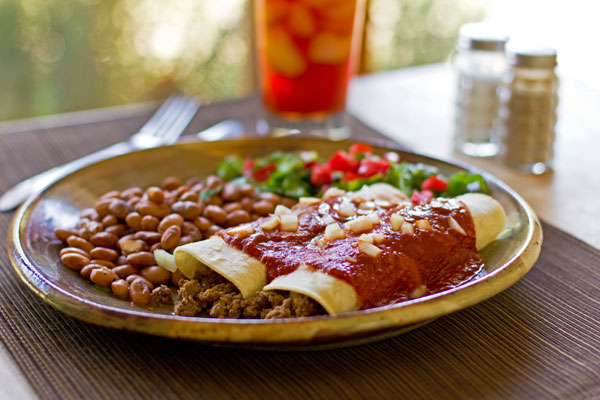 Beef and Chorizo Enchiladas with Red Chile Sauce
Cooked beef and Mexican chorizo wrapped in steamed corn tortillas, smothered with red chile and topped off with diced fresh onion.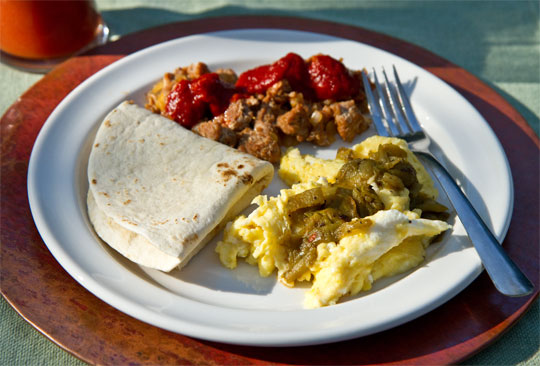 Mexican Chorizo with Red Chile Sauce
For a really, really spicy breakfast – cook up some Mexican chorizo and smother it in red chile.  You'll need a side of eggs to help calm the fire in your belly.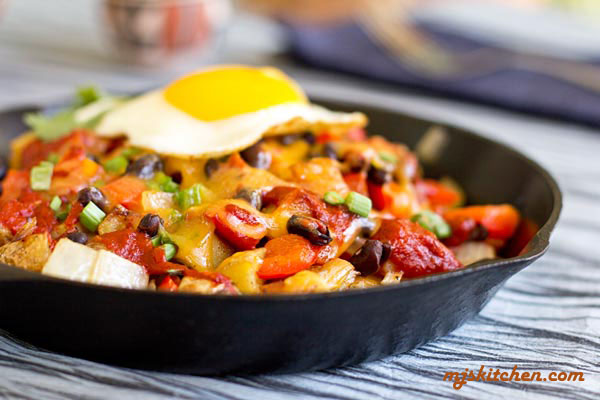 Southwestern Pileup with Red Chile Sauce
Pan fry potatoes with onion and bell peppers, add your choice of other ingredients like beans, bacon, green chile, tomato, chicken, or beef.  And what comes next?  All together now …. smother it in red chile  and top it with an egg!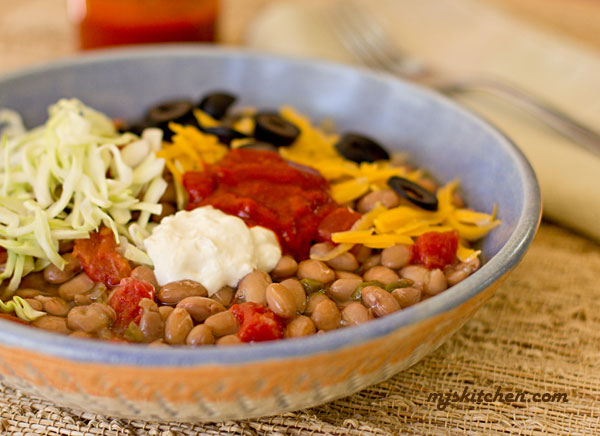 Serve up a bowl of pinto beans with cheese, fresh tomatoes and onion, lettuce or cabbage, and maybe a touch of sour cream or guacamole.
Finish it off with a big scoop of red chile.
Now let's put some of those beans in a burrito…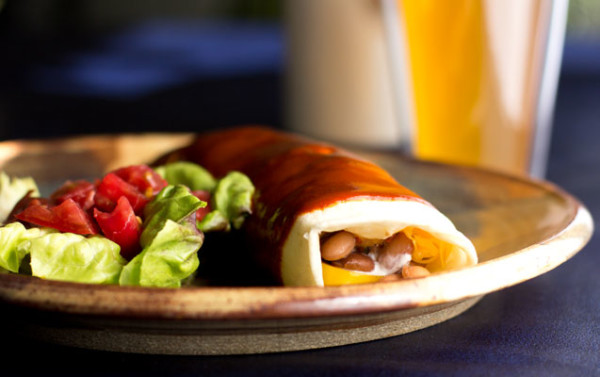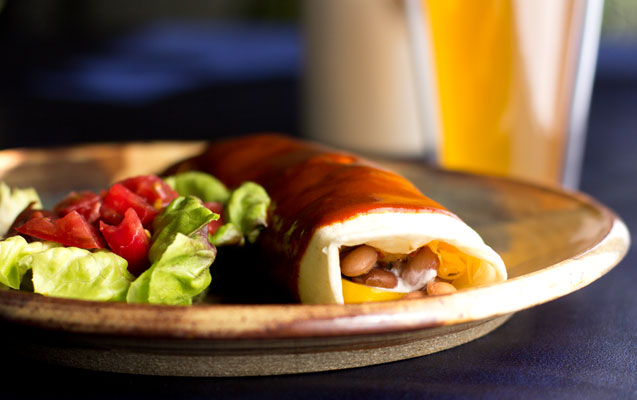 Fajita-Style Bean Burritos Smothered in red
Pinto or black beans seasoned with chipotle, topped with seared vegetables and your choice of toppings, wrapped in a flour tortilla, and smothered in red.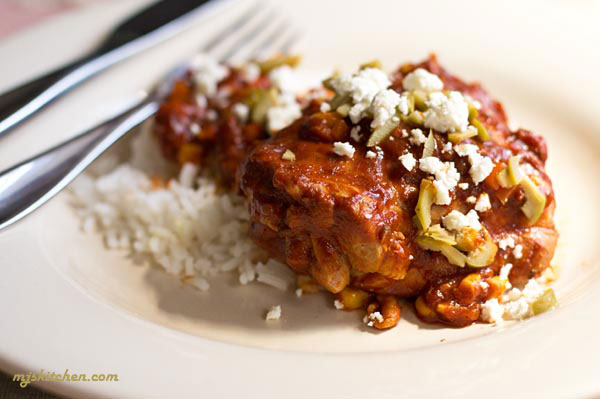 Braised Red Chile Chicken with Vegetables
This recipe braises chicken in a tomato-based red chile sauce.  However, when I'm feeling lazy, I just pull some red chile sauce from the freezer and use it, omitting the tomatoes altogether.
A quick and hearty meal.
Last but certainly not least is one of my meaty favorites, Carne Adovado.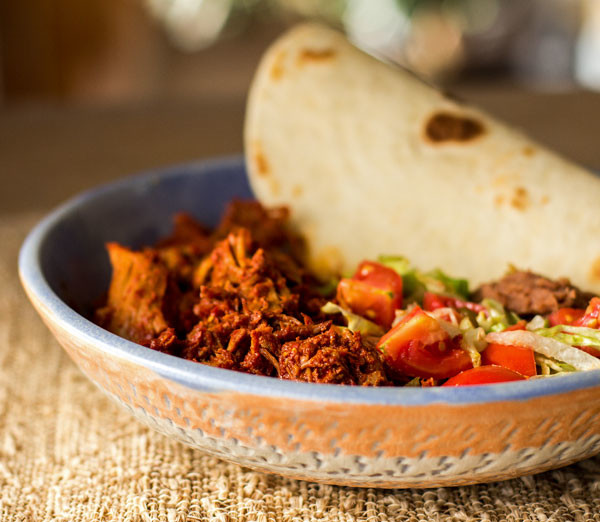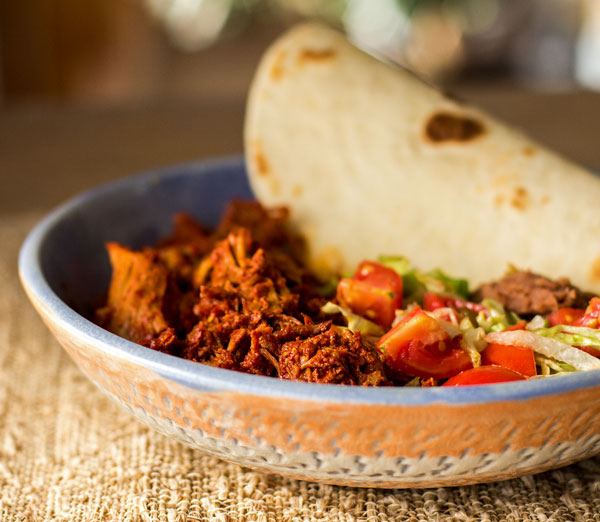 Pieces of pork shoulder marinated overnight in red chile, then slow-cooked until the pork is pull apart tender. The melt in your mouth pork with the spicy red chile is to die for!  And if you have leftovers, make a batch of Carne Adovada Enchiladas.
Here are some more dishes smothered in red chile sauce that I know you'll enjoy:

Pulled Pork Enchiladas with Red Chile Sauce from Barefeet in The Kitchen
Goat Cheese & Mushroom Chiles Rellenos with Red Chile Sauce from Cats in the Kitchen
Stacked Breakfast Enchiladas with Red Chile Sauce from Foodie Crush
New Mexico Red Chile Enchilada Casserole by Diaz Farms
Red Chile Chicken Pozole' (Posole') by Spice Foodie
New Mexico Carne Adovada from She Cooks….he cleans
Chuncho's Red Chile Stew from Chimayo Chile Brothers
Black Bean – Goat Cheese Enchiladas Smothered in Christmas (both Red and Green) from Eliot's Eats
If you'd like to buy some dried red chiles or red chile powder, check out these New Mexico Chile Product Suppliers.