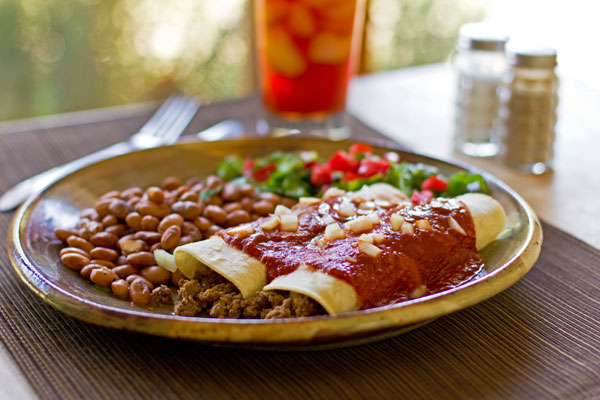 During our Abiquiu trip, we took a drive through El Rito, New Mexico, and on to Ojo Caliente.  Ojo Caliente is another small New Mexico town which is well known for its Mineral Springs Resort & Spa. Originally, we were going to eat lunch at the spa restaurant, but once we arrived and saw how crazy, busy the place was we decided to go elsewhere. We were looking for something a lot more laid back, which was the general theme of our vacation. 🙂 So we drove back to the main road where we saw a sleepy looking cafe called the Mesa Vista Cafe.
The Mesa Vista Cafe was just what we were looking for.  We were greeted by a very sweet lady that made us feel like we were being welcomed into her personal kitchen.  Bobby ordered the chicken enchiladas with green (green chile sauce) and I ordered the beef enchiladas with red (red chile sauce).  After we both placed our orders we were asked "Onions?"  Of course!  Not a question many restaurants ask, but I love it when they do because I love raw onions in my enchiladas.  The food was good, and the chile sauces great, which, of course, is what makes any plate of enchiladas worth eating.  Along with the chile sauces, the other thing I liked about these enchiladas was their simplicity.  Neither of them had cheese – just meat (which could have used a little more seasoning), barely cooked onions, homemade tortillas, and chile sauce.  That's it.  Nothing fancy, just good old home cooking.
These Beef and Chorizo Enchiladas are the style of enchiladas served at the Mesa Vista Cafe and many other small town New Mexican restaurants.  No cheese, sour cream or guacamole garnishes, just a simple filling wrapped in warm, soft, corn tortillas and smothered in chile sauce. They are so easy to make and, for the filling, you can use just about anything you want – chicken, ground beef, sauteed vegetables, beans, or what I use here, ground beef and Mexican chorizo.  For sides pinto beans (whole or refried) work well, and of course the traditional New Mexico salad of lettuce and tomato.  I hope you enjoy!
Beef and Chorizo Enchiladas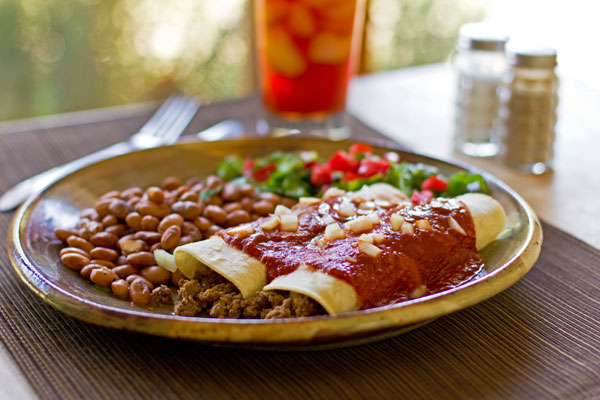 Beef and Chorizo Enchiladas with Red Chile Sauce Recipe
These enchiladas can be made in less than 30 minutes if you already have the red chile sauce. See Kitchen Notes for links to making red chile from pods and from powder. Red chile from powder can be made pretty quick.
"*" See Kitchen Notes for more information or links to special ingredients.
Course:
Main Course, Meat Entree, Red Chile
Cuisine:
Mexican, New Mexico, Southwestern
Ingredients
Amounts are estimates for 4 enchiladas and can easily be increased or decreased to accommodate the number of people being served.
½

pound

lean ground beef

¼

pound

Mexican chorizo*

¼

tsp.

dried oregano,

crushed

½

cup

chopped onions

(sweet onions are best)

4

corn tortillas*

1

cup

red chile sauce*

Montery Jack cheese

(optional)
Instructions
In a bowl, combine the ground beef, chorizo and oregano and, using your fingers, incorporate the chorizo into the ground beef so that it is well distributed.

Heat a medium sized skillet over medium heat. When hot add the meat mixture and break it up into small pieces to cook. Keep stirring until the meat is cooked through, but not dry for 4 to 5 minutes. Taste and add salt and pepper if needed.

Add half of the onion. If you don't like raw onion, then cook for about a minute; otherwise, stir in the onion and then remove the skillet from the heat.

Heat the corn tortillas one at a time on a hot griddle. When soft and warm, transfer to a plate and scoop about ¼ of the meat mixture or desired amount down the middle of a tortilla. Roll and turn over, seam side down.

Repeat with the other tortillas, placing two enchiladas on two plates.

Smother with red chile sauce and top with the remaining raw onion and cheese (if desired).

Place in microwave for 30 - 60 seconds.

Serve with choice of sides.
Kitchen Notes
Filling – As previously mentioned, you can fill these enchiladas with just about anything you want.  Just don't forgo the seasoning in the filling.  Even though the enchiladas are smothered in chile sauce, your filling still needs to have some taste of its own.  Chicken, beans, scrambled egg, chopped and sauteed vegetables all work.  You could also go with just cheese or you could add cheese to the filling.  If you do use cheese, then you'll need to heat the plate in the microwave or under a broiler in order to melt the cheese.  Shredded chicken with a little sour cream and onion makes a good filling as well as scrambled eggs with chorizo.  Shredded pork or beef, carne adovada, or just well seasoned ground beef all work well too.
Red or Green? – With beef, sausage or beans, I usually prefer red chile sauce.  However, with chicken or vegetables, I prefer green chile sauce. But that's my preference.  Some people prefer Christmas (red and green) on their enchiladas and that works great for these as well.
Condiments – Of course with any dish, you can add whatever condiments your heart desires.  Suggested condiments for these beef and chorizo enchiladas would be sour cream and possibly some guacamole.  I consider the tomato and lettuce "salad" a condiment, because I like to grab a little of each with my fork on every bite, just like you would a little sour cream.
As you can see, enchiladas don't have to take all afternoon to make.  Granted – if you are serving a large group, then yes, enchiladas in a large casserole dish is easier.  You could also treat this meal like making pizzas.  Provide different fillings, green and red chile sauces, and let your guests make their own. 🙂  When you are just serving 2 to 3 people, this method of making enchiladas is quick and easy and the result is as if you had spent all afternoon cooking.
I hope you enjoy making your own restaurant style enchiladas as home!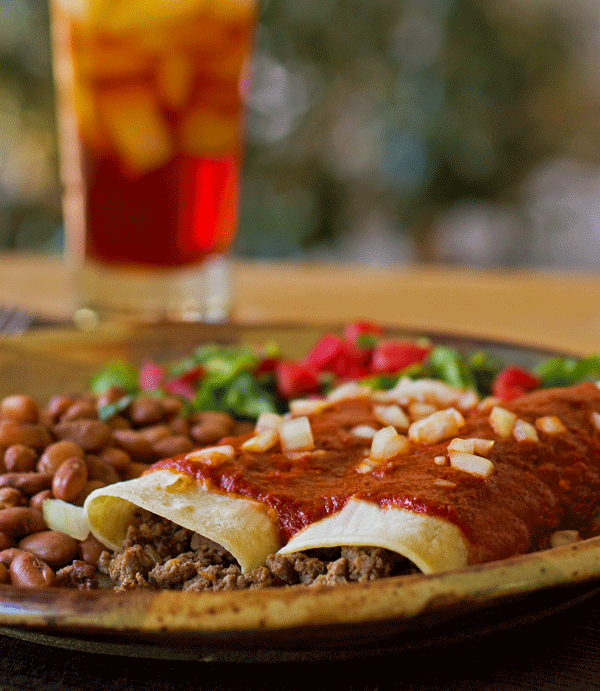 Parting Shot
Here are some other enchilada recipes you might enjoy:
Carne Adovada Enchiladas with Red
Black Bean and Shitiake Mushroom Enchiladas with Red
New Mexico Red Chile Enchiladas
Calabacitas Enchiladas with Green