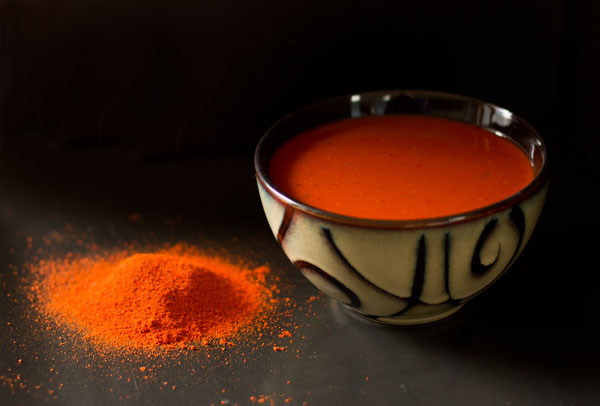 My usual red chile sauce is made with New Mexico dried red chiles pods, but every once in a while a reader asks about chile sauce made from red chile powder. So today I'm sharing a recipe for red chile sauce from powder.  The red chile powder I use is from New Mexico of course; however, this recipe can be used for just about any type of red chile powder. (See Kitchen Notes)  The three sauces you see in the picture below are from three different chile powders: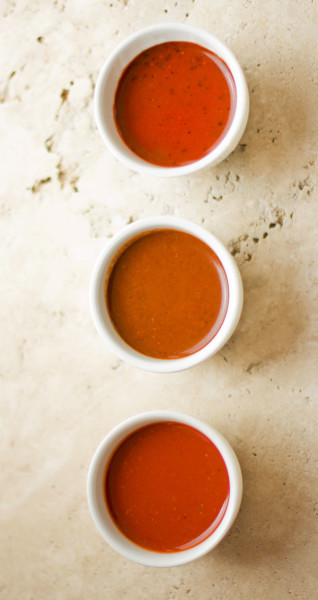 Red chile sauce from sweet paprika
Red chile sauce from red chile powder from southern New Mexico
Red chile sauce from red chile powder from northern New Mexico
If you've read my Red or Green? post, you know that the flavor of chile not only comes from the type of chile pepper (e.g., Big Jim, Anaheim, Cayenne, Chile de Arbol, Urfa Biber) but also from the dirt, the water, the altitude, and the climate of the area in which the chiles are grown.  Chile powder can be affected even more by the process used to make the powder.  For example, looking at the two red chile powders below, would you think that both of these powders are from New Mexico chiles?  Well, they are.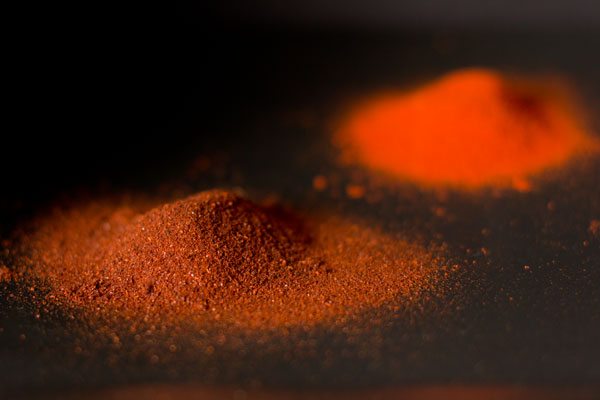 The lighter red one in the back is from northern New Mexico and the darker one in the front is from southern New Mexico.  Even though they are both from "medium" heat peppers, the northern chile is actually hotter than the southern chile.  There is also a difference in flavor.  The northern chile yields a somewhat sweet, rich sauce that works nicely with chicken and vegetables dishes.  The southern chile yields a bolder, earthier sauce that is great for beef and chorizo dishes. Both work great on huevos rancheros, tacos, bean burritos and New Mexico red chile enchiladas.  Believe me, I wouldn't hesitate to use either one of these powders, because they both make a delicious sauce, just different.
The following recipe can be used to make a red chile sauce from just about any red chile powder or combination of chile powders.  Find a chile powder that you like, cook up a batch of sauce and make your favorite enchiladas.  For sources of New Mexico chile powder check out the list of New Mexico chile sources.
 Red Chile Sauce from Powder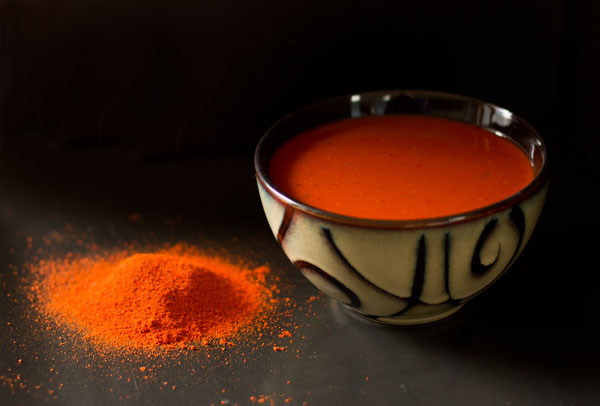 Red Chile Sauce from Powder Recipe
When you don't have the time nor the ingredients to make red chile from dried pods, it's very easy to make it from red chile powder and a few spices you probably have in the pantry.
"*" See Kitchen Notes for more information or links to special ingredients.
Ingredients
1

Tbsp.

fat

(Canola or vegetable oil, bacon drippings, or butter)

2

Tbsp.

flour

¼

cup

red chile powder*

2

cups

water or broth

chicken or vegetable

¼

tsp.

garlic powder

¼

tsp.

onion powder

1/8

tsp.

cumin powder or cumin-coriander spice mix*

¼

tsp.

crushed dried oregano

(Mexican oregano if you have it)

¼

tsp.

salt

1/2

tsp.

white or apple cider vinegar

¼

tsp.

sugar

(optional)

*

See Kitchen Notes
Instructions
Heat the fat in a sauce pan over a medium low heat. Once hot add the flour and stir to combine. Cook for 2 minutes stirring constantly. (This is your roux.)

Add the red chile powder and stir for no more than 30 seconds. The mixture will be quite clumpy. (Don't go past 30 seconds because chile powder can burn easily if the pan is too hot or you cook it too long without liquid.)

Slowly add the liquid, whisking to break up the clumps. Keep whisking until you have a smooth sauce.

Add the remaining ingredients (except for the sugar).

Simmer for about 15 minutes, stirring frequently until the sauce thickens. If the sauce gets too thick, add a little more liquid - 1 Tbsp. at a time - to get the consistency you want.

Taste. If the sauce is too hot or bitter, add a little bit of sugar.

Kitchen Notes
Red Chile Powder – For the flavor of a traditional New Mexico red chile sauce, use a New Mexico red chile powder. However, you could use whatever red chile powder is available in your area as long as it's a powder you like the taste of and one that is spicy, but not too hot. A Scoville heat unit (SHU) between 500 and 8,000 yields a chile sauce that can be used for enchiladas, huevos rancheros, and for smothering burritos. Any SHU hotter than that should be used sparingly unless you're a glutton for punishment. I would probably use the hotter sauces to top off tacos and tostados.
Paprika Chile Sauce – The sauce made with paprika was good, but I had to add some Kashmiri chile powder to it to give it a little kick, something all red chile sauces should have. Serrano, smoked serrano, or chipotle would also have created an interesting sauce but with a completely different flavor.
Powder Texture – The texture of the powder determines whether your sauce is smooth or gritty. To test, rub the powder through your fingers. If it feels gritty, then the sauce will be gritty. Run the powder through a spice grinder until you have a finer texture. A good texture is one close to the texture of flour.
Additional seasoning – To maintain a smooth sauce, I chose to use garlic and onion powders; however, you could mince a clove of garlic and about 1/4 cup minced onion if you'd like. Saute in the oil before adding the flour.
Sugar – If you find the sauce a little bitter, add a little sugar. It doesn't take much and can be added at the end. So be sure to taste the sauce before adding. Taste. Adjust seasoning to your tastes. If the sauce is a bit bitter, add the sugar.
So if you can't find red chile pods, or if you want a really nice red chile sauce in a hurry, then make a red chile sauce from powder from some of that chile powder you have in the pantry.  It's amazingly fast to throw together, and is quite delicious.
This Red Chile Sauce from powder has been shared with the Hearth and Soul Blog Hop  .