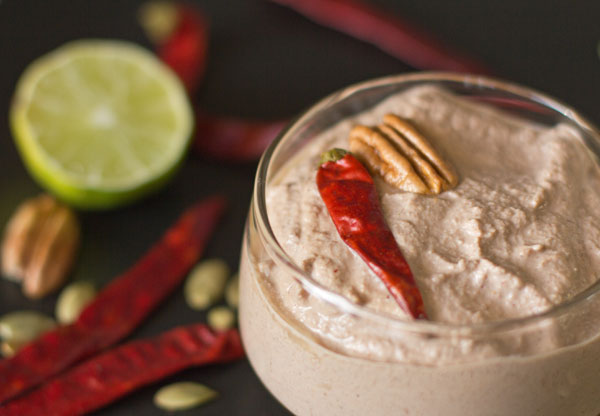 This Chile de Arbol Pipián type sauce is another way to enjoy the spicy and smoky de arbol chile.  The de arbol chile is totally different from the traditional New Mexico red chiles and quite a bit hotter. You'll find them in my Chile de Arbol Salsa, Red Chile Paste, and Chile de Arbol Hot Sauce.  Chile de Arbol Pipián highlights the flavor of the chile but in a totally different way from these previous sauces.  This sauce is similar to a Mexican molé or pipián sauce which are puréed seed/nut/chile sauces used for a variety of dishes.

The Chile de Arbol pipián I'm sharing with you today is a purée of a few toasted ingredients which include chile de arbol, pecans, pumpkin seeds and coriander seeds.  It's a very quick and easy sauce to throw together (less than 30 minutes), and has a very bold and unique flavor. It's pretty awesome! Smother some chicken and vegetables with it, or add a dollop to a serving of sauteed vegetables like calabacitas and mushrooms. It also makes a great sauce for tacos. OR you could do like I do and just grab a spoon and eat it right out of the blender. 🙂  Believe me, you'll be seeing more of this chile de arbol pipián in future posts.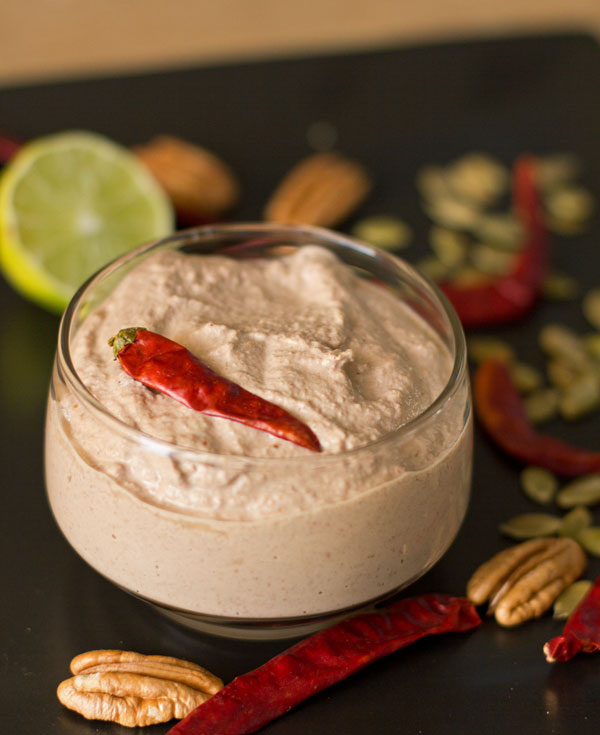 [print_this]
Chile de Arbol Pipián Recipe
Makes about 2 cups
Prep and Cook Time: less than 30 minutes
Recipe author:  MJ of MJ's Kitchen
Ingredients
1 ¼ cups water + ¼ cup
Chile de arbol peppers – 4 for medium heat, 8 for hot – remove stems and seeds*
¼ tsp. coriander seed
¼ cup pumpkin seeds*
1 cup pecans*
1/2 medium onion (~1 cup), chopped
4 large garlic cloves, coarsely chopped
Salt to taste
juice from 1 lime
*See Kitchen Notes
Instructions
Heat a heavy skillet over a medium high heat.
On another burner, bring 1 ¼ cups water and 1/8 tsp. salt to a boil then reduce to a low simmer.
To the hot skillet, add the chile de arbol and lightly toast by tossing the chile over and over for about 2 minutes. Transfer the chile to the simmering water.
Add the coriander to the hot skillet and brown lightly by tossing around the skillet for 1 to 2 minutes or until the seeds become aromatic and start to darken. Transfer to the pot with the chile and water.
Repeat this process with the pumpkin seeds. The pumpkin seeds are ready when they start to turn, swell and pop. Transfer to simmering pot.
Repeat the process for lightly toasted pecans. Transfer to simmering pot.
Add the onion and garlic to the skillet, remove from the heat and stir until the onion quit cooking. Transfer to the simmering pot. Add ¼ cup water to the skillet to deglaze. Pour that water into the simmering pot.
Remove the pot of water and ingredients from the heat and let cool for 10 to 15 minutes.
Transfer all ingredients to a blender. Add the lime juice and blend on high until smooth. If it gets too thick, add a little water, but be careful not to add to much. You want the consistency of a thick sauce but thinner than a paste.
It keeps in the refrigerator for 4 to 5 days.  Freeze what you don't use.
[/print_this]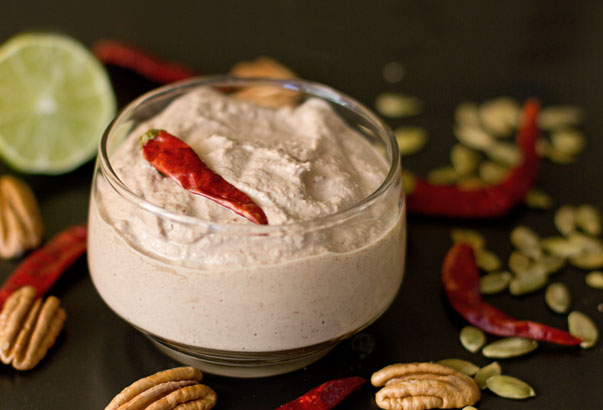 Kitchen Notes
The Chile de Arbol – Even though there are only 4 to 8 peppers in this sauce, they still provide a tremendous amount of flavor (and heat) that rises above all of the other flavors.  So don't be afraid to use just 4 peppers thinking you won't get enough flavor of the chile.  Believe me, you will definitely taste them and you'll get heat from them as well.  I'll make this sauce with up to about 8 peppers, but after that, it gets too hot for us to eat.  If you don't have chile de arbol, then give your favorite chile pepper a try.  Any flavorful, spicy little chile should work just fine in this recipe.
The Pumpkin Seeds – Sunflower seeds can be used in place of pumpkin seeds as well as a mix of sunflower and pumpkin.  You could also throw in a few sesame seeds.
The Pecans – Well it wouldn't be a pecan sauce without the pecans, but if you don't have any, you can definitely substitute with almonds.  And if you want a completely different flavor, then use peanuts with a sesame/pumpkin seed mix.  This combination works great with pork and shrimp.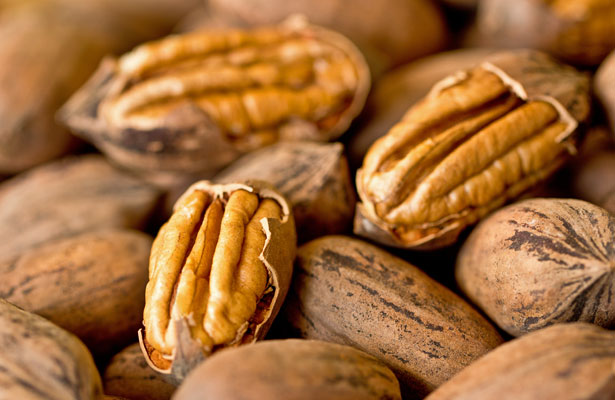 New Mexico Pecans
Did you know that New Mexico is one of the top three pecan producers in the United States (Georgia and Texas being the other two)?  This year New Mexico has had its best crop in 10 years.   Even though we've been in a pretty bad drought, this year's rains came at the right time and we're getting a bumper crop.  So it is a good year to buy pecans.  Like chile, I usually buy pecans in bulk and freeze them.  They freeze quite well and it's always nice being able to grab a handful of pecans when you need them.
This year I purchased the pecans you see here from my friends at Diaz Farms in southern New Mexico.  I bought 10 pounds of unshelled pecans which is about 5 pounds shelled.  These pecans are excellent! They are very easy to shell, meaty, and have a great flavor.  The difference between these pecans and those you buy at grocery store is night and day.  So if you want some great pecans, check New Mexico pecans out this year.  And while you're at it, be sure to pick up a bag of chile de arbol peppers as well.   You're going to need them to make this chile de arbol sauce. 🙂