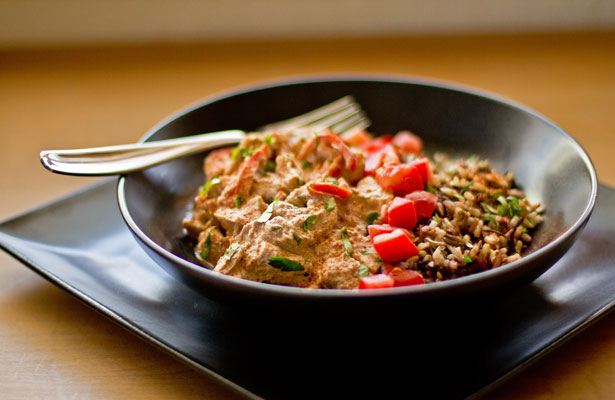 As promised in my last post, I'm sharing my recipe for Chicken and Vegetables smothered in Chile de Arbol Pipián Sauce.  This dish is a complete meal and, if you've already made the sauce, it is a relatively quick and easy meal to throw together.  Even through the sauce takes less than 30 minutes to make, I usually make it on the weekend,  then all I have to do when I'm ready to make this meal, is chop, sauté and heat through. When I feel like a meatless meal, I leave out the chicken and just add larger amounts of the vegetables.  It's all good!
This meal consists of chicken, mushrooms, onions and bell peppers sautéed, then smothered in the chile de arbol pipián and served over rice.  We've had it over white rice, brown rice and a wild/brown rice blend.  The wild/brown rice blend is our favorite.  It provides a crunchy texture and nutty flavor that complements the rest of the meal quite well.  To round out the meal, you could add some fresh, chopped lettuce, cilantro, green onions, tomatoes, or sliced cucumber, whatever fits the mood.  The following recipe yields 4 single servings, which gives us two complete meals. If you're only serving for two, reduce the amount of chopped lettuce to 1 cup, then just chop more when you have the leftovers for another meal.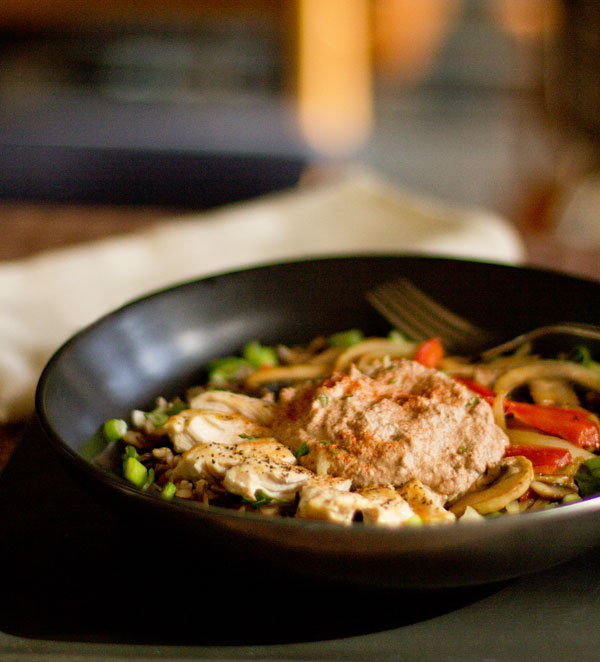 [print_this]
Chicken and Vegetables Smothered in Chile de Arbol Pipián Sauce
Yields 4 single servings
Prep and Cook time: less than 45 minutes
Recipe Author:  MJ of MJ's Kitchen
Ingredients
1 – 2 Tbsp. olive oil
6 large chicken tenders or 2 chicken breasts, each cut crosswise into 6 pieces
Black pepper
½ large onion, thinly sliced
½ large red bell pepper, thinly sliced
2 cups sliced mushrooms
~2 cups Chile de Arbol Pipián Sauce
Salt to taste
2 cups lettuce, cut into strips*
Topping (Pick one or two)
Green onion with greens tops, minced
Red chile powder of choice (We like a sweet paprika)
Cucumber slices
Chopped tomatoes
For the rice

For brown rice or a wild/brown rice blend, use the recipe at this link:  Wild Rice and Brown Rice Blend
For White Rice
2 cups water or chicken stock
1 cup rice
Bring water to a boil, add the rice, reduce heat to low and cook 20 minutes or until liquid is absorbed.
Instructions
Start the rice and let it simmer while you prepare the rest of the dish.
In a large skillet, heat the olive oil over medium heat.
Lightly pepper the chicken pieces. Add to the skillet and cook for 2 minutes per side. (Depending on the size of your skillet, you might need to cook the chicken in two batches.)
Transfer the chicken from the skillet to a plate and set aside.
Reduce the heat to medium low and add the onion and bell pepper. Saute' for 2 minutes then add the mushrooms.
Saute', stirring occasionally until the mushrooms start to release their moisture.
Add the chile de arbol sauce to the skillet and stir.  Cover and let simmer for 5 minutes. NOTE:  If the sauce gets too thick, add a little water.
While the vegetables are simmering, use two forks (or your fingers) and pull the chicken pieces apart into bite size pieces.*
Return the chicken to the skillet along with any liquid that is on the plate. Stir to coat the chicken with the sauce.  Cover and simmer for 3 minutes.
Taste. Add salt if needed.
Assemble and serve.
To Assemble
Place a serving of rice in the bottom of a bowl.
Top with some of the shredded lettuce.
Top with desired amount of chicken mixture.
Line the edge of the bowl with cucumber slices or tomatoes, and lightly salt.
Sprinkle dish with paprika/chile powder, chopped cilantro, or chopped green onions if desired.
*See Kitchen Notes
[/print_this]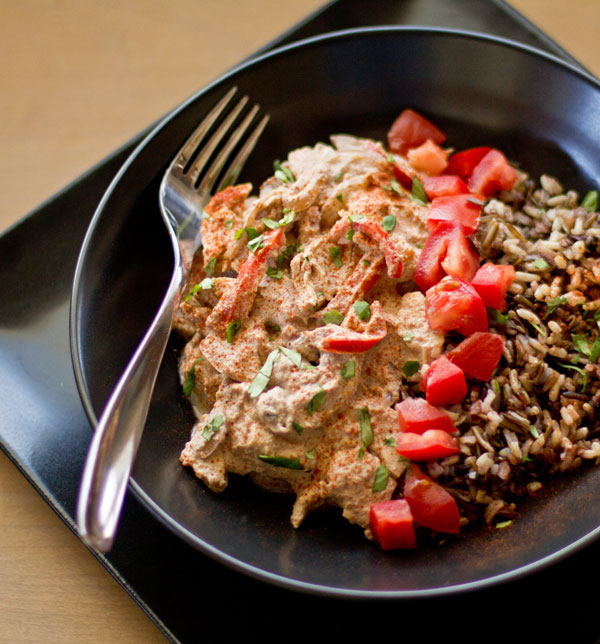 Kitchen Notes
Serving Method – As you can see from the pictures, there are actually two ways that you can serve this dish.  I usually just smother everything in the pipián sauce as shown above; however, if you want a fancy presentation, then arrange the chicken and vegetables on top of the rice as shown in the second picture and scoop some hot sauce into the middle.  When you scoop up a bite, grab a little sauce with it.  If using this latter presentation, be sure that the chicken is just cooked but not dry in step 2 of the instructions. When you remove from the skillet, cover to keep warm. You could also eliminate step 7 if you choose.
The Lettuce – Romaine or iceberg work best because they hold up to the sauce and they don't get too soggy.  I haven't tried thinly shredded kale or savoy cabbage, but I think either one of those would also work.  The greens not only make this meal more nutritious, but adds another texture which we enjoy.
Vegetarian version – Eliminate the chicken and use a whole onion and bell pepper, then about 4 cups of mushrooms.
Leftovers – Since it's just the two of us, we always get two meals from this recipe.  Most times, we'll just have it twice in one week.  But since it freezes so well, I've have been known to freeze it.  When I get ready to make it, all I have to do is thaw, reheat and make the rice.
Here are some other chicken and vegetables dishes that you might enjoy:
Braised Red Chile Chicken and Vegetables
Green Chile Chicken and Mushroom Soup
Chile de arbol pipián smothered chicken and vegetables is one of my favorite ways to use this chile de arbol pipián .  However, it's not the only way and based on the comments I received from my last post, I have a few more dishes to try it with. 🙂