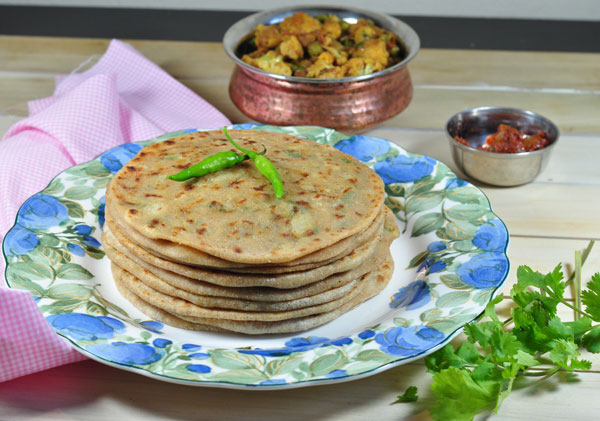 Bet some of you are probably thinking – Is MJ taking on Indian Cuisine?.  NO!  I'm going to leave that to the experts, and the expert that made these beautiful parathas (Indian flatbreads) is the lovely Swathi of the Zesty South Indian Kitchen.  I first introduced Swathi to you about a year ago when she asked me to share my Southwestern Pileup on her site.  Now she is doing me the great favor of sharing one of her authentic Indian recipes on my site.  Swathi is from Trivandrum Kerala, India, and currently living in Texas. Her Ph.D. studies in Microbiology allowed her to work in Japan, Sweden and the United States.  As a result of this worldwide exposure, she has a love of ALL foods and her site is full of delicious recipes from all around the world.  For this post I asked her to share a traditional Indian recipe and I was so thrilled when I saw these gorgeous pictures of paratha!!!  I love paratha and am thrilled that she is sharing this recipe you.  I hope you enjoy.
It's all yours Swathi!
———————————————————————————
This is Swathi who blogs at Zesty South Indian Kitchen, and I am a stay at home mom of two beautiful kids and love to cook from scratch and also love fresh homemade bread.
Aloo paratha/Aloo Ka paratha is one of the famous North Indian recipe you can find in any Indian restaurant menu card next to Naan. My first encounter with aloo paratha/Aloo ka paratha happened during my Master's study tour trip to Goa. I fell in love with it at that time. However my mom was not in a mood to make it for us. So my contact with aloo partha happened only during restaurant visits.
This time when I went to Mumbai, India, I was able to learn from the cook who comes to cook at my in-laws' house. Even though she didn't give me exact measures of each ingredient, I was able to pick up from what she cooked in front me. Every evening when she came, I would stand near the corner of kitchen window with a camera and notebook. Like an obedient student I would take notes while she was cooking.
Paratha/parantha is one of the most popular unleavened flat breads from the northern part of the Indian subcontinent and is made by with whole wheat flour in a griddle/skillet. Paratha is usually stuffed with boiled potatoes (as in aloo ka paratha), leaf vegetables, radishes, cauliflower, and/or paneer (Cottage-cheese). Paratha is usually eaten with dollop of butter or spicy condiments like pickles or some time elaborate meat or vegetable curries. Paratha is thought to have originated in Peshawar (currently a region in Pakistan) and then spread to all over the former northern parts of India. It began as a wholesome meal often eaten at breakfast. It is really filling so you can have it for your lunch and dinner. We had it as our dinner. In the Chandini chowk area of Delhi, there is a short section of shops entirely dedicated to selling these paratha. Even the place is called Paranthe wali Gali meaning "paratha selling Food Street".
I can say that Norwegin Lefse and Finnish potato flat bread – Perunarieska can be distant cousin of this aloo paratha. The main difference between them is, in the former, two potatoes are mixed with flour to make flat bread,where as in aloo paratha, potato is filled as stuffing.
For this aloo ka paratha or parantha you need to make two things: first the dough and then the stuffing. Make a dough with little oil, salt, water and whole wheat. While dough is resting make the potato filing. First boil the potatoes then mash them and add spices and knead well to form dough. Make balls out for dough as well as the potato filling. Slightly flatten the whole wheat dough into thick rounds then place the filling and cover it. Press again to make a 6 inch diameter circle. Fry on a hot griddle or skillet, brushing with ghee on both sides as it cooks.
Here comes the recipe.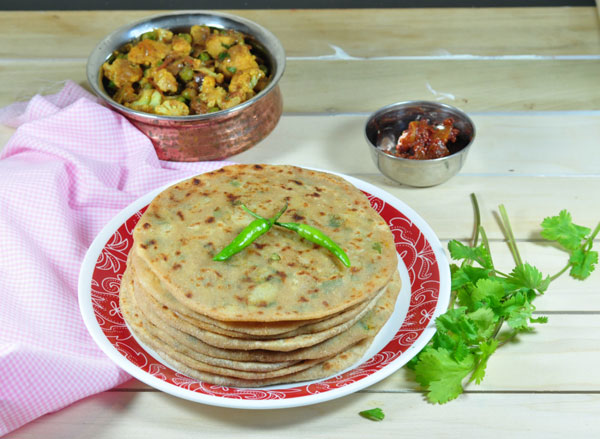 [print_this]
Aloo Paratha / Aloo ka Paratha:  Potato Stuffed Flatbread Recipe
Recipe by Swathi of Zesty South Indian Kitchen
Yields:  9 Flatbreads
Ingredients & Instructions
For the dough
2 cup whole wheat flour + ¼ cup extra for rolling
½ teaspoon salt
¾ cup to 1 cup Hot water
2 tablespoon + 1 teaspoon olive oil
3 tablespoon of homemade ghee for brushing the paratha (Recipe for homemade ghee)
In a bowl of kitchen aid stand mixer attached with paddle attachment, add whole wheat flour, salt 2 tablespoon olive oil and water and combine well to form dough.
Change paddle attachment and with dough hook knead the dough for about 5 minutes or until they become smooth.
Set aside in lightly greased bowl rolling the dough so that dough get coat with 1 teaspoon oil , this will prevent dough from drying. Keep aside for 15-20 minutes. Make 9 equal sized balls and set aside.
For stuffing
2 medium potato cooked and mashed ( 1 cup)
1/2tablespoon coriander powder/ dhaniya powder/malli podi
1/4 teaspoon turmeric powder/haldi / manjal powder
1/4 teaspoon dry mango powder/ aamchur powder
1/2 teaspoon garam masala
1 teaspoon chili powder ( reduce the amount if you want less spiciness)
1 thai green chili chopped finely
1 inch ginger chopped finely
1 tablespoon cilantro/ coriander leaves
½ tablespoon dry fenugreek leaves/ Kasturi methi
¾ teaspoon salt or to taste
For filling
First pressure cook and mash the potato and then add spices, green chili, ginger chopped, kasturi methi, salt, and cilantro leaves and mix well to form a smooth dough.
Then divide the dough into 9 equal sized balls and set aside.
Assembly and cooking the paratha.
First with whole wheat dough balls make thick flat disc of about 3 inch and then place potato filling ball in the center and cover the potato filling with whole dough so it get covered fully .
Then again flatten into a 6 inch disc with roller using whole wheat flour liberally to prevent them from sticking.
Heat skillet and transfer the spread dough into skillet carefully. Cook the one side until you see bubbles on the top, brush with ghee
Flip the other side and cook for another minute. When paratha is done, you will see brown spots all over. Brush them with ghee on both sides once again.
Continue to make the paratha until you finish the entire dough. You will able to make 9 paratha from this recipe.
Serve them with spicy pickle or curry or your choice. I served with cauliflower curry.
[/print_this]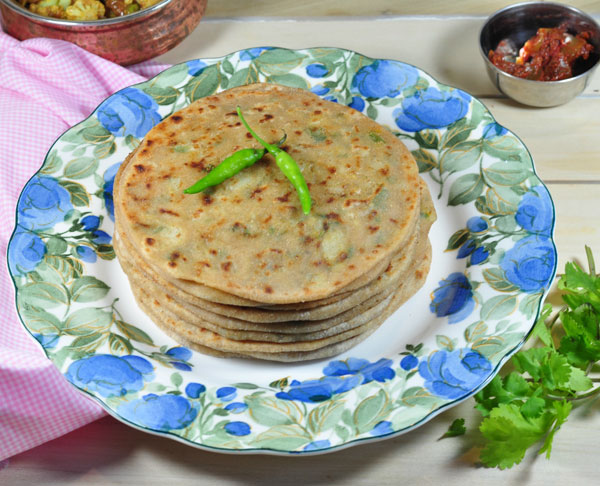 Thanks so much Swathi for sharing your recipe for
Aloo ka Paratha or Potato Stuffed Flatbread!