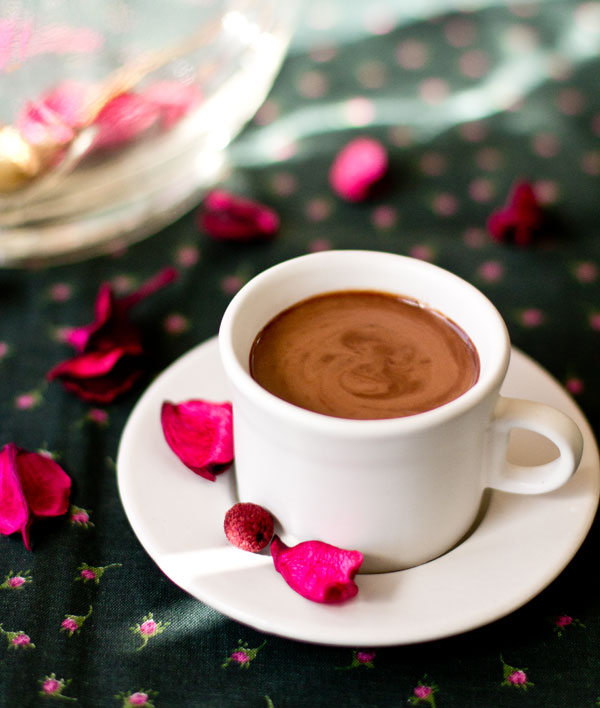 Chocolate shots might not be the best name for this chocolate delight, because "shots" are normally drank all at once, in one shot.  That's not what you'll want to do here.  This sweet and spicy, chocolatey beverage is best sipped so you can enjoy all of its goodness several times over.  These Fiery Chocolate Shots are made with chocolate, milk and cream, a bit of ginger, urfa biber chile powder, and Baileys Irish Cream.  A great after dinner delight for date night.

Yes, I hear you….what the heck is urfa biber chile powder?  Well, I didn't know myself until recently when I received a little package with a few vials of some very unique chile powders from Ford's Fiery Foods and Plants, a seed and plant company in Eugene, Oregon, specializing in rare, hot and cool pepper varieties.  One of the chile powders was the urfa biber, a relatively sweet pepper from Turkey with a hint of raisins or dates, and a medium heat level.  This was the mildest chile in the package, and because of its sweetness, this is the chile I decided to use in this recipe.  The flavor and sweetness of the pepper complemented the chocolate, and the heat level was just right for the amount of spice I was looking for in these shots.  When you're drinking, rather than eating your chocolate, you don't want it to be so spicy hot that it burns your throat as you sip. But if you are like me, you do like a little spice with your chocolate.  So serve these to your favorite person and see what follows. 🙂
To learn more about Ford's Fiery Foods and Plants and the other delicious chile powders that I received, see  below or click here.
Fiery Chocolate Shots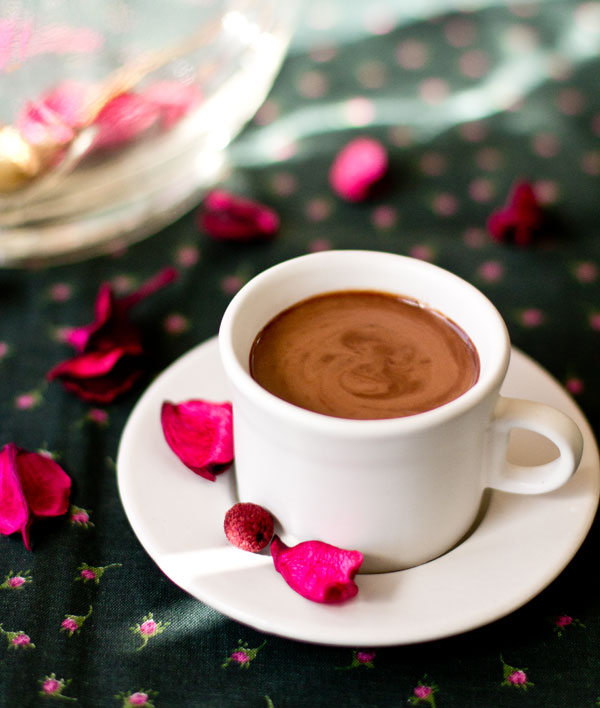 Fiery Chocolate Shots Recipe
A fiery sweet beverage that is sure to spice up your evening.

You may need to REFRESH page to print or save.
"*" See Kitchen Notes for more information or links to special ingredients.
Course:
Beverage, Dessert
Ingredients
2

Tbsp.

Cocoa Powder

1

Tbsp.

sugar

1/4

tsp.

urfa biber chile powder*

1/4

tsp.

ginger powder

1/2

cup

cream or heavy cream

1/2

cup

milk

2

ounces

semi-sweet chocolate morsels

generous ¼ cup

3

ounces

(Double shot) Baileys Irish Cream
Instructions
In a small sauce pan, whisk together the cocoa powder, sugar, ginger and chile powder.

Continue to whisk while you add the cream and milk.

Heat over medium low heat, whisking frequently to prevent lumps.

Bring just to a boil, stirring constantly, then reduce heat to a simmer and simmer for about 1 minute, stirring constantly.

Remove from the heat and stir in the chocolate morsels. Keep stirring until the morsels have melted.

Stir in the Baileys.

Pour into espresso cups and serve immediately.
Kitchen Notes
The Chocolate – For the chocolate morsels, you can substitute with 2 ounces of your favorite chocolate.  Just adjust the sweetness to your personal tastes.
The Urfa Biber Chile Powder – As mentioned before, this is a relatively sweet chile with a medium to medium hot heat level.  Since I understand that most of you will not have this chile powder in your pantry, you can easily substitute any other medium spicy, sweet chile powder.  The Chimayo medium red chile powder that I used in my New Mexico style chocolate pudding makes a nice substitute.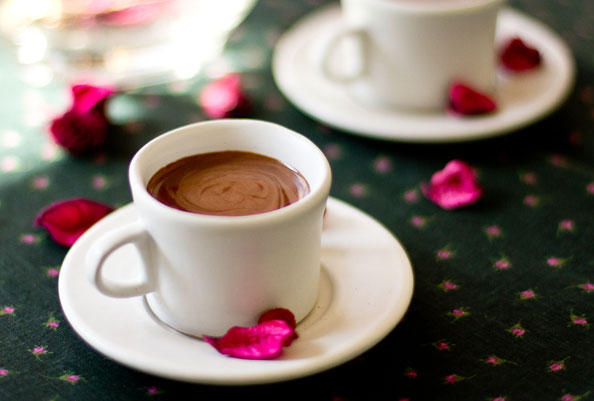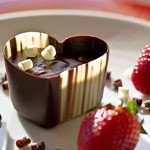 Need another idea for Valentine's Day or date night?  Try these Chocolate Pots with a Hint of Coffee

Ford's Fiery Foods & Plants
Ford's Fiery Foods & Plants is a small business in Eugene, Oregon, that offers rare fresh pepper strains from Europe, the Middle east and South American from July-October every year. Many of these strains can only be found in their country of origin, but Fiery Foods is now offering them here in the US. In addition to selling the fresh peppers, it also is a licensed nursery which sells and ships starter plants from April through July. So if you love peppers and want to try growing a new variety, this company can help you out.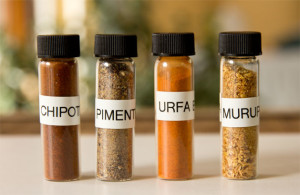 To introduce me to its peppers, Fiery Foods sent me these vials of chile powder (left). Have you ever heard of any of these peppers?
Urfa Biber – A relatively sweet pepper from Turkey with a hint of raisins or dates, and some heat, but nothing that I would call "hot".  This is the chile pepper that I used in this recipe.  The taste of the chile greatly complemented the chocolate and the heat level was just right for the amount of spice I wanted. It could easily be used in any dish that called for "chile powder".
Pimente x Bhut – Quite hot but flavorful, earthy and smoky.  I haven't used it yet, but I'll let you know when I do.  I think this pepper would be great in a rub for beef or lamb.
Murupi Amerela – A Chinese pepper from the northern jungles of Brazil with a fruity, almost citrus flavor and hot.  I love this chile powder! I'll be posting a recipe soon in which I used this powder.
Naga Viper – Created by a grower in England, this pepper is VERY HOT and extreme caution should be used when handling or using this pepper.  I tried a very small bit of it and knew it was too hot for me.  So I gave it to my brother-in-law, a lover of extreme heat!  You may remember him from the Green Chile Stew video.  Needless to say, he loved it!
Below are what these fresh peppers look like. I hope to have at least one of these growing my garden this summer.
For more information on these and other peppers found at John's Fiery Foods, click on over the Spicie Foodie's post Chiles of the World: 6 Chiles You Gotta Try!
Disclaimer:  I did not receive any compensation for this post, just the vials you see in the picture.  The recipe and the opinion of the chile powders are my own.  Images of the fresh peppers, courtesy of Ford's Fiery Foods and Plants.