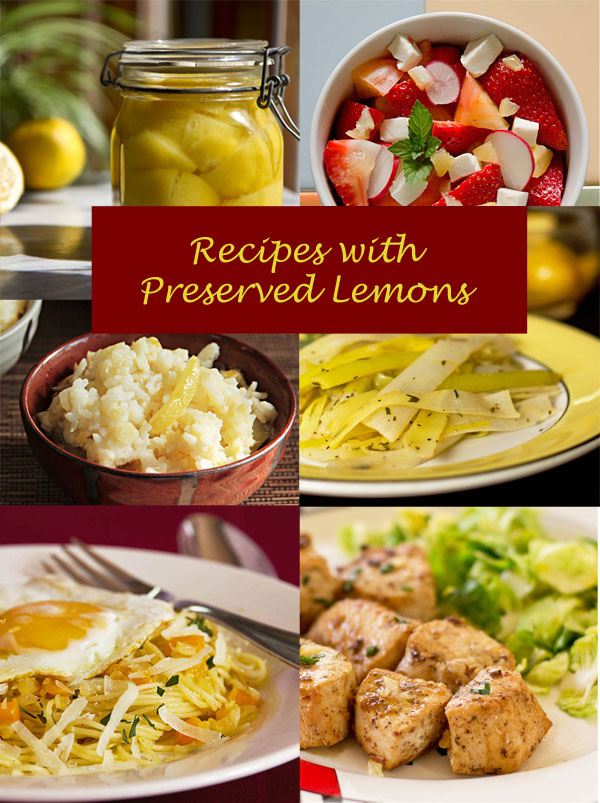 Do you have a jar of preserved lemons sitting in the refrigerator feeling ignored?  Well, it's time to quit ignoring it and put those lemons to use.  If you don't have any preserved lemons, do not fret – one of the following recipes tells you how to make a small batch in just 24 hours.  Following are at least 30 luscious recipes that take advantage of the unique and absolutely divine flavor of preserved lemons.

Just a little note for those new to preserved lemons – Preserved lemons are not a "delicate" condiment.  In fact, they are quite the opposite.  Because of their salty sourness, they are quite bold and are best use in small amounts and in tiny pieces.  For most of the recipes in which I use preserved lemons, I minced them and limit the amount to about 1 tablespoon (depending on the recipe).  Large pieces of preserved lemons can be quite overwhelming and actually ruin a recipe, but then there are exceptions.  So treat preserved lemons like raw garlic.  There are very few of us out there that want to munch down on a large clove of raw garlic. 🙂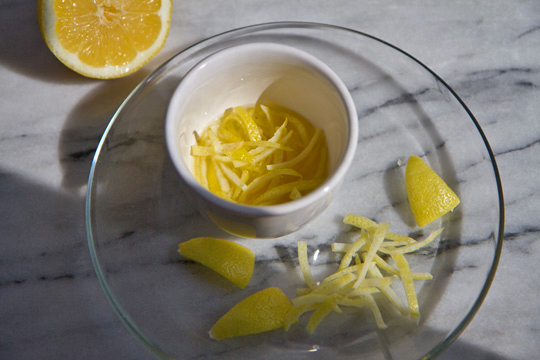 Quick Preserved Lemons in less than 24 hours
A quick & easy method for making mock preserved lemons in 24 hours. No quick as good as the real thing but a great substitute.

Ingredients
1

large

lemon

1

tsp.

Kosher salt
Instructions
Peel the zest off 1 large lemon. Try not to get any of the white pith.

Juice the lemon and set the juice aside.

Cut the zest into narrow strips and place in a glass jar or bowl. Top with 1 tsp. (5 g) salt and the lemon juice.

Stir to dissolve some of the salt. If the juice does not cover the zest, add more lemon juice.

Let sit on the counter for 20 to 24 hours or longer.

After 24 hours, both the zest and the juice are ready for use.

Be careful about adding salt to any dish in which you use preserved lemons. They are pretty salty.
Process and Appetizers with Preserved Lemons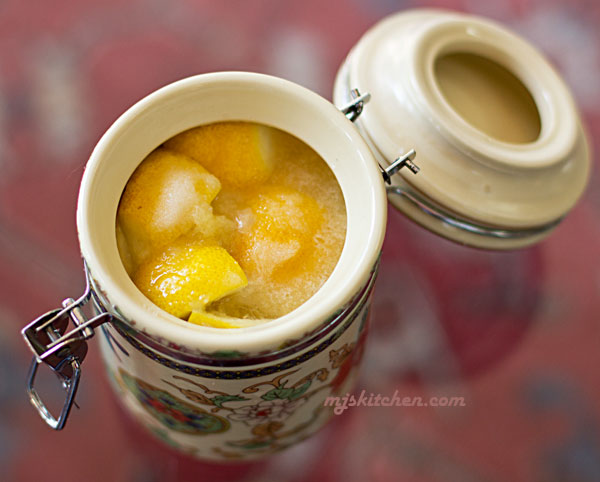 Green Olive and Preserved Lemon Tapenade  @ Closet Cooking
Nectarine Salad with Preserved Lemon Dressing  @ Chel Rabbit
Crostini with Roasted Butternut Squash, Ricotta, and Preserved Lemon @ Food and Wine
Pasta Recipes with Preserved Lemons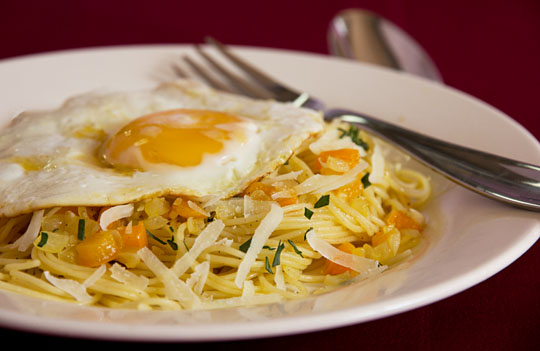 Capellini with Preserved Lemons, Olives and an Egg on Top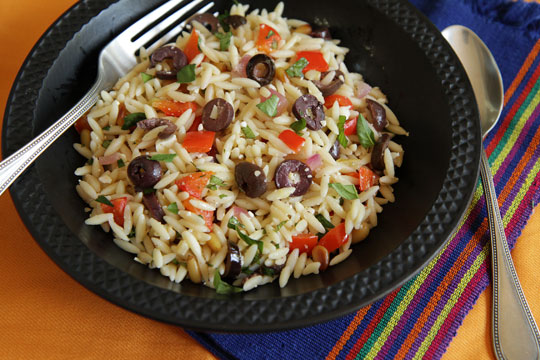 Orzo Salad with Preserved Lemons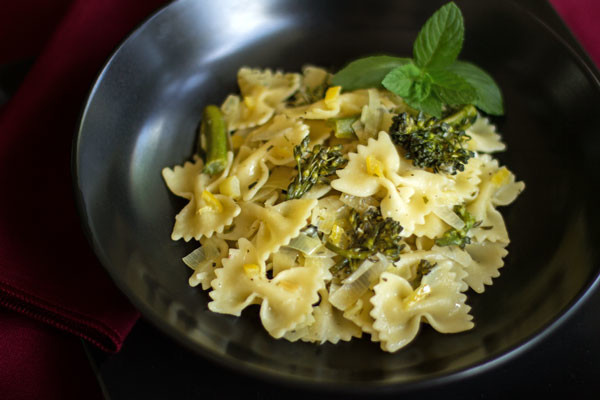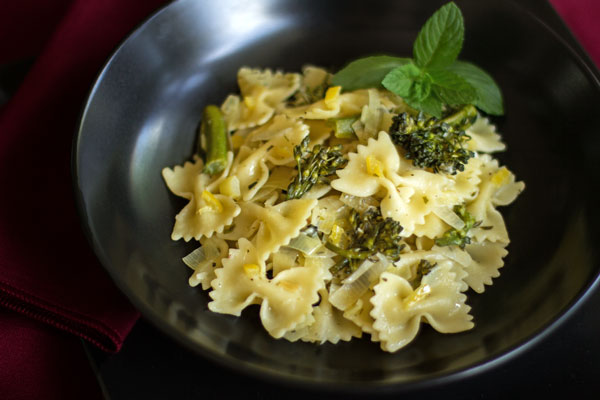 Pasta with Broccolini, Leeks and Preserved Lemons
Fresh Pasta with Broad Beans and Preserved Lemons @ Taste
Penne with Chicken and Preserved Lemon @ Health.com
Couscous Salad with Dried Apricots and Preserved Lemons  @ New York Times
Roasted Vegetable Couscous Salad with Preserved Lemons   @ MailONline
Vegetable with Preserved Lemons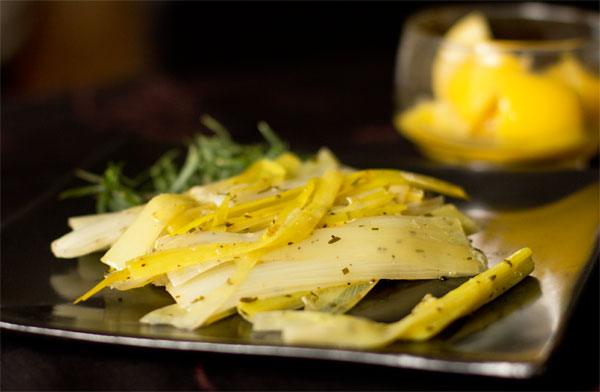 Leeks Braised with Preserved Lemons and Tarragon
Steamed, Chilled Vegetables with Preserved Lemon Dipping Oil  @ A House in the Hills
Broad Bean Salad with Preserved Lemons @ Essential Kids
Garlic Asparagus with Grilled Preserved Lemons @ The American Bite
Roasted Fingerlings with Preserved Lemons  @ Epicurious
Grains and Salads with Preserved Lemons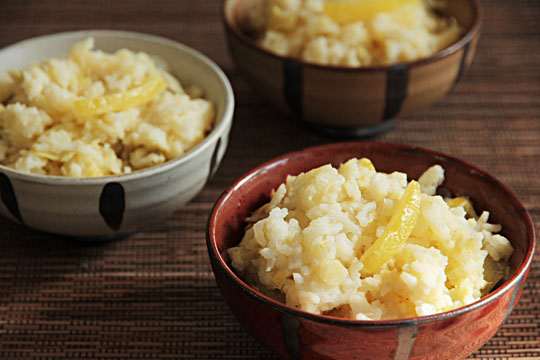 Preserved Lemon Quinoa with Shaved Brussels, Toasted Walnuts  @ Simple Bites
Navy Bean Soup with Kale, Preserved Lemons, and Harissa  @ Sassy Radish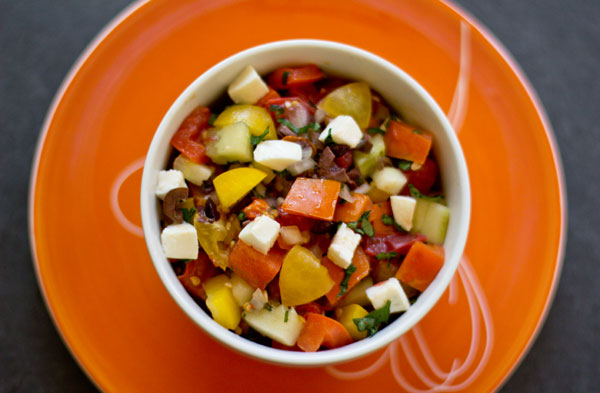 Strawberry Tomato Salad with Mint
White Bean Salad with Preserved Lemon  @ Gourmet Traveler
Moroccan Chickpea Salad   @ Delicious Everyday
Steamed Asparagus with a Garlic Lemon Dressing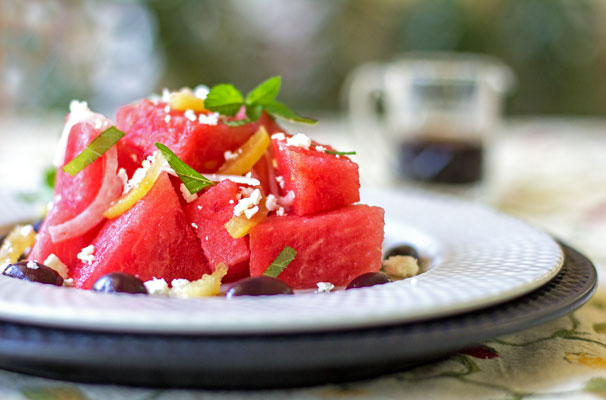 Watermelon Salad with Preserved Lemon, Feta and Olives
Lamb and Beef Recipes with Preserved Lemons

Lamb Tagine with Preserved Lemons and Green Olives  @ Cooking on the Ranch
Brisket with Olives and Preserved Lemons  @ My Recipes
Braised Beef Shanks in Preserved Lemons @Ang Sarap
Poultry Recipes with Preserved Lemons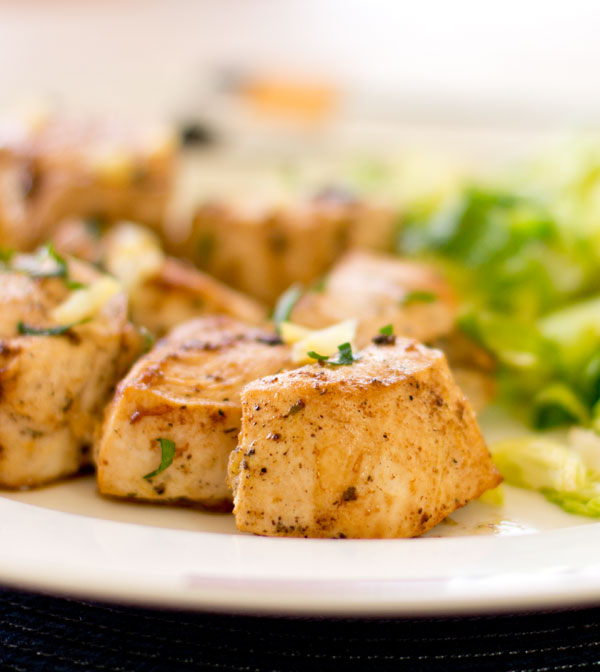 Roasted Poussin (Cornish Hen) with Preserved Lemons, Olives and North American Spices  @ Spicie Foodie
Chicken Salad with Preserved Lemons and Basil  @ Blue Kale Road
Braised Chicken with Preserved Lemons and Olives  @ Tasting Table
Grilled Chicken with Corkscrew Pasta in Preserved Lemon and Garlic Sauce   @ The Fork Ran Away with the Spoon
Chicken Tagine with Preserved Lemons, Green Olives and Golden Raisins  @ Camille Styles
Seafood & Other Recipes with Preserved Lemons

Crispy Skin Snapper with Peas & Beans and Preserved Lemon Butter @ MindFood
Grilled Clams with Jalapenos and Preserved Lemons @ Barbecue Bible
Salmon Quiche with Preserved Lemon  @ Shockingly Delicious
Spicy Crab Linguini with Preserved Lemons @ StoneGable
The Secret Ingredients:  Preserved Lemons  @ Serious Eats
For even more recipes, visit Simple Living and Eating's post on Recipes with Preserved Lemons.
Do you have a recipe that uses preserved lemons that you would like to see added to this list?  If so, please send me an email with a link to the recipe.