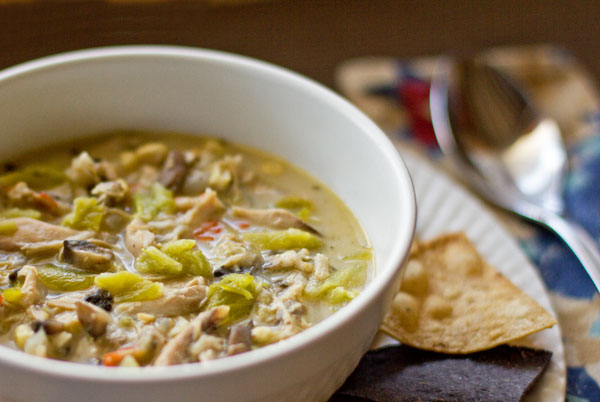 A while back a friend asked me to come up with a relatively healthy recipe for a Green Chile Chicken Mushroom Soup.  She had just had a it at a local restaurant and loved it.  However, when she asked how they made it, she was told that they used Campbell's Cream of Mushroom Soup as the base.  Being a very healthy eater, she was a little disappointed.  Not that there is anything really wrong with canned Cream of Mushroom soup (I've eaten enough of it in my lifetime), but fats make up 50% of the calories in one serving and the sodium content @ 870 mg/serving is pretty high. This is based on the FDA recommendation of no more than 2400 mg of salt / day and the American Heart Association recommendation of 1500 mg/day.  But getting back to my friend's request, did I accept it?  You betcha! And last week everything came together to make it happen.
I had some leftover chicken and some mushrooms in the fridge and 5 pounds of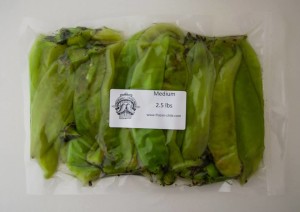 beautiful green chile that I had just received from my friends at the The Hatch Chile Store in Hatch, New Mexico.  The chile was of the Big Jim variety which is a "medium" heat and ideal for a soup or stew that uses a cup or more of green chile.  Just like Green Chile Stew, it's always the chile that makes the soup, so with such a great batch of green chile sitting the freezer, it would have been silly of me not to have used it. (To learn more about The Hatch Chile Store and its products, scroll to the bottom of this post or just click here.)
So how did this green chile chicken mushroom soup turn out? Well, let me just say that Bobby's Green Chile Stew now has some real competition. Green chile chicken mushroom soup is spicy enough to clear up a head cold, packed with flavor, and just creamy enough to provide that silky smooth bite of a cream soup.  I've already had a request to make another pot this weekend.
And to my friend Anna – thanks for asking! I hope you enjoy it! 🙂
Hatch Chile Chicken Mushroom Soup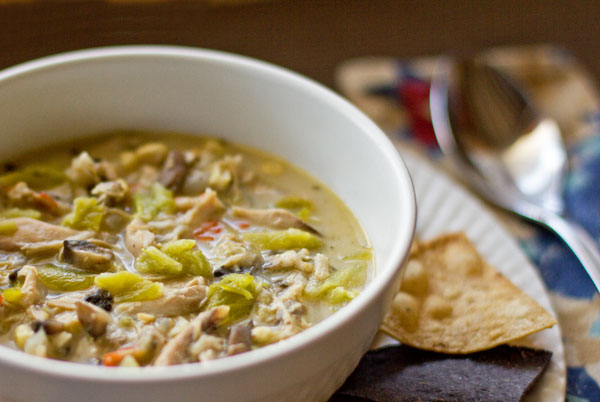 Green Chile Chicken Mushroom Soup Recipe
As with all soups, the amounts for the ingredients are not exact. The seasoning in the chicken stock and the cooked chicken can definitely affect the amount of salt needed as well as other seasoning. Be sure to taste before you add the cream and again afterwards, and adjust seasoning to taste.
"*" See Kitchen Notes for more information or links to special ingredients.
Course:
Green chile, soups & stews
Cuisine:
New Mexico, Southwestern
Ingredients
2

Tbsp.

canola, vegetable or olive oil

1

medium onion,

chopped

4

large cloves garlic,

minced

2

Tbsp.

flour or cornstarch

6

cups

homemade chicken stock or 4 cups stock and 2 cups water or more as needed

2

heaping cups chopped mushrooms

(~4 to 5 large white mushrooms)

1 ½ - 2

cups

roasted, peeled chopped medium heat green chile*

1

cup

corn

(optional)

2

cups

shredded, cooked chicken

1

tsp.

crushed dried oregano

(Mexican Oregano if you have it*)

½

tsp.

cumin-coriander mix*

¼

tsp.

salt or to taste

¼

heavy cream

Corn or flour tortillas / chips

(optional)
Instructions
If you don't have any

toasted cumin - coriander mix

, then lightly toast 1/2 tsp. cumin seed and 1/2 tsp. coriander seed in a hot skillet. Grind and use 1/2 tsp. of the mixture in the soup.

Heat the oil a large soup pot over medium-low heat.

Add the onion and garlic. Sauté for 5 minutes.

Add the mushrooms and sauté for another 5 minutes or until the mushrooms start to release their moisture.

Add the flour or cornstarch and stir to coat the onion and mushrooms.

Slowly add 1 cup of chicken stock, stirring to keep the flour from lumping.

Add the rest of the chicken stock, roasted green chile, corn, chicken, cumin-coriander mix, and oregano.

Bring to a boil. Reduce to a simmer for 15 minutes.

Taste for seasoning. Add salt if needed.

Slowly stir in the cream. Simmer for 5 minutes. If the soup isn't as creamy as you would like, add a little more cream. Or if you just want it a little thicker without adding cream, sift in additional flour or cornstarch (1 tsp. at a time) to achieve the thickness that you like.

If the soup starts to get too thick, then add more water 1/2 cup at a time.

Serve with warm tortillas, chips, or a grilled cheese sandwich.
Kitchen Notes
Cumin Coriander Mix – I make this mix regularly and keep a small jar of this in my spice drawer at all time.  It's great in so many dishes so what you don't use in this soup, you can add to scrambled eggs, sauteed vegetables, guacamole, or other soups.
The Oregano – If you add oregano to your chicken stock when you make it, then start with only ½ teaspoon oregano in the soup.  Add more during tasting if needed.
Green Chile – As I mentioned before, I used a medium chile.  If you're not familiar with New Mexico green chile, please read my Red or Green? post.  It explains the different varieties of chile in New Mexico.  Big Jim is a common variety but there are even different varieties of Big Jim. Most of the time Big Jim is a medium hot chile (2500 – 3500 scovilles), but is mostly know for its large size (8 – 10″ long), its flavor, and its meatiness.  Personally, it's my favorite and the Big Jim that I received from The Hatch Chile Store did not disappoint.
Just a reminder about Hatch green chile – There is not a variety of chile called "Hatch chile". When you see Hatch chile, it is simply chile grown in Hatch, New Mexico, but it can be of different varieties and heat levels.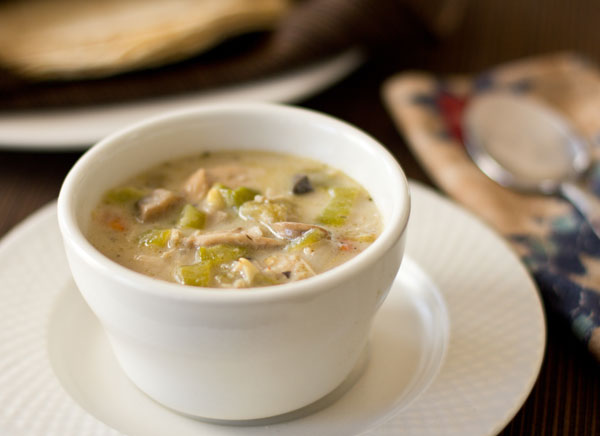 The Hatch Chile Store in Hatch, New Mexico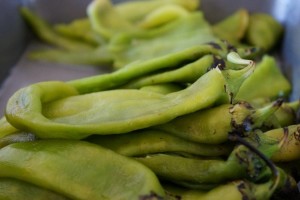 I'd like to thank  The Hatch Chile Store for two beautiful 2.5 pound packs of flame roasted, hand-peeled, whole green chile peppers.  I was not surprised when I was told that all of the processing was done by hand, because it certainly looked like it, as you can see in this picture.  I love this picture because you can really see how meaty Big Jim chiles are.
The Hatch Chile Store is a small family owned business in Hatch, New Mexico.  It's family has been farming 300 acres in the Hatch valley for three generations, over 60 years!  During the summer and fall it sells fresh green and red chile from its farm, and during the winter, it sells frozen green chile.  You can buy it chopped or whole, mild, medium, or hot and different varieties.  So if you're running out of chile about now or would like to try some Hatch chile, check them out.  Once thawed, their frozen chile tastes like fresh chile and these whole pods make great rellenos.  You could also chop them up for soups, stews or anything your heart desires.
Update – Since I first posted this, I have had the privilege to visit The Hatch Chile Store and watch the process from picking the chile to packaging it.  See for yourself at this link:  The Hatch Chile Store- From Farm to Table.
Images of the green chile (packaged and processed) courtesy of The Hatch Chile Store.
If you like this Green Chile Chicken Mushroom soup, and would like to see more chile recipes, check out my Chile Recipe Index.