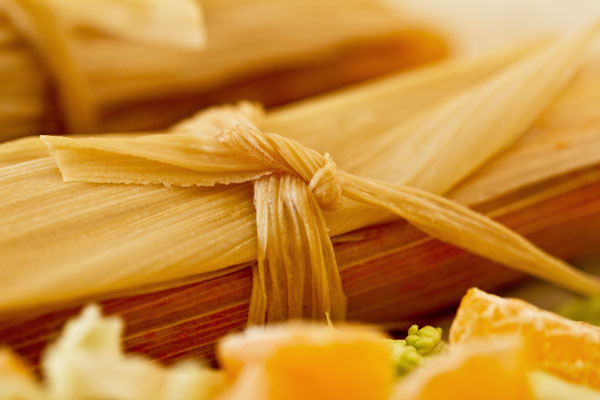 In New Mexico, making tamales is a holiday tradition where families and friends gather in the kitchen and spend the day cooking, assembling and steaming dozens upon dozen of tamales. It's a great tradition with a delicious outcome.  There's really nothing better than a tamale right out of the steamer. So in keeping with tradition, Bobby and I made two different types of tamales for the holidays this year – Corn, Mushroom and Green Chile and these Red Chile Chicken Tamales.
The tamales we make are not the traditional tamales where the masa is made with lard then layered with a pork filling onto a corn husk.  If you saw my corn, mushroom and green chile tamales from last year you may remember that I replace the lard with canola oil and instead of layering the masa and the filling, I mix them together, making the assembly process A LOT easier and faster.  As a friend of mine said "It all comes together in the mouth anyway." 🙂

Using canola oil in place of lard has a couple of benefits: the first being just overall health benefits – lard is almost 50% saturated fat whereas canola is less than 10%.  The second benefit is in the texture of the tamales.  It is a little different but different in a good way.  One of the problems with tamales made with lard is that by the time you warm up the leftover tamales, the masa has become somewhat dry and tends to fall apart when you put a fork in it.  This is especially true for tamales that have been frozen.  The canola oil masa prevents this from happening.  We have found that the leftover tamales, even after having been frozen, are just as delicious as the freshly steamed ones in both taste and texture.  The masa stays moist and holds together.
If you've never made tamales because you think they are just too much work, then you need to give these a try.  For tamale making – it's a much easier process, takes less time in the kitchen and the results are outstanding!  Like us, you'll be making tamales year round, rather than just during the holidays.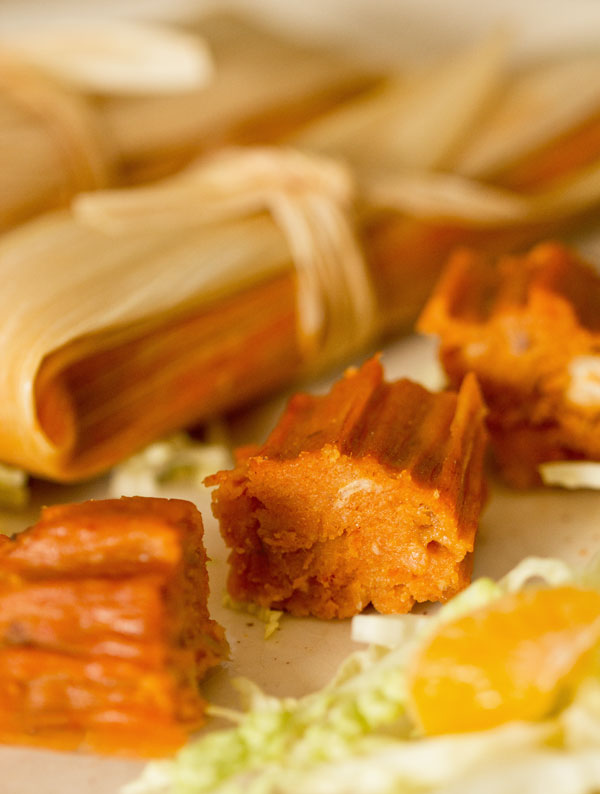 [print_this]
Red Chile Chicken Tamales Recipe
Makes about 18 tamales
Prep and assembly time:  45 minutes (assuming you already have the cooked chicken, red chile sauce and chicken stock)
Cook Time: less than 1.5 hours
Recipe Author:  MJ of MJ's Kitchen
Ingredients
Supplies
2 dozen corn husks
A large pot or flat casserole dish large enough to hold 2 dozen corn husks and hot water
A steamer large enough to hold 18 tamales
A large bowl or mixer for mixing the masa and filling
Masa
2 cups masa harina*
½ tsp. salt
¼ cup canola oil
2 cups chicken stock*
Filling
1 ½ – 2 cups diced, cooked chicken*
¼ cup minced onion
½ to 2/3 cup red chile sauce*
1 loosely packed cup, grated cheddar cheese
*See Kitchen Notes
Instructions
To rehydrate the corn husk – Bring a large pot of water to a boil. Remove from heat and add the corn husks. Cover and let re-hydrate until ready to use.*
NOTE:  Mixing the masa and adding the filling can be done manually using a spatula or in a mixer with a flat beater or paddle.
For the masa – In a large bowl, combine the masa harina and salt.  Stir to combine.
Add the canola oil and broth. Mix to combine ingredients.
To the masa add the chicken, onion, red chile sauce and cheese.  Mix until filling ingredients are well incorporated into the masa.  Your masa mixture should be the texture of a quick bread batter.
To assemble the tamales – Transfer a few of the husks from the water to a plate or bowl. Take one of the smaller, thinner husks and pull lengthwise into long thin strips that will be used for tying up the tamales.
Spread about ½ cup masa mix down the middle of a husk starting at the top edge and ending halfway down the length of the husk.  Fold the sides of the the husk around the mixture.  Fold the empty half of the husk up, and tie around the middle of the tamales with one of the corn husk strips.
Continue to assemble the tamales until all of the masa mixture has been used.
To steam the tamales – Add some water to the bottom of a steamer below the steaming rack. 
Place the tamales vertically (open end up) in the steamer.  Use the extra corn husks to separate and support the tamales. Lay a couple of husks flat on top of the tamales to aid in the steaming process and to prevent water from dripping into the open ends of the tamales.
Cover and steam for an hour. (See Kitchen Notes)  After an hour, remove the cover and let the tamales sit for 10 to 15 minutes. Remove a tamale and test for doneness. If the tamale pulls away from the husk, it's done. If it sticks to the husk, steam for another 15 minutes and let rest again.  (Before reheating, make sure you have enough water in the bottom of the steamer.)
Leave wrapped and covered until ready to eat.
[/print_this]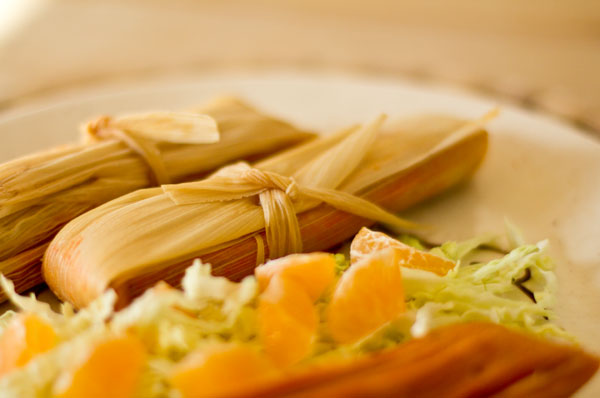 Kitchen Notes
Prepping the corn husks – Instead of putting husks in a pot of boiled water, you could lay the husks in a large casserole dish and pour boiling water over them. Place a heavy plate or lid on top to submerge the husks in the water.
Assembly – Mixing the chicken filling in with the masa saves A LOT of time compared to the traditional method of tamale assembly.  If you want bigger tamales, add more masa mixture to each corn husks.  Just be careful not to make them too thick.  If the tamales are too thick, they will take longer to steam.
The Chicken – This is a great recipe for leftover chicken or turkey.  If you don't have leftover chicken, then cook some chicken wings and/or thighs in 5 to 6 cups of water.  For this particular batch, I didn't have any leftover chicken, so I used 6 chicken wings that I had in the freezer.  I added the wings to 6 cups of water with some salt and peppercorns, brought to a boil, then simmered for an hour.    The 6 wings yielded 1 ½ cup meat and a little over 4 cups of stock once strained.
The Red Chile Sauce -The amount of red chile sauce that you use depends on how hot the sauce is and how hot you want the tamales to be, but this is where it becomes tricky.  The masa suppresses much of the heat from the chile, so it's best to add more than you think you need.  For this batch I used 2/3 cup HOT chile sauce.  These tamales were deliciously spicy but not so hot as to require a glass a  milk as a chaser.
If you don't make your own red chile sauce or you can't find it locally, you can always order it online from any of these New Mexico sources:  Chile Monster (Santa Fe Seasons),  New Mexico Chile Products (Cervantes Red Chile Sauce), and The Chile Shop (Santa Fe Ole').  I guess you could use salsa, but if you do, cut back to 1 ½ cups stock when making the masa.  After adding the filling and the salsa, add more water if needed.  A tomato-based salsa could be too watery for these tamales, but since I've never tried it, I can't say for sure.
What is Masa Harina? – Masa harina is a gluten-free corn flour made from corn that has been cooked in an alkaline solution (usually lime or wood ash), rinsed, dried and ground into a flour.  The treated corn is called hominy; therefore, sometimes you'll see masa harina described simply as ground hominy.
What is Masa? – Masa (Spanish for "dough") is a dough made from hominy.  Fresh masa is made by grinding freshly cooked hominy.  Fresh masa can usually be purchased at Mexican markets, especially around the holidays.  When fresh masa is not available, you can make masa by adding water or stock to masa harina.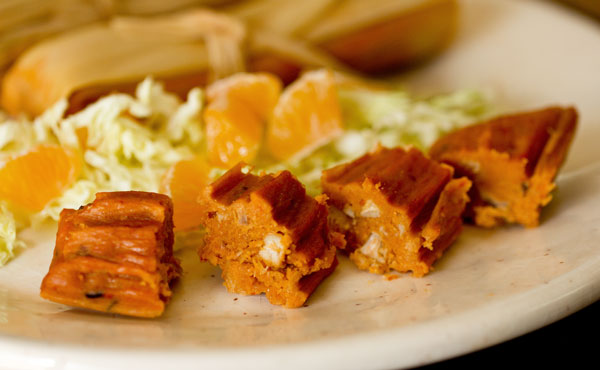 Recommended serving ideas:

These Red Chile Chicken Tamales freeze very nicely. When ready to use, thaw, wrap in a damp paper towel, and heat in the microwave for 2 minutes and they are ready to go!
Other tamales you'll love:
Corn, Mushroom and Green Chile Tamales
Black Bean Chipotle Tamales with Spicy Mango Sauce