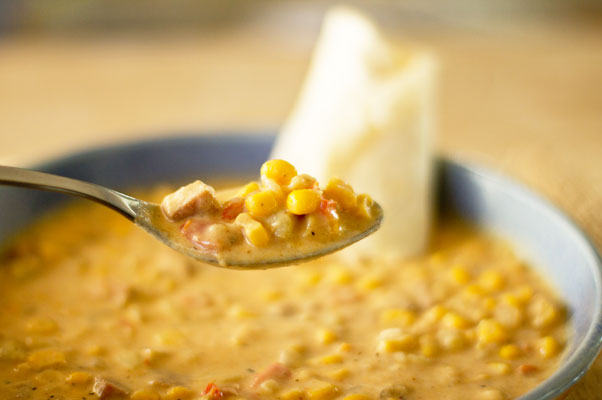 This Corn Chowder with Smoked Ham uses the standard ingredients of a corn chowder – potatoes, corn and some type of stock – but smoked ham is used in placed of bacon.  A variety of ground peppers and mustard powder are used for the seasoning which makes it a little spicy, but more as a finish than a dominating flavor.  A small amount of cream is used as a thickener along with a touch of cornstarch.  One could always add cheese, but we didn't see the need for it.  The chowder was creamy enough without it, but actually a lighter chowder in comparison. "This is a keeper!"
Corn Chowder with Smoked Ham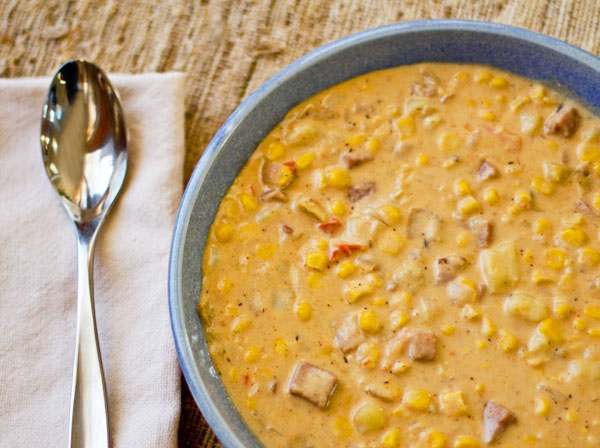 Corn Chowder with Smoked Ham Recipe
An simple chowder made with corn and smoke ham, a little cream and lots of flavor.
"*" See Kitchen Notes for more information or links to special ingredients.
Course:
Main Course, soups & stews
Ingredients
1 to 2

Tbsp.

chile infused oil or olive oil

1

medium onion,

chopped (~2 cups)

½

large sweet bell pepper,

chopped (~1 cup)

4

large garlic cloves,

minced

2

cups

diced smoked ham,

(~12 ounces)

3

cups

stock -

chicken or turkey

2 - 3

cups

water

1

large Yukon Gold potato,

chopped into ¼" cubes (~2 cups)

2

cups

corn -

frozen, fresh, canned

½

tsp.

chipotle powder

½

tsp.

sweet paprika

½

tsp.

mustard powder

½

tsp.

dried thyme,

crushed

½

tsp.

ground white pepper

salt to taste

½

cup

cream

~1 to 2 tsp. cornstarch

(optional)

1/2

bunch Swiss chard leaves,

chopped (optional*)
Instructions
Heat the oil in a large soup pot over medium low heat.

Add the onion and bell pepper and slowly sauté for 5 minutes. Add the garlic and saute' for 2 minutes.

Add the smoked ham and saute' for 2 minutes.

Add the stock and 2 cups water. Increase heat and bring to a boil.

Add the potatoes, chipotle powder, paprika, mustard powder, and thyme. Bring back to a boil, reduce to a simmer and cook 5 minutes.

Add the corn, Swiss chard (if using) and white pepper. (Add more water if needed) Simmer for another 15 minutes.

Taste. Add salt if needed.

As the soup simmers, add the cream. Stir constantly over medium heat until the soup starts to thicken.

If you want to thicken the soup faster or more than is provided by the cream, sift 1 to 2 tsp. cornstarch (as needed) into the soup and bring to a high simmer, stirring constantly until desired thickness is reached.


Remove from heat. If possible, let the soup cool for 2 to 4 hours.

Reheat and serve.
Kitchen Notes
Potato – Yukon gold potato or Russet are good potatoes for chowder because, once cooked, they are soft enough to crumble and break up as the soup cooks, providing a thickener.  Once the potato is soft use the stirring spoon and press some of the potatoes pieces against the side of the pot to break them up. This helps to thicken the soup.  Red potatoes don't soften as much so if you don't like your potatoes to break, then use red potatoes.
Corn – Fresh or frozen corn works best in my opinion.  You could used canned, but since it's already cooked and soft, add it in Step 6 after simmering for 10 minutes.
Cornstarch – If you are gluten intolerant, then cornstarch is the best thickener.  Most cornstarch is gluten-free because it's made from corn, but you never know what manufacturers might add. So check the box.  Only add the cornstarch if you want your chowder thicker.  We normally don't add it.
My most common method of thickening a soup or gravy, especially when I just need a little thickening, is to slowly sift the cornstarch or flour into the soup and stir as I sift.  The smaller particles prevent clumping but also cause the soup to thicken faster because the smaller particles provide a larger reaction surface.
Swiss chard – The Swiss chard was an addition to the recipe in the fall of 2017. I had some fresh picked chard, so I chopped it up and threw it in the soup.  It made a hearty soup even heartier and healthier.  I highly recommend it.
Suggested sides – Warm corn or flour tortillas, crackers,  or a nice side salad.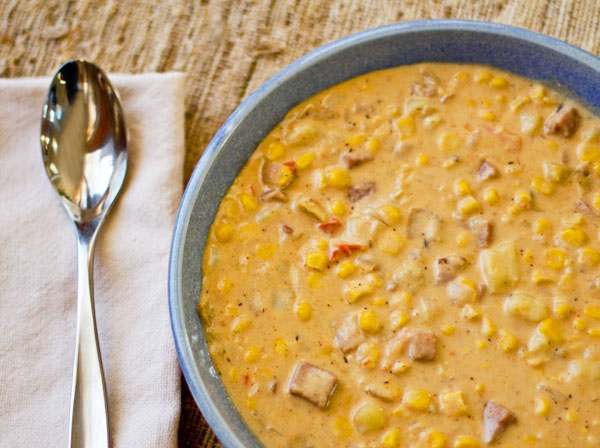 If you like this chowder, you might also like my vegetarian Calabacitas Chowder made with summer squash, corn and green chile.
Save
Save