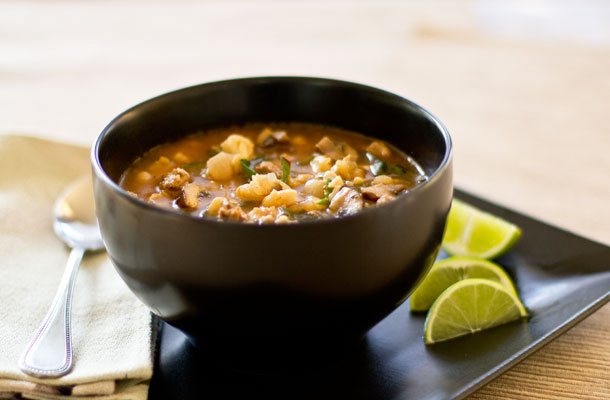 During December and January the Costco in my area usually sells 5 pound bags of fresh posole – corn soaking in slaked lime water.  Every year, I buy a bag, make a couple of posole dishes, then divide the rest into freezer bags and freeze.  One of this year's dishes was this hearty bowl of Posole with chorizo made with Mexican chorizo, posole (hominy), mushrooms and Swiss chard. It's a bit lighter than the traditional posole stew made in New Mexico which is mostly posole, pork and red or green chile.  With this soup, the posole is just one of several vegetables and the chorizo is used more to add flavor than to add bulk.
What is Posole?
Is it a stew or is it a corn product?  Actually, in New Mexico, it's both.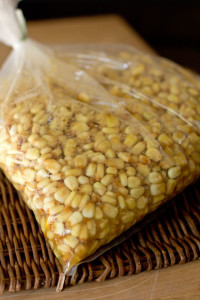 Posole stew is a relatively filling and delicious soup made with posole, meat and chile.  The meat is usually pork, chicken, or turkey.  The bulk of the stew is the corn product, also called "posole (aka hominy)", which is corn boiled and soaked in slaked lime water (cal). This process (called nixtamalization) improves the nutritional value of the corn as well as its flavor and size.  Here in New Mexico you can buy bags of dried posole at most of our local grocery stores.  Some stores carry frozen posole in the freezer section. And then of course, you can buy the canned version called hominy.  Personally, I prefer the flavor and texture of fresh, frozen or dried posole over canned hominy; however, if I only had access to canned hominy, it wouldn't stop me from making this soup or any other dish in which I use posole, including the stew called posole.  (Be sure to check out the links at the bottom of this post for more information about "posole" and recipes for the stew called Posole.)
Posole with Chorizo and Mushrooms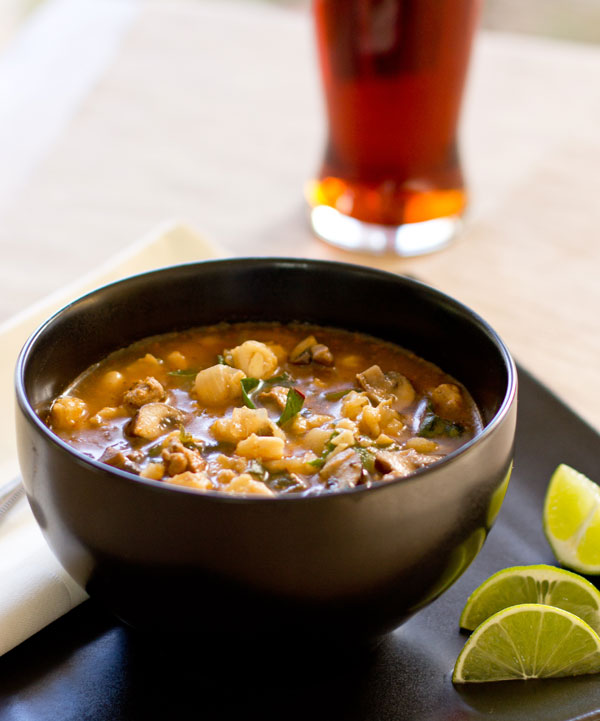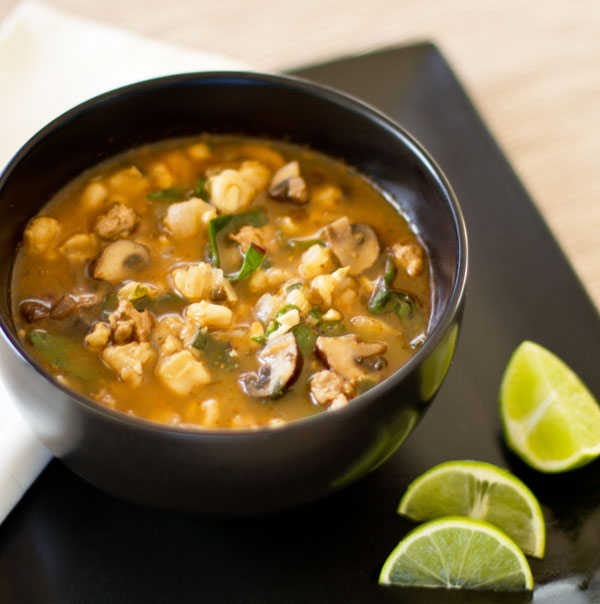 Posole with Chorizo, Mushrooms and Greens Recipe
A non-traditional posole that maintains the flavor and comfort of a traditional version.

"*" See Kitchen Notes for more information or links to special ingredients.
Prep and Cook time varies. For fresh or frozen posole, allow 2 hours. If you use canned hominy, allow 45 minutes.

Cuisine:
Mexican, New Mexico
Ingredients
2

cups

fresh or frozen posole,

rinsed or 3 cups canned hominy, drained, or 1 cup dried posole (See Kitchen Notes)

6 to 8

cups

water and chicken stock

1/2

pound

Mexican chorizo,

crumbled

1

medium onion,

chopped

2

large garlic cloves,

minced

½

pound

button mushrooms,

chopped or sliced

1

bunch Swiss chard,

stems removed (toss or compost), leaves chopped

1

tsp.

red chile powder

½

tsp.

smoked chile powder

(serrano, chipotle, paprika)

½

tsp.

cumin coriander spice mix*

1

tsp.

Mexican oregano

(or regular oregano)

Salt and pepper to taste

Juice of ½ lime plus 4 lime wedges
Instructions
Instructions for Fresh or Frozen Posole
If using fresh or frozen posole, add 1 - 2 Tbsp. olive to the pot over medium low. When hot, add the onion and cook until translucent.

Add 6 cups water/stock to a soup pot and bring to a boil. Add the posole, garlic, chile powders, oregano, and cumin/coriander mix. Reduce to a simmer and simmer for an hour or longer until just tender.

In another skillet saute the chorizo quickly on high heat until browned (a couple of minutes). Add to the soup pot after the posole has cooked for an hour. (go to "Finishing Instructions")
Instructions for Canned Hominy
If using canned hominy, brown the chorizo in a soup pot for 2 minutes on medium.

Reduce to medium low, add the onion and saute' for 2 minutes.

Add the hominy and 6 cups water/stock and bring to a boil.

Add the garlic, chile powders, oregano, and cumin/coriander mix.
Finishing instructions
Add the sliced mushrooms.

Reduce to a simmer and cook for 20 minutes. Add additional water or stock as needed.

Add the Swiss chard. Taste and season with salt as needed.

Simmer for another 10 minutes or until the posole and chard are tender.

Stir in the lime juice and serve. Squeeze a wedge of lime over each serving.
Optional Toppings and Serving Ideas
Serve with warm tortillas.

Top with any or all of the following: chopped cilantro, sliced radish, queso fresco or cotija cheese, chopped scallion, red chile or salsa, avocado, additional lime.

Kitchen Notes
Posole – In Mexican markets and most groceries in New Mexico, you can find frozen, dry, and sometimes, fresh posole.  Two cups of fresh or frozen posole yield a little over 3 cups of cooked posole; whereas, 2 cups of dried posole yield about 4 cups of cooked posole. Frozen and fresh posole are cooked using like methods (the method used in this recipe).  Dried posole needs to be soaked overnight and then pre-cooked for at least 2 hours before adding additional ingredients.
Hominy - As previously mentioned, you can also substitute the posole with canned hominy.  Since canned hominy is already cooked, using it eliminates that initial hour of cooking for fresh/frozen posole; therefore, allowing this soup to be made in less than 45 minutes!
Water and Stock – The amount given in the posole with chorizo recipe is not exact because, as posole cooks, it absorbs quite a bit of water and some of the water evaporates.  So just keep adding water and/or stock as needed to achieve a "soup" consistency.  If you use hominy, 6 cups is probably all you need.  As far as how much of which, use what you have or want to use.  I normally use a ratio of 1:1 (water:stock).
Mushrooms – Button mushrooms, baby bellas or white, work best because of their meaty texture. Cut the mushrooms in small wedges or slices, your preference.
Swiss Chard – Kale or spinach can be used in place of Swiss chard.  Other greens might be too strong in flavor and end up competing with the other flavors in the stew.
Smoked Chile Powder – As metntioned, any smoked chile powder works (e.g., chipotle, smoked paprika, serrano). Just be aware of the heat level. Chipotle and serrano can be pretty hot, so you might need to adjust the amount used for your heat tolerance.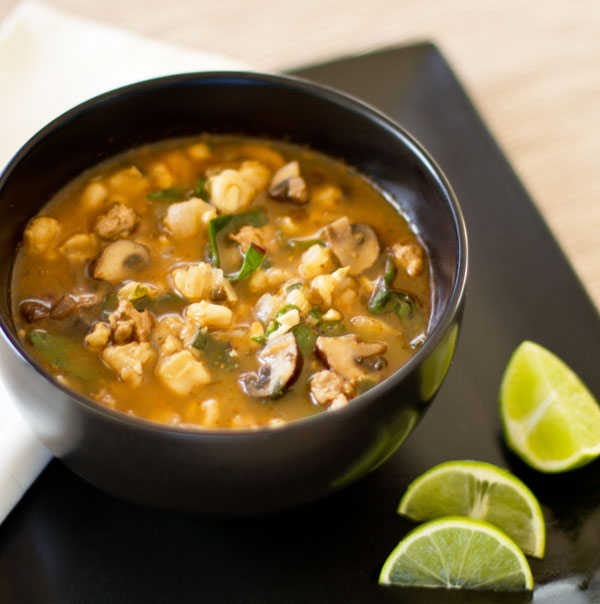 If you like this Posole with Chorizo, Mushroom and Greens, you'll probably also like my Posole with Italian Sausage and Kale, or you could go with the more traditional posole.
New Mexico Pork and Green Chile Posole
Spicie Foodie's Red Chicken Posole
Barefeet in The Kitchen's New Mexican Posole
If you want to purchase dry or frozen posole online, check out some of these Sources of New Mexico Chile Products.
This Chorizo, Mushroom and Posole Soup has been shared with the following blog hops:  Hearth and Soul .
Save
Save
Save
Save