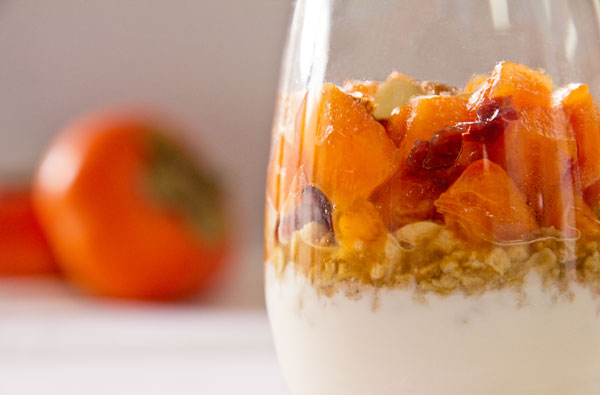 Next time you get a craving for something sweet and healthy, delicious and easy to make, give these Persimmon Cranberry Parfaits a try.  They're nothing fancy but they definitely will make you feel like you're eating something fancy.  Fresh persimmons and dried cranberries are heated in orange juice and a splash of liquor, then layered with yogurt, granola and a few chopped nuts.  A delicious little treat in less than 15 minutes!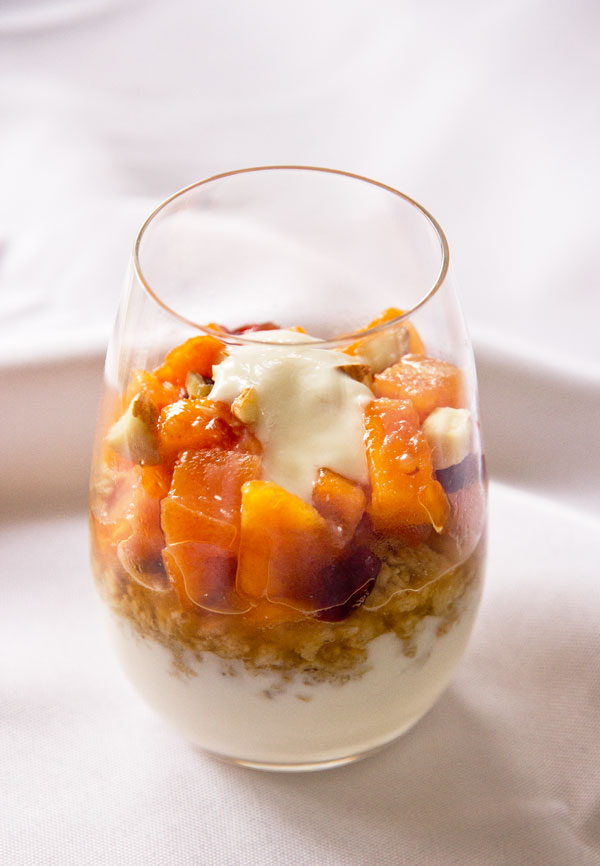 Persimmon Cranberry Parfait Recipe
Serves 2
Prep Time: less than 15 minutes
Recipe Author: MJ of MJ's Kitchen
Ingredients
1 ripe persimmon, peeled and chopped into ¼" pieces
1 tsp. chopped dried cranberries (Craisins)
Juice from half an orange
1 to 2 tsp. liquor (optional – See Kitchen Notes)
Chilled Maple Yogurt
Granola
Chopped almonds
Instructions
In a microwave safe bowl, add the chopped persimmon, dried cranberries, orange juice and liquor. Stir to combine.
Heat in the microwave on high for 45 to 60 seconds.
Scoop about ¼ cup yogurt into each of two parfait glasses.
Top the yogurt with about ¼ cup granola.
Divide the fruit between the two glasses.
If you are going to serve the parfaits immediately, pour some of the heated juice into each of the glasses.
Top with a little more yogurt, some chopped almonds, and serve.
If you aren't going to serve immediately, wait to add the liquid to prevent the granola from getting soggy.
Note:  If you don't want to heat the fruit in the orange juice, then leave on the counter to macerate in the orange juice for about 30 minutes.  Personally, I love the sensation of hot and cold, so I highly recommend heating the fruit.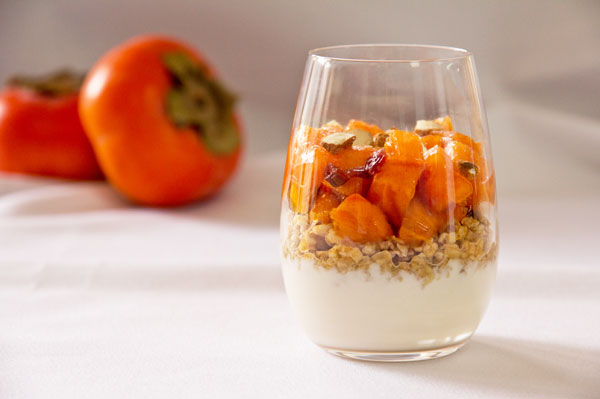 Kitchen Notes
The Yogurt – My favorite yogurt is Cream Top Brown Cow Maple Yogurt. It's so good. If you don't have maple yogurt, you could add a little maple syrup to plain yogurt or use vanilla yogurt.
The Granola – A simple granola with no dried fruit works best, except of course if the granola has dried cranberries.  If this is the case, then omit the dried cranberries in the fruit mix. If the granola has nuts in it, all the better.
The Chopped Nuts – A few chopped nuts on top of the fruit adds more crunch. The nuts you use should be complementary of the granola.  For this particular parfait, I used an almond granola and chopped almonds for the topping.
The Liquor – Because the fruit is only heated in the microwave or left to macerate, the alcohol is not cooked out.  Therefore, if you don't use alcohol, then just leave it out. It's really not needed to make this parfait delicious, but it does however make it extra delicious.  If you don't mind alcohol, then Cointreau, Grand Marnier, bourbon, brandy, or cognac all work just great.
Serving Suggestions – This makes an excellent dessert or snack, or lunch or breakfast (if you omit the liquor, or maybe not :)).
After making this Persimmon Parfait, if you have more persimmons, try this Persimmon Carparcio – another quick and easy recipe that lets the persimmons shine.