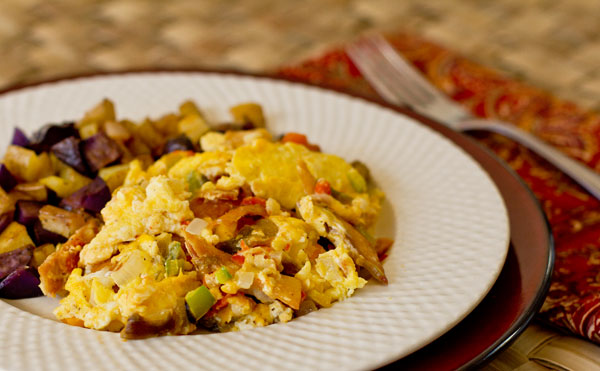 Migas (Spanish for "crumbs") is one of those dishes that is different in different countries.  In the southwest, migas is a simple scrambled eggs dish with, at the very least, some fried corn tortillas (the "crumbs") and chile pepper. Southwestern migas and Tex-Mex migas are basically the same dish with a variety of possible ingredients. Sometimes you'll see additional ingredients like onions, cheese, tomatoes, chorizo or avocado.  Here in New Mexico, you'll still find different versions of migas, but the one constant is, yes – you know what it is – New Mexico green chile.
Today I'm sharing the southwestern style migas I have been making for years.  I normally fry my own tortilla strips but have been known to use store bought tortilla chips, especially when I'm hungry and I don't want to spend the time frying the tortillas. The ingredients and process for migas are simple and the final dish goes great with a side of beans, Spanish rice, or potatoes.  The migas below are being served with leftover Roasted Fingerling Potatoes.  If you feel like jazzing the eggs up even more, I've provided you with a list of additional ingredients or toppings.  Experiment, have fun, and eat well.
Migas (Scrambled Eggs with Chile and Tortillas)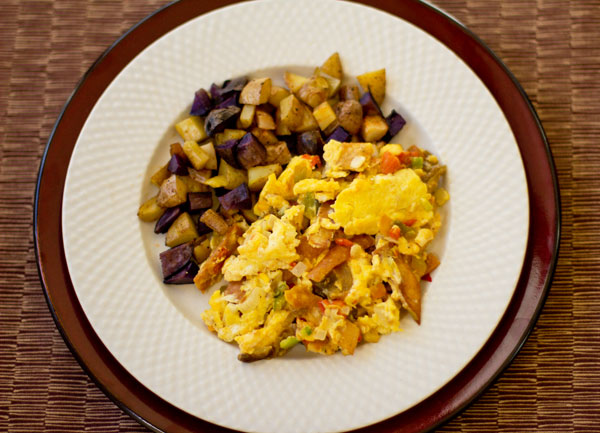 Southwestern Migas Recipe
Scrambled eggs with chile, corn tortillas and cheese. A hearty and tasty breakfast or brunch.

"*" See Kitchen Notes for more information or links to special ingredients.
Ingredients
4

eggs

1

Tbsp.

cream, half and half, or milk

¼

tsp.

dried Mexican oregano,

crumbled

Dash of salt

Two generous dashes of ground pepper

Enough butter to coat the skillet

2

Tbsp.

minced onion or green onions with tops

2

Tbsp.

minced bell pepper,

any color

¼ - ½

cup

roasted green chile*,

chopped (amount depends on heat level)

¼

cup

grated cheddar cheese

2

corn tortillas*,

stripped and fried (instructions below)
Alternate ingredients / toppings
Tomatoes

Cilantro

Avocado

Salsa*

Sour cream

Guacamole

Mexican Chorizo*
Instructions
To fry the corn tortillas
To a small skillet, add about 1 cup oil (canola or vegetable oil). Heat over medium heat until a small piece of corn tortilla starts to sizzle vigorously when dropped into the hot oil.

While the oil is heating, cut the corn tortillas into ¼" strips, then halved.

Fry the strips in small batches. The tortilla strips are ready when the sizzling decreases considerably.

Using a slotted spoon, transfer to a flat paper bag to drain.
To make the migas
In a bowl, whisk the eggs with the cream, oregano, and salt and pepper. Set aside.

Heat the butter in a skillet over medium heat.

When the butter has melted, add the onion and bell pepper. Saute for 1 minute.

Add the eggs, green chile, and the corn tortillas. Using a spatula, move the eggs around in the skillet, spreading the chile and the tortilla through the eggs.

After about 1 minute, add the cheese and continue to cook, gently stirring and flipping until the eggs are done, about 1 more minute.

Divide between 2 plates and top with more green chile or other toppings, if desired.
Kitchen Notes
Corn Tortillas – The recipe calls for 2 corn tortillas, but I usually fry up 4 or 5 because we eat at least half of them before I'm ready to put them in the eggs.  Since frying the corn tortillas is the most time-consuming process of this dish (about 10 minutes), you could choose to fry up even more tortillas and save some to be used in another dish, like Butternut Squash Soup with Apple and Red Chile.  Or, bypass the process altogether and break up store bought tortilla chips into the eggs.
Cheese – A mild cheddar is our favorite  for cheese migas but, aged or sharp cheddar work just fine, as do Monterey Jack, mozzarella, or feta.
Toppings – Some restaurants choose to pile on the toppings, so if you choose, go for it.  Add more green chile or even red chile for that matter, add a dollop of sour cream or guacamole, or some chopped tomatoes and lettuce, or a scoop of chile de arbol salsa.  It's all good!
Green Chile – If you don't have New Mexico green chile, you can substitute with roasted, peeled and chopped poblano peppers, chopped jalapeno, chipotle adobo, or your favorite salsa.  It you do use salsa or even tomatoes, be sure to wait until the eggs are almost set before adding, otherwise you'll end up with watery, gummy eggs.  If you don't have any chile peppers at all, then throw in some chile pepper flakes or chile powder.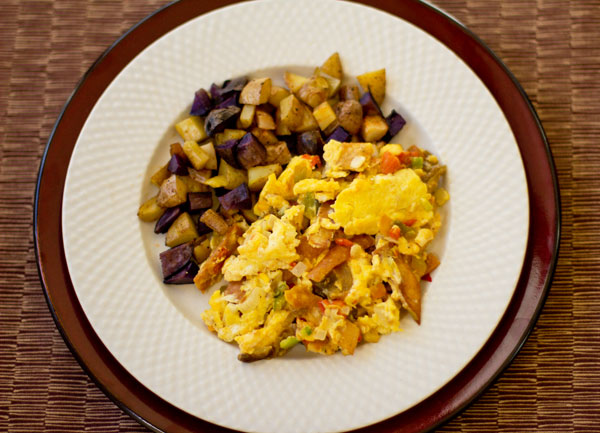 If you like these Southwestern Migas, then I'm sure you'll like these other southwestern style breakfasts:
Huevos Rancheros – Fried eggs with Cheese and Red Chile Sauce
New Mexico Christmas Breakfast – Scrambled eggs and Chorizo breakfast
Green Chile Cheese Breakfast Bake – Baked eggs with green chile, cheese, and stale bread or cornbread
I just got hungry for some Southwestern Style Migas! How about you? 🙂
These Southwestern Migas have been shared with the following:  Made with Love Monday,  Heath and Soul  .