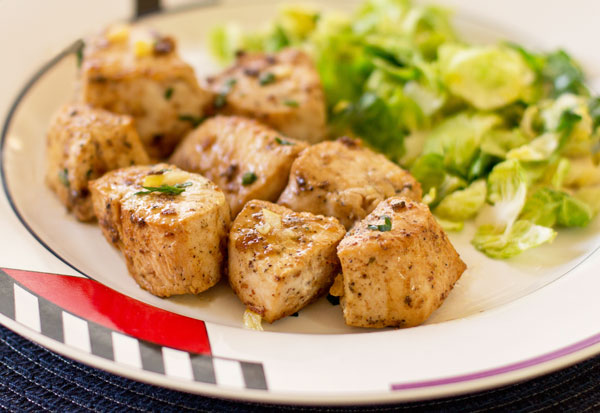 Originally, this post was just going to be just about the Peppered Lemon Chicken Bites, but the Brussels sprouts turned out so good and were the perfect complement for the chicken, that I decided to dish up both. Let's talk about the chicken first.  In this simple little chicken dish, the chicken is marinated with preserved lemons, garlic oil, pepper and a couple more ingredients.  After marinating, the chicken is cooked on the stovetop or skewered for kabobs and grilled. Both cooking methods yield a cook time of less than 15 minutes.  This summer we were making the kabobs, but now that it's pitch dark by 5 p.m., I cook the chicken on the stovetop.  No matter which method used, this peppered lemon chicken is a tasty, quick and easy meal – perfect for the middle of the week.

This recipe was inspired by Annie's Eats Garlic Lemon Chicken Kabobs which I first saw on Pinterest.  Even though Annie's recipe looked delicious as is, I couldn't help but make a couple of changes. Annie called for olive oil and minced garlic which was replaced with garlic-infused olive oil, and the lemon zest with preserved lemons.  I also added tarragon, because I just like chicken and tarragon.  The cooked chicken is extremely flavorful and tender, and not the least bit dry.  The stovetop version yields chicken pieces that are even more moist with the bonus of a little sauce from the vermouth used to deglazed the skillet.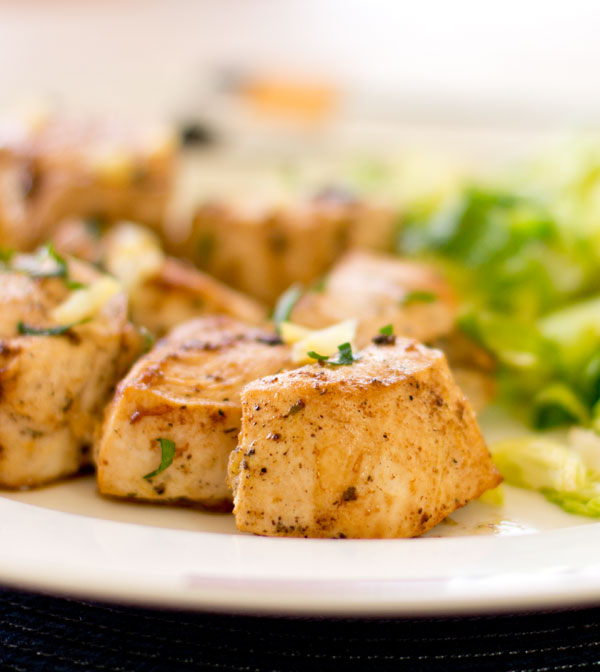 Peppered Lemon Chicken Bites Recipe
These chicken bites could be skewered and grilled, or pan fried on the stovetop.
Serves 2
Prep time: 15 minutes
Marinate for at least 15 minutes but could be marinated overnight
Cook or Grill time: 15 minutes or less
Inspired by Annie;s Eats Garlic Lemon Chicken Kabobs
Ingredients
1 lb. boneless chicken breast or chicken tenders, cut into large chunks (about ¾" – 1")
Marinade
1 Tbsp. garlic infused oil
½ tsp. dried tarragon, crushed
1 Tbsp. minced preserved lemons
1 tsp. preserved lemon juice (omit for marinades over 4 hours, could make the meat too salty)
1/2 tsp. black pepper
2 Tbsp. minced onion
Extra ingredients for Pan Fry
1 Tbsp. olive oil
½ cup vermouth or white wine
1 Tbsp. fresh parsley, minced (optional)
Note: no salt is needed because of the saltiness of the preserved lemon
Instructions
To marinate the chicken
In a bowl large enough to toss the chicken, add all of the marinade ingredients.  Whisk together.
Cut the chicken into large chunks. Add to the bowl and toss to coat the chicken pieces with the marinade.
Let the coated chicken rest in the refrigerator for at least 15 minutes or more.
To pan fry on stovetop

Heat the olive oil in a large skillet over medium heat.
Add the chicken with marinade and sauté for 6 to 8 minutes, turning the pieces about every 2 minutes or until browned.
Once the chicken bites have browned on at least 2 sides, add the vermouth and deglaze the pan.
Continue to stir until the sauce thickens and coats the chicken.
To test for doneness, press into the middle of the biggest piece, if it's soft, then cook another minute and test again. Chicken is done when it is somewhat firm when pressed in the middle.
Toss with parsley and serve immediately.
For kabobs
Prepare grill for medium heat.
Skewer the chicken pieces. Brush the skewered pieces with marinade leftover in the bowl.
Wipe the grill with a little oil to prevent sticking.
Place the kabobs on the grill and cook 8 to 10 minutes, turning twice, until chicken is just cooked through. (The chicken will continue to cook between the time you remove it from the grill and serve.
Remove from the grill, transfer chicken pieces to a plate, and serve immediately.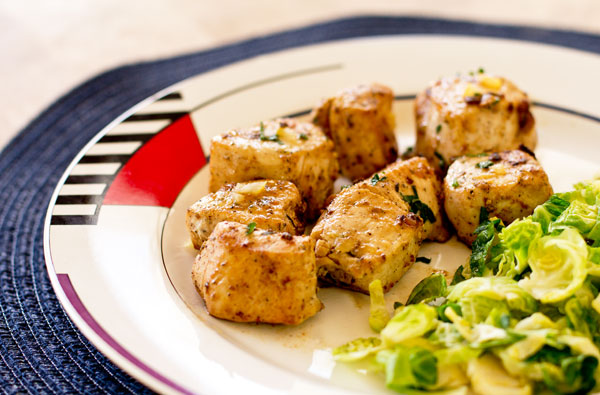 Kitchen Notes
The Preserved Lemon – If you don't have preserved lemons, you could either make my quick preserved lemons the night before, or used the lemon zest and juice from half a lemon.  If you don't use preserved lemon, then I would recommend adding ¼ teaspoon or more salt to the marinade.
The Garlic-Infused Oil – If you don't have garlic-infused oil, the do what Annie does and use 1 Tbsp. olive oil and 2 to 3 minced garlic cloves.
The Vermouth or White Wine – For a non-alcoholic substitution, you could use apple juice or chicken stock.
The Cook Time – When using the stovetop method, the cook time will vary for different size pieces.  Add the largest pieces to the skillet first and cook for 2 minutes, then add the rest of the chicken pieces.  This will prevent the smaller pieces from overcooking.
These Peppered Lemon Chicken Bites don't need anything but I nice healthy side dish to finish off the meal.  I recommend the Curried Brussels Sprouts below – a great combination of flavors.
For more recipes that use preserved lemons, check out this post: 30+ Recipes With Preserved Lemons
Curried Brussels Sprouts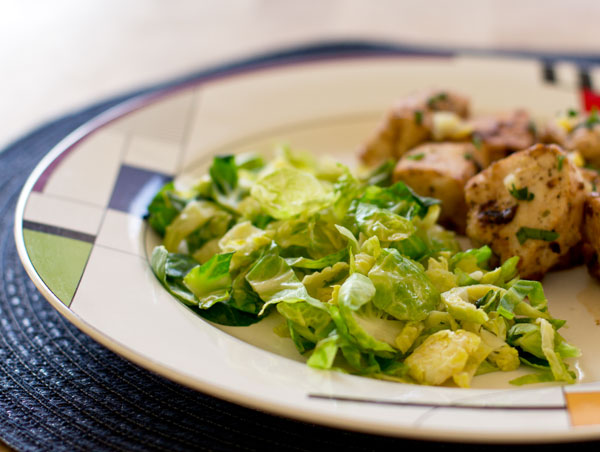 First of all, I never have liked Brussels sprouts……….until now. I'm still now crazy about the intact sprouts, but these "shaved", shredded sprouts have lots of possibilities.  Secondly, so as not to confuse you, the Brussels sprouts in the picture are not the finished dish. In fact, they aren't even cooked. When I took the picture, I knew I would be making Brussels spouts as a side, but I wasn't quite sure what I was going to do with them.  I had two recipes in mind.  One was the Hashed Brussels Sprouts from Kitchen Riffs (KR).  The other was the Shaved Brussels Sprouts with Hot Bacon Dressing also from Kitchen Riffs.  Both of these recipes inspired me to get over my dislike of all things Brussels sprouts and give the shaved version a try.  So following KR's advice on how to make Brussels sprouts taste good for people like me, I threw together this Curried Brussels Sprouts dish which turned out to be a really nice complement for the Peppered Lemon Chicken and was a dish that both Bobby and I could easily eat again.  We both enjoyed it very much! So thanks KR! I'll be making your salad with the hot bacon dressing next.
Curried Brussels Sprouts Recipe
Serves 2
Prep and Cook Time:  about 20 minutes
Recipe Author:  MJ of MJ's Kitchen
Ingredients
2 tsp. bacon drippings
¼ cup minced onion
½ pound Brussels sprouts
a heaping ¼ tsp. Season with Spice's Sweet & Spicy Curry Powder
1 Tbsp. rice vinegar
salt and pepper to taste
Instructions
Remove any discolored leaves from the Brussels sprouts. Wash and drain. Cut off the stem end of each sprout about ¼ of an inch into the body.  Thinly slice the sprouts crosswise.  Break the slices apart, if desired.
Melt the bacon drippings in a skillet over medium heat.
Add the onion and cook for 1 minute.
Add the cut sprouts and cook, stirring frequently for 2 minutes.
Add the curry powder and cook stirring for another minute.
Add the vinegar, salt and pepper.  Cook for about 2 more minutes or until the sprouts are cooked to your liking.  (We liked ours still somewhat crispy, so 2 minutes was plenty.)
Remove from the heat and serve immediately.
Kitchen Notes
The Bacon Drippings – What isn't better with bacon?  🙂  The bacon drippings provided just a hint of bacon which was quite nice with the Brussels sprouts, but if you don't have any drippings, then use butter or olive oil. I would probably use butter, but if your vegan or don't use butter, then olive oil would work as well.
The Curry Powder – The Sweet & Spicy curry powder from Season with Spice is my favorite of all curry powders, but if you don't have it, you could substitute with your favorite curry powder.  If it's not a spicy curry, then add a little chile powder as well.
These Curried Shaved Brussels Sprouts are going to be a great side for a variety of dishes.