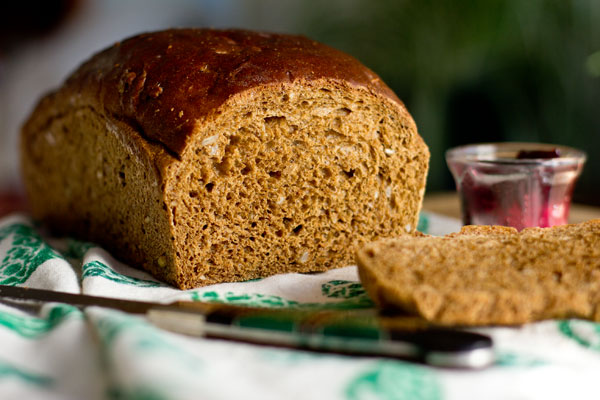 There are just some recipes that are so good and work so well for one's every day enjoyment, that it's hard to move on and try something different.  This Multigrain Sandwich Bread is one of those recipes.  I started making it in the winter of 2012 and except for the 3 summer months when it's just too hot to bake, I've been making at least two loaves a month.  It works great for just about any type of sandwich – turkey, grilled vegetable, grilled cheese – and Bobby says it's his favorite bread for peanut butter and jelly.  I'm a big toast and jam person so I just love toasting a slice and slapping on a little homemade jam – like strawberry, apricot, or my other favorite – mixed berry jam.  YUM!
This multigrain sandwich bread uses spelt, rye, whole wheat, unbleached bread flour and sunflower seeds.  It gets its dark color mostly from blackstrap molasses, a wonderful sweet component, rich in iron.  Even though this bread used many different grains, it is very easy to make.  The amount of work you put into it is no more than 30 minutes; however, there are two rise times, so you should allow at least 3 hours from start to finish.   The recipe below makes one loaf and provides the bake times and oven temperatures for a high altitude as well as sea level baking recommended by the high altitude baking book Pie In the Sky.
Multigrain Sandwich Bread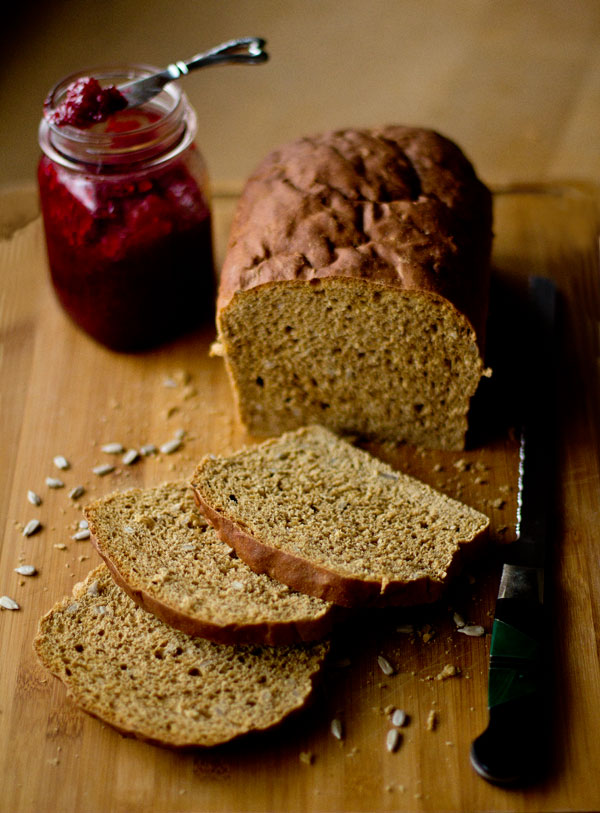 Multigrain Sandwich Bread Recipe
A healthy load of bread that is great for sandwiches, PB&Js, grilled cheese and just a nice piece of buttered toast with jam.

Because of its two rise times, allow at least 3 hours from start to finish to make this bread; however, if you live above 5000 ft in elevation, allow about 4 hours. (See Kitchen Notes)

"*" See Kitchen Notes for more information or links to special ingredients.
Ingredients
1

cup

lukewarm water,

about 110° F

2

Tbsp.

molasses

2 ¼

tsp.

active dry yeast

(1 packet)

1

tsp.

salt

1

Tbsp.

olive oil

½

cup

spelt flour

¼

cup

whole wheat flour

¼

cup

rye flour

1½ - 3/4

cups

unbleached bread flour or all purpose flour + additional as needed

¼

cup

sunflower seeds
Instructions
The instructions below are for manual processing, however, you can use an electric appliance if you choose.
Combine water and molasses in a large bowl. Stir to dissolve the molasses.

Sprinkle the yeast on top and let sit for about 10 minutes or until the yeast starts to activate (looks foamy).

Add the olive oil. Stir to combine.

Add the salt, spelt flour, whole flour, rye flour and 1 cup of the unbleached flour . Stir to combine into a dough.

Spread ¼ cup flour onto countertop or other kneading surface.

Dump the dough onto the flour, sprinkle with flour, ¼ cup sunflower seeds, and knead. Add additional flour about 1 Tbsp. at a time until you have a somewhat tacky and stiff dough (one that holds its shape and doesn't want to constantly stick to your palms).

Transfer the kneaded dough to a large, lightly oiled bowl. Roll around to coat the bread with oil.


Cover with a damp, lightweight cloth and move to a warm spot in the house, but not necessarily the warmest spot. (See Kitchen Notes.)

Let the dough rise until double in size.

With a lightly flour hand, punch down and dump onto a lightly floured surface. Knead for about 1 minute.


Shape into a log shaped dough that fits into a lightly buttered bread pan.

Transfer dough to the pan, cover and let the bread rise 1" above the top of the bread pan. Before the bread finishes rising, preheat the oven to 400°F (for 5000 ft baking) or 375°F (for sea level baking). (This second rise takes 30 minutes to an hour.)

Transfer the bread to the heated oven when you're happy with the rise. Don't rush it.

(@5000 ft.) Bake for 10 minutes at 400°F , then reduce the oven temperature to 375°F and cook for 20 minutes or until the bread has an internal temperature of 190°F using an instant thermometer.

(@sea level) Bake for 30 minutes at 375°F or until the bread has an internal temperature of 190°F using an instant thermometer.

When done, remove the bread to a rack and let rest at least 5 minutes before removing it from the pan.


Run a knife around the sides of the pan to loosen the bread. Using two hot pads, one in each hand, dump the bread out of the pan and transfer to a cooling rack. If desired, rub a little butter over the top crust. This will remove the crustiness of the crust.


Let cool before cutting into the bread so you won't crush it. (This is the hardest step of all!)
Kitchen Notes
The Grains – I've played with different grains and proportions but have found the ones listed in the recipe to yield the best results.  This recipe is easy to switch up the grains to your liking, so don't hesitate to play around to get the flavors you want.
Sugar and Yeast – Yeast feeds on simple sugar, fructose, and glucose; therefore, adding a sugar component to the warm water with the yeast helps to activate it. It's fun to see this. Just for fun, add some yeast to warm water and let it rest for a couple of minutes then sprinkle some sugar on top. You'll see an immediately activation of the yeast.
Salt and Yeast – Salt actually has the opposite effect on yeast as sugar does. As yeast activates, it releases moisture. Salt absorbs this moisture, slowing down yeast fermentation. If too much salt is used, it could prevent a good rise. Therefore, it is best to add the salt after yeast activation. If you choose to bypass the initial step of activating the yeast in warm water, then don't add the salt until after the first rise. You can knead it into the bread before the second rise.
The Seeds – You can substitute the sunflower seeds with pumpkin seeds or use a mix of both. Other seeds like sesame seeds could also be used.  Toasting them first would also add another depth of flavor to the bread.
High Altitude Bread Baking – If you live at a high altitude (I'm right at a mile high), I would highly recommend the high altitude baking book Pie In the Sky.  One of the most significant things I learned from this book about bread baking at high altitude is, when it comes to the rise – patience my friend – patience. I have always made the mistake of forcing a fast rise by using the proofing temperature on the oven or placing the bread above a heater vent, but have learned that, at higher altitudes, slower rises yield the best results. My breads used to have holes and uneven densities from top to bottom, but not anymore. Therefore, if you live above 5000 ft, do allow the 3.5 or even 4 hours to make this bread. The first rise usually takes 1 ½ to 2 hours and the second rise – an hour. Putting the bread in a HOT oven, greatly reduces the amount of oven rise, yielding a denser bread throughout.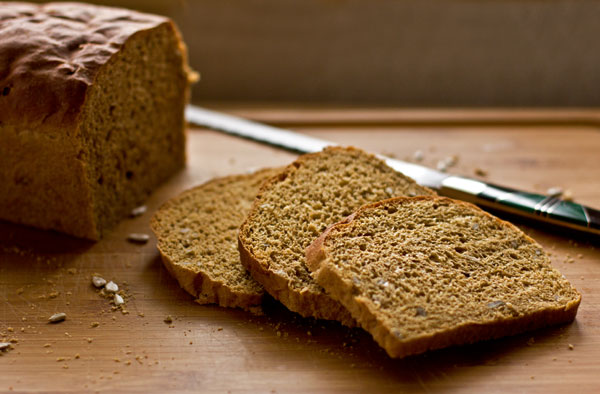 For those of you celebrating Thanksgiving, a great sandwich to have on Friday is this Multigrain Sandwich Bread with leftover turkey and cranberry sauce.
Another bread that makes a killer grilled cheese turkey sandwich is this Hatch Chile Fiesta Bread.
And if you are looking for a little sweeter bread to go with you morning or afternoon tea, try this Fruit and Nut Yeast Bread.
Save