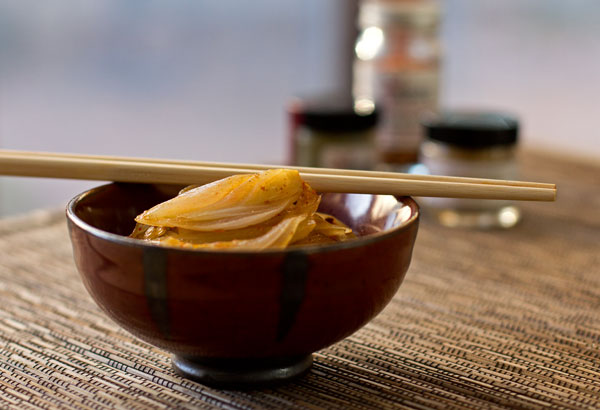 The Seasoned With Spice Infused Onions dish uses select spices that came from Season with Spice, an online spice store that has unfortunately, closed.  However, the idea of this dish hopefully will give you some ideas of other spices that can be used to season onions.
Seasoned with Spice Infused Onions is a simple dish in which onions are steamed in their own juices along with a complementary blend of spices. The cooking method is similar to that used with my Fennel Infused Onions from a couple of years ago.  However, the seasoning is completely different, showing you how versatile this simple side can be.
These onions are infused with the flavors of Aleppo chili pepper flakes, sweet ginger sea salt, and lemongrass powder.  I had never used lemongrass powder before, in fact, I didn't even know it existed until I saw it used in this Coconut Lime Dressing.  Now I know that it will have a permanent spot in my pantry.  The three seasonings used with these onions create a dish that is a little spicy, a little sweet (mostly due to the sweet onions), and with a hint of lemon ginger.  I hope you try them very soon.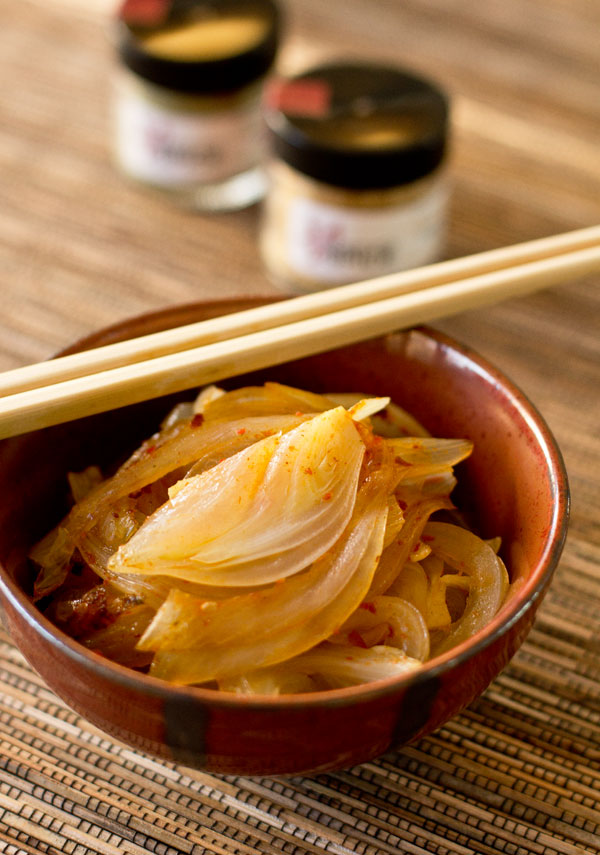 [print_this]
Seasoned with Spice Infused Onions Recipe
Serves 2
Prep Time and Cook time: less than 30 minutes
Recipe author:  MJ of MJ's Kitchen
Ingredients
1 large onion, halved then sliced
1 tsp. Aleppo Chili Pepper Flakes
¼ tsp. Lemongrass Powder
½ tsp. Sweet Ginger Sea Salt (or sea salt with a 1/4″ slice of fresh ginger)
Olive oil
Instructions
Divide the onion slices and the spices in half. You'll be making 2 layers. (Click on the images to enlarge them.)

In the center of a sheet of aluminum foil*, drizzle a little olive on the foil and spread it around the center using a brush or paper towel. (This is to prevent the onions from sticking to the foil.)
Top with a layer of onion slices (half of the onion).
Sprinkle this layer of onions with half of the salt, lemongrass powder and chili pepper flakes.
Add another layer of onion using the rest of the onion and repeat with the rest of the spices.
Drizzle with olive oil.
Place another sheet of aluminum foil over the onion and fold all of the edges to create a sealed envelope.
Place on a hot grill or hot cast iron skillet/griddle on the stovetop. If possible, cover with a lid from a pot. Cook for 4 – 5 minutes, turn and cook another 4 – 5 minutes.**
Carefully open the package, and serve.
*If you don't want to use aluminum foil, you could always use parchment paper and place on a sheet pan, then either on the grill or in a hot oven (400° F) for about 15 minutes.
**4 minutes per side for the stovetop.  5 minutes per side for the grill. (These times are shorter than using parchment because of the foil and the direct heat source of the grill and the cast iron.)
Serve these onions as a side dish or toss with rice or pasta.
[/print_this]


With this being Small Business Saturday weekend, where small businesses like us ask for your support, we wanted instead to thank everyone for their support over the past year. Making a small business successful only happens when you have close friends like MJ cheering you on.
From day one when we launched the Season with Spice shop – specializing in premium Asian spices & blends – MJ has spiced & cooked, commented & emailed, inspired & motivated, to keep us on track, to keep us positive, and to keep us working hard to make the business a success.
Small businesses need people with big hearts – to keep you focused on seeing past the doubts that creep in with every challenge you face. So on this Small Business Saturday, we are thankful to call MJ our good friend, and thankful to have the biggest heart in New Mexico encouraging us every day.