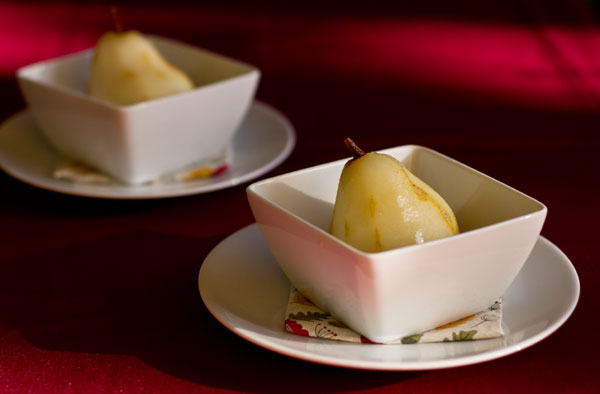 One of the flavors of the fall that I really enjoy is that of a perfectly poached pear.  Poaching transforms an under-ripe, rather tasteless pear into a tender and delicately flavored bite.  This Spiked Poached Pear recipe has been used for many types of pears and the outcome has been the same every time – delicious! The trick with poaching pears is to start with firm, a bit under-ripe pears. A soft pear that is ready to eat should just be eaten and enjoyed.  If you try to poach it, it will turn to mush.  However, if you have some pears that need a day or two before they are ready to bite into, then poach a few of them.  You'll love the results.
In this recipe the pears are simply peeled and set into a relatively small amount of fruit juice with a touch of sweet liquor and some spices.  The recipe below is a combination of ingredients that we thoroughly enjoy; however, I do change it up a little here and there depending on what ingredients I have available.  For example, the liquor is quite versatile. You can omit is altogether or substitute with another sweet wine or liquor.  The fruit juice – the liquid base – can be just about any fruit juice you have on hand.  And the spices – those are easy to change up.  See the Kitchen Notes for variations.
Spiked Poached Pears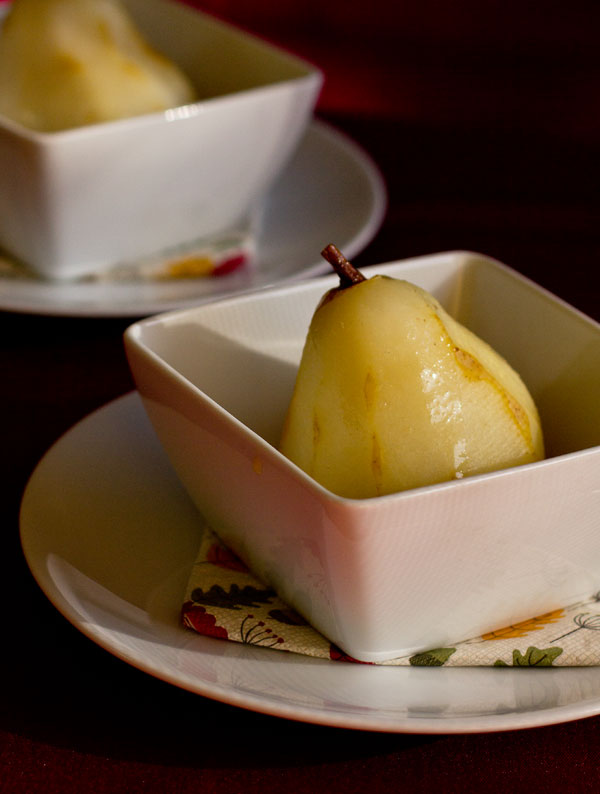 Spiked Poached Pears Recipe
A light and delicious poached pears made with apple cider and a hint of orange.
"*" See Kitchen Notes for more information or links to special ingredients.
Course:
Fruit, Side Dish, Snack, Vegan, Vegetarian
Ingredients
4

firm pears,

peeled, stems intact

1

Tbsp.

orange juice concentrate or juice from half an orange

1

cup

apple juice or sparkling apple cider

¼

cup

Cointreau

1

cinnamon stick

1/8

tsp.

cardamom or 2 cardamom pods cracked

freshly grated nutmeg,

5-6 short grates with a micrograter or a couple of dashes of ground nutmeg

~1/2 to 1 tsp. cornstarch

(optional)
Instructions
Combine all ingredients (except pears and cornstarch) in a tall sauce pan. The sauce pan should be big enough to hold all four pears and tall enough to put a lid on it.

Place the sauce pan over medium heat. Stir the mixture and bring to a boil.

Pick the peeled pears up by the stems and place, standing upright in the sauce pan. The liquid will be anywhere from an inch to halfway up the pears, depending on the size of the pan.

Turn down heat for a simmer and cover.

Simmer for 20 to 30 minutes until done, time depending on the ripeness of the pears*.


When done, transfer the pears from the sauce pan to a plate and cover to keep warm.

Bring the liquid to a boil. Cook uncovered and reduce to about 1/4 cup. If you don't want to wait for the sauce to thicken, you can produce a thicker sauce quickly by slowing sifting the cornstarch into a simmering (not boiling) sauce. I use an old tea strainer to sift. Put the cornstarch in the strainer and tap it over the sauce pan, stirring constantly. Add a little cornstarch at a time until the sauce is at the desired thickness.

Transfer the pears to serving bowls.

Pour a little sauce over each pear and serve.
Kitchen Notes
The Pears – Bosc, Anjou, and Bartletts all work nicely. I haven't tried Asian or Comice pears, but I can't imagine they wouldn't work.  Pears be firm and a touch under-ripe.  If the pear is already soft, poaching it will either turn it to mush.
Cooking Time – Adjust the cooking time to the ripeness of the pears. If the pears are just on the edge of being ripe, then cook for the minimum cook time of 20 minutes.  If they are "hard", then 30 minutes will be needed.  To test, poke a toothpick into the thickest part of the pear.  If it doesn't go through to the center without having to hold onto the pear, then cook a couple more minutes. If it goes through easily, then remove the pears from the pan and thicken the sauce, if desired.
Spiking Component – There are several different alcohols that you can use and if you don't like cooking with alcohol, then just omit it.  Cointreau or Grand Marnier are my favorites. Other options include marsala, sweet tawny port, or another sweet, dessert wine or another flavored liquor.  Just keep in mind that the flavor of the liquor will affect the flavor of the poached pears, so if you don't like the taste of the alcohol component, you won't like the taste of the pears.
Apple Juice vs. Apple Cider – I always have sparkling apple cider which tends to be a little sweeter than most apple juices; therefore, cider yields a little sweeter pear as well as a sweeter sauce. Therefore, if I'm serving the pear as a side, I'll omit the sauce altogether to keep it from being too sweet of a side.  Of course if you have neither, you could always substitute grape juice, or use all orange juice.
Spices – The combination and amount of spices listed in this recipe yields a delicately spiced pear.  If you want more spice flavor, then increase the amounts.  Throw in a star anise or some fennel seeds for a bit of licorice flavor.  Rather than using individual spices, toss in 1/2 to 1 tsp. of your favorite spice mix.  Just keep the amount of spices to a minimum so you don't overpower the flavor of the pear that is brought out in the steaming process.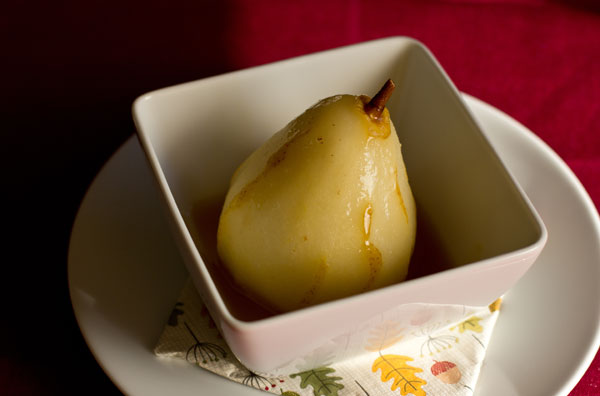 Serving Suggestions – Breakfast, as a snack, starter or appetizer, a side to a meal, or as a light, slightly sweet dessert.
These Spiked Poached Pears have been shared with the following blog hops:  Hearth & Soul  .