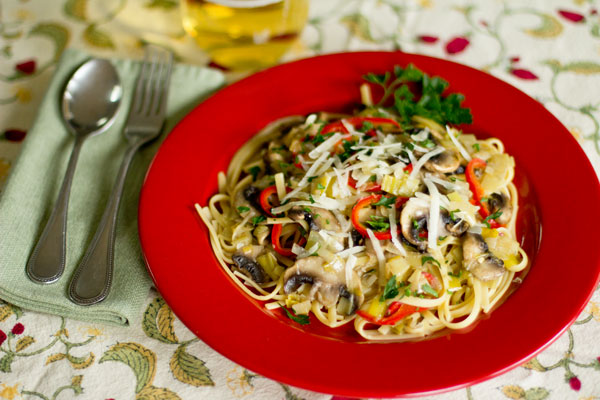 Today's pasta with leek confit and mushrooms was inspired by a wonderful leek confit that I saw over at The Wimpy Vegetarian back in January. I've made this confit several times, using it as the base for pizza and a toss for vegetables and rice – always resulting in a delightful dish.  However, one of our favorite uses is tossing it with pasta.  In this dish, mushrooms and sweet peppers are added to the confit during the last 10 minutes of simmering. The vegetables are then toss with pasta and topped with Pecorino Romano.  The resulting dish is a delicious, hearty and healthy meal, a great dish for Meatless Monday, Tuesday, or Wednesday, or any day of the week.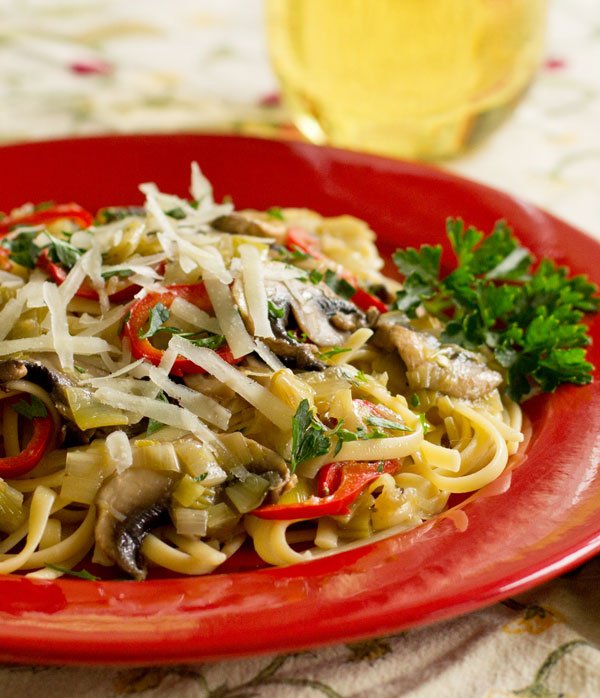 [print_this]
Pasta With Leek Confit, Mushrooms and Sweet Peppers Recipe
Serves 4
Prep and Cook time:  less than 1 hour
Leek Confit by Susan @ The Wimpy Vegetarian
Pasta recipe by MJ of MJ's Kitchen

Ingredients
Ingredients for leek confit
2 medium leeks
1 tablespoon butter
2 tablespoons olive oil
1 tablespoon water
1/2 teaspoon salt, or more according to your taste
few twists of freshly ground pepper
large stem of thyme, left intact
1/2 teaspoon fresh thyme leaves
1 large stem fresh sage (about 8 to 10 leaves), left intact
Remaining ingredients
1/2 pound (~5 to 6 large) mushrooms, sliced
1 large sweet pepper, sliced
8 ounces linguine or spaghetti
1 cup Pecorino Romano, grated
Salt and pepper, to taste
Instructions
To make the confit, follow the instructions for leek confit at The Wimpy Vegetarian. The only thing I've changed in her recipe is the addition of the fresh sage. So add the sage along with the thyme.
Once you get the confit started, start the water for the pasta and cook the pasta according to instructions.
After the confit has simmered for 35 minutes, add the sliced mushrooms, sweet pepper, and 3 Tbsp. water from the pasta to the confit.  Toss with the leeks, cover and simmer for another 10 minutes.
When the pasta is done, drain, and return it to the pot.  Add the confit mixture.  Toss well to coat the pasta.
Taste, and season with additional salt and pepper if needed.
Serve.  Top each serving with some of the Pecorino Romano.
[/print_this]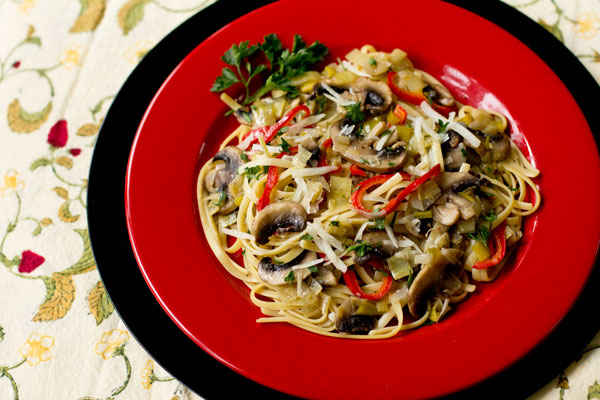 Kitchen Notes
The Herbs – As you can see, the only thing that I have changed with the confit recipe is to add the sage which goes quite well with mushrooms; however, you can use any herbs that you want.  I've also used tarragon with mushrooms which is another complementary herb for this dish.
The Sweet Peppers – Any type or color of sweet pepper would work.  This dish was made with the same type of sweet peppers that I used in my Spicy Sweet Red Pepper Soup.
The Mushrooms – White button mushrooms were used in this particular dish; however, baby bellas or shiitakes would be just as good.
The Pasta – Linguine, vermicelli, spaghetti, or farfalle are best.  They are relatively lightweight pastas which work well with this vegetable mixture  Penne, ziti, fusilli or rotini are too heavy for this particular dish; therefore, I don't recommend them.
A Recommended Meat Topping – This dish really doesn't need anything other than the cheese; however, one night I rendered some diced salami in a hot skillet and toss it in with the pasta and vegetables.  It was a nice smoky, salty addition to the dish and I know I'll use it again.
There are very few pasta and vegetable dishes that I don't like, but this Pasta with Leek Confit and Mushroom  has become one of my favorites.