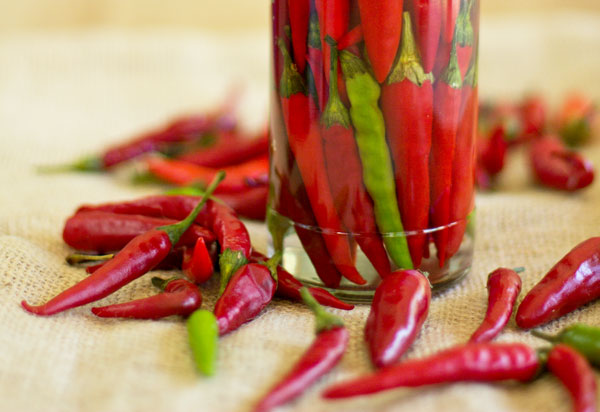 It's the first of October and it's getting chilly here, so this year's green chile crop is just about over. I roasted my last batch yesterday. 🙁 Any chile peppers still on the plants are turning red and even they are almost gone.  However, the smaller chiles, like chile pequin (above), jalapeno, and chile de arbol, are still quite plentiful which is a good thing because I recently discovered that I'm totally out of pepper sauce.  Everybody's gotta have a pepper sauce to finish off dishes like black-eyed peas, pinto beans, greens, stews, and succotash.  Just sprinkle a few or a lot of drops/dashes on top of each serving for some flavored spice, just like you would use Tabasco.
My mother taught me how to make pepper sauce when I was a kid and I've been using her method ever since.  It's easy, it's good, and you can use any type of hot, fresh pepper – chile pequin, chile de arbol, Thai chiles, jalapeno – any hot, small chile pepper.  When I went to the market to get some chiles, it had a bunch of chile pequin. So there you go – chile pequin pepper sauce it is.  To make this sauce all you need are peppers, vinegar, salt and a bottle.  Can't get much easier than that.  Make it now and it will be ready in a couple of weeks to use on fall greens.  By the time you're making those black-eyed peas on New Years Day, you'll have a really nice, hot pepper sauce.  Put it in the refrigerator and it will keep indefinitely.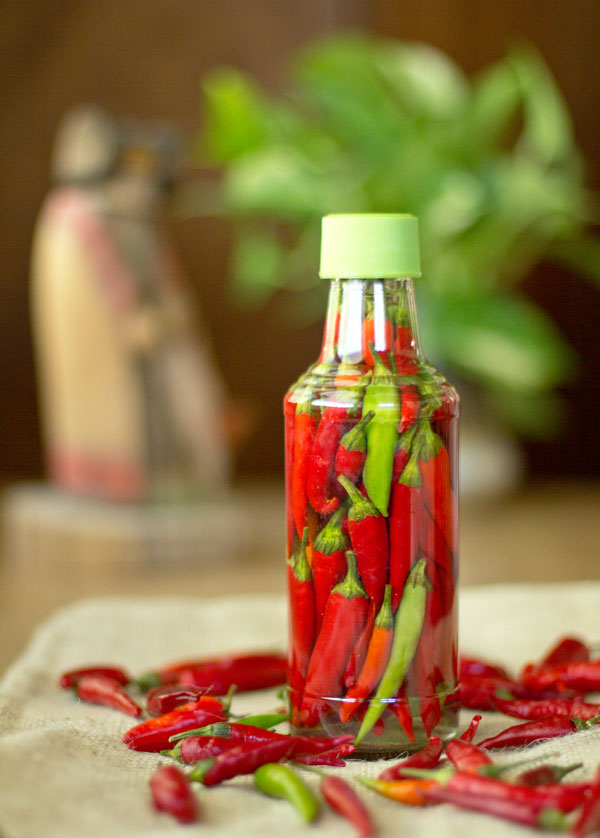 Chile Pequin Pepper Sauce Recipe
Yield:  Pick out the bottle, then buy enough peppers to fill it
Prep and Cook Time: about 15 minutes
Ingredients
A clean, glass bottle with a plastic or ceramic lid (vinegar oxidizes metals)
Enough small peppers to fill the bottle
Salt
While distilled Vinegar (enough to fill the jar)
Instructions
Cut the stems on the pepper to about 1/4″ about the pod.
Wash and dry the peppers.
Stuff the peppers, one at a time into the jar.  I use a chopstick to help position and stuff the peppers so that I can get as many as possible in the jar.
Once the jar is full, pour ½ tsp. to 1 tsp. of salt into the jar. The amount depends on the size of the bottle.
Heat the vinegar in a sauce pan or in the microwave. Bring to a boil.
Fill the bottle about 3/4 full with the hot vinegar. Roll and pat the bottle to eliminate trapped air bubbles.
Continue to fill the bottle with the vinegar until all of the peppers are completely covered.
Cap the bottle and roll, and gently shake to distribute and dissolve the salt.
Set in the pantry.  In about 2 weeks you can start enjoying it. The longer is sits, the hotter it gets.
Once I start using it, I put it in the refrigerator where it stays until it's all gone.
To use:  Use it much like you would Tabasco.  Just drizzle a little over each serving for some added spice.
See Kitchen for more information on storage.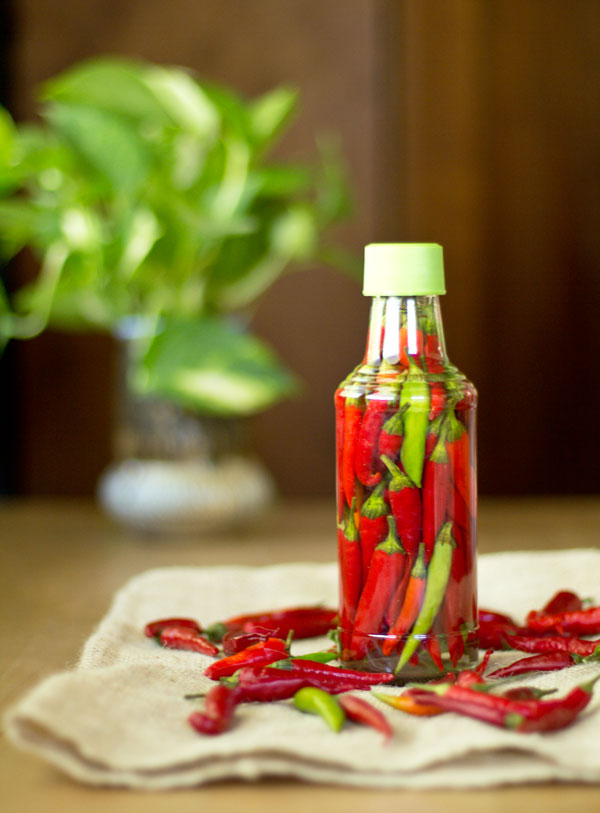 Kitchen Notes
The Peppers – As I mentioned before, any type of really hot, small peppers can be used to make peppers sauce.  The main thing is that are HOT and FRESH, not dried.  A good pepper sauce should be HOT because it's one of those condiments where a little bit goes a long way. I've used jalapenos, chile pequin, yellow hots, and serranos.  The flavor is a little different between the peppers, but they all work in any dish in which you choose to use it.
Scoville Units
Chile Pequin and Thai peppers – 50,000 to 100,000
Chile de Arbol – 15,000 to 30,000
Serrano – 5,000 to 15,000
Jalapeno – 2,500 to 5,000
The Bottle – This is a great recipe for repurposing bottles.  The bottle in the picture was originally a soy sauce bottle, and now it's a bottle of pepper sauce.  You can use any glass bottle as long as it has a ceramic, plastic, or cork top.
Storing the Pepper Sauce – You can store this in the pantry for about six months. After that, I would recommend straining it, discarding the peppers and storing the strained vinegar in the refrigerator.  I'm not sure if this is absolutely necessary, but it's what I've always done.  In the refrigerator, the vinegar will keep indefinitely.
As you can see, making a pepper sauce can't get much easier than this. The result is a hot pepper infused vinegar that can be used on a variety of dishes.  Below are some other pepper sauces that you should check out.  The process and ingredients are different, but just as good.
Make your own Hot Sauce by eliotseats.com
Pickled Chilli Peppers by With a Glass
Spiced Vinegar by Wok With Ray
Hot Pickled Pepper Sauce by REMCooks
Habanero Pepper Sauce by Texas West Kitchen
Link to all of the Chile Recipes on MJ's Kitchen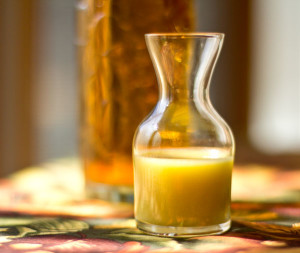 Remember the Peppered Cucumber Vinegar from about six week ago?  It's done!  Bottled it up last weekend and now we're enjoying this wonderful Cucumber Salad Dressing.
This Chile Pequin Pepper Sauce has been added to the following blog hops:  Hearth and Soul, From the Farm   .