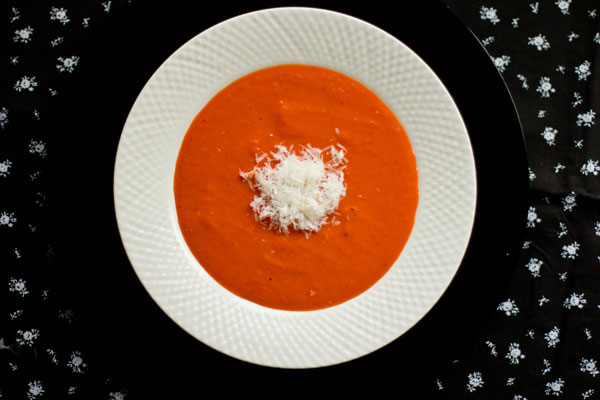 For several weeks now I've been buying these beautiful organic sweet peppers from the growers' market and putting them in just about everything along with roasting them and freezing for winter. In addition to these sweet peppers, fresh red chile peppers are now available, and the organic red bell peppers are so abundant that prices have dropped considerably.  Therefore, when the rains came a couple of weeks ago and brought cooler weather, it was a perfect time to make this Spicy Sweet Red Pepper Soup.
This soup is best made with fresh, roasted peppers.  You can use a mix of sweet peppers and red chile peppers, or, if you can't find fresh red chile, then substitute with a red chile sauce, or red chile powder.  Throw in a nice, big, meaty brandywine tomato, and you have a a comforting soup bursting with flavor.  Make a grilled cheese sandwich as a side and you've got a complete meal.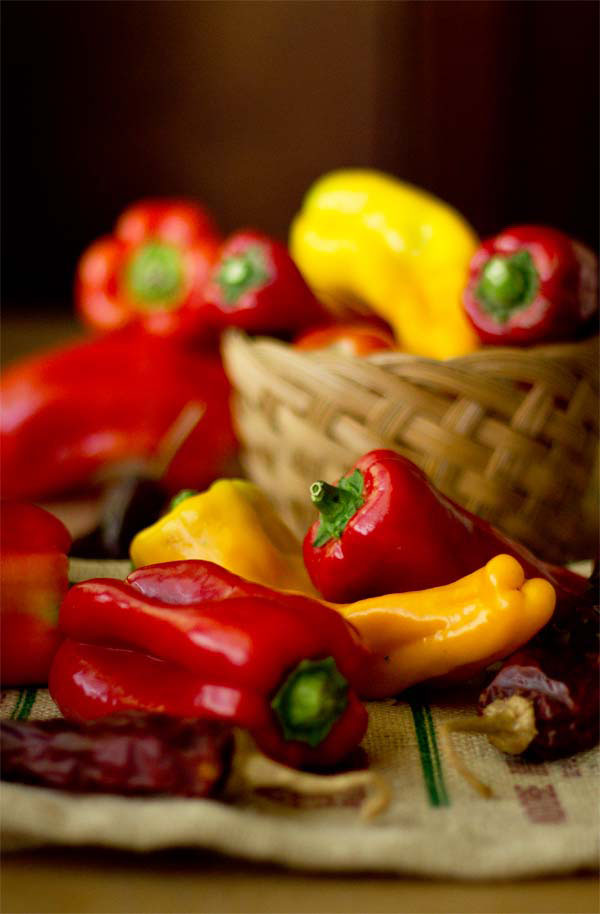 [print_this]
Spicy Sweet Red Pepper Soup Recipe
Serves 4
Prep and Cook Time: 30 minutes if you already have the roasted peppers and red chile sauce.
Recipe author: MJ of MJ's Kitchen.
Ingredients
1 Tbsp. olive oil
½ large sweet onion, chopped
2 large garlic cloves, minced
½ pound meaty tomato, peeled, coarsely chopped
2 pounds sweet peppers (~4 large bells), roasted, peeled, seeds removed, chopped
1/2 pound medium to hot red chile peppers, roasted, peeled, seeds removed, chopped OR ¼ – ½ cup red chile sauce OR 2 – 3 tsp. red chile powder (See Kitchen Notes)
2 cups broth (chicken or vegetable)
1 Tbsp. brine from a jar of olives
Juice from half a lime
½ cup half and half
Salt to taste
Toppings:
Grated Manchego or Pecorino Romano Cheese
Your favorite Red Chile Powder
Instructions
In a large soup pot, heat the olive oil over medium-low heat. When hot, add the onion and garlic. Saute for 5 minutes or until translucent.
Add the tomato, peppers, and chile sauce/powder (if using). Cook for 3 minutes.
Add the chicken stock and brine. Simmer for 10 minutes.
Using an immersion blender (or regular blender) puree the soup until smooth.
Add the lime and the half and half. If the soup is too thick for your liking, add more stock or water, ¼ cup at a time.
Taste. Add more salt if needed.
Reheat, but do not let it come to a boil.
Pour into serving bowls and top with a little cheese and sprinkle of chile powder if desired.
[/print_this]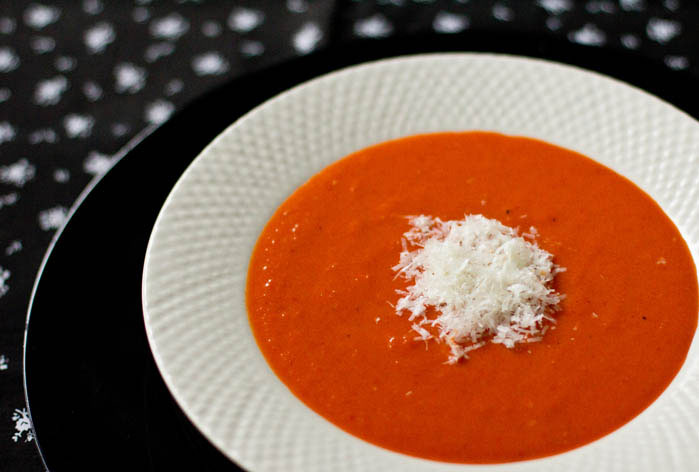 Kitchen Notes
The Sweet Peppers – Any sweet peppers can be used and any color (except green).  I like to use all red peppers, because I usually use red chile sauce and all red peppers make such a beautiful soup.  For a spicy sweet yellow soup, you could use all yellow sweet peppers and yellow hots.
The Spicy Component – This soup is best with either red chile sauce or roasted red chile peppers.  If you have neither, you could use chile powder, but of the three choices, it's the one I prefer the least.  Chile powder adds a little bit of "powdery" texture to this particular soup which, for some, can be off-putting.
Amount of Spice Component – The amount of spice is personal preference.  The hotter the chile, the less I use.  It's easy for the chile to overpower the sweetness of the sweet peppers, especially if you using chile sauce or powder.  Taste the red chiles or chile sauce prior to adding it to the soup.  If it's hot, then use the smaller amount. If you find it pleasantly spicy, then the larger amount indicated in the recipe could be used.
The Tomato – Any tomato could be used in this soup, including canned tomatoes if that's all you have.  If you use fresh tomato, you do want to peel it in order to have a smooth pureed soup. For this soup, the easiest way to peel the tomato is to cut the tomato into 4 to 6 large pieces and add to the soup.  After about 30 seconds you'll see the skin peeling off.  Just lift it off the tomato pieces using tongs.  This process save time in peeling the tomato separately.
This soup is a great warm me up for cooler fall temperatures and a fabulous way to use some of the beautiful peppers at the markets during the fall.  It could be served as a starter to a meal or as the meal itself.
This Spicy Sweet Red Pepper soup has been shared with the following blog hops:  Hearth and Soul, Made With Love Monday   .