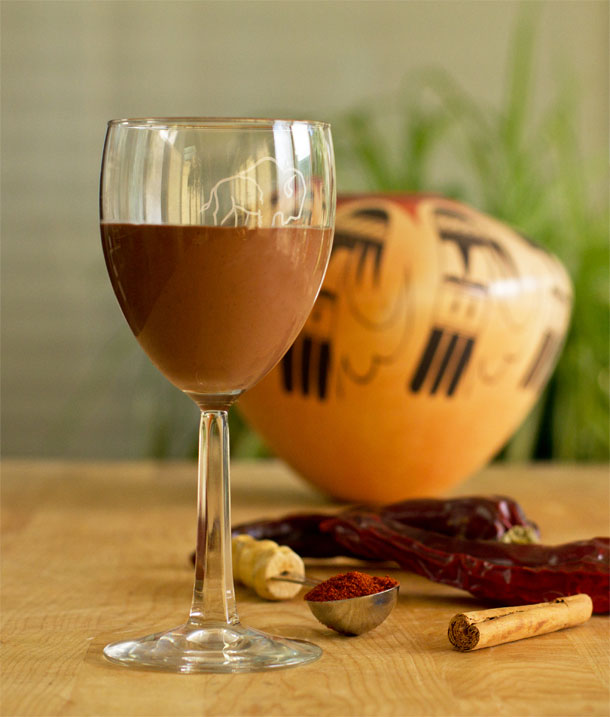 Before I get to the New Mexico Style Chocolate Pudding recipe, I want to share our visit to the Museum of International Folk Art in Santa Fe, New Mexico.  There were three exhibits that we wanted to see and all three exceeded our expectations.
Amish Quilts Exhibit

The first exhibit we visited was a display of Amish Quilts.  Many of the quilts displayed were more than 100 years old and were still vibrant and richly beautiful.  The museum allows photography as long as you don't use a flash; therefore, I'm able to share some of this lovely quilts with you.   Having been a quilter at one time in my life, I never tire of looking at quilts, old quilts, new quilts, contemporary quilts.  Knowing the amount of time and love that goes into making one, I've never found a quilt I didn't like.  The artistry and craftsmanship in these 100 year old quilts blew me away.

This first quilt is one of my favorites – an Amish Flower Garden.  It's from the 1890's, Holmes County, Ohio.  One of the characteristics of Amish quilts from Ohio is the use of black material.  There were three quilts from Ohio on display and all had pieces of black material strategically placed to create a bold, yet elegant pattern.
Most of the other quilts were from Pennsylvania which isn't surprising because of the mass emigration of Amish from Switzerland and Germany to Pennsylvania in the 17th and 18th centuries.  With a couple of exceptions, the Pennsylvania quilts were more like the Amish quilts that one commonly sees, like these Amish bars and the diamond in the square quilts below.
The Amish, like my grandmothers and great grandmothers, made quilts for utilitarian purposes, to keep you and your family members warm in the winter.  Wouldn't it be wonderful sleeping under one of these quilts?
The next quilt, the Chinese Lantern quilt, is quite different from the others. It's pretty amazing to me because of all of those little pieces of material that the quilter had to assembly.  That took A LOT of time and patience!  I tried to find more information on how this quilting block (the Chinese Lantern) came to be in the Amish community, but was unsuccessful.
Japanese Kites Exhibit

The next exhibit was a Japanese Kit exhibit.  These kites were breathtaking! I can't imagine anyone actually flying one. The kites in the exhibit ranged from a few inches in size to 25 feet (like the fish below).  However, these were small compared to some kits.  During the visit we watched a film of a yearly kite celebration in a small Japanese village and some of those kites were 75 feet wide and long!  People spend weeks designing and hand painting their kites only to have them destroyed in a kite battle.  The kite battle was wild!  The goal was to use your kite to strip as much rope from the other kites as possible.  Needless to say, by the end of the 5 day event, no kite was left flying and the team with the most rope won.
Here are a few kites for you to enjoy.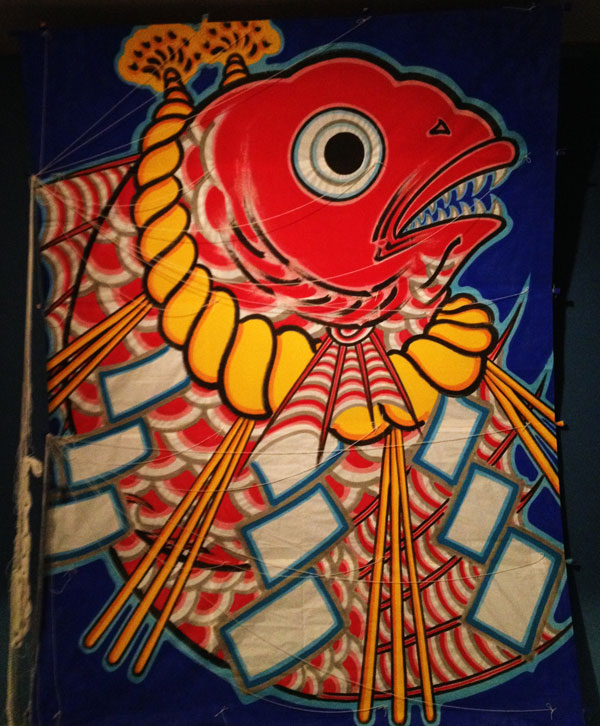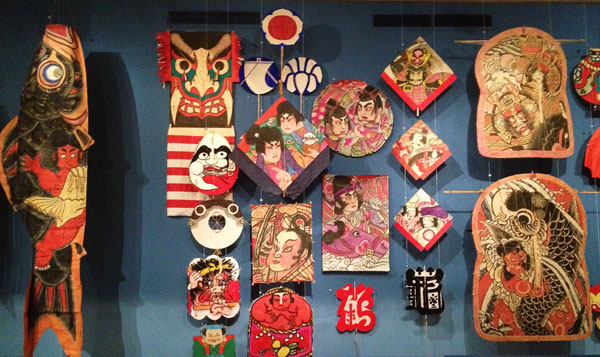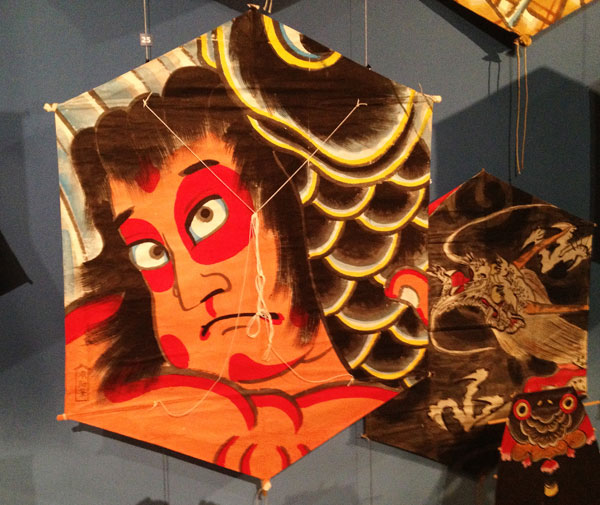 New World Cuisine:  The Histories of Chocolate, Mate Y Más
The third exhibit we visited was New World Cuisine: The Histories of Chocolate, Mate Y Más. In this exhibit we learned a lot about the history and exchange of foods between the Old World and the New World, as well as the importance of cacao and yerba mate' in Central and South America. Unfortunately, we were so busy reading and enjoying the individual settings that were staged, we forgot to take pictures.  To see some of the items in this exhibit, you can click on this link of images. Here are just a few of the interesting things we learned:
The exchange of world cuisine began with the explorations of Christopher Columbus "when foods from the Old World were mixed with those of the new and brought improvements from farm to table."
Foods that went from the New World to the Old World included maize (corn), cacao, potatoes, beans, squash, and chile peppers.
Foods that went from the Old World to the New World included meats, dairy, cheese, and a variety of new and exotic spices.
In reference to New Mexico – "The mixing of peoples and foods—the fusion of cultures and traditions referred to as mestizaje—began in August 1598. It was then that Juan de Oñate's 500-strong expedition of soldiers, families, and Franciscan friars settled in New Mexico on the fertile and irrigated farmland of the Tewa Pueblos of Yungue and Okhay, located at the confluence of the Chama and Rio Grande Rivers."
The original Caribbean word for a chile peppers is "aji", and the Nahuatl spelling is "chilli". When the Spanish immigrated into New Mexico they "converted the Nahuatl name, chilli, to chile. Today in New Mexico it is the Spanish spelling and pronunciation that is still common." (For more information about the word "chile", see Chile or Chili?)
This exhibit ends January 5, 2014; therefore, if you happen to be in Santa Fe between now and then, be sure to stop in and check it out.
As part of this exhibit, visitors were encouraged to exchange recipes.  One of the recipes that the exhibit was sharing with its visitors was Hot Chocolate – New Mexico Style.  It sounded quite delicious, so I took one of the recipe cards and came home with the intention of making it, but it's just not cold enough yet for hot chocolate.  Therefore, I took the idea of the recipe and converted it to this Chocolate Pudding – New Mexico Style.  This recipe is an example of a blend of Old and New World ingredients.
If you'd like to share one of your recipes that represents a fusion of Old World and New World ingredients, visit the New World Cuisine Recipe Exchange on Facebook and share your recipe.

Chocolate Pudding – New Mexico Style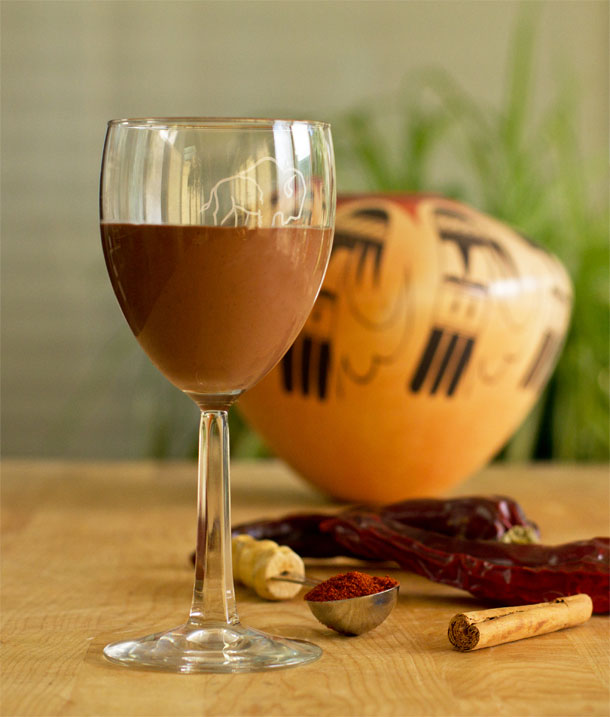 Chocolate Pudding Recipe - New Mexico Style
The concept of this pudding was inspired by my visit to the Folk Museum as well as the Hot Chocolate, New Mexico Style by Cheryl Alters Jamison and Bill Jamison.
"*" See Kitchen Notes for more information or links to special ingredients.
Cuisine:
Mexican, New Mexico
Ingredients
3

Tbsp.

cornstarch

¼

tsp.

salt

¼

tsp.

ginger*

¼

tsp.

cinnamon*

¾

tsp.

medium Chimayo Red Chile Powder*

4

Tbsp.

cocoa powder

½

cup

sugar

2

cups

milk*,

whole or 2%

½

tsp.

vanilla extract
Instructions
Prepare four pudding cups and set aside, ready to use.

In a heavy-duty sauce pan, whisk together the cornstarch, salt, ginger, cinnamon, chile powder, cocoa powder, and sugar. Break up any lumps from the spices and cocoa powder.

Over a medium-low heat, slowly add half of the milk, whisking continuously to prevent lumps. Once you have added half of the milk, use a spoon to scrape the corners of the sauce pan to free up and incorporate any dry ingredients that may not have mixed with the milk. Continue to whisk and break up any remaining lumps.

Add the rest of the milk and the vanilla. Whisk.


Stirring constantly, bring the mixture to a boil and gently boil for 1 minute. (This entire step takes about 5 minutes.)

Quickly pour into the four pudding cups. Let cool.

Cover with plastic wrap a and refrigerate to chill. Serve cold.

Kitchen Notes
This recipe actually yields a much darker chocolate pudding than is shown in the pictures.  I took these pictures with one of the first batches I made in which I used chocolate morsels rather than cocoa powder.  The cocoa powder resulting in a darker pudding and a rich chocolate flavor that I didn't get from the morsels. So if you make this, don't be surprised to see an almost black pudding that, when you taste it, screams chocolate!
Chile Powder – Of course you can use any chile powder you have, but after making quite a few batches of this pudding, I keep going back to the Chimayo red chile powder that I get from the Chimayo Chile Brothers, in northern New Mexico.  It's a bit sweeter than most chile powders, making it nice for desserts.  The medium is spicy, but not "hot", and blends well with the ginger and cinnamon.  No matter what chile powder you choose, I highly recommend using mild or medium. You want the flavor of the spice to complement the chocolate, without having the heat of the spice to overpower it.
Dairy – After trying several combinations of cornstarch, milk and cream, I found that the combination that yields the best texture is the one listed in the recipe: 3 Tbsp. cornstarch with 2 cups milk (whole or 2%).
Spices – The spices used in the Jamison's hot chocolate recipe are what inspired this pudding: ginger, cinnamon, and red chile.  I normally don't use ginger with New Mexico red chile powder, but now that I've tried it, I like it.  Ginger, cinnamon and red chile is a great combo with chocolate!
So next time you want some serious chocolate with hit of spice, whip up this Chocolate Pudding, New Mexico Style. Your mouth will thank you for it.
Here are some more pudding you might enjoy:
Matcha White Chocolate Pudding
This spicy chocolate pudding has been linked to the following blog hops:  Hearth & Soul  .
Features: