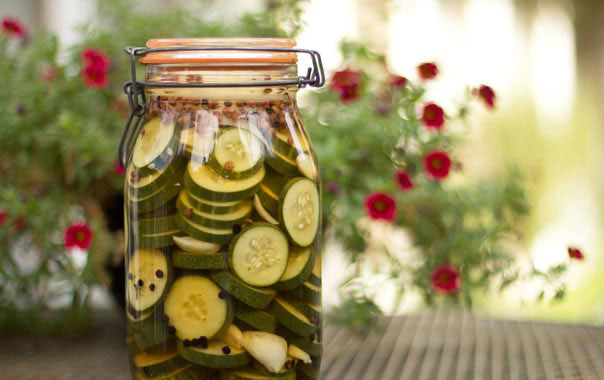 My garden this year was very small, mostly herbs, a few cucumber plants, and a volunteer butternut squash plant. The cucumbers we grew in an elevated container with a trestle. and it worked much better than expected. Lots of cucumbers and no half eaten cucumbers due to our turtles and the wild racoons that patrol the neighborhood.  We've been able to harvest more than enough cucumbers for our salads, salsas and cold soups, and with the extras, I'm brewing a batch of our favorite homemade vinegar – Peppered Cucumber Infused Vinegar.  We've been enjoying this vinegar for several years and so have our families and friends because there is always plenty to share.
For this recipe, vinegar is infused with cucumber, pepper and garlic.  The prep takes about 30 minutes and then the jar is left to sit for 6 weeks.  I use to let it sits for 3 months, but one year decided to test it after only 6 weeks (just couldn't wait). I didn't notice any difference in the flavors. The cucumber and pepper flavors were just as robust after 6 weeks as they were after 3 months, and the garlic – very subtle and a nice finish. After 6 weeks, the cucumber infused vinegar is strained into pretty little bottles and used for salad dressing or holiday gifts.
Peppered Cucumber Infused Vinegar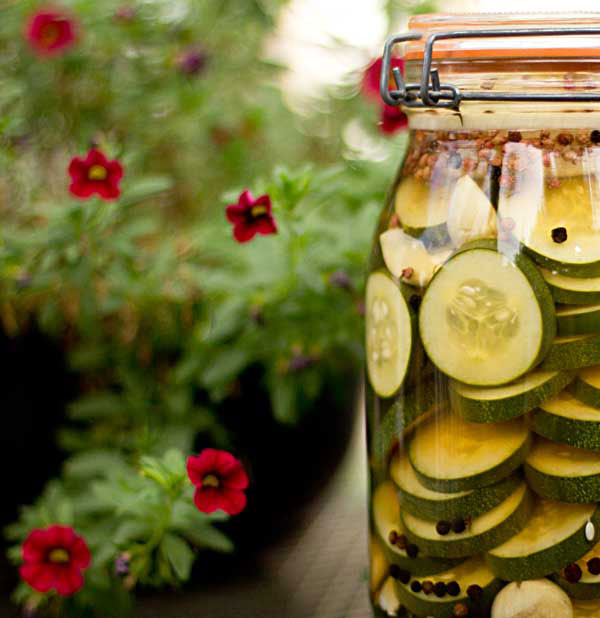 Peppered Cucumber Infused Vinegar (Recipe)
Yield: depends on size of the jar used and the amount of cucumbers you have

Prep and rest time: 30 minutes prep, 6 weeks rest

You'll need a pickling type jar. The size of the jar is dependent on how much you want to make and how many cucumbers you have. If you have a good jar, but it's bigger than what you really need, you can still use it. The jar doesn't have to be full. The main criteria are that the jar be ceramic or glass and the lid, non-metallic with a seal like a rubber-gasket. If the lid is metal, you can place plastic wrap between the lid and the jar. The vinegar will corrode any metal it comes in contact with.
In 6 weeks, you'll need a colander, cheesecloth, a funnel, and several sterilized glass jars with non-metallic lids. (See Kitchen Notes for ideas for jars.)
"*" See Kitchen Notes for more information or links to special ingredients.
Course:
Condiments, Infused Vinegar/Oil
Ingredients
The quantities below are for a 2 liter jar (shown in the pictures). For more or fewer cucumbers, adjust the recipe to 1 Tbsp. peppercorns (~3/8 ounce or 10.5 grams) and 3 large garlic cloves for every, 8" (20 cm) cucumber.
5 to 6

6" to 8" cucumbers, sliced thick (between ¼" and ½")

1

head of garlic,

cloves peeled and smashed

5 - 6

Tbsp.

2 to 2.25 ounces peppercorns (a mix of peppercorns is best)*

2 to 3

thick slices of onion

About 4 cups distilled vinegar
Instructions
Wash the jar and rinse well with very hot water. Let air dry.

Wash and scrub the cucumbers. Cut off each end about 1/2" into the cucumber. (The ends can be bitter.)

Slice the cucumbers. Start stacking the cucumber slices on the bottom of the jar to make about a 2" (~5 cm) high layer.

Top the layer with 1 Tbsp. peppercorns and with 3 cloves of garlic.

Create another layer of cucumbers, peppercorns, and then garlic.

Repeat until you use up all of the cucumber or you fill the jar.

Slowly pour the vinegar into the jar to about half full. Tilt and tap the jar to extract trapped air bubbles. Add more vinegar until all of the cucumber is covered. Tilt and tap.

The cucumber will float; therefore, top the cucumbers with a layer of thickly sliced onions. (The onion acts as a weight to keep the cucumber slices submerged in the vinegar.) Make sure that the onion is also submerged in the vinegar.

Close the jar and set in a cool, relatively dark space for 6 weeks. Keep an eye on it to make sure nothing strange happens. I'm not sure what would happen, but…you never know. The vinegar will start to darken on day one due to the peppercorns and will continue to darken for a few days. Do not worry, this is suppose to happen.
Six weeks later
Sterilize the vinegar jars in a hot water bath for about 5 minutes. Remove and let air dry.

From the cucumber vinegar jar, remove the onion and store in a glass jar in the refrigerator. Use the pickled cucumber-flavored onion for salads.

Line a large colander with cheese cloth and place it over a large, non-metallic bowl. Pour the vinegar from the jar through the cheesecloth. Do NOT squeeze the cucumber. It will make the vinegar cloudy. Just let it sit until no more vinegar is dripping into the bowl.

If you feel you need to strain the vinegar twice, then do so. It should be relatively clear. You could always strain through a coffee filter the second time if needed.

Discard the cucumbers and the peppercorns.

Using the funnel, fill the vinegar jars and seal. Label with name and date.
Kitchen Notes
The Peppercorns – It's best to use a mix of peppercorns. I've use a tricolor blend of black, white and pink peppercorns and bi-color blend of black and white. This year I had black peppercorns and some Sichuan Peppercorns (the red peppercorns at the top of the jar). These are amazing peppercorns and I think they are going to contribute a wonderful bite to this vinegar. In case you aren't familiar with them, here is a description I found online: "simultaneous numbing, tongue-tingling, party-in-your-mouth sensation that you experience from trying even one of these small, russet-colored spices."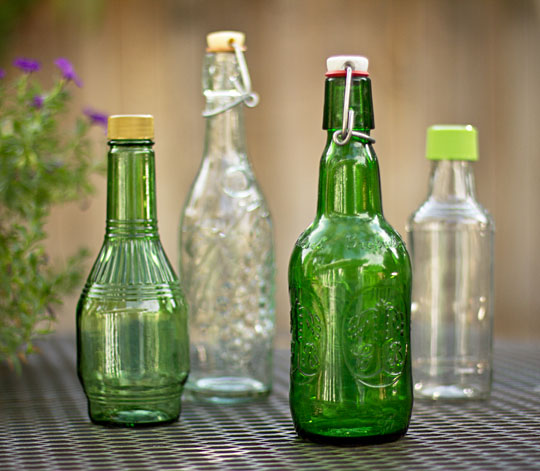 Vinegar Jars – I always repurpose soy sauce jars and other vinegar jars for infused vinegars and oils. Grolsch Beer bottles also make excellent vinegar jars.  They have the ceramic lid with the rubber gasket, so they're perfect for vinegars.  Really any jar with a plastic or ceramic top or a cork stopper would work.  Just stay away from metal.
Six Weeks Later…..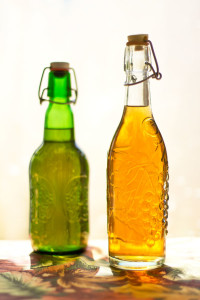 The Finished Product – It's been six weeks and now we have the finished product.  This batch of Peppered Cucumber Infused Vinegar yielded two nice jars of vinegar.

How to use – Use this cucumber infused vinegar in place of white wine vinegar for salad dressings and salads that would benefit from a robust flavor of cucumber.  I say robust because this infused vinegar is just that.  It has a strong peppery cucumber flavor that is perfect for a variety of salads – both vegetable and fruit salads.
Here is my favorite salad dressing using this vinegar.  Use with a variety of salads or just pour over some cucumber slices and tomatoes.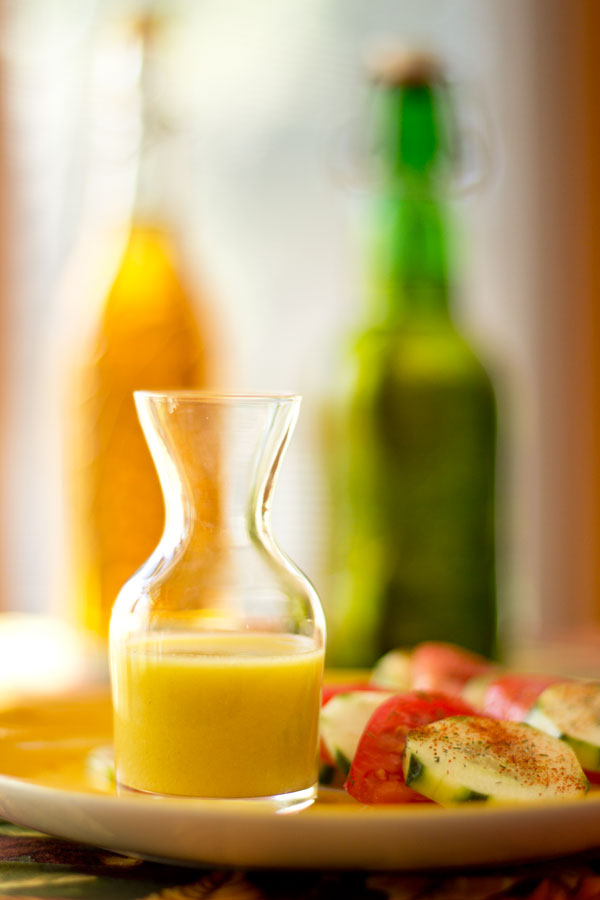 Peppered Cucumber Salad Dressing (Salad for 2)

1 tsp. Dijon or creole mustard
1 tsp. honey
1 Tbsp. Peppered Cucumber Vinegar
1/2 tsp. water (helps the maintain the emulsion)
2 to 3 Tbsp. Extra-virgin Olive Oil
Whisk all ingredients together in a bowl and pour over a simple salad.
To learn more about making your own salad dressings, check out these Kitchen Notes.
Other infused oils and vinegars: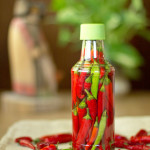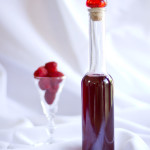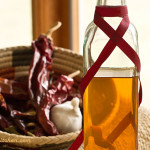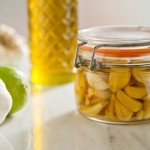 .
Save