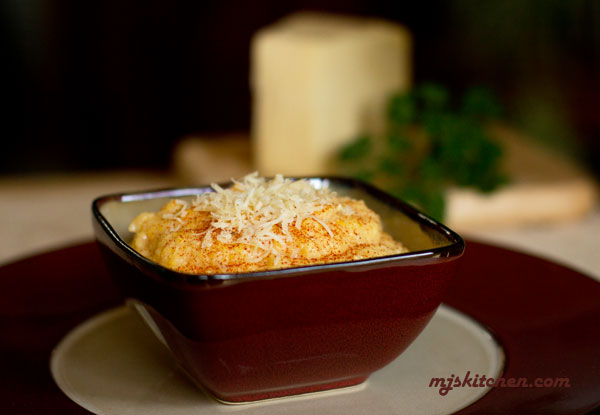 Can you remember the first time you ate a particular dish?  One dish that I remember eating for the first time is "cheesy polenta". It was about 40 years ago when Bobby I went out to eat at a semi-fancy restaurant in Albuquerque. The meal I was interested in ordering was grilled salmon served with a side of cheesy polenta. Back then, I didn't know what polenta was so I asked the waiter "What's polenta?"  He told me that it was a cornmeal dish. Sounded good, so I ordered the salmon.  When he set the plate in front of me, I took one look at the "polenta" and in the thick southern accent I had at the time, said "Well, that's just cornmeal mush!" It was a tasty cornmeal mush, but it was definitely cornmeal mush which, like polenta, is just cornmeal boiled in water or milk.

Cornmeal mush, polenta – whatever you call it, is delicious and is a dish that I've actually been eating all of my life.  It's basically a yellow form of grits. There are SO many ways to season polenta, from a very simple dish with just salt and a tab of butter on top, to a more complex dish made with milk or cream, a mix of herbs and spices, and one or two types of cheese.  It can also be poured it into a mold, allowed to set overnight, then sliced and fried.
Here I've given you a simple little cheesy polenta with a touch of onion, some smoked paprika, and a little aged cheddar.  It takes less than 30 minutes to make and goes great with grilled salmon, pork, beef, and a variety of vegetables.
Smoky Cheesy Polenta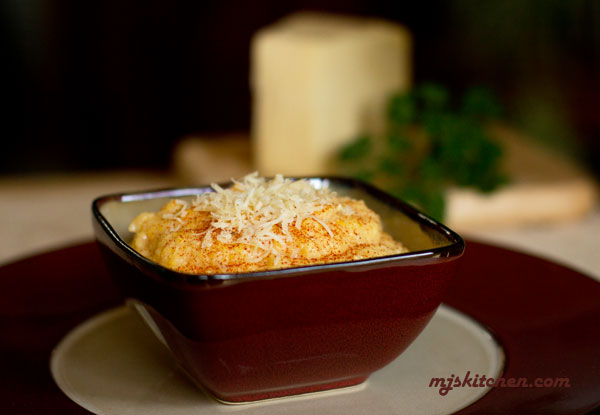 Smoky Cheesy Polenta with Aged Cheddar Cheese
A
cheesy polenta enhanced with a touch of smoked paprika and aged cheddar.

"*" See Kitchen Notes for more information or links to special ingredients.
Course:
Grains, Side Dish
Ingredients
4

cups

water

½

tsp.

salt

¼

cup

minced onion

1

cup

coarsely ground cornmeal

(polenta style cornmeal)

½

tsp.

smoked paprika

Cracked White pepper

½

cup

Aged Cheddar Cheese,

grated
Instructions
In a medium size sauce pan, bring the water with the salt and onion to a boil.

Reduce heat to low and SLOWLY whisk in cornmeal. Cover.

For the first 5 minutes, stir each minute to ensure it doesn't clump or stick to the bottom of the pot.

Add the paprika.

Continue cooking on low, covered, stirring frequently until polenta becomes thick, approximately 15 minutes.

Add a generous amount of cracked white pepper followed by the cheddar cheese. Stir to combine.

Remove from the heat, cover and let rest for a couple of minutes. Stir again before serving.
Kitchen Notes
Polenta – You can buy a ready-made polenta or you can make your own which is easy to do. Just buy a coarse ground cornmeal instead of a fine ground.  Some products are even called "polenta-style" cornmeal.  To reduce or increase the amount that you cook, remember that for any cornmeal dish, the ratio is 1 cup liquid to 1/4 cup meal.
Water or stock – For the liquid use water, a stock of your choice, or half stock/half water. The liquid I use depends on what I'm serving with the polenta. If I'm serving it with fish or just vegetables, I use water; pork or beef – beef stock or half beef/half water; chicken – chicken stock.
Smoked Paprika and Aged Cheddar – These two ingredients are so complementary of each other that I would hesitate to change either one. However, if all you have is regular cheddar, then you could use just about any chile powder you have on hand.  Just adjust the amount accordingly based on the chile's heat index.
Thickness of polenta – I like a thicker polenta than most people so I'm careful not to add too much liquid.  However, if the polenta gets too thick for your preference, then add a little more HOT water, but wait until after you've added the cheese. If it's still too thick, you could add more liquid or even more cheese.
Leftovers – If you have any leftovers, heat them up in the microwave or on the stovetop for another meal, or pack the leftover polenta in a round container and refrigerate.  My mother use to use a tall plastic soda glass.  When ready to use, carefully remove the polenta from the container by running a knife around the edge and then sliding onto a cutting board.  Slice into 1/2 inch rounds.  Lay each slice on a paper towel to drain.  Fry in a non-stick skillet with a little oil. Fry one side until crispy brown, flip and fry the other side until crispy brown.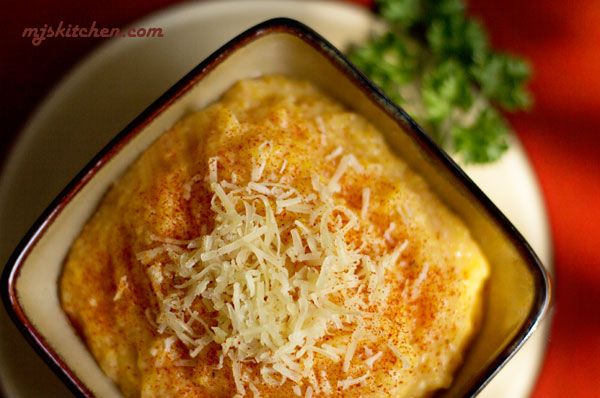 Here's how Karen @Back Road Journal's mother used leftover polenta:  "My mother used to pour leftovers into an empty can. When hard and she wanted to use it, she would remove the bottom of the can with an opener and then push it out."  That's SO clever!
Serving suggestions – As I mentioned before, this smoky cheesy polenta with cheddar is a great complement for grilled, smoked or cedar planked salmon.  It also goes well with braised or smoked pork and grilled flank steak.  For a vegetarian meal, top the polenta with roasted or sauteed vegetables or one of our favorites – sauteed greens.
Save