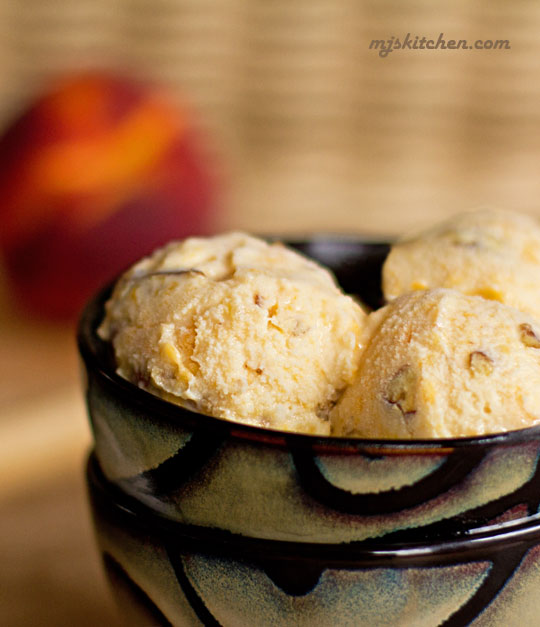 Oh the many, many fond memories of making fresh peach ice cream out in the back yard. I have always loved peach season, not only for the juicy, ripe peaches, but also for the peach ice cream.  Growing up, we made it a tradition to make several batches of peach ice cream during peach season. Whenever we picked up a bushel of peaches, I knew some of them would end up in ice cream.  Bobby and I were able to continue that tradition for many years due to our lovely peach trees.  During peach season, our friends would gather on the back porch and we would all take turns churning the ice cream bucket.  Those were the days when ice cream was made outside in a 1 ½ gallon container surrounded by ice and rock salt, and everyone had to work for their serving.  Now a days ice cream is made on the kitchen counter and in much smaller amounts.  With my ice cream maker, I still have to manually churn it, but that's o.k.  It doesn't make near the mess and the clean up is a whole lot easier!
This summer we've been able to get some really, really good peaches, so a batch of this fresh Peach Pecan Ice Cream each week has been a regular menu item. The first couple of batches didn't have pecans, but then a few weeks ago I decided to thrown in some toasted pecans that were leftover from brunch. With the first bite we both knew that it was going to be very hard leaving the pecans out of any future batches.  If my big batch ice cream maker weren't rusted out from years of ice and rock salt, I can guarantee that I would be making a HUGE batch of this.
This peach pecan ice cream is a no cook ice cream. It relies solely on the peaches and a can of sweetened condensed milk to provide the sweetness, and with nice, ripe peaches, that's really all it needs.  There are only five (5) ingredients:  sweetened condensed milk, half and half, vanilla extract, fresh peaches and toasted pecans.  This peach pecan ice cream can be thrown together in less than 10 minutes, poured it into an ice cream maker and churned.  If you don't have an ice cream maker, check out the Kitchen Notes for how to make it without an ice cream maker.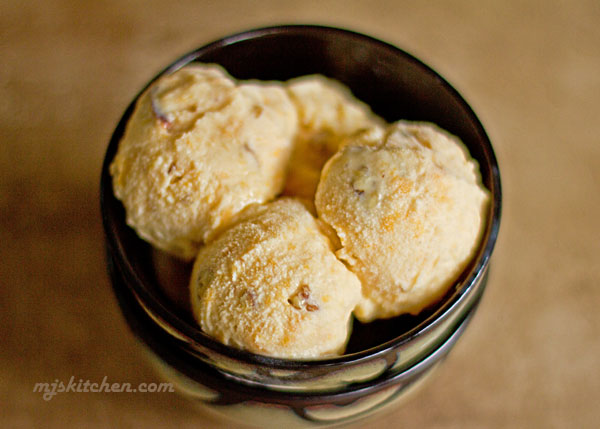 [print_this]
Peach Pecan Ice Cream
Yields: about 4 cups
Prep and churn time: 30 – 45 minutes (depending on your ice cream maker)
Recipe Author: MJ of MJ's Kitchen
Ingredients
2 large peaches, peeled, coarsely chopped
1 cup half and half
1 – 14 ounce can of sweetened condensed milk
½ tsp. vanilla extract
¼ cup toasted pecans, chopped
Instructions
To toast the pecans, add pecans to a hot skillet over medium heat. Frequently toss the pecans around in the pan until they become aromatic and lightly toasted. Once toasted transfer to a cutting board, chop, and set aside.
In a large mixing bowl , add the chopped peaches and half and half. Using an immersion blender, pulse a few times to shred the peaches. Do NOT puree'. (If you don't have an immersion blender, then use a blender and pulse a few times.
Add the condensed milk and vanilla extract. Stir to combine well.
Add pecans and stir.
Pour into the ice cream maker and churn until set.
Freeze until ready to eat.  (I usually remove my ice cream from the freezer about 15 minutes before serving to let it soften up enough to scoop.)
[/print_this]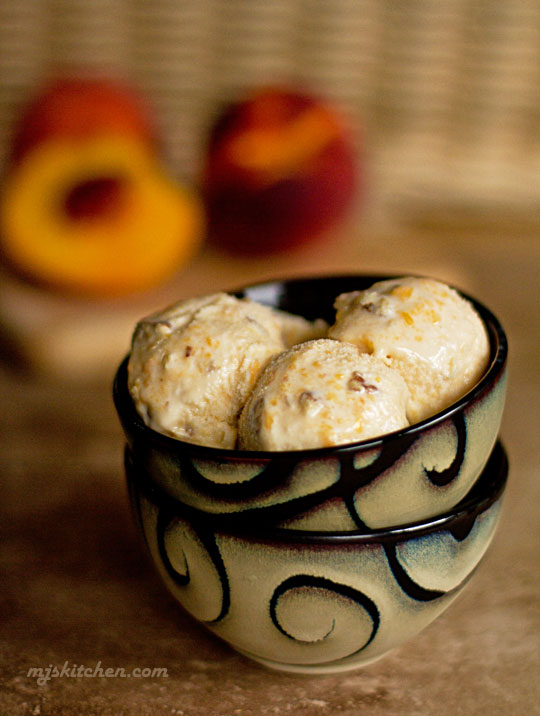 Kitchen Notes
The Peaches – During the late summer and fall, fresh peaches in this ice cream are a must.  There is nothing better than fresh peach ice cream. However, if you can't find fresh peaches, then use frozen peaches.  Canned peaches might work, but I'm not a fan of canned peaches except in cereal.  Also, the sweeter the peaches the better, but that should go without saying. 🙂
Additional Sweetener – So far I haven't had to add any additional sweetener because the peaches have been remarkably sweet.  However, if you do want your ice cream sweeter, I would recommend maple syrup rather than sugar.  If you do use sugar, then warm up the half and half and add the sugar.  Stir until dissolved.  By heating up the half and half you'll need to  refrigerate the finished ice cream mix and chill before adding to the ice cream maker.
The Pecans – If you don't have pecans or are allergic, then just omit the nuts all together.  This ice cream is just as good without them.
No ice cream maker? – Pour the ice cream into a large bowl or pan and set in the freezer.  Stir it every 30 minutes for a couple of hours, then every 15 minutes until nice and thick.  Put back in the freezer for another 30 minutes before eating.  This process might take all afternoon, but if you have the time, it's worth it.
As you can see, this Peach Pecan Ice Cream is about as simple as it gets to make, and will easily become one of your favorites!
For more ice cream ideas, here are some of my favorites:
Salted Pecan Chocolate Ice Cream
Purple Yam Ice Cream from Wok With Ray
Mango Ice Cream from Curry and Comfort
Butterscotch Ice Cream from Rathai's Recipes
Coffee Ice Cream from Just One Cookbook
Ice Cream Roundup (over 200 recipes) from Cravings of a Lunatic
Three more delicious no cook ice creams from Gourmatine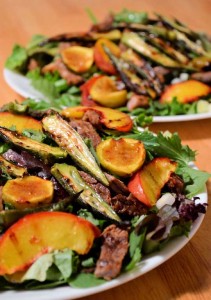 Looking for another idea for fresh peaches? Check out Nadalyn's Grilled Peach, Okra, and Fig Salad from last summer.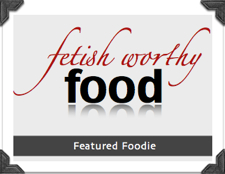 This Peach Pecan Ice Cream has been shared with Hearth & Soul  .