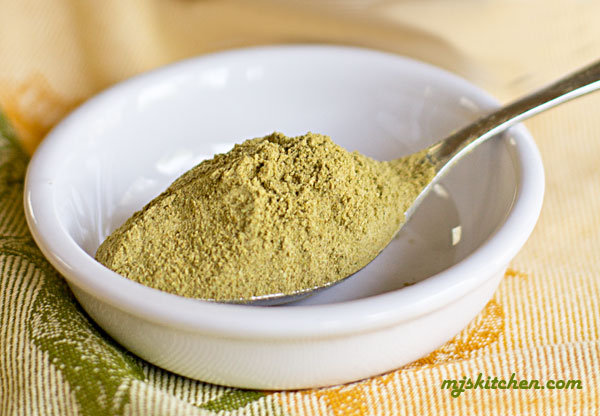 Green chile powder is the result of drying fresh picked green chile peppers, removing the stems, and then grinding into a powder.  Removal of the veins and seeds during this process yields a more intense green chile flavor; however, removal of the veins and seeds also reduces the "heat" in the resulting powder, as well as just being a very laborious task.  According to several sources, it takes approximately 18 pounds of fresh green chile peppers to make 1 pound of green chile powder.  The texture of green chile powder is finer and more "powdery" than red chile powder as you can see in the pictures below.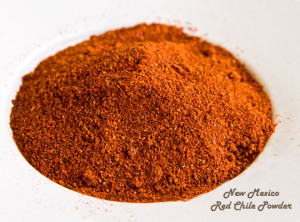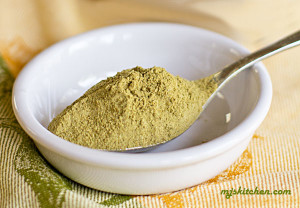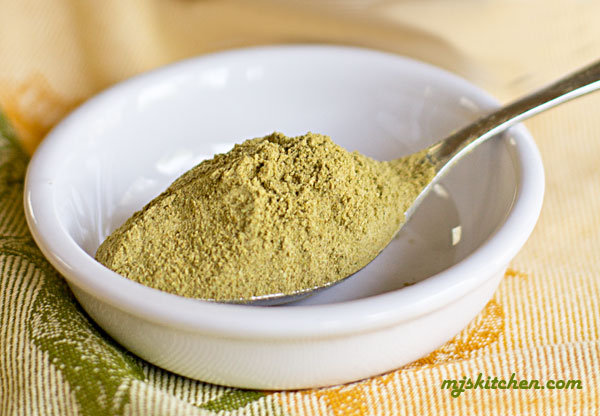 Earlier this year I received some green chile powder from Diaz Farms and the Chimayo Chile Brothers.  Before now, I had never used green chile powder, probably because I'm such a lover of roasted fresh green chile.  I can get roasted chile easily and inexpensively, so I've never thought of looking for a substitute.  However, if you do love green chile, and can't get fresh green chile or do not want to pay the cost of shipping frozen chile, then green chile powder might be a solution for you.
I've now tried green chile powder in many dishes and have found it to work for some and not for others.  The powder has a nice green chile pepper flavor. The mild and medium are both relatively mild, and the "hot" is more of a medium-hot (based on my heat index anyway).  To be able to infuse the flavor and heat of green chile into a dish, you have to use quite a bit of powder, unlike red chile powder that has lots of heat and flavor in just a little bit of powder.  For those of you who like the flavor of green chile, but can not handle the heat, I would recommend mild or medium. Below are several suggestions for green chile powder.  Many I have tried myself and some are suggestions from others.
Green Chile Powder and Eggs
Scrambled eggs – Whisk 1 to 2 teaspoons green chile powder in with 4 eggs and 1 Tbsp. cream or milk. Add a dash of salt and cook. (Amount depends on how hot you want the eggs)
Fried eggs – Sprinkle a generous amount of green chile powder or green chile blend onto fried or poached eggs.
Omelet – Whisk 2 teaspoons green chile powder in with the eggs for an omelet.
Crab Omelet – Toss some crab meat, green onions and 1 ½ teaspoons green chile powder together.  Use as the filling for an omelet.
Green Chile Sauce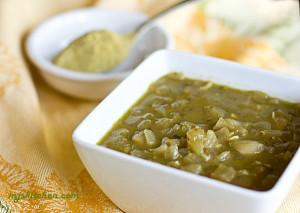 When you don't have roasted green chile for a green chile sauce, you can use the powder to make this green chile sauce.  This is a green chile sauce that I developed for the nice folks at Diaz Farms using their green chile powder.
Breads
Incorporate 2 to 4 tablespoons of green chile powder into yeast breads.  The larger the loaf the more powder you should use.
In my Red Chile Garlic Bread substitute the three red chile powders with 1 to 2 tablespoon green chile powder, and use olive oil or a garlic infused oil in place of the chile infused oil.
Add 1 to 2 teaspoons green chile powder to cornbread batter for a green chile flavored cornbread.
Let's not forget green chile biscuits!
Other Uses
Incorporate into rubs for a variety of meats.
Incorporate into ground meats for hamburgers, meatballs, or homemade sausage.
Include it in the aromatics (herbs and spices) for braised chicken or pork.
Add to soups and stews.
Add to fritter batters.
Sprinkle over sliced cucumber with a touch of salt.
Add to guacamole for a touch of green chile flavor.
Green chile lasagna from one of my readers:
"I make a version of lasagna in our slow cooker. You use uncooked lasagna noodles, and layer them just like in normal lasagna. Use all your normal ingredients minus the Italian seasoning. When you are making the meat sauce add 1-3 tablespoons of green chile powder base on your heat tolerance. Start with 1 tablespoon and adjust to your taste.
Cover with mozzarella when slow cooker is done. We use 1 hr. on high then 3 hrs. on low. You might have to adjust based on where you live."
Green Chile Aioli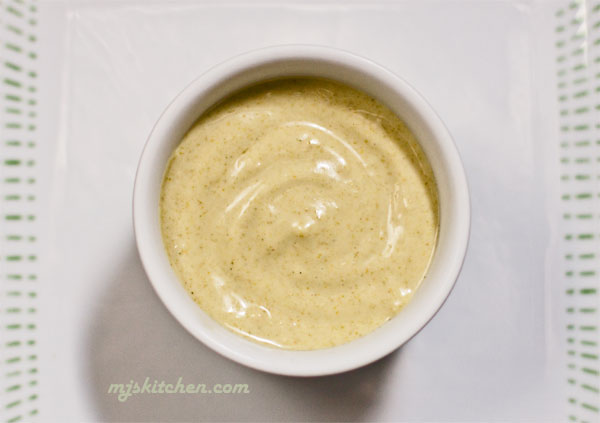 When my sister, Nadalyn, came to visit a while back, I sent her home with some green chile powder to play with.  Last week she sent me a recipe for a green chile aioli.  After a little bit of tweaking, we came up with this Green Chile Aioli that goes great on burgers, sandwiches and as a vegetable dip. My version used all "hot" green chile and Nadalyn's used a mix of mild and hot. After sitting overnight, the hot version did have a little bit more of a kick to it than the mild/hot version.
[print_this]
Green Chile Aioli
Makes about 1/3 cup
Takes about 10 minutes to make, but should sit in the refrigerator at least an hour or overnight
Recipe Authors:  Nadalyn and MJ of MJ's Kitchen
Ingredients
3 Tbsp. mayonnaise
Juice from ½ lime
1 tsp. water
2 Tbsp. garlic infused oil (regular olive oil or both)
1 roasted garlic clove, smashed and minced (or ¼ tsp. garlic powder)
1 ½ – 2 tsp. green chile powder (I used "hot")
Salt and pepper to taste
Instructions
In a wide bowl add the mayonnaise, lime juice, and water.  Whisk together until well blended.
Slowly whisk in the oil until you have a nice emulsion. (Your emulsion will be relatively thin, but will thicken once you add the chile powder and let it rest.)
Whisk in the garlic and chile powder.
Taste.  Add salt and pepper as needed.
Let sit in the refrigerator at least an hour before serving.
[/print_this]
Kitchen Notes
The green chile powder – For a mild heat aioli, use all mild or medium powder, and use at least 2 tsp. if not 3. For a spicier aioli, use all hot chile powder or a mix of mild and hot.  I found 2 tsp. of hot mighty spicy.
The mayonnaise – When Nadalyn sent me her recipe she knew that I would be changing it up a bit because she used Miracle Whip.  Most of our lives we have teased each other about her dislike of mayonnaise and my dislike of Miracle Whip. 🙂  So if you don't like mayonnaise, Nadalyn recommends Miracle Whip.  You could also use homemade mayonnaise. I'll be trying that next.
Aioli thickness – As I've already mentioned, the aioli will thicken as it sits.  This is due to the rehydration of the chile powder.  If it is too thick when you get ready to serve it, whisk in a little more lime juice, water, or oil.
Disclaimer:  Other than a generous pound of green chile powder from Diaz Farms, I have received no compensation for this post about green powder. This post was my idea and all opinions expressed here are my own.