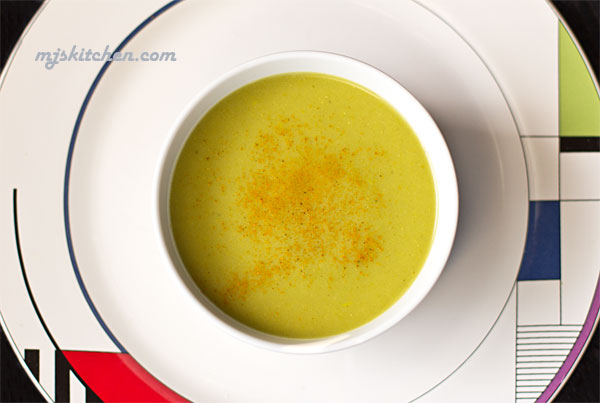 The other day I was craving a cold soup, but I didn't have enough ingredients for either of my favorites –  Cold Cucumber Soup and Cold Asparagus Soup. However, I knew I had a little asparagus and half a cucumber and some other "green" vegetables. So I preceded to empty the crispers of anything fresh and green.  Once everything was laid out on the countertop, I saw that I had plenty of ingredients for a cold soup.  Everything that was green or white got chopped and thrown into a pot with a little spicy curry powder. For lunch the next day, Bobby and I had this delicious cold curry vegetable soup!
If you don't have all of the ingredients listed in the recipe, that's not a problem.  This cold curry vegetable soup can be made with just about any green or white vegetable.  Be sure to check out the Kitchen Notes for ways to change it up to best fit your tastes and what you have on hand.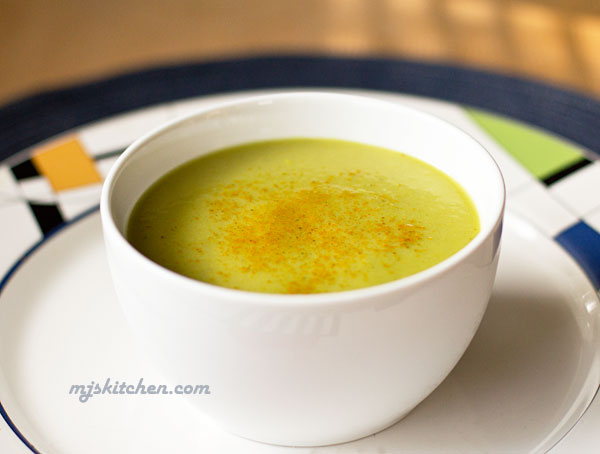 [print_this]
Cold Curry Vegetable Soup (Recipe)
Makes 4 to 5 cups
Prep and cook time: 45 minutes (needs to sit in the refrigerator overnight)
Ingredients
2 – 3 Tbsp. olive oil
¼ to ½ onion, chopped
4 large garlic cloves, chopped
2 stalks, celery, chopped
½ green bell pepper, chopped
¼ – ½ pound asparagus, chopped
½ large cucumber, chopped
2 cups stock (See Kitchen Notes)
2 cups water
½ tsp. of a sweet & spicy curry powder
½ tsp. white wine vinegar
Generous amount of cracked white pepper
Salt to taste
1 avocado, chopped
Instructions
Heat the olive oil in a medium size soup pot over medium-low heat.
When hot add the onion, garlic, celery, and bell pepper. Saute' the vegetables until soft, about 7 minutes.
Add the cucumber and asparagus.
Saute' for 2 to 3 minutes then add the stock/water. Bring to a boil.  Reduce to a simmer and simmer for 15 minutes.
Remove from the heat and add the curry powder and vinegar. Let the soup cool for about 10 to 15 minutes.
Using an immersion blender, puree the soup.
Add the cracked white pepper. Taste. Add salt if needed.
Let come to room temperature, then refrigerate overnight.
Before serving, add the avocado and blend again.  You could save half of the avocado as garnish if you choose.
Serve with a grilled cheese or crackers of your choice.
[/print_this]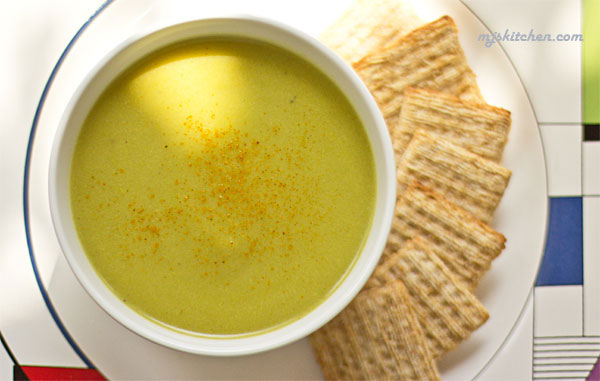 Kitchen Notes
Ingredient Amounts – The amount of ingredients was really determined by what I had on hand.  If you make this soup or one similar, just adjust the amounts to what you have available. However, be careful of adding too much of any one ingredient as I talk about next.
The vegetables – Obviously, I didn't put a whole lot of thought into this soup.  If it was a green vegetable (or white), it went into the soup.  I stuck to the color green,  because sometimes when you puree vegetables of multiple colors you end up with a rather unpleasant color.  So with that said, feel free to experiment with whatever you have in your refrigerator.  Here are some ideas.
Substitute the asparagus with broccoli or the onion with leeks.
Add some chopped fennel or use fennel fronds as a garnish
Add sweet peas, English peas – any shelled peas (don't add the pods because they might be too tough and stringy to puree' properly)
Throw in some chopped parsley or any herbs of your choice after blending
Use green summer squash
Add a few greens (spinach, kale, Swiss chard) without the stems (The stems might not puree' very well.)
Omit vegetables that could be overpowering in flavor such as collard greens and cabbage
The only thing you need to be careful of is adding TOO much of any one thing.  For example, the asparagus – we could taste asparagus in the soup, but it definitely wasn't an asparagus soup.  Because there was a little bit of this and a little bit of that, all of the flavors blended together to provide a mixed vegetable flavor that, with the curry and the avocado, was delicious!  By using too much of any one vegetable, or using a vegetable such as collard greens, you might overpower all of the other flavors in the soup.
The curry powder – Bet you thought this soup had green chile in it, didn't you? 🙂  Believe me, I thought about it, but I changed my mind when I saw a cute little jar of Sweet & Spicy Curry Powder that I got from an Asian spice shop.  I had already tasted the soup, so I knew that the curry powder would be perfect with it – and it was!  It didn't take much to give the soup just a hint of curry but yet a nice, spicy finish.  A perfect seasoning for this soup!
The liquid – For the stock you can use whatever you have on hand or you could just use all water.  I used 2 cups turkey stock (from Thanksgiving) and 2 cups water.  You might need a little more or a little less than 4 cups.  It all depends on how many vegetables end up in the pot and the texture you prefer.
The avocado – This cold curry vegetable soup didn't lend itself to dairy, so…since I just happened to have an avocado, I decided to use it instead to help bind everything together into a smooth puree'.  It worked great!  It was quite ripe so it really gave the soup a very creamy and pleasant texture, as well as adding to the overall flavor of the soup. You may choose to only puree' half of the avocado, then use the other half for garnish.
I hope this soup has set your creative juices in motion and you're sitting there thinking "So what's in the fridge that I can use to make a cold soup?"
Have fun and enjoy!
If you enjoy this cold curry vegetable soup, here are some more cold soups for you to try.
Cold Asparagus and Garlic Soup
This Cold Curry Vegetable soup has been shared with Recipe Sharing Monday, Foodie Friday   .