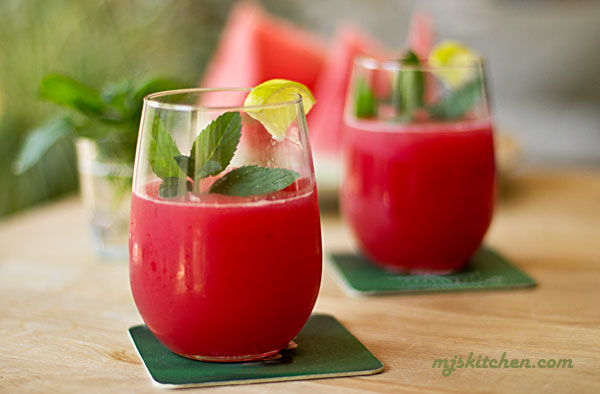 A couple of weeks ago when I went back to Louisiana to visit family, I bought a watermelon for my mother and aunt because I know how much those ladies love their watermelon! During watermelon season my mother would eat watermelon all day, a tradition that I have carried on to this day. 🙂  As we were sitting there eating, these two lovely ladies starting talking about all the things they use to make with watermelon.  Of course watermelon rind preserves came up, as well as watermelon sorbet and watermelon juice. Apparently, they use to juice watermelons and then freeze the juice for later.  I guess when you have acres upon acres of watermelon, juicing a bunch of watermelon becomes a necessity because it's something you can do quickly then freeze.  Personally, I've never made it a habit of juicing watermelon because I just love eating it too much.  However, when I do get one that isn't very sweet, I will juice it.  The juice is usually sweeter than the watermelon itself, making it more enjoyable.
The conversation about watermelon got me thinking about a watermelon drink, one that could be made with or without alcohol like my Sweet Cucumber Drink. So one of the first things I did when I got home was to go out and buy another watermelon for the sole purpose of juicing it and coming up with a watermelon cocktail. Thank goodness the watermelon I bought ended up being one that I would have juiced anyway. It wasn't very sweet until I juiced it. The juice had just the right amount of sweetness for the drink, so no additional sweetener was needed.
After a few attempts, the watermelon cooler that I ended up with is one that Bobby and I both enjoy and have been enjoying almost every afternoon for cocktail hour. This cooler is quite refreshing and makes a hot day instantly feel 10 degrees cooler. Since one watermelon yields A LOT  of juice, you can use some of the juice to make watermelon ice cubes.  Watermelon ice cubes help to make a very beautiful drink and the cocktail (alcoholic version) doesn't get watered down as the ice cubes melt.
So if watermelons are plentiful where you are, I would highly recommend buying one to juice. Once you've extracted the juice, the remaining pulp can be used in a sorbet or hot topping for ice cream, and the rind can be made into Watermelon Rind Candies. And the juice?  If you are like me, you'll be having watermelon juice for breakfast, a watermelon cooler for a midafternoon break, then a watermelon cocktail after 5 p.m.  No juice leftover to freeze in this house.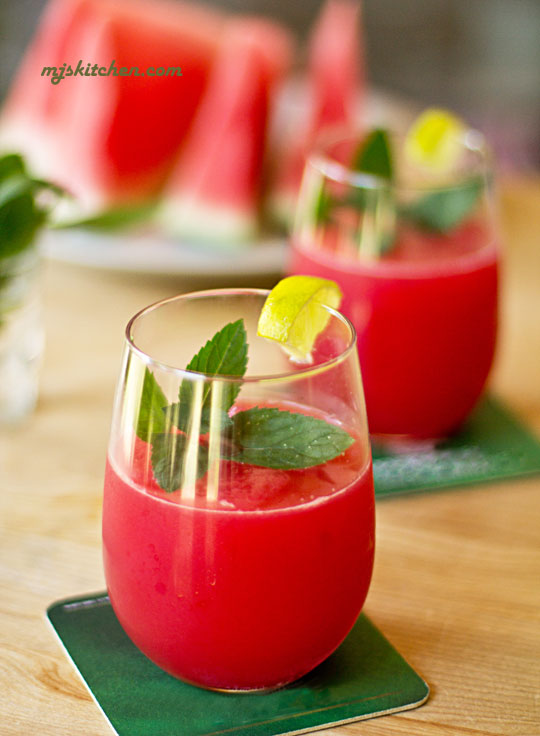 [print_this]
Watermelon Cooler Recipe
Yield:  One-half of a medium size watermelon yields about 6 cups (~1 ½ liters) of juice.
Prep Time:  30 – 45 minutes to extract the juice, 5 minutes to make the coolers.
The juice does keep in the refrigerator for 3 to 4 days. You can always freeze what you don't use.

Ingredients
1 medium to large seedless watermelon
1.5 ounces (1 jigger) vodka (optional)
Several fresh mint leaves
Lime wedges (1/2 lime cut into 4 pieces)
Instructions
Juicing the watermelon 
I used an immersion blender, but you could use a regular blender or do it the old fashion way and use a colander.

Cut the watermelon in half, then in wedges.
Using a large spoon, scoop out the flesh of the melon, break into pieces, and transfer the pieces to a tall vertical container. (Remove any black seeds that may be in the melon.)
When the container is about 3/4 full, juice the flesh using an immersion blender.
Filter the juice by pouring it through a strainer into a large bowl.  Use a spatula to move the pulp around so as much of the juice as possible can strain through.
Use the juice for coolers, cocktails, just juice, and watermelon ice cubes.  Refrigerate or freeze the extracted pulp for another use.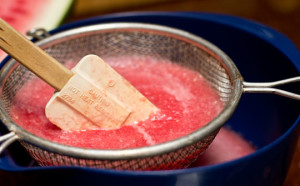 To Make a Watermelon Cooler / Cocktail

Place a sprig of mint in the bottom of an 8 ounce glass. Top with a few ice cubes.
Move the cubes around the glass, bruising the mint.
Add more ice cubes until the glass is half full. Watermelon ice cubes work great.
Add the vodka (optional).
Fill the glass with watermelon juice. (See Kitchen Notes)
Squeeze a wedge of lime into the juice and stir.
Garnish with another sprig of mint.
If you have a cocktail shaker, just put all of the ingredients in a shaker and give it a shake.
Watermelon ice cubes
Pour some of the juice into an ice tray and freeze.
[/print_this]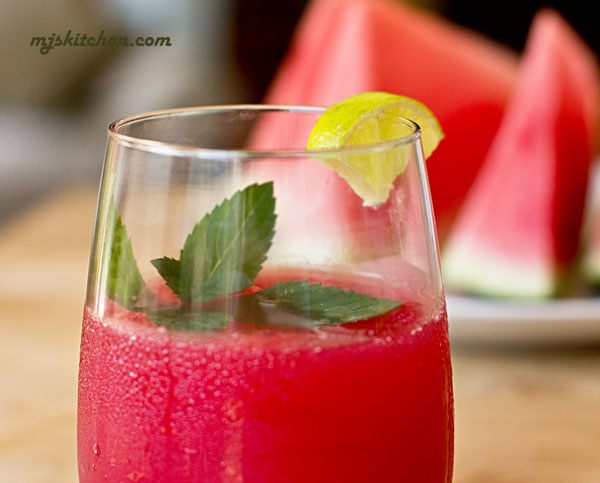 Kitchen Notes
Variations – These coolers are very intensely watermelon.  Here are other ways to use the juice:
If you want to stretch out the juice or lighten up the drink a bit, then use half juice and half sparkling water, but don't forget the lime!
For more of a watermelon flavored cooler, just pour some sparkling water over the watermelon ice cubes.
You could also make a watermelon slushy and blend the watermelon and some lime juice with ice. For a slushy, you wouldn't have to juice. Just use the flesh OR use the pulp that's leftover from juicing.
The lime – In some cases, lemon can be substituted for lime; however, this is not one of those cases.  The first time I made this, I used preserved lemons. Bobby nor I liked the saltiness of the drink which is interesting since we both like to salt watermelon when we eat it.  The next time, I just used mint and lemon juice. Still wasn't t0o crazy about it, so I switched to lime and we both loved it. Therefore, I would highly recommend sticking with lime.
The vodka – For a watermelon cocktail, vodka works quite well.  If you've ever spiked a whole watermelon by cutting a small hole in the rind, and inserting a bottle of vodka upside down, then you already know this. 🙂  I'm not sure if another alcohol like gin, tequila, or rum would work because I don't have any, but you could always give one of those a try.  If you do, please let me know how it works.
A sweetener – If the watermelon you pick is ripe, the juice should be plenty sweet; therefore, no sweetener is needed.  However, if the watermelon is not quite ripe, then you might choose to add a little of your preferred sweetener.
Watermelon ice cubes – I really like using the watermelon ice cubes. especially in the cocktail. The cubes keep the cocktail from becoming watered down as you sip it.  For the cooler (the non-alcoholic version), it really doesn't matter.  The coolers go down so quickly that the ice doesn't have a chance to melt.
These watermelon coolers were linked to the following:  Heath & Soul,  Melt in Your Mouth Monday, Food on Friday  .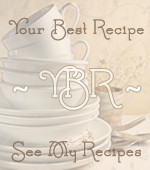 Featured in a Yummly feature:  Refreshing Watermelon Recipes for Summer