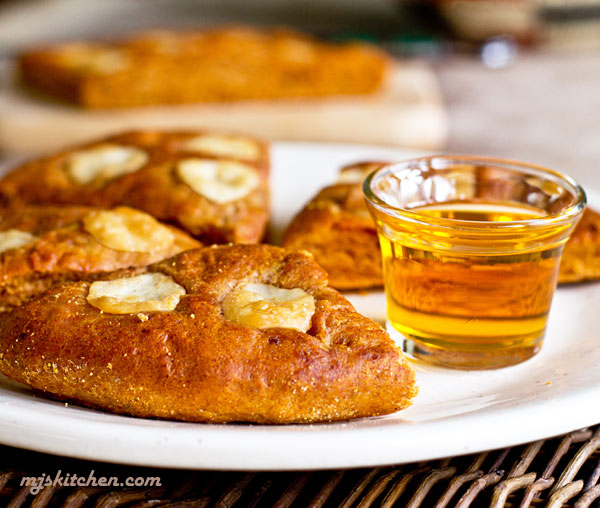 Last summer when we were going through a kitchen remodel, one of the item we replaced was our 1980's microwave.  In its place we put a combination microwave convection oven.  Let me tell you folks, this is now one of my favorite appliances, second only to my stovetop.  Here it is the end of June and I'm baking!!!  In the past, I never baked in the summer because I refused to use the oven.  It's just too hot; however, the amount of heat that this little convection oven puts out is negligible in comparison to our regular oven.  Because of this I've been able to bake a few loaves of this delicious Red Chile Garlic Bread even with 95°+ outside temperatures. Talk about a life changing experience – homemade bread in June!
Obviously I'm very excited about being able to make bread in the summer, but I'm just as excited about making THIS bread.  I've made a few loaves already this month and each one has disappeared faster than it took me to make it.  This red chile loaf is very similar to a focaccia in that it's flat and I poke holes in the dough to place chunks of Manchego cheese.  But that's where the similarities stop.  There are no herbs nor olive oil and it's definitely not Italian.  Instead there are three types of chile powders, some roasted garlic, and chile infused oil that are all combined into a paste.  This paste is then incorporated into the dough, and right before placing in the oven, cubes of cheese are pressed into the dough.  It's SO good and SO easy to make!  You can make it by hand or use your Mixmaster with a dough hook.

This red chile garlic bread makes a great snack, an appetizer for your guests, a supper bread, and a delicious sandwich bread.  For a little extra kick, use some chile infused oil for a dipping sauce. The dough can also be used to make pizza crust for a southwestern style pizza or any kind of pizza you want for that matter. With one batch I made 4 little individual pizzas topped with sauteed mushrooms and spinach.  They were very, very tasty.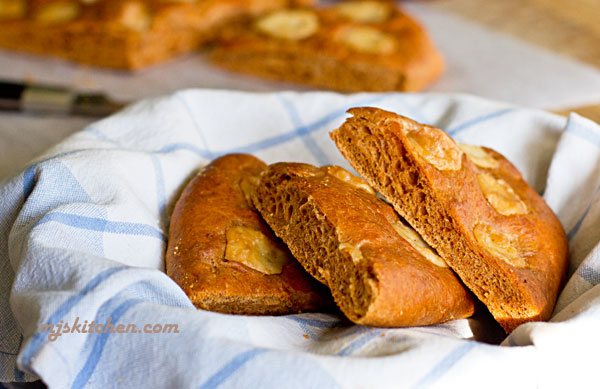 [print_this]
Red Chile Garlic Bread with Manchego Cheese
Yields one 8″ diameter loaf
Prep and Rise times:  1.5 hours
Cook time: 20 minutes
Recipe by MJ of MJ's Kitchen
Ingredients
1/2 cup warm water
1 tsp. sugar
1 ½ tsp. yeast
½ cup whole wheat flour
¾ cup plus 2 – 3 Tbsp. bread or AP flour
 Red chile paste (See Kitchen Notes)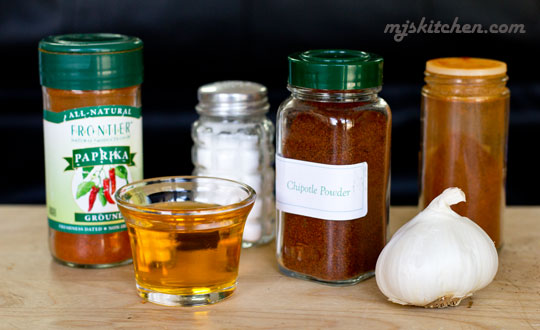 6 roasted garlic cloves (the larger the cloves the better)
2 tsp. New Mexico red chile powder (mild to medium)
½ tsp. chipotle powder
½ tsp. sweet paprika
1 tsp. salt
2 Tbsp chile infused oil
Manchego cheese – 15 to 20, ½ inch cubes
Instructions
In a large bowl or mixer bowl, dissolve the sugar in the warm water. Sprinkle the yeast on top of the water and let activate (proof) 10 minutes.
While the yeast is activating, combine the chile paste ingredients in a mortar and press into a paste.
To the activated yeast, add ½ cup whole wheat flour and the chile paste. Combine with the wet ingredients using a spatula or dough hook on your mixer.
Add ½ cup bread flour and incorporate it into the dough.
Spread ¼ cup flour out on a kneading surface. Dump the wet dough onto the surface. (Or add 1/4 cup flour to the mixer bowl and continue to knead.)
Knead the dough until smooth and elastic. Add additional flour 1 Tbsp. at a time as needed.  Continue to knead for about 5 minutes.
Form the dough into a ball.
Coat a large bowl with a little oil and transfer the dough to the bowl. Cover the bowl with a damp rag. Let rise until double in size, about 1 hour.
Punch the dough down and roll it into an 8 inch round, about ½ inch thick.
Lightly oil a baking sheet and sprinkle with cornmeal. Transfer the dough to the sheet and cover with a damp paper towel. Let rest for 15 minutes while the oven preheats.
Preheat the oven to 400° F.
Before putting it in the oven, lightly brush the dough with oil. Press the cubes of manchego into the dough, about 1 inch apart.
Place the bread dough in the oven, reduce temperature to 375° F, and bake for 18 minutes.
Transfer to cooling rack.  Let the bread cool before cutting into it.
[/print_this]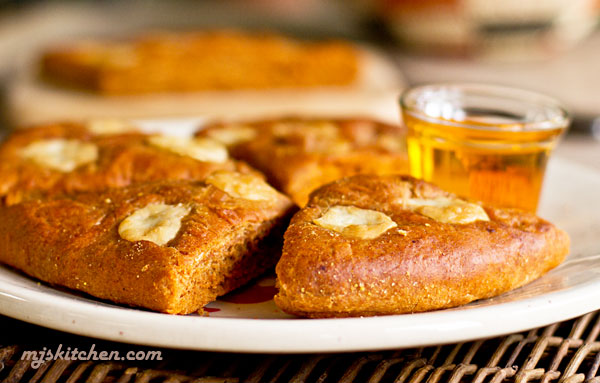 Kitchen Notes
The Roasted Garlic – If you don't have any roasted garlic, then just roast up a few cloves on the stovetop.  It's quick and easy.  Also, if you don't have any chile infused oil, you could use the garlic infused oil from the stovetop roasting process for the oil in the recipe.
The Chile Powders – To achieve a real depth of flavor, I encourage you to use chile powders from three different types of chiles with different heat level.  Read types of chile powders for other powders that you could use.  Just be careful with the heat levels. Use only 1/2 teaspoon of a HOT chile powder because this bread can be quite spicy and does get hotter overnight.  As you can see from the recipe, I used a NM mild to medium chile powder for the primary flavor, followed by a hot, smokey pepper (chipotle) and a sweet paprika pepper. The blend of flavors was delicious!
The Oil – My three recommendation for the oil are Chile Infused Oil, Garlic Infused Oil, or Extra virgin olive oil.  You could also used a combination of oil. For example, use the chile infused oil for the paste and then brush the top of the dough with the garlic infused oil or vice versa. A good quality extra virgin olive oil can also be used for either purpose.
The Cheese – Manchego cheese doesn't melt and run like other cheeses; therefore, it held together quite well and didn't spread all over the bread during baking.  However, if it wasn't pressed deep into the dough, it did tend to "lift" as the bread rose in the oven and lay on top rather than inside the bread.  That really didn't make any difference to us.  We just  loved getting a bite with a chunk of baked manchego.  YUM!  If you use a different cheese it needs to be complementary to the red chile. This bread is very much about the flavor of the red chile powders; therefore, you want a cheese that complements that flavor without competing with it.
The Baking time and temperature – The oven I use is a small convection oven so this bread baked best at a little lower temperature (375º F vs. 400º F).  I also found that 18 minutes was perfect. If your oven is larger than a regular microwave, I would suggest using a temperature of 400º F or increase the baking time to 20 minutes.
I hope you enjoy this spicy and garlicky Red Chile Bread!  It's been shared with the following recipe parties.