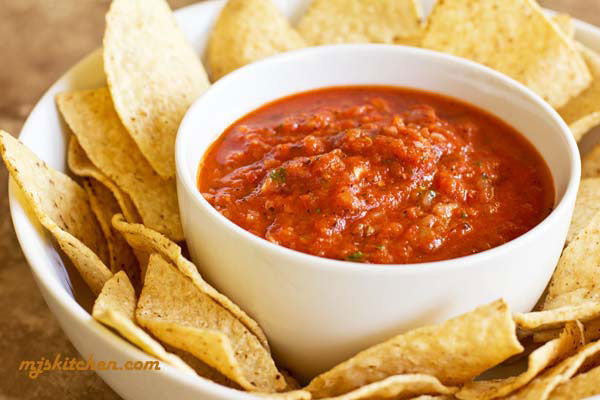 In my pinto beans post I mentioned that I had received a great package of goodies from Diaz Farms in southern New Mexico.  Along with the pinto beans, there was a bag of dried chile de arbol peppers with a request for a recipe for the Diaz Farms website.  Having never used chile de arbol before, I was quite excited about the challenge.  However, before we talk about the Chile de Arbol Salsa recipe, let's talk about the pepper.
To go straight to the recipe, please click on over to my friends at Diaz Farms – Chile de Arbol Salsa.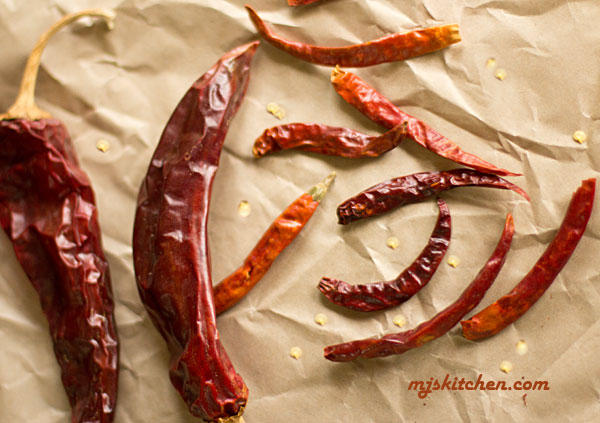 The picture above compares the chile de arbol on the right with the traditional New Mexico red chile on the left. The chile de arbol is grown throughout Mexico and used in many Mexican dishes.
If you use a lot of chile you probably already know that it's the small peppers you need to be careful of and that is SO very true for this little pepper.  On the Scoville scale, the chile de arbol falls between 15,000 to 30,000 units. (Scoville heat units indicate the amount of capsaicin or heat component in a pepper.)  The New Mexico chile pepper falls between 500 to 2,000 units.  By comparison, the chile de arbol is a lot hotter than the New Mexico chile pepper. However, when compared to cayenne pepper (30,000 to 50,000 units), it's hot, but not fiery hot. Let me just say, that regardless of the Scoville unit, these little peppers are HOT and should definitely be handled with care.
I didn't realize just how hot they were until we tasted my first attempt at a salsa. I used "many" peppers and let's just say, Bobby and I drank "a lot" of milk after our first and only taste.

That batch of salsa was frozen into small ice cubes to be used later in beans, soups and other spicy dishes. After a couple more attempts I came up with the chile de arbol salsas that you see here in the pictures.  The top picture was made with a can of fire roasted organic tomatoes and the salsa below was made with fresh Roma tomatoes .  The texture differences you see in the pictures is due to the amount of liquid that was drained off. That's the nice thing about any homemade salsa – you can control the texture by draining some of the liquid off of the finished product. You can make the salsa as thick or as thin as you like.
Both versions were very tasty, but I personally like the freshness of the salsa made with fresh tomatoes. Bobby and I both loved the flavor of the chile de arbol.  It is more earthy or smoky than the traditional New Mexico chiles, but you just can't use a lot of it because of its heat.  I can't wait to try this chile in other dishes.
To get the recipe, please click on over to my friends at Diaz Farms – Chile de Arbol Salsa.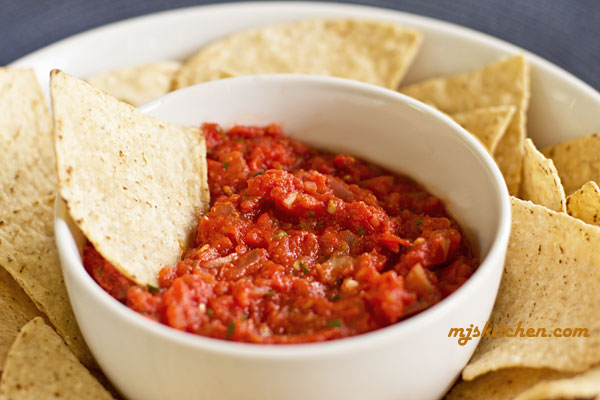 Other recipes that use the chile de arbol peppers:
Chicken and Vegetables Smothered in Chile de Arbol Pecan Sauce