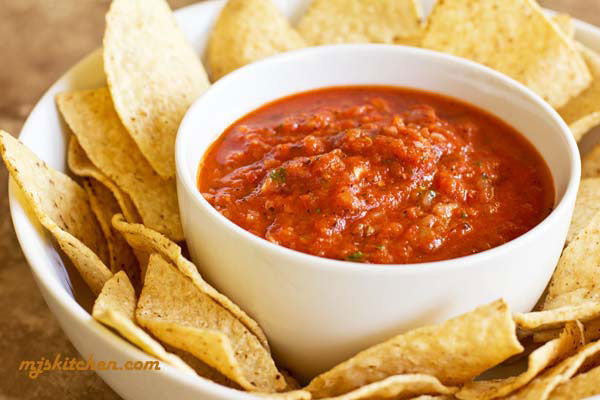 In the pinto beans post I mentioned that I had received a great package of goodies from Diaz Farms in southern New Mexico.  Along with the pinto beans, there was a bag of dried chile de arbol  with a request for a recipe for the Diaz Farms website.  Having never used chile de arbol before, I was quite excited about the challenge.  However, before we talk about the Chile de Arbol Salsa recipe, let's talk about the chile pepper.
To go straight to the recipe, click on this link: Chile de Arbol Salsa.

De Arbol Chile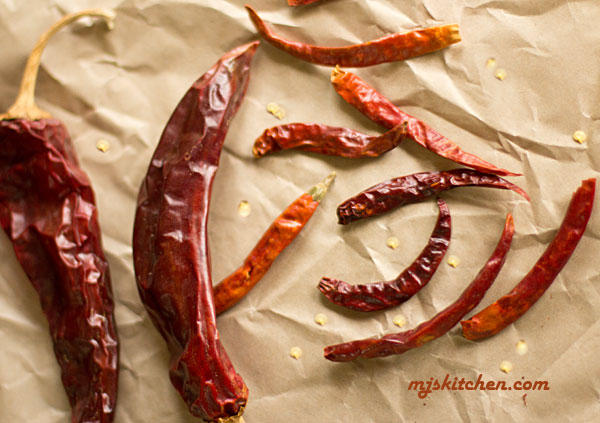 The picture above compares the de arbol chile on the right with the traditional New Mexico red chile on the left. The chile de arbol is grown throughout Mexico and used in many Mexican dishes.
If you use a lot of chile you probably already know that it's the small peppers you need to be careful of and that is SO very true for this little pepper.  On the Scoville scale, the chile de arbol falls between 15,000 to 30,000 units. (Scoville heat units indicate the amount of capsaicin or heat component in a pepper.)  The New Mexico chile pepper falls between 500 to 2,000 units.  By comparison, the chile de arbol is a lot hotter than the New Mexico chile. However, when compared to cayenne pepper (30,000 to 50,000 units), it's hot, but not fiery hot. Let me just say, that regardless of the Scoville unit, these little chiles are HOT and should definitely be handled with care.
I didn't realize just how hot they were until we tasted my first attempt at a salsa. I used "many" peppers and let's just say, Bobby and I drank "a lot" of milk after our first and only taste. 🙂 That batch of chile de arbol salsa was frozen into small ice cubes to be used later in beans, soups and other spicy dishes. After a couple more attempts I came up with the chile de arbol salsa that you see here in the pictures.  The top picture was made with a can of fire roasted organic tomatoes and the chile de arbol salsa below was made with fresh Roma tomatoes .  The texture differences you see in the pictures is due to the amount of liquid that was drained off. That's the nice thing about any homemade salsa – you can control the texture by draining some of the liquid off of the finished product. You can make the salsa as thick or as thin as you like.
Both versions of chile de arbol salsa are very tasty, but I personally like the freshness of the salsa made with fresh tomatoes. Bobby and I both love the flavor of the chile de arbol.  It is more earthy or smoky than the traditional New Mexico chiles, but you just can't use a lot of it because of its heat.  I can't wait to try this chile in other dishes.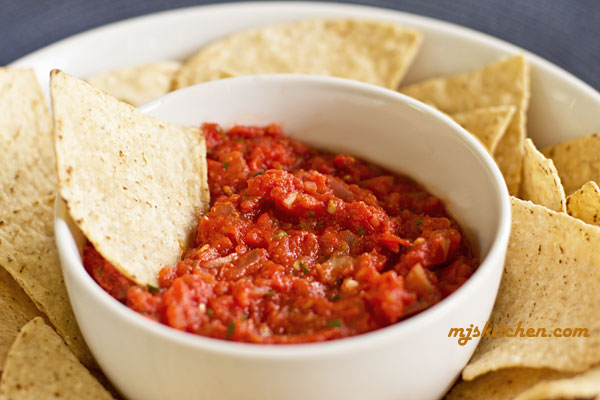 Chile de Arbol Salsa Recipe
A spicy salsa made with dried chile de arbol blended into a paste that can be used for this salsa or many other dishes. This salsa can be made with fresh Roma tomatoes or canned.

*See Kitchen Notes for substitutions and further information.
Ingredients
½

cup

canola oil

About 1/8 ounce – about 8 dried chile de arbol pods,

stems removed

2

large garlic cloves,

halved lengthwise

¼

tsp.

coriander seed

5

large Roma tomatoes,

tops removed (or 1 – 14.5 ounce can fire roasted tomatoes)

2

– ½" thick slices of onion

¼

tsp.

salt

omit if using canned tomatoes

1

tsp.

vinegar

2 to 3

tsp.

cilantro,

chopped
Instructions
Heat ½ cup canola oil over a medium low heat. While heating, add the dried chile pods, garlic and coriander. When the garlic begins to sizzle (bubbles start to form around the garlic pieces), reduce the heat to low. Let the chiles cook in the oil for 10 minutes then remove from heat. Keep an eye on it and if the garlic or chile starts to get too dark (past lightly toasted), remove the garlic and reduce the heat to as low as possible for the rest of the time.

Strain the oil with the chile and garlic. Transfer the chile, garlic, and coriander to the blender along with 1 tsp. oil. Save the chile infused oil for another use.

(For Roma tomatoes) Place the Roma tomatoes and onion slices on a cooking sheet lined with aluminum foil. Broil under the broiler until the tomato peel turns brown and starts to split. (Turn the tomatoes and onion once while broiling.) Remove the onion and tomatoes from the broiler. The peels should slip right off of the tomatoes.

(For canned tomatoes) Drain the tomatoes, reserving the liquid in case you need it. Coarsely chop the onion and saute' in a little of the chile oil, until translucent.

Making the chile paste - Add one of the Roma tomatoes (or ¼ cup canned tomatoes) to the blender with the chiles. Blend to a smooth paste. Pour the paste into a small container. For a medium heat salsa, return 2 Tbsp. of the paste to the blender. For a hot salsa, use 3 Tbsp. paste. For a very hot salsa, use it all. Reserve any remaining paste for another batch of salsa or another use.

Coarsely chop the onion slices. Transfer the onion and the rest of the tomatoes (fresh or canned) to the blender.

Add the salt (omit if using canned tomatoes) and vinegar. Pulse a few times until you have the consistency you like in a salsa. If the salsa has more water than you like, pour through a colander and strain off as much liquid as you want.

Taste. Adjust for salt and heat level.

Transfer salsa to a bowl and stir in cilantro. For the BEST flavor, let rest in the refrigerator overnight. Remove about 30 minutes serving. The "rest" allows the flavors to meld.
Kitchen Notes
Shorten the time to make this salsa by making up a batch of Red Chile Paste (Steps 1, 2, and 5), freezing it in an ice cube tray to make 1 Tbsp. size portions.  When you are ready for some salsa, just saute' ¼ cup chopped onion in a little oil for 2 minutes, add to a blender or food processor with a can of fire-roasted diced tomatoes (drained), and pulse for a fine chop. Stir in 1 Tbsp. of red chile paste, chill for about an hour or overnight, and serve with your favorite chips.
About Diaz Farms
Diaz Farms is "a three generation family owned and operated farm in Deming, New Mexico, near the Hatch Valley. Our farm started back in 1963 and since then we've been working hard to grow flavorful New Mexico green chile, red chile, onions, melons, hay, pinto beans and many other types of produce." (Diaz Farms)
During fresh chile season, you can buy New Mexico fresh green and red chile, picked right over the bush and shipped to your home.  Check the Diaz Farm Online Shop for items that it sells year round (e.g., pinto beans,  red chile powder and green chile powder)
Disclaimer:  Other than a free bag of pinto beans, some chile de arbol, and chile powder, I have received no compensation from Diaz Farms. The opinions expressed here are my own.
If you like this Chile de Arbol Salsa, you'll  like these other recipes that use the chile de arbol:
Chicken and Vegetables Smothered in Chile de Arbol Pecan Sauce