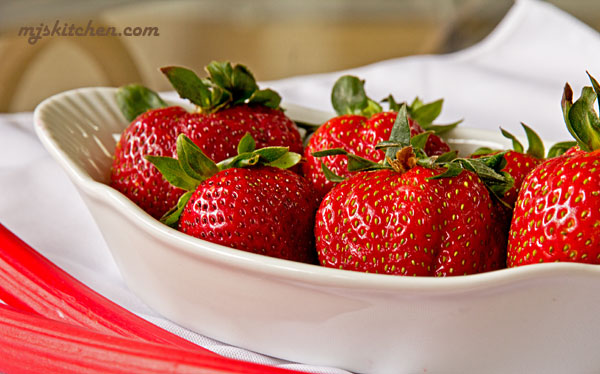 It is well into strawberry season here and really warming up. What better time to start throwing in a few refreshing strawberries to sweeten up those summer salads. I've shared a couple of strawberry salads with you in the past, but thought you might like some more. After a little time searching through blogs and Pinterest,  I found several other people that like strawberry salads as much as I do. However, I was surprised that I didn't find more.  Maybe we can start something here. 🙂 Below are several delicious strawberry salads and I believe the inspiration for many more.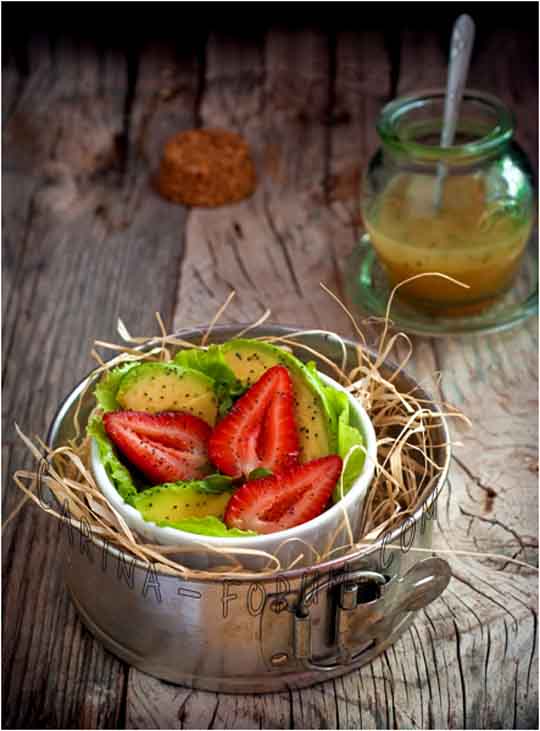 Avocado and Strawberry Salad with Honey Vinaigrette by Carina-Forum
I think you'll all agree that this is a gorgeous salad! And such a simple salad
with four main ingredients and a honey-lemon dressing made with avocado oil.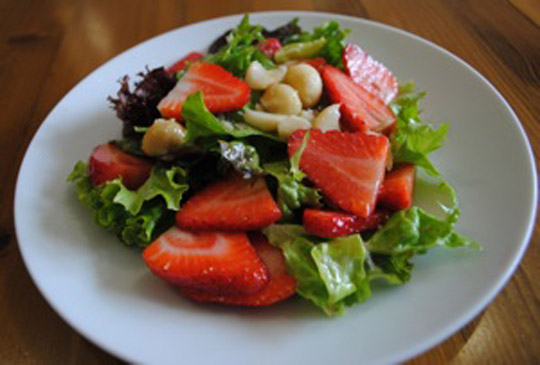 Strawberry and Macadamia Nut Salad by The 21st Century Housewife
This would be the perfect salad for a beach picnic. The macadamia nuts and
the strawberry/mint infused vinegar in the dressing make this salad very special.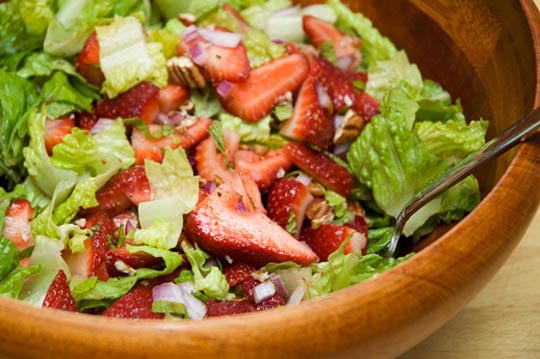 Strawberry Salad with Balsamic Vinaigrette by Chaos in the Kitchen
Strawberries and pecans – what a combination!  It's easy to see why
Chaos in the Kitchen calls this "a favorite summer salad"!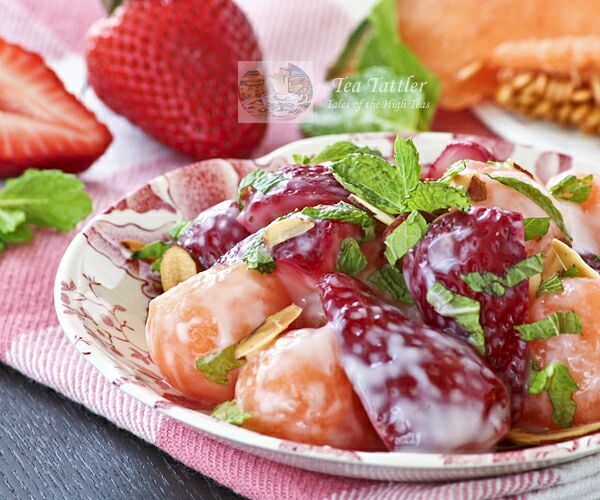 Cantaloupe Strawberry Salad by Tea Tattler
What a refreshing warm weather salad! So easy to throw together and quite delicious
with all of the seasonal fruit and fresh mint!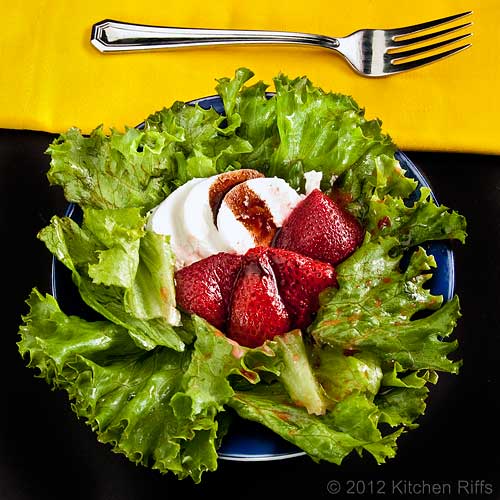 Roast Strawberry Salad by Kitchen Riffs
As if fresh strawberries aren't already good enough, Kitchen Riffs roasts his to enhance the
flavor even more!   Add some goat cheese and balsamic vinegar for a truly gourmet salad.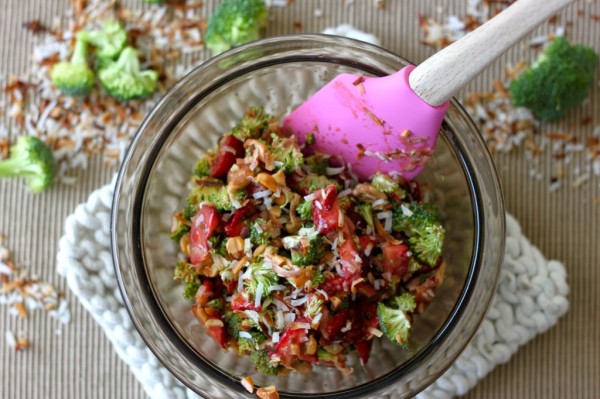 Strawberry Broccoli Salad by The Diva Dish
Who couldn't love this salad after reading how it was created!  Strawberries, broccoli,
cashews and toasted coconut – a salad that even a 2 year old loves!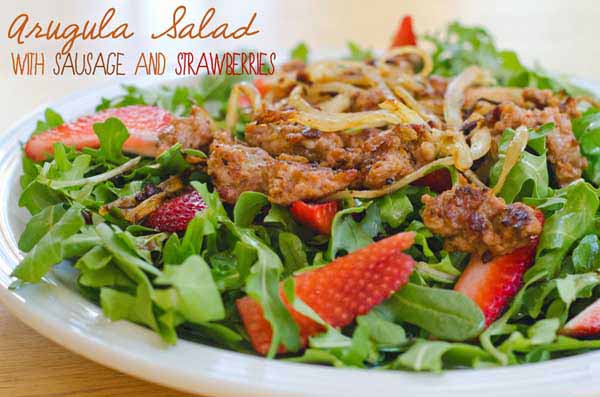 Arugula Salad with Sausage and Strawberries by So…Let's Hang Out
Yes – you read it right – Sausage and Strawberries!
The sausage used here is actually Andouille which sounds good to me.
What a creative and delicious looking salad!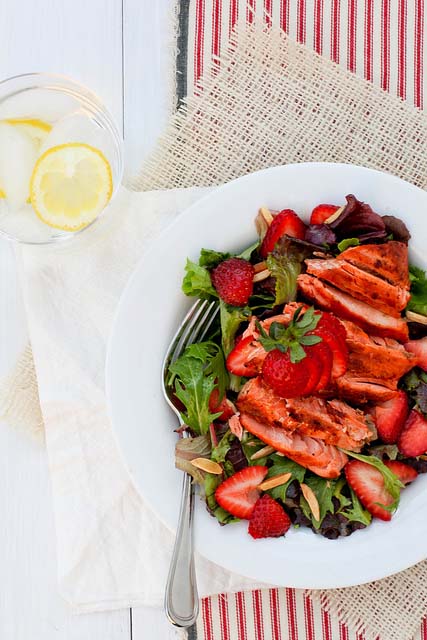 Grilled Salmon Salad with Fresh Strawberries by Annie's Eats
Being a huge fan of grilled salmon, I can definitely taste the combination of salmon and
strawberries. What a unique and utterly delicious combination!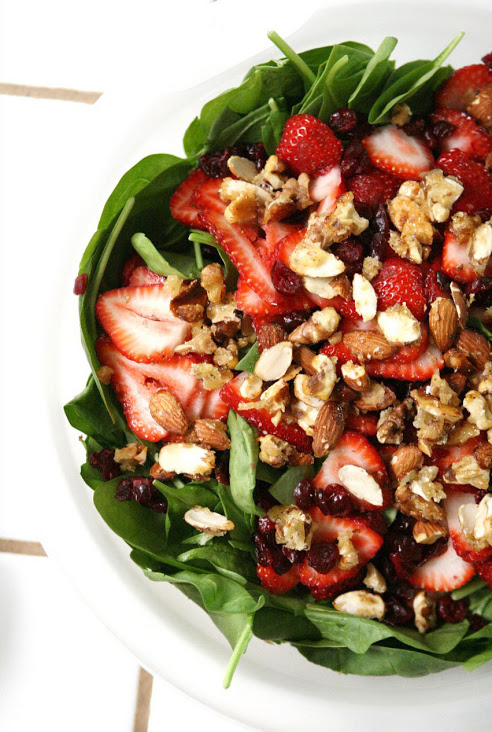 Spinach Strawberry Salad by Life is Beautiful
A simple little salad with the extra sweetness of dried cranberries to complement the strawberries. A summer favorite for Life is Beautiful.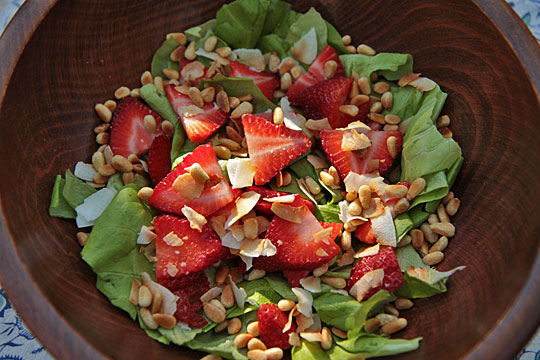 Strawberry Coconut and Pinon Salad
This is Bobby's favorite salad!  I really think he could eat this salad at least once a week.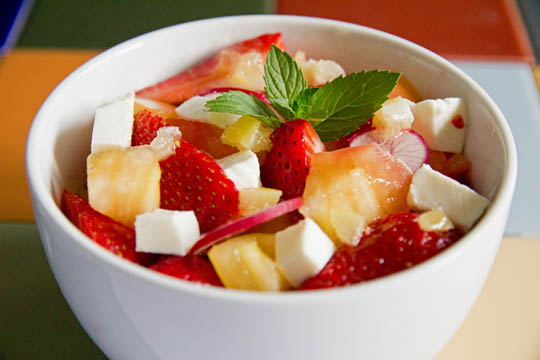 Strawberry and Tomato with Mint
An easy salad to throw together but really, really works best with ripe, but
firm heirloom tomatoes. A salad with lots of texture, lots of flavor.
If you haven't added strawberries to your grocery list yet, then what are you waiting for?
Feel free to share your favorite strawberry salad with us. Leave a link or your recipe in a comment and I'll add it to list.
Note:  All photos were posted with written permission from their owners.