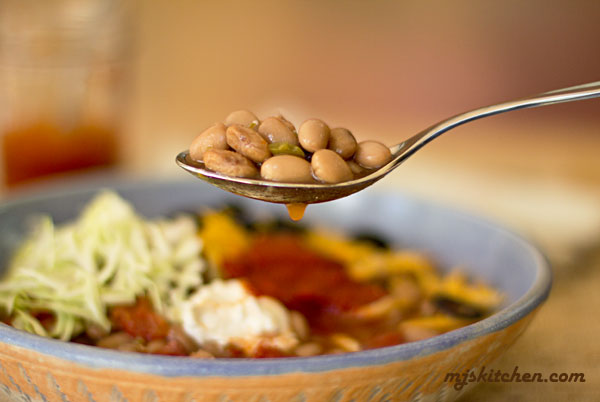 Those of you who have been visiting MJ's Kitchen for a while know that I love cooking up dried beans and putting them in all sorts of dishes.  You've had my black beans and bolita beans, and now it's time to dish up my pinto beans.
For the past couple of years I've been getting my dried pintos from Diaz Farms, a family-owned farm in southern New Mexico. There beans are excellent and always cook up really nice.   One batch of beans, using 2 cups of dry, gives Bobby and me at least three meals.  The first night we'll just eat a bowl of beans with several toppings, then later in the week make burritos or tostadas or use some of the beans as a side.

The recipe below uses a pressure cooker, the only method I ever use for cooking dried beans. However, this same recipe can be used for a slow cooker and for cooking in a Dutch oven on the stovetop or in the oven. I'm not sure about the timing, but from what I've read, cooking dried beans in a slow cooker takes about 2 to 3 hours on the highest setting (see Kitchen Notes).  On the stovetop or oven, they take about 2 to 3 hours. In the pressure cooker, about 40 minutes from start to finish.
At the end of this post you'll find several dishes for using your pot of pinto beans.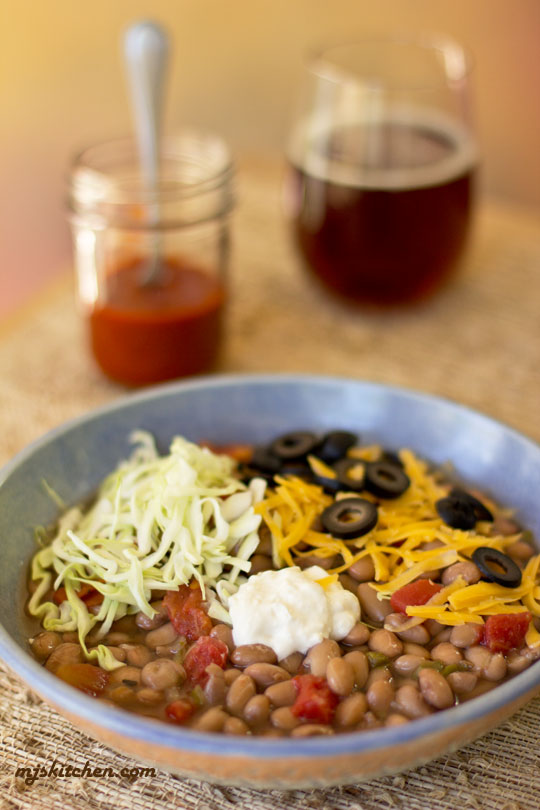 Steps 1 through 9 of the following recipe are for a pot of basic pinto beans, like what you get from a can but better. The cooking and rest times I use yield a bean that is "a little" undercooked.  After the beans are cooked in the pressure cooker, I scoop out what I need for a specific dish and finish cooking the beans in the dish.  Steps 10 through 14 is what you would do to get the delicious bowl of beans you see in the pictures and it only takes an additional 10 to 15 minutes.  In the Kitchen Notes, I'll give you a few more ideas for these beans.
[print_this]
Pinto Beans with all their Toppings
Yields:  6 to 7 cups cooked beans
Prep and cook time: 4 hours brine soak, 1 hour prep and cook time.
Recipe Author:  MJ of MJ's Kitchen
NOTE:  The procedure below is for a Presto pressure cooker from the 70's; therefore, the times and the "pressure cooking procedure" may be different for your cooker.  Please be sure to use the instructions for your own pressure cooker.
Ingredients
2 cups dried pinto beans, rinsed
1 Tbsp. salt (for the brine)
water (add 2 cups of homemade broth or stock for extra flavor)
1/2 large onion, finely chopped
4 large garlic cloves, minced
1 tsp. oregano
1/2 tsp. cumin or cumin-coriander mix
salt to taste
See Kitchen Notes for other ingredients you could add before cooking.
Ingredients you can add after the beans have pressure-cooked
1 ½ – 2 cup diced tomatoes, drained (canned or fresh)
½ cup red chile sauce or green chile sauce  or chopped, roasted green chile
Toppings (You choose)

Thinly shredded cabbage or lettuce
Black or green olives, sliced
Green onions or sweet onion, finely diced
Fresh cilantro, chopped
Grated cheese (cheddar, Monterey Jack, Feta)
Sour cream or sour cream substitute
Cream cheese blended with a little sauce from chipotle in adobo sauce
Red chile sauce or your favorite salsa
Green chile or green chile sauce
Bacon, cooked crisp and crumbled
Mexican Chorizo, cooked and crumbled
Warm flour or corn tortillas (served as a side)
Instructions
Brine the beans – In a large bowl, dissolve the tablespoon of salt in about a quart of water.
Rinse the beans and add to the saltwater.  If the water doesn't completely cover the beans and then some, add more water until the beans are completely covered and the water is about an inch above the top of the beans. (See Kitchen Notes for more information on brining beans.)
Let sit 4 hours. Discard any beans that float to the top. After 4 hours, drain and rinse.
Transfer the beans to the pressure cooker.  Add enough water and/or stock to completely cover the beans and then a couple of inches above the top of the beans.
Add the onion, garlic, oregano, and cumin.  Stir. (Do not add salt at this time. They may be salty enough due to the brine.) Place the lid on the cooker and seal. Check to make sure that the lid is on tight.  At this point you should follow the instructions to your pressure cooker, but here is the timing that I use.
Once a medium high pressure has built in the pressure cooker, set the timer for 10 minutes.
After 10 minutes, turn off the heat and let the pressure cooker cool down for another 10 minutes.*
At the end of the 10 minute rest, if the pressure has not lowered enough to open the lid, use whatever method of pressure release is recommended by your cooker.  I carefully transport my cooker to the sink and run under cold water until the vent valve drops indicating an equalized pressure. But please – don't do this with an electric cooker! 🙂
Open and taste the beans for doneness.  The beans should be just on the edge of being done.
Into another pot, scoop out the amount of beans that you want for your dish. The remaining beans can be used for another purpose.
If desired, add the tomatoes and the chile.
Cook for another 10 minutes or until the beans are done. Taste for salt. Add more if needed.
To serve, dish some beans in a bowl and top each bowl with your choice of toppings.
Serve with warmed flour or corn tortillas.
*Times may vary for a variety of reasons – pressure cooker setting, type of pressure cooker, age of the beans and how long you soaked them.  If the beans have been sitting around for a year or more, then soak them for 6 to 8 hours. Beware of pressure cooker manual recommendations! Mine said to cook pintos for 25 minutes. The first time I did that I ended up with mush. (See Kitchen Notes for more information.)
[/print_this]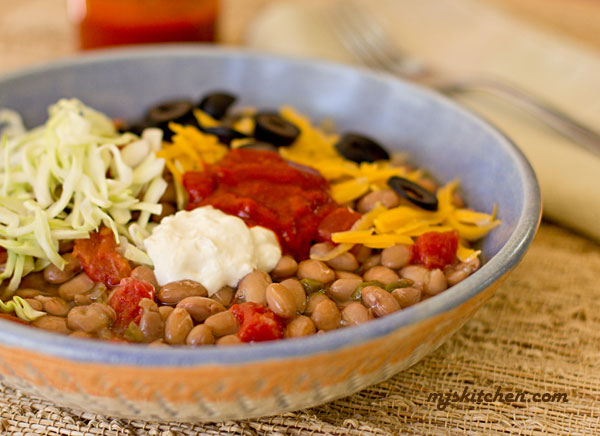 Kitchen Notes
Amounts:  1 cup of dried beans yields about 3 cups of cooked beans
Why do I not cook until done? – When I make a pot of beans, I usually have at least 2 meals in mind, usually with totally different ingredients. If both meals are hot meals, or require cooking the beans with additional ingredients, I like the beans undercooked to start, so they won't turn to mush during the second cooking.  However, if I plan to use them in salads or cold dishes, I'll cook the bean on the stovetop for an additional 10 minutes or until done before refrigerating.
The Brine – A while back I started soaking dried beans in a brine for 4 hours rather than soaking overnight.  The reason for this was that the final result is SO much better. (I got the idea from Cook's Illustrated.) The beans stay intact and the skins don't split open and fall apart, but yet they are quite tender.
When to add salt : pre-soak or not – I don't know if you have noticed or not, but there is a lot of debate about when to salt beans. Some recipes say, add salt at the beginning and other says you have to add it at the end, otherwise the skins will be tough.  Even though I've studied the chemistry of this debate, I had to find out for myself, just like I had to test out the pre-soaking step.  Therefore, through the years I have cooked beans every way possible (except in a slow cooker). I've soaked them overnight, not soaked them at all, brined them for 4 hours, added salt at the beginning, added it in the middle, and added it at the end. I've cooked beans in a pressure cooker and on the stovetop using every combination there of. This is what I have found.  Based on how we like our beans, I have found that the best beans come from a 4 hours brine soak, a rinse, a short cook in a pressure cooker, and a salt to taste at the end.  The texture is perfect and the flavor is awesome! But like with any dish, it's all based on personal preference.
Here's an article that you might find interesting about the salt factor.  Does Salting Dried Beans Make Them Harder to Cook? by Roxanne Webber of CHOW.
The water – When you cook the bean you can always use some homemade stock as part of the liquid.
Other ingredients when cooking  – If you already know that you are going to use the beans from one dish, you can cook the beans in the pressure cooker using ingredients for that dish or ingredients to complement the dish. For example, if I'm going to make a big soup, I might add a smoked ham hock to the pressure cooker.  Or, if all the dishes are going to be southwestern, I'll throw in some chiles, chile powder, chile flakes, chile paste, or chile sauce in with the beans before cooking. Like I said – lots of versatility. Have fun!
Slowcooker variation – Here's the process my sister used with her slowcooker:  Soak the pinto beans for 4 1/2 hours in a salt brine, then rinse. Put beans in the slow cooker on the highest temperature setting along with all the ingredients. (She used pork stock instead of water.) The beans should be perfectly and completely cooked after 2 ¾ hours.
What to do with cooked pinto beans?
Refried Beans – Mash some fully cooked, partially drained beans using a potato masher.  Heat 1 Tbsp. of bacon drippings per 1 cup of beans in a skillet.  Add the mashed beans and stir to incorporate the bacon drippings.  Add more liquid from the pot of beans if needed. Heat through and use for burritos, tostados or as a side.
Bean Burritos – Wrap some cooked beans in a flour tortilla with your favorite toppings, roll and smother with red chile sauce or green chile sauce or your favorite enchilada sauce.
Add to Bean and Rice
Tostadas and tacos
Add to soups, all kinds of salads and grains
Use as a Mexican pizza topping
And many, many more
I'd like to thank Diaz Farms for the wonderful bag of dried pinto beans. I'm looking forward to making many more dishes!

About Diaz Farms
Diaz Farms is "a three generation family owned and operated farm in Deming, New Mexico, near the Hatch Valley. Our farm started back in 1963 and since then we've been working hard to grow flavorful New Mexico green chile, red chile, onions, melons, hay, pinto beans and many other types of produce." (Diaz Farms)
During fresh chile season, you can buy New Mexico fresh green and red chile, picked right over the bush and shipped to your home.  Check the Diaz Farm Online Shop for items that it sells year round (e.g., pinto beans, red chile powder and green chile powder)
Disclaimer:  Other than a free bag of pinto beans and some chile powder, I have received no compensation from Diaz Farms. The opinions expressed here are my own.
Cooking up a Pot of Pinto Beans has been shared with the following:  Hearth & Soul   .