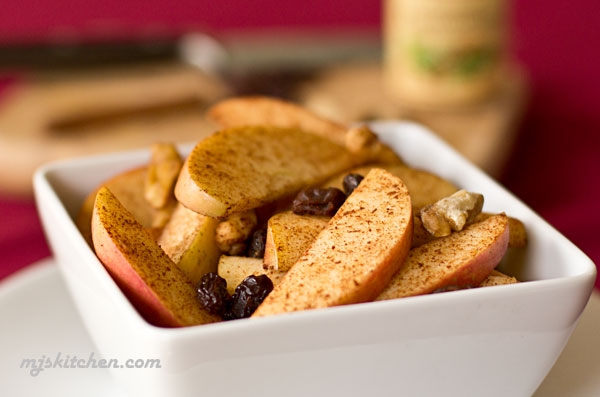 Now for something completely different…
In the late 80's Bobby and I spent a week with some friends on a houseboat on Lake Powell, a lake on the Colorado River in the southwestern U.S. During this trip we were introduced to this wonderful, simple snack with apples, walnuts, raisins and a touch of cinnamon. Thank you Donna! I can't even begin to tell you how many times I've made this snack over the years. I always had a bag of it in my backpack at the start of a backpacking trip.  We've taken it camping, on road trips, and on numerous hikes. Because it only takes 5 minutes to throw together, it's perfect for your lunch bag or an afternoon snack. Aside for the fact that it is just downright delicious, this simple snack with apples also keeps for a couple of days with or without refrigeration, making it a snack that you can take just about anywhere and never get tired of eating.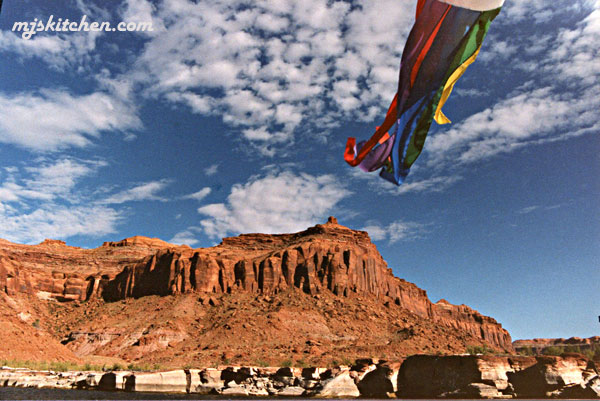 Before giving your the "complicated recipe" (NOT!) for this simple snack with apples, I can't resist telling you the story about the tomatoes we took on this trip to Lake Powell.  It was one of those summers when my tomato plants were quite prolific.  Come August and time to leave for the trip, I had plants full of tomatoes at every stage of ripeness.  I had to figure out some way to not waste all of those tomatoes.  Yes, I did give many away, but there were SO many!  So I went to one of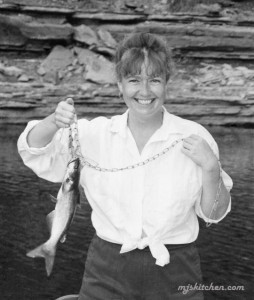 the local fruit markets and got an apple box with the shipping dividers. I preceded to pick the tomatoes and pack them in the apple crate putting the green ones on the bottom and moving up to having the ripest ones on the top.  This worked perfect.  We were eating tomatoes all week long for breakfast, lunch and dinner.  This was wonderful up until about the 6th day when we still had several left and all of us were beginning to get a little tired of tomatoes.  So what do you do with the rest of the tomatoes?  Go fishing!  Use tomato for fish bait. Believe it or not, it worked! I caught this beautiful little catfish on a tomato plus a few bluegill! And Yes, we did have fish for supper, smothered in tomato sauce. 🙂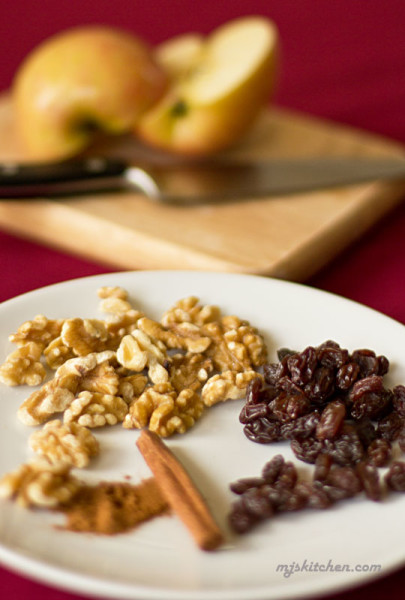 [print_this]
Simple Snack with Apple, Walnut, and Raisin (Recipe)
Yields about 2 cups
Prep time:  5 minutes
Ingredients
Other than 1 apple, exact amounts are not provided. Just add as much of everything that you want to the sliced apple.  One apple with a few walnuts and raisins, make a great little snack for 2 people; however, when I make this for a roadtrip, I'll use two apples with more of everything else. 
1 apple, cored and sliced
A handful of walnut pieces
A smaller handful of raisins or dried cranberries
Two generous dashes of ground cinnamon
Instructions
Place all of the ingredients in a plastic bag or container with a lid, and shake.
Transfer to a bowl and enjoy, OR just eat straight from the bag.
If taking on a road trip, place in the cooler until you get hungry.
Note:  No lemon juice is needed in this snack to keep the apples from turning brown. (See Kitchen Notes for more information.)

[/print_this]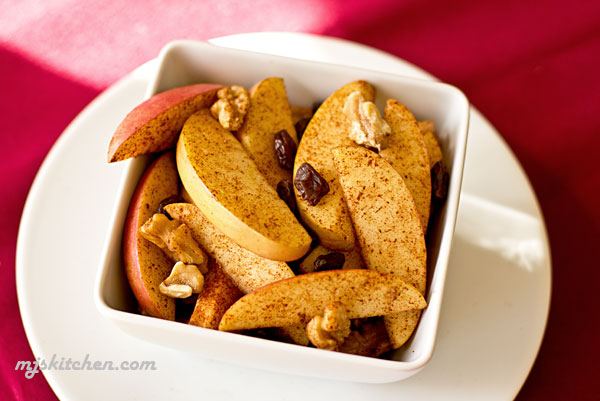 Kitchen Notes
The apples – This works best with really crisp apples. My favorites are Fuji, Cameos, and Pink Ladies, but you can pretty much use whichever type of apple you like.
The cinnamon – The boring cinnamon that you find at a local grocery store works fine, but if you really want to jazz it up some look for a Chinese cinnamon or better yet a Vietnamese Cinnamon. I've been using the Vietnamese Cinnamon from Season with Spice lately and it really has taken this simple snack and moved it up a notch or two.
Why do the apples not turn brown? – When an apple is cut, the oxidation process on the exposed surfaces is driven by an enzyme called polyphenol oxidase (PPO). The activity of PPO can be reduce with lemon juice or other acidic additives that lower the pH, but it can also be prevented by lowering the exposure to oxygen by immersing the apple slices in water.  What I think happens here is, that since cinnamon is an antioxidant (a substance that prevents oxidation by neutralizing free radicals), it inhibits the oxidation process that turns apples brown by somehow neutralizing the PPO and/or by preventing oxygen from reaching the surface of the apple.  That's my educated guess.
The walnuts – You could use a different nut if you'd like. I have tried it with pecans, but if you don't eat it right away, the pecans do soften up a bit from the moisture in the apples. Walnuts work best.
The spice – As much as I love cardamom, I didn't like it with this snack.  A touch of nutmeg was o.k., but to be truthful, the simplicity of the cinnamon with the apples and walnuts was the best.