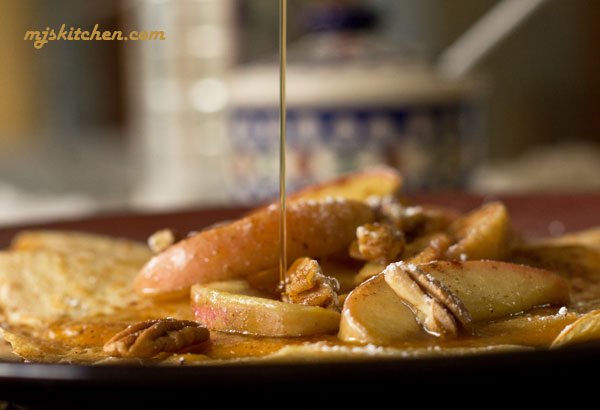 If somewhere in the human genome there is a gene for a sweet tooth, then my family has it! We always had desserts and sweets to nibble on when I was growing up and we all still need that little bite of something sweet after each meal. One of my favorite sweet treats that my mama use to make, and one I still love today is taking a piece of apple pie, topping it with a big slice of cheddar cheese and putting it under the broiler until the cheese melted all over the pie. These Apple Pecan Crepes are a lighter version of the apple pie and just as delicious.
To make Apple Pecan Crepes with Cheddar Cheese you first make some light crepes with a bit of dark rum. Fold grated cheddar cheese into the crepes and heat.  Gently saute' apples in butter, topped with cardamom, cinnamon, nutmeg, and a touch of maple syrup, then place them on top of the crepes.  Top with chopped toasted pecans and touch of warm maple syrup.  Now if that doesn't get your mouthwatering, then nothing will!
Apple Pecan Crepes with Cheddar Cheese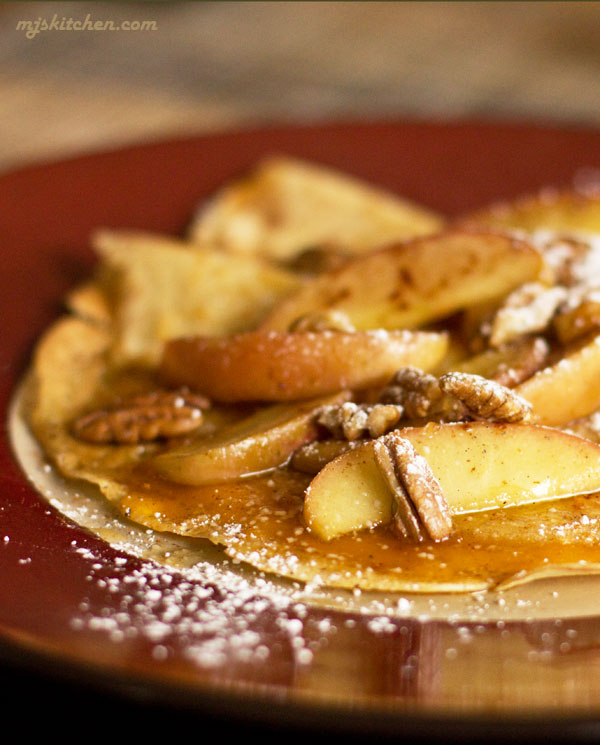 Apple Pecan Crepes with Cheddar Cheese Recipe
Crepe Recipe courtesy of a friend's French mother-in-law I'll usually make just enough crepes for brunch and then after brunch, make more crepes with the remaining batter and store in a tortilla warmer in the refrigerator. The remaining crepes can be used for a quick and easy breakfast later in the week.
"*" See Kitchen Notes for more information or links to special ingredients.
Course:
Breakfast, Vegetarian
Ingredients
Crepe Ingredients
3

eggs

1 ¼

cups

flour

1

Tbsp.

sugar

optional

1/8

tsp.

salt

1 ½

cups

milk

1

cap full of dark rum

optional

Butter or margarine for the crepe pan
Sauteed apples (for 2 servings)
1

large apple,

cored and sliced

1

Tbsp.

butter

¼

tsp.

ground cardamom

1/8

tsp.

cinnamon

2

generous gratings of nutmeg

2

Tbsp.

maple syrup
Toppings
½

cup

Cheddar Cheese

grated

¼

cup

pecans

toasted and chopped

Warm maple syrup

Powdered sugar

optional
Instructions
Crepe Instructions
Whisk the eggs in a large bowl.

In another bowl, whisk together the flour, salt and sugar.

Sift some of the flour into the eggs and whisk. Add some of the milk and whisk. Continue to alternate flour and milk until you have incorporated the flour and milk into the eggs.

Add the rum. Whisk.

Set aside and let rest while you start the apple topping.

To make the crepes, heat a crepe pan or nonstick skillet over medium heat. Coat with a touch of butter. Add ¼ cup crepe mixture to pan and swirl to coat the pan with batter. (The amount of crepe mixture that you add depends on the size of your pan.)

Cook for 45 to 60 seconds until light brown. Flip and cook about 30 seconds or until crepe starts to puff up and brown.

Place on a paper towel and cover to keep warm.**

Repeat with the remaining crepe batter.

I use a tortilla warmer with a paper towel inside. If you don't have a tortilla warmer, you could use two deep plates, using one as the cover.
Sauteed Apples
Melt the butter in a skillet over medium low heat. Add the apples and toss to coat. Cook for about 3 to 5 minutes, stirring occasionally until apples are a crispy tender.

Add the cardamom, cinnamon, and nutmeg. Cook stirring for 1 minute.

Remove from heat and add 2 Tbsp. maple syrup. Toss to coat.
To assemble
Using the crepe pan over low heat, place a crepe on the pan, and top half of the crepe with ¼ of the cheese (or desired amount). Fold the crepe in half, and repeat with another crepe.

Heat both crepes, turning once, until the cheese has melted. Transfer to a plate.

Top each serving of crepes with apples, pecans, and a drizzle of warm maple syrup. Sprinkle with powdered sugar if desired.
Kitchen Notes
Crepes – This crepe recipe makes more crepes than you need for 2 people.  However, we always have enough crepes leftover to have them again twice during the week either as another breakfast or a dessert.  If I'm planning on making savory crepes for dinner, I'll use the same recipe but omit the sugar and rum.
Seasoning – You can use a typical apple pie seasoning for this dish or adjust the amounts of cardamom, cinnamon and nutmeg to your own personal tastes.
Pecans – If you don't have pecans you can substitute with walnuts.  To toast the pecans, heat a heavy skillet on the stovetop over a medium heat.  Add the pecans and toast lightly, tossing in the pan frequently.
Sweet tooth factor – The primary sweetener in this dish is the maple syrup; therefore, you can control the sweetness of the dish with the amount of maple syrup that you use.
My crepe pan – For a couple of decades I didn't make crepes because I had a really crappy crepe pan.  It was one of those that you turn upside down into a bowl of batter, flip, and place on the burner. It was horrible!  About 10 years ago I broke down and bought a crepe pan that I love!  Because it's steel, I treat it like castiron and it works great every time I use it!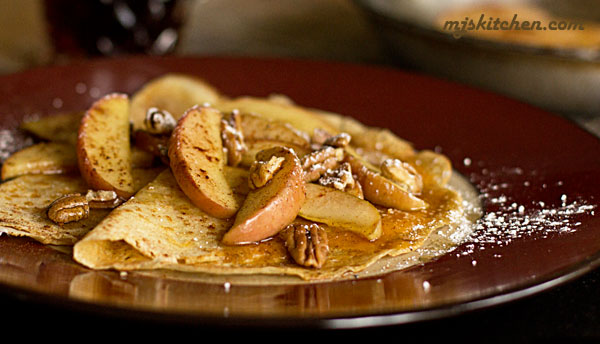 Serve these Apple Pecan Crepes for breakfast, weekend brunch or dessert. Enjoy!
Since my mother was the inspiration for this recipe and I know that she would love them, I linked this post to Katherine Martinelli's Mother's Day Hop.  Check out all of the other wonderful ideas for Mother's Day.