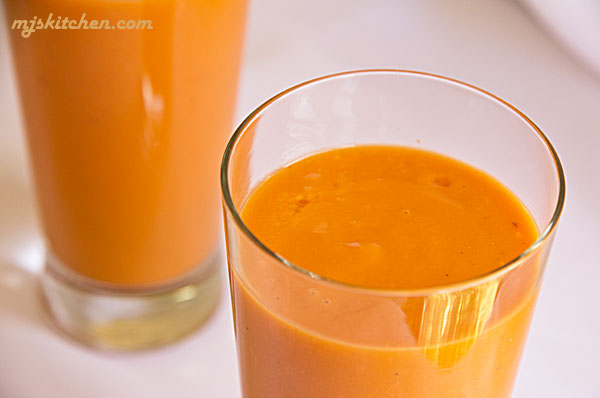 Now that it's spring I'm really focused on getting last year's produce out of the freezer to make room for this year's. A couple of weeks ago I used some of the corn and a roasted bell pepper in my Braised Red Chile Chicken and Vegetables, and then finished off the roasted bell peppers in the Roasted Bell Pepper Cheese Spread.  For several weeks I've been working on the abundance of frozen apricots from last year's prolific crop.  One of the things I've been making is the smoothie:  apricot smoothies, apricot banana smoothies, apricot peach smoothies and my favorite – Thai Tea Apricot Smoothie.
Several weeks ago I came across a simply delicious Thai Iced Tea recipe over at my friend's blog  – Wok with Ray.  I immediately ran out and bought a one pound bag of Thai tea, the smallest size bag the Asian market sold.  With all that tea Bobby and I have been able to mix up our afternoon tea time with Chai tea and Thai tea as well as play around with other uses for Thai tea. When developing this Thai tea apricot smoothie, I went with the orange color of Thai tea and selected apricots and mango as the fruits.  What a delicious way to get your vitamins and morning caffeine all in one drink.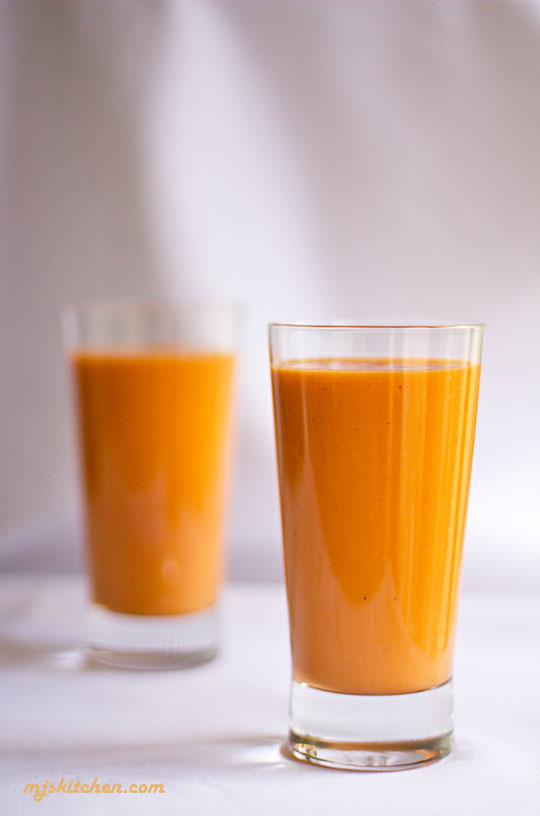 [print_this]
Thai Tea Apricot Smoothie Recipe
Recipe Author:  MJ of MJ's Kitchen
Make 2 smoothies
Prep time: 15 minutes
Ingredients
2 Tbsp. Thai Tea
1 cup boiling water
1 cup frozen apricots
1 ripe mango
½ cup vanilla yogurt (optional)
1 Tbsp. maple syrup
½ tsp. vanilla extract
½ to 1 cup Almond milk
Instructions
Place 2 Tbsp. Thai tea in a measuring cup. Add enough HOT water to measure 1 cup. Let steep for 3 to 5 minutes.
In the blender* add the apricots, mango, yogurt, 1 Tbsp. maple syrup, vanilla extract, and ½ cup almond milk.
Strain the Thai tea and add ½ cup of the strained tea to the blender.
Blend until smooth. Taste for sweetness. Add more maple syrup if desired.
If the smoothie is too thick, add more almond milk. Don't be tempted to add more Thai tea. It could make the smoothie too bitter.
Blend until smooth and pour into two glasses.
*I put the ingredients in a large bowl and use an immersion blender.
Enjoy!
[/print_this]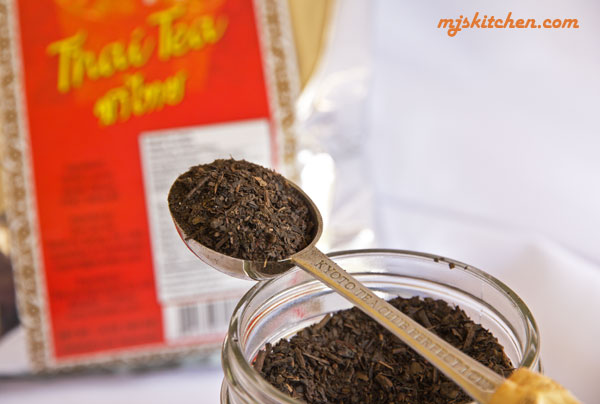 Kitchen Notes
Thai Tea – What is Thai tea?  To be honest, I'm not exactly sure.  The ingredient list on the package I bought said black tea, assortment of herbs and spices and #6 orange dye.  Doesn't help much does it? I did a little research and found that primarily, Thai tea consists of black tea as the base but then it varies some after that.  Additional ingredients could include star anise, orange blossom water, tamarind, and food coloring. I'm not a big fan of food coloring, but considering the delicious flavor and health benefits of Thai tea, I can overlook a little bit of food coloring. The flavor is quite unique and one that I have become addicted to.
The apricots and mango – You can use frozen or fresh fruit; however, since the tea is going to be warm, it's best to use at least one frozen fruit so that the smoothie will be cold enough without having to add ice. I've been using frozen apricots and fresh mangoes.  I've also used peaches in place of mango, but I preferred the mango with the Thai tea.  Now if you don't add the Thai tea, an apricot peach smoothie is delicious!
Vegan option – For a vegan smoothie, omit the yogurt and increase the amount of almond milk.  The smoothie will be a little thinner, but not by much.
The maple syrup – You can use any sweetener you choose. I personally like maple syrup in my smoothies, but agave nectar, sugar or honey would also work.  If you use honey or sugar, be sure to add it the strained, warm tea so that it will dissolve.
The almond milk – You can substitute the almond milk with soy milk or regular milk, but I wouldn't suggest coconut milk. I fear it would overpower the wonderful flavor of the Thai tea. If you choose to take the decadent route, you could use a little sweetened condensed milk, the milk used in restaurant-style Thai iced tea drinks. If you choose this route, then cut back on or eliminate the sweetener.
Enjoy!
If you enjoy this Thai tea apricot smoothie, then I'm sure you'll enjoy this Thai tea pudding.
This Thai Tea Apricot Smoothie is part of BlissTree's Apricot Brunch-Off.