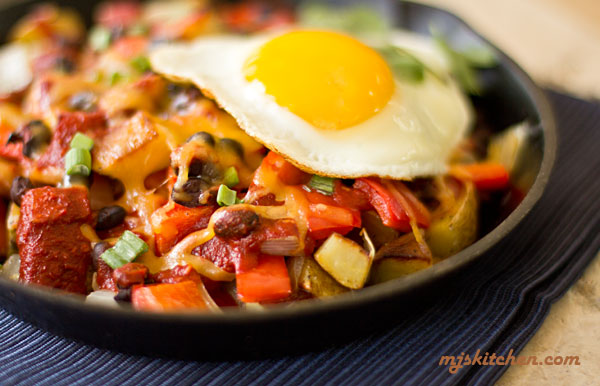 This Southwestern Breakfast Pileup was originally shared with my good friend, Swathi of the Zesty South Indian Kitchen who invited me over to share one of my southwestern dishes. The Southwestern Breakfast Pileup is a delicious, spicy and hearty dish that one can find on the menus of many New Mexican restaurants. Because it is so easy to make, I make it a lot at home for breakfasts, brunches, and suppers.  It's extremely versatile in that you can change it up to fit your mood. You can add meat or go meatless, use pretty much whatever vegetables are in your crisper, and top it with with your choice of chile or salsa.
You'll find this Southwestern Breakfast Pileup recipe below, but you'll also find the recipe and more information about the pileup over at Swathi's. So before you leave today, be sure to check out the post over at Swathi's, as well as many of her personal Indian creations.  Here are just a very few of my favorites.
Spicy Mini Cream Crackers
Batter Fried Plantain Fritters
Coffee Flavored Tres Leches Cake
Pineapple in Spicy Lentil Soup
Then there is her World Cuisine page that features recipes from Russia to Singapore.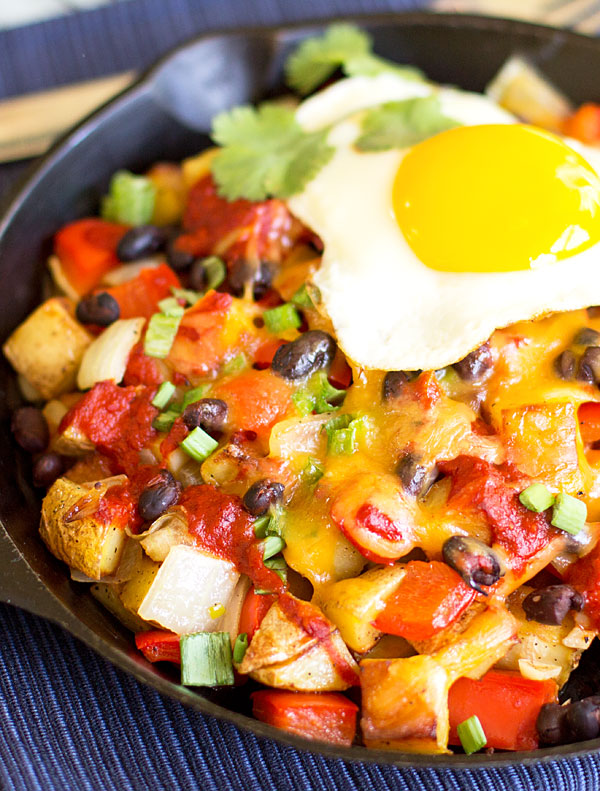 Southwestern Breakfast Pileup Recipe
Recipe Author:  MJ of MJ's Kitchen
Serves: 2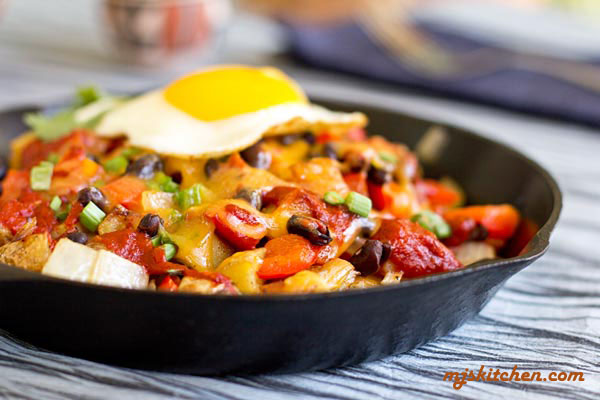 Prep and Cook time: less than 45 minutes
Ingredients
2 Tbsp. oil (olive or an infused oil such as garlic or chile)
2 medium to large yellow potatoes, scrubbed and cut into ½" cubes
½ medium onion, chopped
½ medium red bell pepper, chopped
2 large garlic cloves, minced
Salt and pepper
½ – 1 cup of your favorite salsa, red chile sauce or green chile sauce, or chopped roasted green chile peppers
1 cup cheddar cheese, grated
1 to 2 eggs per person
Proteins (choose 1 to 2)
1 ½ cups black beans or pinto beans, drained
½ pound Mexican chorizo
4 slices bacon, cooked crisp and crumbled
1 – 2 cups chopped, cooked meat (chicken, beef or pork)
Toppings and condiments
Guacamole
Avocado slices
Sour Cream
More salsa or chile
Chopped Green Onions or chopped regular onions
Chopped cilantro
Chopped Green Chile or Green Chile Sauce
Instructions
Heat the oil in a large ovenproof skillet over medium heat.
Add the potatoes. Toss and spread potato cubes into a single layer.
Cover and cook 5 minutes. Flip cubes.
Cook, uncovered for another 5 minutes. Potatoes should be starting to brown at this point.
Salt and pepper taste.
Add the onion, garlic and bell pepper.*
Continue to cook the potatoes and vegetables, stirring occasionally another 5 minutes or until they begin to soften.
Add the beans, bacon or cooked meat, toss and heat through for 1 to 2 minutes.
Add the chile sauce or salsa and top with the cheese.
Place under the broiler until the cheese has melted and is starting to brown.
Fry the eggs in a touch of butter or bacon dripping, over easy or sunny side up. Do not overcook. You want the yolks runny.
Divide vegetable and meat mixture between two bowls.**
Place one to two eggs on top of each bowl. Top with your choice of the additional toppings.
Serve and enjoy!
*If you are using an uncooked meat like sausage, add it with the vegetables.
**You could divide the mixture up into two skillets before adding the cheese and broil the servings individually. This way you could just serve in the skillets as many restaurants do.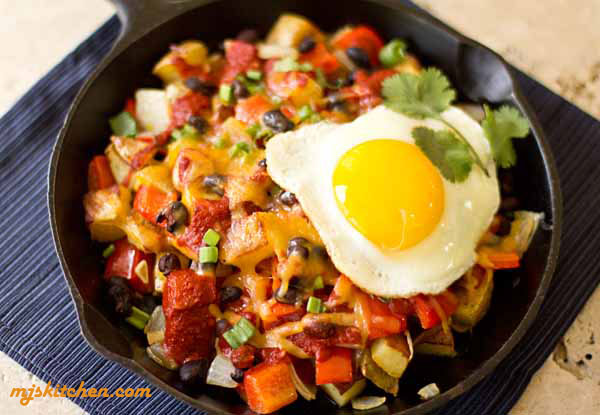 Kitchen Notes
The chile – The amount of chile sauce or salsa you use depends on the heat of the sauce and how hot you like it. The type of chile is dependent on what you have available. I'm not picky with red or green chile sauce. I like them both.  Some people will also go the Christmas route and use both red and green chile.  For example, I have been know to add green chile to the potatoes and then smother the whole dish with red chile sauce.  Of course if you have neither red nor green chile, don't hesitate to use your favorite salsa or enchilada sauce.
The protein – The pileup in the pictures is my vegetarian version.  The protein I used was black beans, but you could also use pinto or bolita beans.   My favorite protein combination is black beans and bacon.  However, we also like it with Mexican chorizo with no beans.
The Cheese – Cheddar is the best in my book.  However, Monterey Jack always is a good substitute as well as Feta cheese. I know the feta may sound strange, but I love feta in any dish that I use red chile sauce.
The vegetables – The vegetables that I used here are traditional. However, your could add a little broccoli, squash, or corn for variety.
As you can see, a Southwestern Pileup is more than just potatoes and chile.  Play with the ingredients and create your own. I know you're going to love it!
This recipe was featured on
This Southwesten Breakfast Pileup has been shared with Michelle's Tasty Creations, Foodie Friday, My Meatless Monday  .
Save