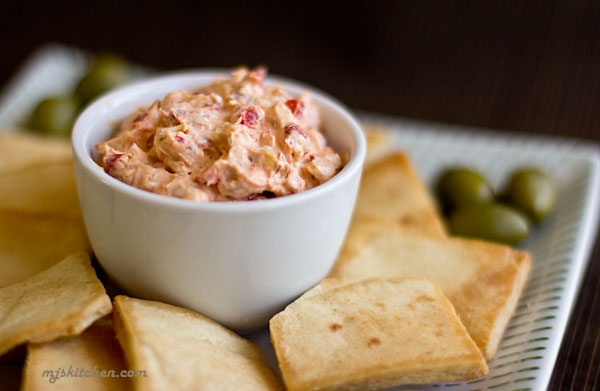 Figuring out what to have for breakfast and supper is easy, but I do have a hard time sometimes with lunch. If we don't have any leftovers, then we'll either have a peanut butter and jelly sandwich or I'll throw together a snack type lunch like my Cucumber Crostini. This week I'll be sharing two more of our lunchtime snacks – this Roasted Red Bell Pepper Cheese Spread and another one that is a bit more spicy – a Green Chile Pecan Cheese Spread.  I have had several readers mention that they can't handle spicy foods very well, so this one is for you.
This red bell pepper cheese spread is a little sweet but that's due only to the sweetness of the roasted bell pepper.  The cheese is capricho de cabra – a Spanish goat cheese produced with the milk from Murciana goats.  This goat cheese is different from what I normally buy. Instead of being crumbly, capricho de cabra is creamy and can be stirred into a buttery spread.  You really don't have to add anything to it, but it works as a great complement to the roasted bell pepper.  Add a little olive brine for acid and chopped almonds for another layer of flavor and texture and you have a tasty spread for bagels, pita chips, your favorite crackers or apple slices.  Have this  for lunch or share with friends as an appetizer or party dip.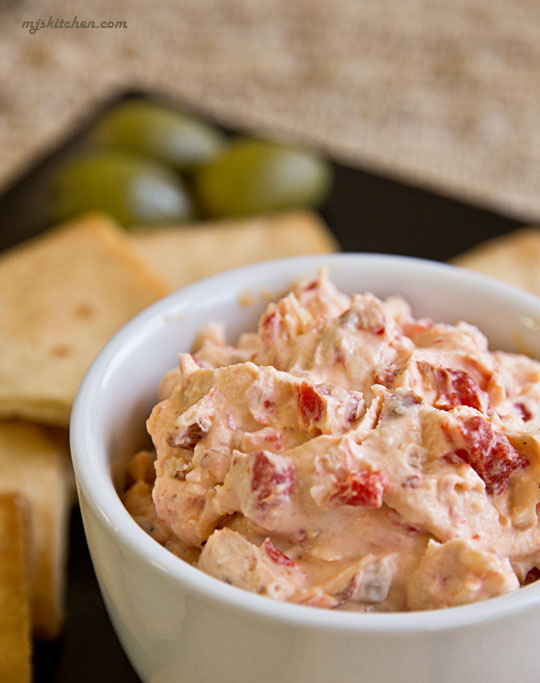 Roasted Red Bell Pepper Cheese Spread Recipe
Recipe author:  MJ of MJ's Kitchen
Makes about ¾ cup
Prep Time: less than 30 minutes
Ingredients
4 ounces plain capricho de cabra or your favorite fresh goat cheese
½ large roasted sweet pepper, minced (red, yellow or orange)
1 Tbsp. olive brine
1/8 tsp. smoked or Hungarian paprika
A dash of salt
1 ½ – 2 Tbsp. toasted almonds, finely chopped
Serve with Pita chips, bagel chips, crackers, flatbread or apple slices
Instructions
To toast the almonds – Coarsely chop 3 tbsp. almonds and add to a hot skillet over medium heat.  Shake and toss the almonds for about 2 to 3 minutes until lightly toasted.  Transfer to cutting board and chop finely.
Transfer the cheese and minced pepper to a bowl.  Using a fork or spatula, integrate the pepper into the cheese.
Add the olive brine, paprika and a dash of salt. Combine the ingredients until smooth.
Add 1 ½ heaping Tbsp. of the chopped almonds. Stir to combine. Transfer to serving bowl. Sprinkle with the remaining almonds if you choose.
Toasted Bagels
Cut two bagels from top to bottom, diagonally into 1/4 inch slices.
Place the bagel slices on a cookie sheet or pizza pan and placed under the broiler until lightly toasted. Keep any eye on the toasts because they brown quickly.
Turn the pieces over and toast the other side.
Spread a little of the pepper spread on a toasted bagel chip and enjoy!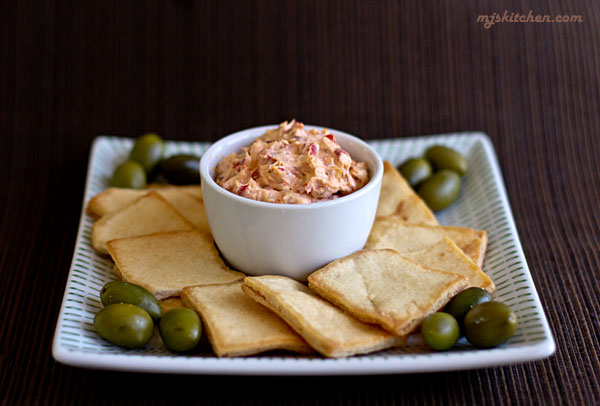 Kitchen Notes
The capricho de cabra – I'm sure you would be able to find this cheese in any store that has a decent cheese selection.  I have found it at both my local co-op and Whole Foods.  For this recipe, buy the "plain" capricho de cabra. If you are looking for a really quick snack with no preparation, buy one that has already been seasoned with herbs and spices (but don't use it in this recipe). If you can't find capricho de cabra, then your favorite chévre (fresh goat cheese) works just as well
The roasted bell pepper – It is important to drain and pat the roasted bell pepper until is somewhat dry.  Too much liquid will transform this creamy dip into a liquid mess. If you don't have a roasted bell pepper in the freezer or a jar in the pantry, you can always roast it under the broiler. If you roast it, be sure to let it cool before adding it to the cheese.  You don't want it to melt the cheese.
The olive brine – If you don't have olive brine, then use lemon.  Because of the sweetness of the bell pepper and the cheese, this spread needs a touch of acid.  You could use a white wine or rice vinegar if you cut back on the amount. If vinegar is all you have, then add it 1 tsp. at a time until you have the right acidity.
Make ahead – This spread can easily be made the day before and refrigerated. However, be sure to remove it from the refrigerator at least 30 minutes before serving so it can soften.
I hope you enjoy this Roasted Red Bell Pepper Cheese Spread.  If you are looking for more appetizers with roasted bell peppers, then check out these recipes:
Tortellini with Roasted Bell Pepper and Onion
This
Roasted Red Bell Pepper Cheese Spread
has been shared with the following blog hops: 
Hearth and Soul
  .