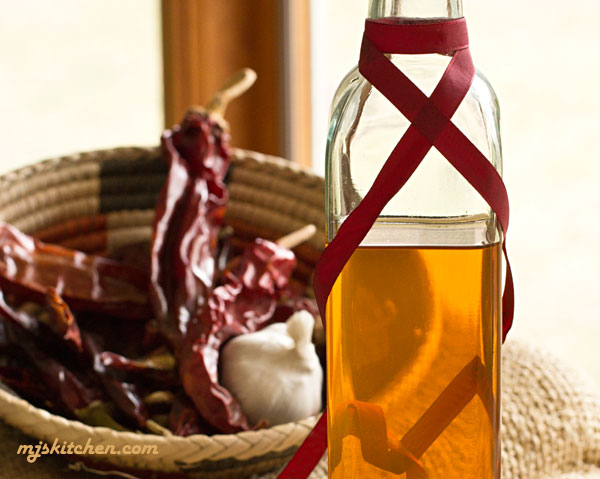 If you have never made an infused oil, I truly believe that this red chile infused oil will change that. Red Chile Infused Oil only takes about 15 minutes to make and captures all of the flavors of a red chile sauce. You can use it for fried eggs, sauteed vegetables or as the oil in a salad dressing. See the Kitchen Notes for more suggestions.  Red chile infused oil is so good and has so many uses that I guarantee it will become another staple in your pantry.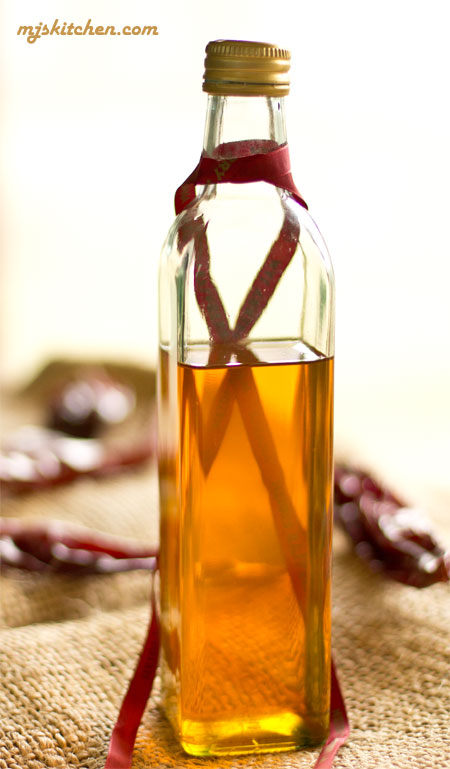 [print_this]
Red Chile Infused Oil Recipe
Makes about 2 cups
Prep and Cook Time: 20 minutes
Recipe Author:  MJ of MJ's Kitchen
Ingredients
2 cups canola oil
6 dried red chile pods, stems removed and seeds shaken out, each pod broken in half
1 tsp. coriander seeds
½ tsp. cumin seeds
1 tsp. Mexican Oregano
2 large garlic cloves, cut in half
Instructions
You'll need a clean, dry jar or bottle for storing the oil once it has cooled.
This only takes about 15 minutes from start to finish, so keep an eye on it.  The ingredients can burn if you simmer the oil too fast on too high of a heat.  If the spices and chile pods start moving toward really dark brown or black, remove from the heat and strain immediately.  Once the chile pods turn black, they are burned and that burnt flavor is now in your oil. Toss and start again.
Add all ingredients to a heavy skillet. The chile pods should be mostly immersed in the oil.
Heat over medium-low until you see the ingredients just start to sizzle. (Bubbles will start to form around the chile pods and garlic.)
Reduce heat to low (about the same temperature you use to cook rice or even lower) and simmer for 5 minutes.
Remove the garlic cloves and simmer for another 5 minutes on as low a heat as possible.  After 5 minutes, remove from heat.
Let the oil cool.  Remove the chile pods and discard.
Strain into a clean, dry bottle. Discard the chile and spices.  Eat the garlic cloves with some crackers – YUM!
Store in the refrigerator for up to a year.
[/print_this]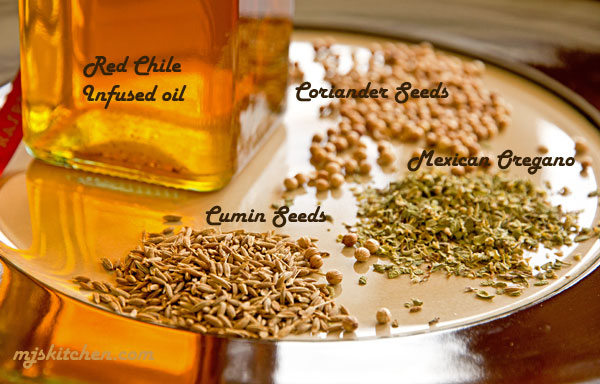 Kitchen Notes
The Red Chile Pepper – I use a New Mexico dried red chile pepper (shown in the first picture). The ones I have are HOT; therefore, this is a very spicy chile oil. However, you can use just about any DRIED chile pepper.  Other peppers that would work are Ancho, chipotle, pasilla, mulato and even pequin, just to name a few.  Each type will impart a unique flavor and heat level, so pick your favorite and go for it!  Do NOT use chile powder.  It burns very quickly, like in seconds!  You could use chile flakes, but I wouldn't heat them longer than 5 minutes and on as low of a heat as possible.  If you use the flakes, then after heating, let it sit overnight before straining.
Cumin and coriander – If you have checked out the ingredients in my other New Mexico dishes, you know that I commonly add ground cumin and coriander.  For this recipe use whole seeds. Ground seeds or powder would burn.
Mexican oregano – Mexican oregano is not the same as Mediterranean or Greek oregano which is a member of the mint family.  In fact, Mexican oregano isn't even oregano.  It's actually a relative of lemon verbena.  It is mostly grown in Central and South America, while Mediterranean (Greek, Italian) oregano is commonly grown in Europ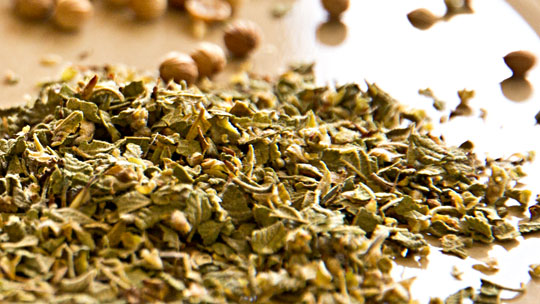 e and northern Africa.   Mexican oregano has the basic pungent flavor of Mediterranean oregano, but it also has notes of citrus and mild licorice.  It pairs well with spicy southwestern and Mexican cuisine, but not so well in a spaghetti sauce.  When I buy it, it comes in whole leaf rather than powder; therefore, I'm able to use it in this oil.  If all you have is a powdered oregano or Mediterranean oregano, just leave it out.
Safety notes – Unrefrigerated garlic in oil can promote the growth of C. botulinum bacteria without affecting the smell or taste of the oil or the garlic. C botulinum causes botulism, a serious form of food poisoning; therefore, do not be tempted to leave the garlic in this oil or any other infused oil that you make. To see more about the safety of infusing oil with garlic, read my post on Roasted Garlic Infused Olive Oil.
Suggested Uses for Red Chile Infused Oil: 
For fried eggs and scrambled eggs
Croutons – toss squares of bread or cornbread with a drizzle of oil and roast under broiler
Saute oil for vegetables
Browning oil for meats
Oil for Fennel Infused Onions
Drizzle on top of soups for a touch of spicy
Drizzle over salads
Drizzle over toast or breads
Use as the oil in yeast breads
Use as the oil in a salad dressing
Gift it to a friend
and many, many more
Smoked Goat Cheese (submitted by Debra of Eliot's Eat) – Drizzle some of the oil over some goat cheese. Place in a smoker and heat until soft.
If you like this red chile infused oil, be sure to check out these other infused oils:
Roasted Garlic Infused Olive Oil
Lemon Infused Olive Oil @ Just Putzing Around the Kitchen
Shrimp Chili Oil @ Wok With Ray
Chilli and Coriander Infused Olive Oil @ Five Euro Food
Rosemary and Garlic Infused Oil @ Sunshine and Smile
This Red Chile Infused Oil has been shared with the following blog hops:  Health & Soul, Foodie Friday   .