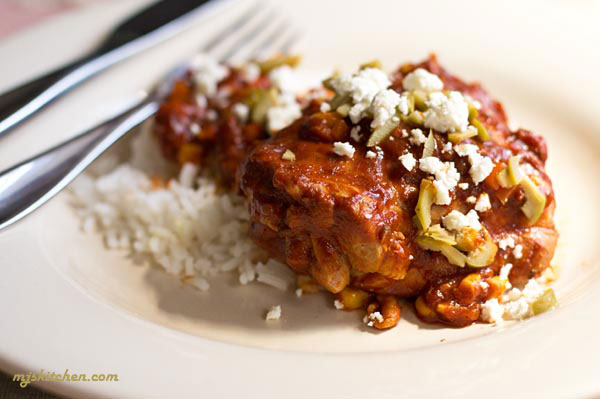 This braised red chile chicken recipe might remind you somewhat of the Hungarian dish – Paprika Chicken. The paprika pepper that creates a rather spicy and rich tasting Paprika Chicken is similar to that produced by the red chile powder used in this dish.  However, that's about as far as the similarities between the two dishes go. Paprika chicken uses cream or sour cream and is usually served over pasta, neither of which is the case here.
Braised Red Chile Chicken and Vegetables is actually more of a southwestern dish with some Mexican components as toppings.  Instead of paprika I use New Mexico red chile powder and other traditional southwestern seasonings.  The base or sauce is created using strained or crushed tomatoes which, once cooked down, create a rich sweet and spicy sauce. Because of this rich sauce, this dish can be served over rice, grits or polenta, or with flour tortillas that can be used to scoop it up so that nothing goes to waste.

As you'll see, the sauce is different from my normal red chile sauce that uses dried chile  and no tomatoes.  Because of that, braised red chile chicken is relatively easy to make with no prior preparations required.  It can be made in less that an hour, making it a nice dish for the middle of the week. Serve with a side salad and you have a delicious and healthy meal.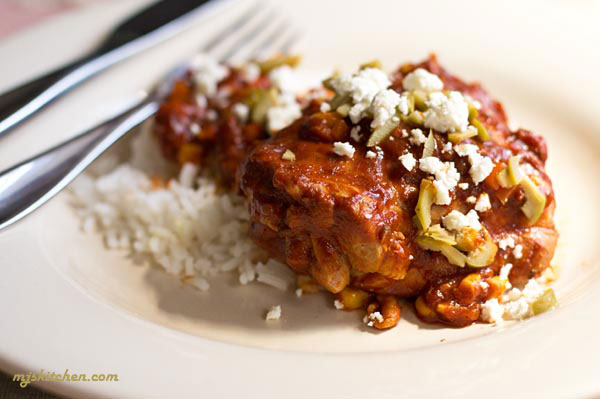 Braised Red Chile Chicken and Vegetables Recipe
Chicken and vegetables braised in a spicy New Mexico red chile sauce, served over rice or polenta.
"*" See Kitchen Notes for more information or links to special ingredients.
Course:
Chicken, Main Course, Meat Entree, Red Chile
Cuisine:
New Mexico, Southwestern
Ingredients
6 to 8

chicken thighs*

2

Tbsp.

olive oil or canola oil

½

large

onion,

minced

4

large garlic cloves,

minced

2

Tbsp.

mild to medium red chile powder*

½

tsp.

cumin seeds

1

tsp.

Mexican oregano

2

Tbsp.

liquid to deglaze

(vermouth, brandy, tequila, water, stock)

2 to 3

cups

strained tomatoes*

(6 or 8 thighs, respectively)

1

roasted red bell pepper*,

finely diced

1

cup

corn

Salt and pepper to taste
Toppings
Green olive with pimentos,

chopped

Feta cheese,

crumbled

Coarsely chopped Cilantro or Parsley
Cooked rice
2

cups

water or stock or a combination

1

cup

uncooked white rice

¼

tsp.

salt
Instructions
Start the rice
Bring the water or stock to a boil.

Add the rice, cover and bring back to a simmer.

Reduce heat for a low simmer and cook for 15 to 20 minutes until all of the water is absorbed and the rice is done.
Braised Chicken
Remove the skin from the chicken thighs, rinse the thighs and pat dry.

In a large skillet heat the oil over a medium heat. Once hot, add the thighs to the skillet. (You might need to cook the thighs in 2 batches depending on the size of your skillet.) Your oil should be hot enough for the chicken to sizzle when placed in the skillet. This helps to keep the chicken from sticking. I like to the use a spatula or tongs and move the chicken around a bit to keep it from sticking which can easily happen since the skin has been removed.

Cook the chicken for 2 minutes per side and transfer to a plate.

Reduce the heat to medium low, add the onion and garlic, and sauté for about 2 minutes. Add the cumin and cook, stirring for another minute.

Add the oregano and red chile powder. Stir for about 5 to 10 seconds then add the deglazing liquid. (Be sure not to go too long before adding the liquid before the chile powder can burn quite quickly.)

Deglaze the pan, scraping up anything stuck to the bottom of the skillet.

Add the tomatoes and red bell peppers.

Return the chicken to the skillet. Pour all of the juice that has accumulated on the plate into the pan and stir.

Bring to a low simmer, cover and cook for 15 minutes. Turn the chicken pieces over, add the corn, cover and cook another 10 minutes.

Remove from the heat and let sit covered, for about 5 minutes while you prepare the toppings.

Chop the green olives and crumble the feta.
To plate,
add a scoop of rice to the plate, top with a piece of chicken. Pour a little sauce over the chicken and rice and top with olives and feta. Enjoy!

Kitchen Notes
Amount of tomatoes for the sauce – When I make this with 6 pieces of chicken I only use 2 cups of strained or crushed tomatoes.  When using 8 pieces, 3 cups is needed in order to have enough sauce.  In both cases, the sauce is relatively thick, but I like it that way because it sticks to the chicken rather than runs off.  If you like a thinner sauce, you could always add a little more tomato.
Chicken – This recipe could be made with both dark and white meat.  I personally think that dark meat is better for braising, but that may just be my personal taste. As far as removing the skin, I always remove the skin when braising. The skin adds too much fat to the braise if you leave it on and, IMO, braised chicken skin is inedible. I need chicken skin to be really crispy with all of its fat rendered in order for me to eat it.
Chile powder – If you've been reading my blog at all, you know what I'm going to say here – there's no substitute for New Mexico red chile powder. 🙂  Actually, if you don't have any you can substitute other chile pepper powders such as paprika, a mix of paprikas (smoked and sweet), ancho powder, Serrano, or a mix of several different chile powders, including a little cayenne. I use a mild to medium heat chile powder which is plenty of heat for this dish.  The type(s) of chile powder you use does dictate the overall flavor of the dish, so make sure you really the like the chile powder.
Vegetables – If you don't have a roasted red bell pepper, you could use a raw one.  Just minced it like you do the onion and add it at the beginning with the onion and garlic. If you don't have corn, then do what a friend of mine did – add peas or add both corn and peas.
Rice or polenta - As far as what works best as the carbohydrate component, that's a personal preference. Rice, grits, polenta or flour tortilla all work great.  The main thing is that you need something to capture all of the sauce because you won't want a bit of it to be left on the plate.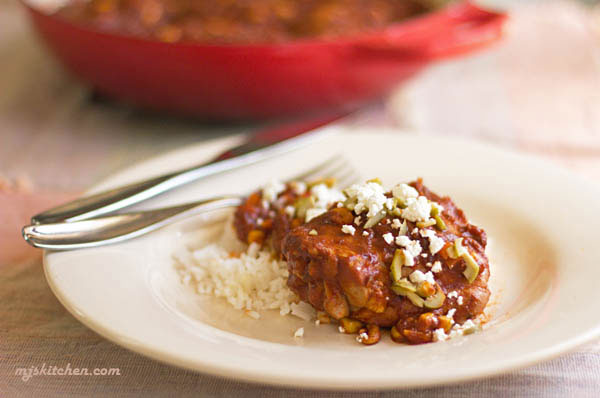 If you love braised, smothered chicken, then you should check out this other delicious meals.
Chicken Mole (Chicken Smothered in a New Mexico Red Mole)
Chicken Smothered in Chile de Arbol Pipián Sauce
Pomi Tomatoes
This first time I made this dish I had just received these two boxes of Pomi tomatoes – chopped and strained.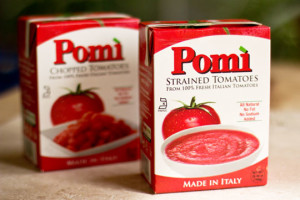 I had never tried Pomi so I was excited to see how they compared to the organic canned tomatoes that I've been buying for years.  I was pleasantly surprised. Pomi is a 100% natural product with no additives and because they are packaged in a BPA-free recyclable box, there is no tinny taste. Even though they have no added salt, they still have a nice balance of sweet and salty which, I'll have to assume, comes from the Italian tomatoes that are used.  The strained tomatoes (used for this dish) are sweet and tomato-y which is very complementary with the spicy red chile powder. The consistency of these tomatoes is instrumental in creating a thick, smooth sauce which is what you want with this dish.
Because the container is a box with no punch or pour spout, opening the box was a little tricky. I used scissors and just cut off the two flaps that folded down onto the side of the box, then cut along the top seam. This worked great and the tomatoes were easy to pour.
Disclaimer – I received no compensation other than 4 boxes of tomatoes for this review of Pomi tomatoes.  The opinion expressed here is my own.