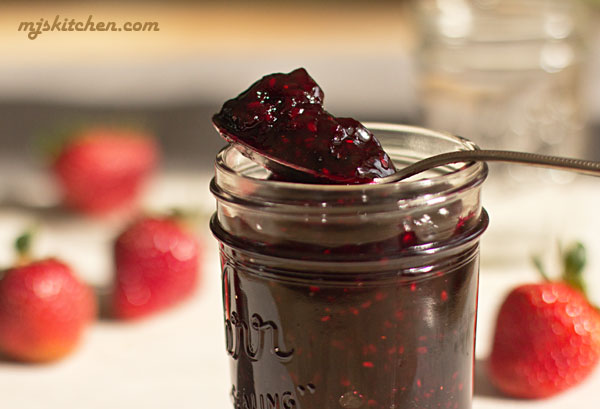 When it comes to making jam, the days of torturing my feet with a 12 hour day processing the fruit and making 20 jars of the same jam are over.  Now I make jam one jar at a time and as needed or whenever I have excess fruit that needs to use before it becomes compost material.  Because we eat a lot of berries, we usually have a lot of berries; therefore, there is almost always have a jar of Mixed Berry Jam in the refrigerator.
This recipe for the perfect jar of Mixed Berry Jam is one I've been working on since last spring.  The problem has been finding the best ratio of fruits that yield the flavor of "mixed berries".  What I mean by that is one of my earlier batches tasted like blueberry jam with a hint of other berries.  Another batch, with matching amounts of blueberries and raspberries, tasted like raspberry jam.  The recipe I'm sharing with today isn't dominated by any one berry flavor; therefore, you'll be able to taste "hints" of each berry used – a little blueberry, a little raspberry and a little blackberry.  If you don't have blackberries, you can substitute strawberries with the same mixed berry jam result.  Both versions are delicious!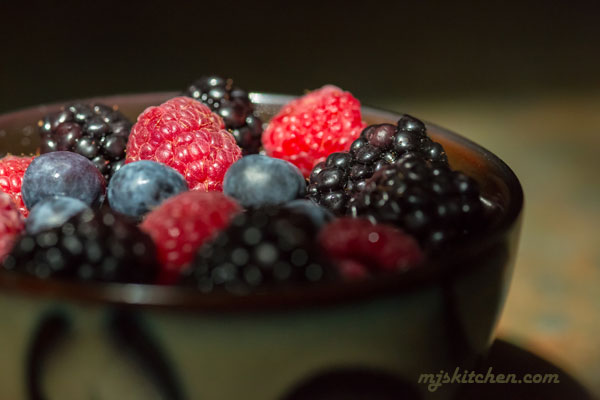 [print_this]
Mixed Berry Jam
Before starting you might want to review my Kitchen Notes on Making Q&E Jams
Recipe author: MJ of MJ's Kitchen
Yields about 1 pint
Prep and cook time:  30 minutes
Note:  This is a refrigerator jam and not intended to be sealed and stored in the pantry. All you need is a very clean jar. Once the jam has cooked to consistency, pour into jar, let cool and refrigerate.
Ingredients
8 ounces blueberries
4 ounces raspberries
8 ounces coarsely chopped strawberries or 8 ounces blackberries
10 ounces (1 ¼ cup) sugar
Juice from half a lemon
Instructions
If you aren't planning on using temperature to know when the jam is ready to pour, then place a small saucer in the freezer.
Rinse and weigh the berries. Add to a sauce pan with the lemon and sugar.
Heat on low, stirring frequently until the sugar has melted.
Increase the heat to medium and bring the jam to a boil, stirring frequently.
Bring the jam to a full boil, stirring constantly. A full boil is a boil that cannot be stirred down. You may need to increase your heat level a bit to get there and to sustain the boil while you are stirring.
Stir constantly at a full boil for 14 to 16 minutes. Test* @ 12 minutes, then cook another minute or two if needed. Skim off any foam remaining on the surface of the jam. OR at 15 minutes add a candy thermometer to the pot and use temperature to know when the jam is ready.
Remove from the heat and pour into a clean pint jar. Screw on the lid. Let cool, then refrigerate. This jam will keep in the refrigerator until you finish it off, which won't take long.
* Test – When the jam sheets from the side of a metal spoon (droplets flow together), it's very close to being ready. Pull the saucer from the freezer and place a drop or two of jam onto the saucer. If the jam spreads out, it's not done. If it stays where it lands and retains its shape, then it's done. If it's not done, return the saucer to the freezer, continue to stir the boiling jam, and try again in 2 minutes.
[/print_this]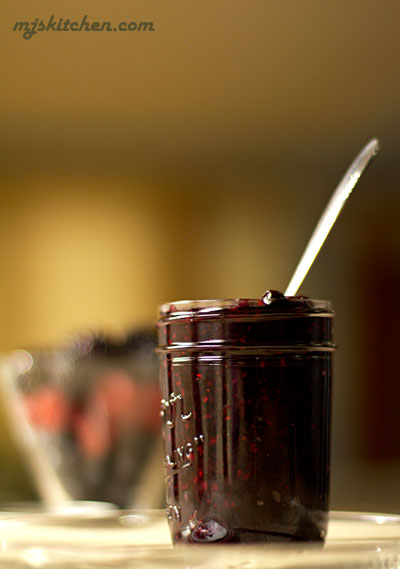 Kitchen Notes
For this recipe, the ripeness of the fruit doesn't affect the outcome. (As fruit ripens, its natural pectin content drops.) Underripe, overripe or a mix yield the same results.  This is probably due to the fact that berries are not naturally high in pectin to begin with, so the level of ripeness has a negligible effect on the pectin level. However, with a little help from a tablespoon of lemon juice and enough sugar, you can still make a jar of jam without adding pectin.  IMO, the best ratio of fruit to sugar (by weight) is 2:1.
Strawberry or blackberry – It doesn't matter.  One yields a hint of strawberries and the other a hint of blackberries. However, if you have big blackberries and leave them whole, they can pose a problem when spreading the jam on toast.  However, since I love biting into a piece of fruit in a jam it didn't bother me to keep the blackberries whole. All of the other fruits cooks down and blends together to yield that mixed fruit flavor.
I would love to have access to boysenberries, Marionberries or dewberries so I could test them out in this recipe, so if you have access to such, don't hesitate to use them. Just pick a mix using the berries available in your area and have fun!
In addition to this Mixed Berry Jam, I also have a couple of other jams you might like as well as a watermelon rind preserve:
Apricot Jam
Strawberry Jam
Watermelon Rind Candies
Red Chile Strawberry Jam
Raspberry Mole' JamCherry Jam
Red Chile Tomato Jam
This Mixed Berry Jam recipe has been shared with Melt In Your Mouth Monday, Hearth and Soul , Carole's Food on Friday, My Meatless Mondays,  Recipe Sharing Monday, Clever Chicks Blog Hop  .
.